---
Denmark/Germany/Netherlands/Japan/UK/Sweden/Norway. 2003.
Crew
Director – Thomas Vinterberg, Screenplay – Mogens Rukov & Thomas Vinterberg, Producer – Birgitte Hald, Photography – Anthony Dod Mantle, Music – Zbigniew Preisner, Visual Effects Supervisor – Peter Hjorth, Special Effects Supervisor – Lars Kolding Andersen, Makeup Effects – Morten Jacobsen, Production Design – Ben Van Os. Production Company – Zentropa Entertainments/Senator Film/Key Film/Shochiku/Pathe Distribution/Memfis Film/Isabella Films/Film I Vast/Egmont Entertainment/Dr TV-Drama/Danish Broadcasting Corporation/VPRO TV/Golem/Frenetic/RCV Film Distribution/TV 1000/A.M.A. Film/Lev Cinemas/Filmpool Nord.
Cast
Joaquin Phoenix (John Marczewski), Claire Danes (Elena Marczewska), Douglas Henshall (Michael), Sean Penn (Marciello), Alun Armstrong (David), Mark Strong (Arthur), Margo Martindale (Betsy), Geoffrey Hutchings (Mr Morrison)
---
Plot
It is the year 2021 and the world is experiencing many strange phenomena – random localised weather changes, a Ugandan village where gravity has cut off, people dying from a condition brought on by loneliness. John Marczewski arrives in New York on a stopover, planning to meet his wife Elena, a world famous ice skater, so that they can sign divorce papers. Instead, people from Elena's entourage meet him and insist that he stay over until the next day at her behest. She presses to be free from the army of organisers that surround her and begs John to take her away. As he begins to become aware, the people around Elena are drawing her into a sinister scheme that she wants to escape from.
---
Danish director Thomas Vinterberg is probably most known to cineastes as the co-founder of Lars von Trier's Dogme 95 movement that offered up a set of rules that sought to reject all artifice in filmmaking. Vinterberg had his biggest and most acclaimed hit with the first Dogme film The Celebration (1998), which won that year's jury prize at Cannes. Vinterberg next chose to make the English-language It's All About Love on quite a reasonable budget but this flopped badly – it was apparently ridiculed after its Sundance premiere and dumped by its distributor, making only sporadic cinematic appearances before being sent off to video release. Vinterberg next made the English-language Dear Wendy (2004) and returned to Denmark for A Man Comes Home (2007) and Submarino (2010), before the highly critically acclaimed hit of The Hunt (2012), the prestigious English-language Far from the Madding Crowd (2015), The Commune (2016) and the submarine drama Kursk (2018).
It's All About Love has a captivating opening. Vinterberg makes the images of planes coursing through the clouds and fleets of limos gliding through the streets of Manhattan into something beautifully haunting. There is a fascinating sense of mise-en-scene created as Joaquin Phoenix is drawn in by Claire Danes' entourage – if nothing else, this is one film that accurately depicts the circus that surrounds the hyper-stars of modern media. It is an incredibly beautifully filmed work with images that constantly leave you dazzled – especially one near the end with people parting ways and walking off in different directions on a vast plain filled with nothing but snow.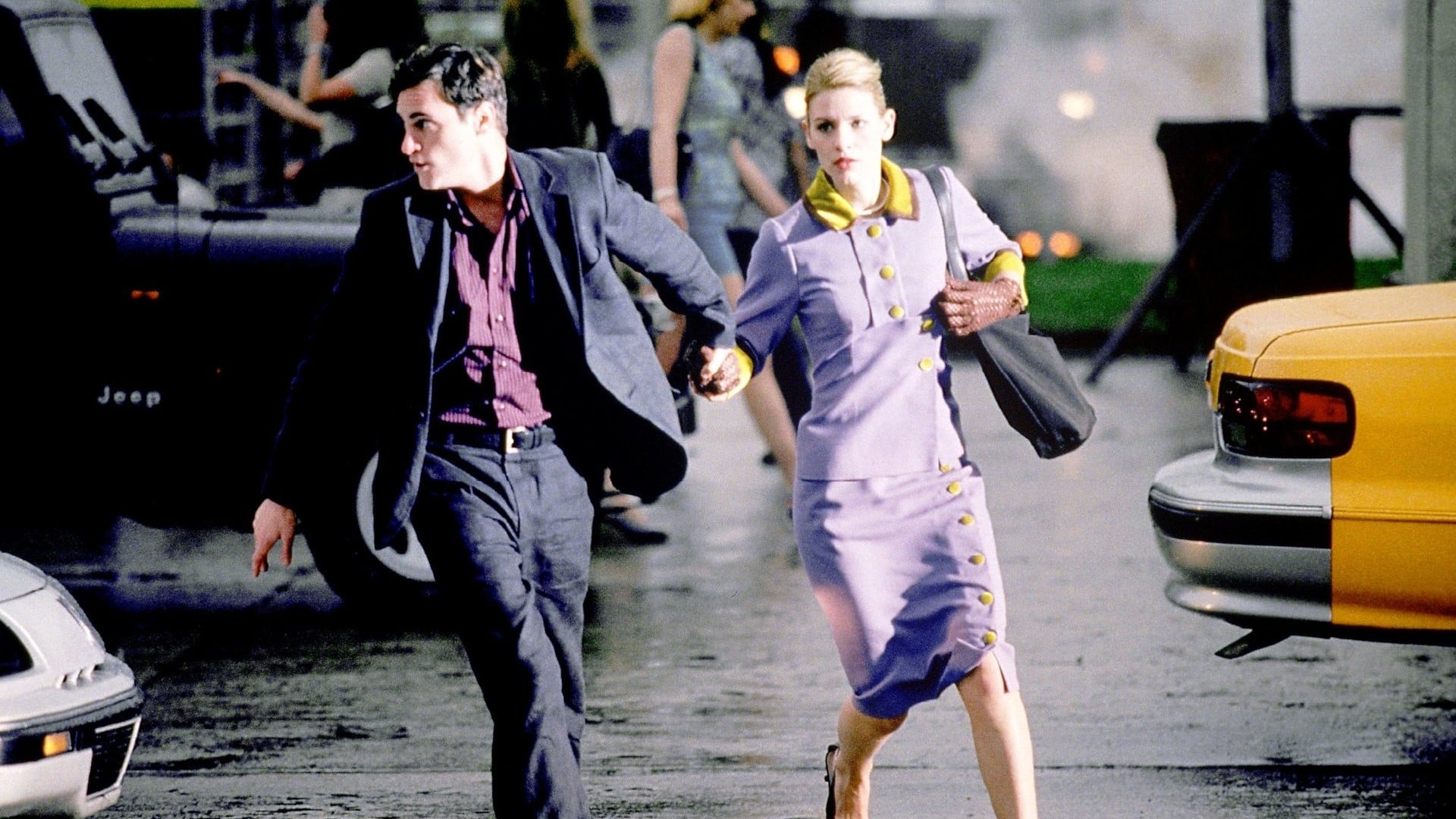 The background of the film is filled with bizarre touches – when Joaquin Phoenix steps off his flight in New York, a dead body lies at the bottom of the escalator but the aides dismiss his queries about this as though it were nothing abnormal, and elsewhere throughout there are bodies seen lying on sidewalks. There are other striking images – like the town in Uganda where gravity seems to have been switched off and we are granted one fantastic image of a village where people are floating in mid-air tethered to the ground by ropes.
I liked It's All About Love but the problem is that all of this does not easily work as a science-fiction film. The rule of thumb about a science-fiction work is take out the SF elements and see whether it still works as a story. In this case, take away the loneliness disease, the anti-gravity issues and so on and it would make almost no difference to the film, the story could stand untouched. They just seem random touches in the background and where none of them seem to have been considered in a proper scientific context (which is, after all, the difference between whether something is science-fiction or fantasy).
You have random gravity fluctuations in Africa but it is hard to see how this could happen without the rest of the planet being affected; there are extremely localised snowstorms and one scene where we are told that fresh water freezes and we see a glass left on the table in the hotel room icing over – but it is hard to see how this could happen and nothing else be affected by the temperature drop. It would have been not too difficult to come up with some kind of nominal rationale for why any of this is happening but they are just things that Vinterberg seems to want to randomly throw in. The effect is more akin to surrealism than science-fiction.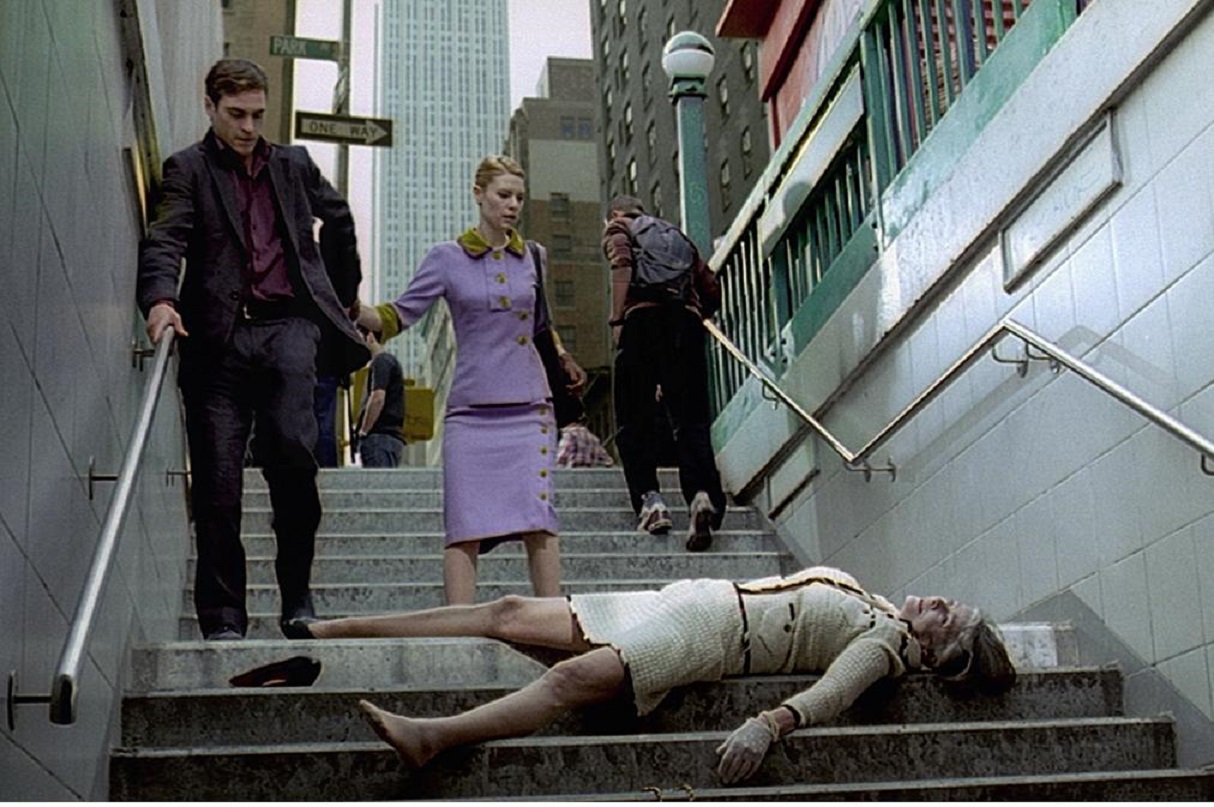 There are also a series of scenes with Sean Penn as Joaquin Phoenix's brother perpetually travelling the world in airplanes trying to offset his illness and leaving phone messages for him, which do not seem connected to anything else. This caused confusion to watching audiences and no doubt added to It's All About Love's failure at the box-office.
Where It's All About Love does captivate is during its love story or perhaps more so reconciliation story. Thomas Vinterberg does amazing things in drawing you into their worlds and showing the fragile connection. The life that Claire Danes leads is built up with great fascination as are the cracks that start to appear and suggestions of something sinister happening. There is one fantastic jolt moment where Joaquin Phoenix enters the suite to be confronted with three different versions of her.
Even then, this is three-quarters of a strong story that seems to peter out when it comes to the end where Vinterberg just leaves the two lovers in the middle of nowhere as though he didn't know where to take the film after that.
---
Trailer here
---