(Mercano el Marciano)
---
Crew
Director – Juan Antin, Screenplay – Juan Antin & Lautaro Nunez del Arco, Music – Leonardo Fresco, Animation Director/Art Direction – Ayar Blesco. Production Company – Malcriad@s/Universidad del Cine.
Voices
Juan Antin (Mercano), Ayar Blesco (Julian/E-tet)
---
Plot
A Martian, Mercano, is left abandoned on Earth after the crash of his flying saucer. He longs to return home. He succeeds in hooking up an internet connection to contact his friends to come and get him. However, when he gets through, they appear disinterested in doing so. He then learns that he can use the computer to create a virtual simulation of Mars in cyberspace. There he befriends a lonely teenage nerd, Julian. Julian's father, a business executive, learns about the virtual Mars and wants to buy it. He fools Mercano with the promise of building him a spaceship to go home but then imprisons him and extracts the secrets of Martian technology from his brain. With Mercano's secrets, his people are able to build The Vapourizer, which instantly creates objects out of thin air. They then give free computers to the whole world so that everybody can become beholden to their domination.
---
Mercano the Martian is a cute little animated film from Argentina. It might be described as a conceptual collision between The Brother from Another Planet (1984) and tv's Beavis and Butthead (1993-7). The comic tale of an alienated alien visitor wryly observing modern life has been given a shake up, in this case by co-opting it to the vulgar, sarcastic approach of modern animated shows like Beavis and Butthead and South Park (1997– ). The Beavis and Butthead and South Park allusions should not be lost in that Mercano also uses the same deliberately low-tech minimalist animation employed by these shows.
Mercano began life at the Universidad del Cine film school in Buenos Aires, at which the film's director Juan Antin is a professor of the digital animation department. Together Antin and his students created Mercano as a tv series that aired on Argentina's equivalent of the MTV channel in two-minute segments. The show developed a popularity and was subsequently sold internationally. Antin and students then made this feature film spinoff.
When it taps into a sarcastic vein of humour, Mercano the Martian is very funny. The joke at the end of the film – "They should've cut the blue wire" – is hysterical and just the perfect way for such a film to go out. The film also comes with an amusing level of fannish in-jokes. There are some highly amusing scenes where we see the Martians watching the equivalent of 1950s alien invader films with Mars being invaded by hordes of spacesuit-wearing, laser-firing humans in space shuttles.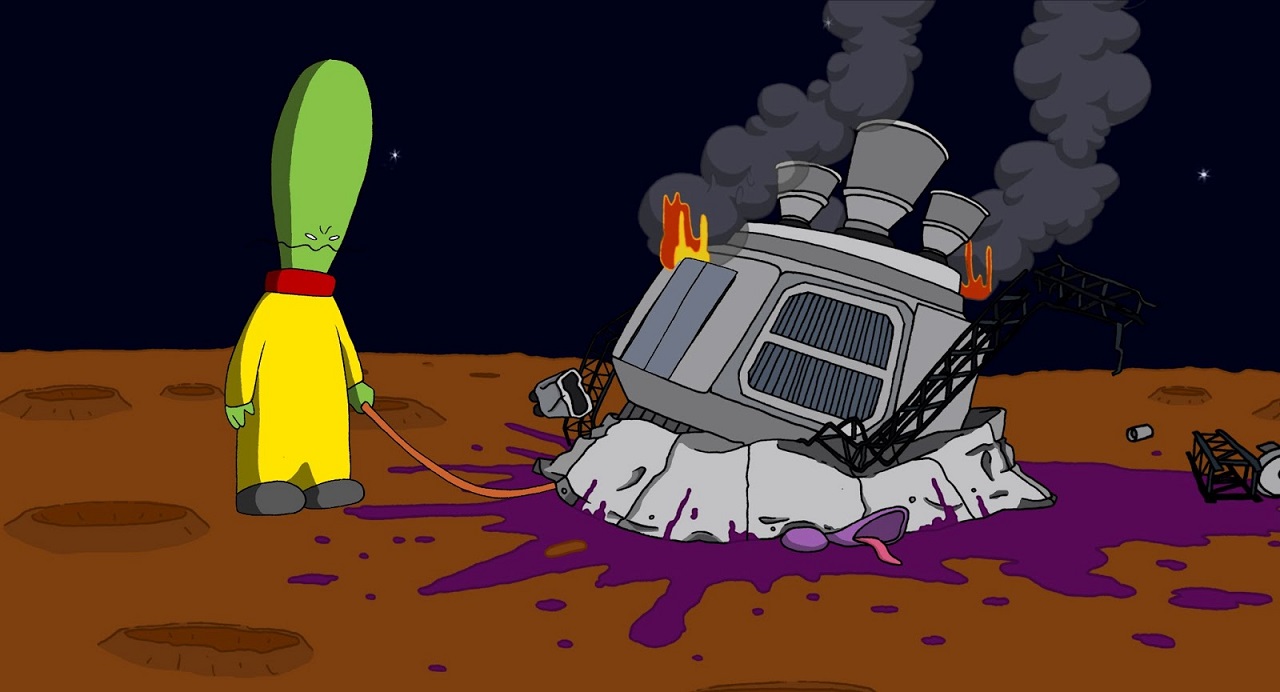 There is also a character whose clearly a sf fan, who wears a Star Trek (1966-9) uniform and whose room comes decorated with pictures of Mr Spock and with models of the Enterprise, X-Wings and so on hanging from his ceiling. It is nice to know fandom extends all the way across the language barrier to Argentina and that its inhabitants are fairly much the same everywhere. Later the film gets a few jokes at the expense of hacker nerds, which are often spot on target.
Less amusing is the film's conceptual overreach. Rather than any satire on the conventions of science-fiction, it seems to want to be more a satire on internet culture. The initial scenes with Mercano obtaining free internet service are funny to anyone who has been tempted by such offers but the film keeps getting sidetracked by a desire to make big messages. It regularly leaps off to take on targets like virtual shopping, big business control of the internet, the consumer society, globalisation, the excess of consumer product, and eventually stages a Luddhite rebellion against it all.
All of these are large topics but the film's treatment of them is glib and sweeping. It feels like a film overabundant with big ideas it wants to take to task – but as with the computer geek scenes you are not entirely sure if it is poking fun at the geeks, as often seems to be the case, or getting up in arms in sympathy with their ideals.
---
---