---
Crew
Director – Tim Johnson, Screenplay – Tom J. Astle & Matt Ember, Based on the Book The True Meaning of Smekday by Adam Rex, Producers – Suzanne Buirgy & Mirielle Soria, Music – Louis Balfe & Stargate, Visual Effects Supervisor – Mahesh Ramasubramanian. Production Company – DreamWorks Animation SKG.
Voices
Jim Parsons (Oh), Rihanna (Gratuity 'Tip' Tucci), Steve Martin (Captain Smek), Matt Jones (Kyle), Jennifer Lopez (Lucy Tucci)
---
Plot
The Boov are a cowardly race who have responded to every threat from the pursuing alien Gorg by running away. The Boov now arrive on Earth and decide to do humanity a favour by relocating them into happy encampments that they have made for them and then inhabiting their abandoned cities. The Boov known as Oh feels out of place because Boov are not interested in friendships and he is constantly making mistakes. He sends out an email invitation for a party he is holding but accidentally sends it out to the entire galaxy. This means that it is on its way to The Gorg and will alert them as to The Boov's current whereabouts. Boov security forces set out to hunt Oh down. Meanwhile, Gratuity 'Tip' Tucci has been accidentally left behind after her mother was snatched up to be relocated. She encounters Oh as he hides at a convenience store and they are forced together, he to flee pursuit, she needing his help fixing her car. Oh wants to go and hide in The Arctic but Tip forces him to help her locate her mother in Australia. On the way, Oh's alien view on human culture and her blaming him at being parted from her mother starts to thaw into friendship. However, this is endangered by the rest of The Boov wanting to eliminate Oh for his mistakes and the imminent arrival of The Gorg, who will destroy the Earth unless the email is stopped.
---
Home is the twenty-ninth animated film produced by DreamWorks Animation. It follows the likes of Antz (1998), The Prince of Egypt (1998), The Road to El Dorado (2000), Shrek (2001) and sequels, Spirit: Stallion of the Cimarron (2002), Sinbad: Legend of the Seven Seas (2003), Shark Tale (2004), Madagascar (2005) and sequels, Over the Hedge (2006), Bee Movie (2007), Kung Fu Panda (2008), Monsters vs Aliens (2009), How to Train Your Dragon (2010), Megamind (2010), Rise of the Guardians (2012), The Croods (2013), Turbo (2013), Mr. Peabody & Sherman (2014), Trolls (2016), The Boss Baby (2017), Captain Underpants: The First Epic Movie (2017) and Abominable (2019), as well as sequel to various of these.
It has frequently been repeated in the last little while that DreamWorks is faltering at the box-office, although I would dispute this. Certainly, both Turbo and Mr. Peabody & Sherman have been the only DreamWorks releases to earn below $300 million at the box-office since Bee Movie six years earlier. That said, the lowest earning of these – Mr. Peabody at $273 million – would still be a smash success in anybody else's book. Clearly, this is more to do with accountants' analyses of quarterly downturns in stock price than anything that represents real world popularity of the film.
Home is one film that seems to have turned that around. It is not entirely clear why – one can only suspect it has something to do with the decidedly mismatched voice casting of Jim Parsons, the breakout star of tv's hit The Big Bang Theory (2007-19), and/or his pairing alongside pop singer Rihanna. (Just imagining this as a double-billing in any kind of real world film makes the mind boggle).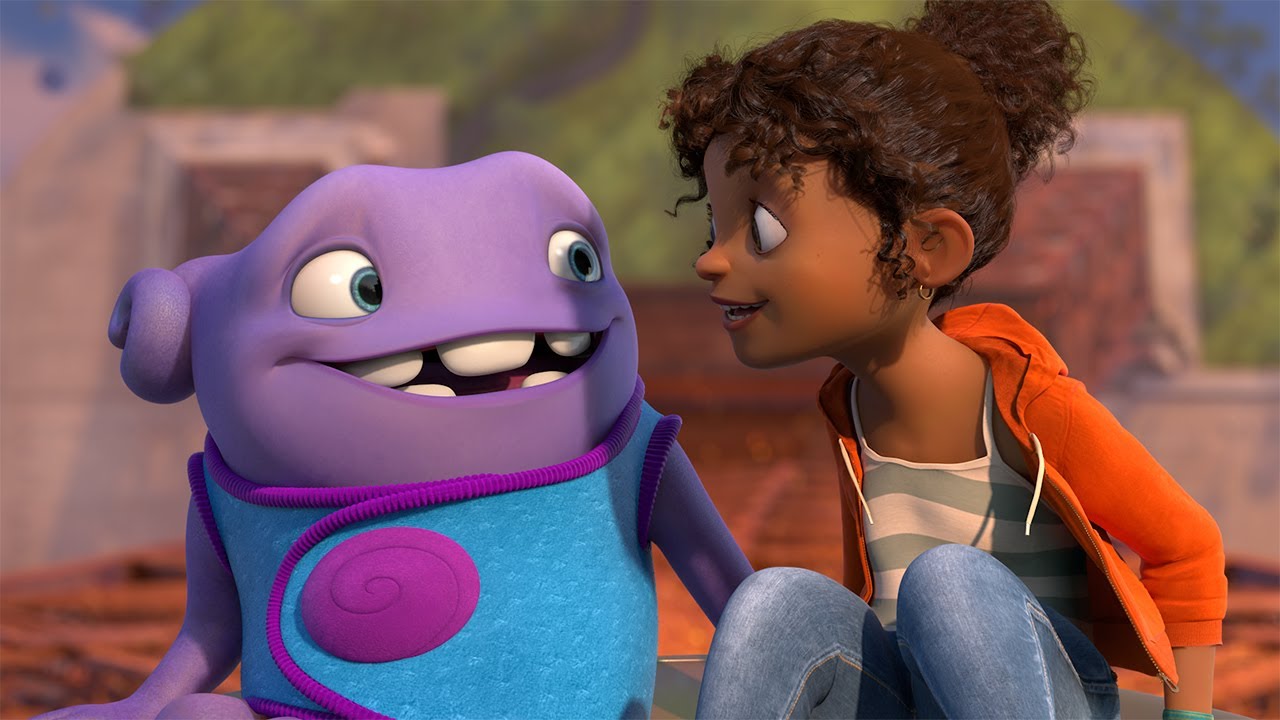 Home has been premised on a fairly simple comic idea – of the absurdities of Earth culture as seen through an alien's eyes. There have been a number of films playing on this – The Brother from Another Planet (1984), My Stepmother is an Alien (1988), Coneheads (1993), Meet Dave (2008) and one or two serious ones with The Man Who Fell to Earth (1976), Starman (1984) and Under the Skin (2013). In particular, the comic possibilities have played out in tv series such as My Favorite Martian (1963-6), Mork and Mindy (1978-82), ALF (1986-90) and 3rd Rock from the Sun (1996-2001).
Almost the whole of Home is predicated on this alien fish out of water humour – their difficulty parsing vernacular usages; Oh serving up platters of bolts and rolls of toilet paper as snacks; their regarding Van Gogh's The Starry Night (1899) as the equivalent of a pizza; The Captain and his use of bubble wrap as safety blankets and everything from barbeques and tires as headgear or vacuum cleaners as personal transport; or Oh's encounter with bathrooms, using the toilet scrubber and water in the bowl to brush his teeth or eating the toilet cakes.
For a time, Home seems like it is going to be a one-note jokes predicated on constant fish out of water gags. Even then, these seems pitched down at a very colourful and bubbly level that seems intended more for the single digit age members of the audience. This is a film where the vehicle the heroine drives has been reconditioned using the contents of a convenience store – the gas tank is powered by slushies; the dashboard dispenses hot dogs and lotto tickets; and the built-in weaponry fires nachos missiles at pursuers.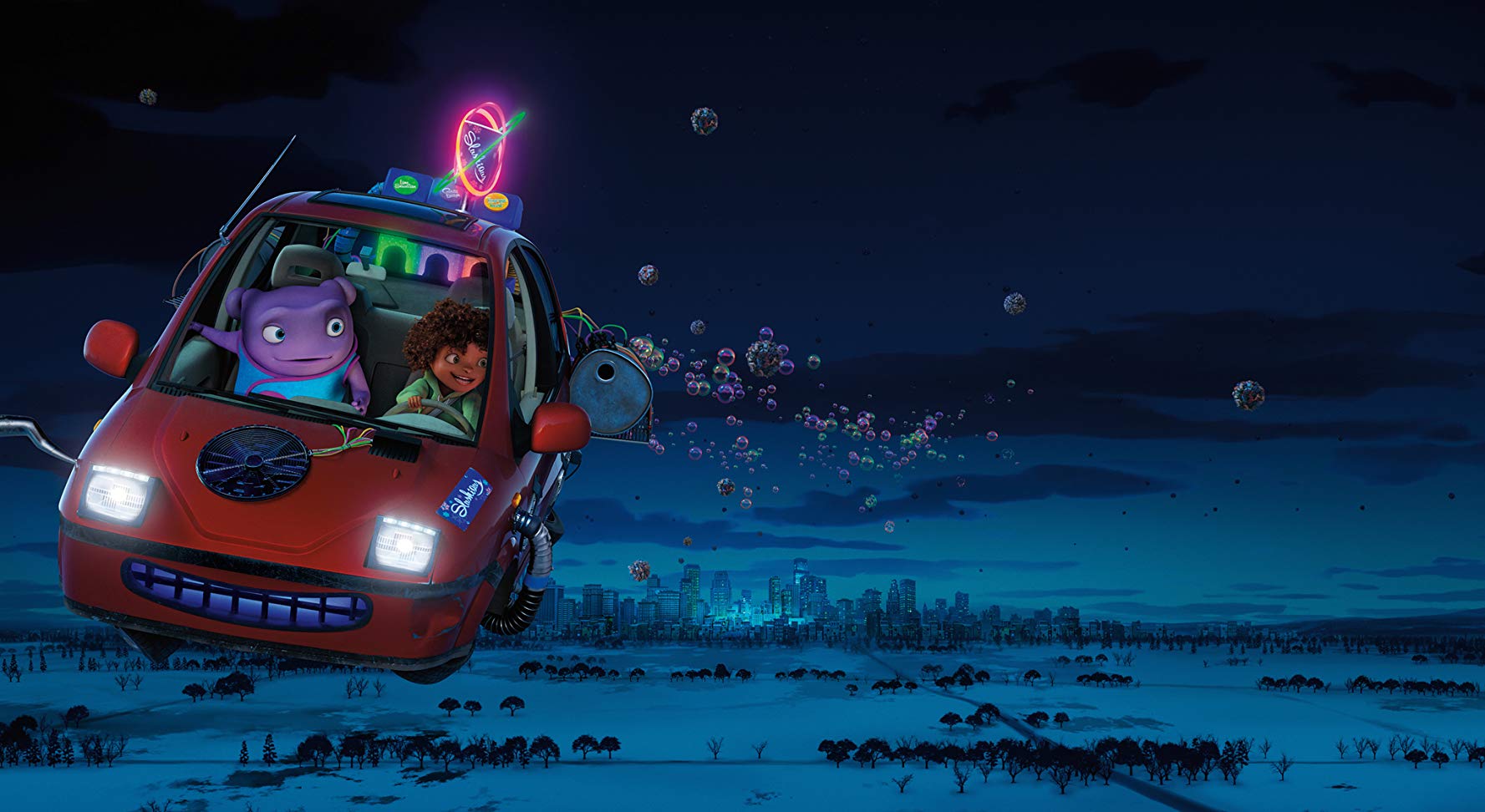 These prove mildly amusing in a brain-switched-off, pitched to the kids kind of way. This is often punctuated by big action sequences – the rotation of the Eiffel Tower and the mass destruction this causes, the arrival of the Gorg ship and its starting to tear up the Earth – that feel like they have strayed in from something more akin to a Michael Bay film as opposed to a cute and bubbly humour-driven film for the family.
Home settles down and becomes more serious in its latter half, having big messages about family reconciliation, an initially sparring relationship between the two central characters that gradually thaws to become friendship and caring, the little misunderstood guy standing up for bravery and so on. All of these are familiar upbeat messages that this sort of film and its demographic trades in on a regular basis, nevertheless manage to be ones that Home delivers with reasonable feeling. Even the generic bad guy of the show gets an abrupt reversal of expectation to show this is only a disguise a la Star Trek's The Corbomite Maneuver (1966).
I think I ended up liking Home more than the elements in it – a pitch for the juvenile demographic, pointless big effects sequences, cliche emotional upsurges – would make it seem on paper. It kind of worked in its own way and even charmed in small doses. Plus I thought the design of the alien technology was kind of cool and original.
---
---