---
Crew
Director – Mike Binder, Screenplay – J.F. Lawton & Damon Wayans, Story – Damon Wayans, Producers – C.O. Erickson & Eric L. Gold, Photography – Tom Sigel, Music – Miles Goodman, Production Design – James Spencer. Production Company – Wife'n'Kids Productions.
Cast
Damon Wayans (Daryl Walker), David Alan Grier (Kevin Walker), Robin Givens (Kimberly Jonz), Jon Polito (Michael 'The Suit' Minelli), Jason Alexander (Storm), Christopher Lawford (Mayor Marvin Harris), Lynne Thigpen (Eleanor Walker)
---
Plot
When the incredibly nerdy Daryl Walker succeeds in stopping a mugger on the subway, he decides that he wants to be a superhero and clean up crime in the neighbourhood. He creates a costume out of old rags and a bulletproof cloth that he accidentally created. Wearing the costume, Daryl soon becomes a neighbourhood sensation, solving crimes and helping people with his oddball inventions, although succeeding more by accident than skill. When the press ask who he is, he becomes dumbfounded and his brother says he "has gone blank, man" and they take it that his name is Blankman. Daryl then becomes caught up in a mobster's attempt to assassinate the Mayor.
---
Like other such filmic luminaries such as The Blues Brothers (1980), Wayne's World (1992) and Coneheads (1993) before it, Blankman is another Saturday Night Live (1975– ) sketch that has been spun out into a feature film. Like other lesser Saturday Night Live spinoffs such as It's Pat (1994), A Night at the Roxbury (1998) and The Ladies Man (2000), it is a skit that has exceeded its level of competence by developing a budget and a plot.
Blankman's one-note gag is a variant on the inept superhero. However, this is a superhero spoof that wants to have its cake and eat it, both by parodying superheroes, yet in its action sequences and warm fuzzy wrap-ups, also having its inept superhero triumph in spite of himself. In trying to have it both ways, the film ends up paring the parody down to almost nothing – and what we end up with is less a parody than we do a comedy centred around Damon Wayans' character who is regarded as having the divinely touched idiocy of characters like Forrest Gump where their simple-mindedness is seen as a gift that others lack.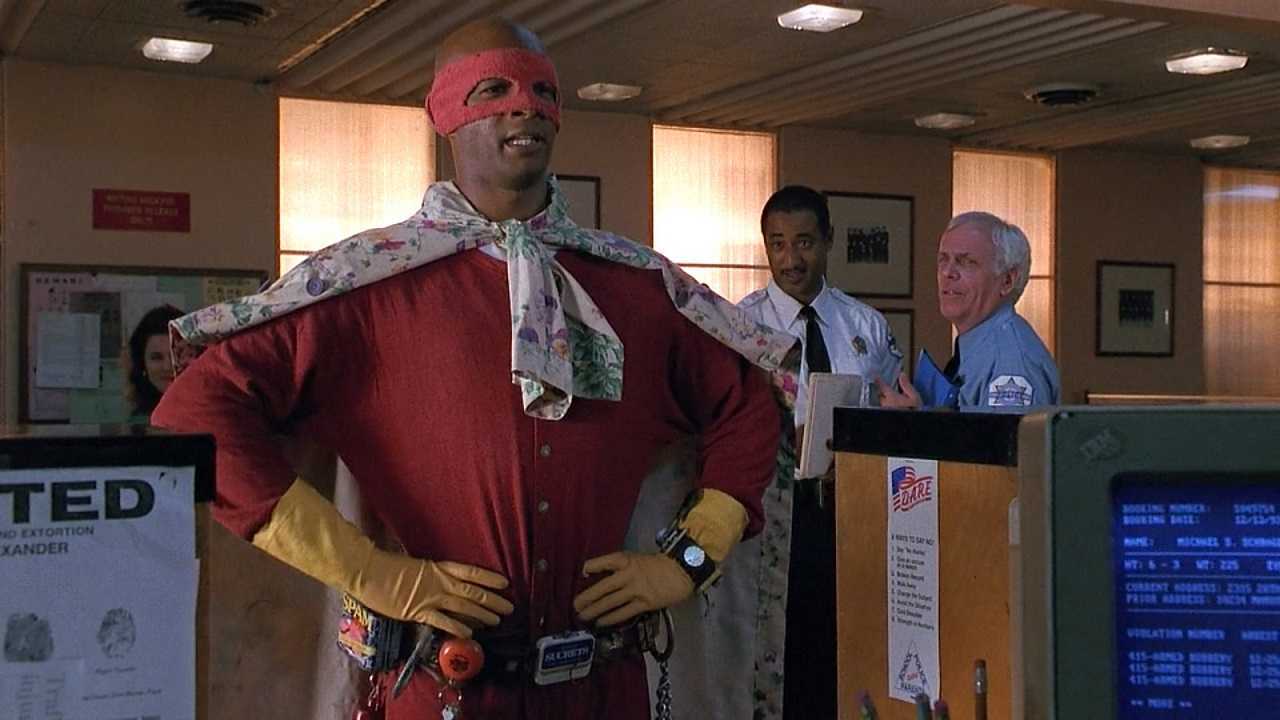 Blankman at a sufficiently commercial pace. However, it lacks much of anything that is funny. To give an idea of the film's level of humour – it seems to regard the sight of a tank being drained out via two holes at the hero's crotch height as he stands behind it, giving the impression that he is pissing, as the height of hilarity. (Star/co-writer Damon Wayans is after all brother of Keenen Ivory Wayans, director of the astoundingly vulgar Scary Movie (2000) and sequel). Blankman's ramshackle technology is presented as though it should be funny in its own right – but the idea of a robot constructed out of an old washing machine with two flashlights for eyes is a damp squib. Damon Wayans – who, as In Living Color (1990-4) showed, is a gifted impressionist – gives an amazingly irritating performance, delivering the entire part in a gratingly nasal whine.
Blankman is not dissimilar to The Meteor Man (1993) and Pootie Tang in "Sine Your Pitty on the Runy Kine" (2001). All are would-be Black parodies of superheroics featuring inept superheroes. If The Meteor Man is the Black Superman, then Blankman must surely be a Black Batman (or at least a Bizarro world version). A common theme in these films is the use of a superhero as a metaphor for Black empowerment, a role model for Black neighbourhoods to latch onto and take a stand against crime.
The superhero with no powers comedy would have to wait another fifteen or so years for more sophisticated treatment with the likes of Defendor (2009), Kick-Ass (2010) and James Gunn's Super (2010).
---
---