---
Crew
Directors/Screenplay – Jason Friedberg & Aaron Seltzer, Producers – Jason Friedberg, Peter Safran & Aaron Seltzer, Photography – Shawn Maurer, Music – Christopher Lennertz, Music Supervisors – Dave Jordan & Jojo Villanueva, Visual Effects – At the Post/Screaming Death Monkey (Supervisors – Jeremy Hunt & Wayne Shepherd), Look Effects & Rand Studio, Makeup Effects Design – Matthew W. Mungle, Production Design – William Elliott. Production Company – Lionsgate/Grosvenor Park/3 in the Box.
Cast
Matt Lanter (Will), Vanessa Minnillo (Amy), Gary "G-Thang" Johnson (Calvin), Crista Flanagan (Juney/Hannah Montana), Nicole Parker (Enchanted Princess/Amy Winehouse Look-Alike/Jessica Simpson Look-Alike), Kim Kardashian (Lisa), Ike Barinholtz (Javier Bardem Look-Alike/Beowulf/Batman/Hellboy/Prince Caspian/Police Officer), Tony Cox (Indiana Jones), Tad Hilgenbrinck (Prince), Carmen Electra (Beautiful Assassin), John Di Domenico (Dr Phil Look-Alike/Love Guru), Jason Beogh (Male Carrie), Abe Spigner (Flav-Flav Look-Alike), Devin Crittenden (Michael Cera Look-Alike), Nick Steele (Underwear Model), Noah Harpster (Jonah), Austin Scott (McLover), Walter Harris (Hancock), Jonas Neal (Justin Timberlake Look-Alike), Christopher Johnson (Michael Jackson Look-Alike), Jacob Tolano Wood (Bruce Banner), Roland Kickinger (Hulk)
---
Plot
Will wakes up with a premonition that the world is going to end on August 29th, 2008. That is the date he is holding his Sweet Sixteenth party. As the party starts, asteroids start to fall around New York City. Will realises that he loves his girlfriend Amy and sets out across the city to where she works at the Natural History Museum to rescue her. He is joined on his trek by his friend Calvin, the pregnant Juney and Calvin's girlfriend Lisa. Lisa is killed but then an enchanted princess emerges out of the sewers and Calvin falls for her. At the Natural History Museum, Will and Amy realise that they need to put the Crystal Skull back in its rightful place to stop the end of the world.
---
Disaster Movie was the fourth film from the directing/writing duo of Jason Friedberg and Aaron Seltzer. Friedberg and Seltzer specialise in movie parodies. They started out writing for other directors with Spy Hard (1996), directed by Jason's father, and the big hit of Scary Movie (2000). On the basis of Scary Movie, they were granted opportunity to start directing with Date Movie (2006). In a very short space of time, they went onto make Epic Movie (2007), Meet the Spartans (2008) and Disaster Movie. After Disaster Movie, the duo appeared to fall silent, which may well be due to the fact that Epic Movie, Meet the Spartans and Disaster Movie all hit a level of witless inanity that had them placed highly on every critic's worst films of the year lists. Unfortunately, this was not the case and Friedberg and Seltzer reappeared with Vampires Suck (2010), The Starving Games (2013), Best Night Ever (2013) and Superfast! (2015).
Though Friedberg and Seltzer's films are parodies of other movies, increasingly their films came to be about a series of gags based on films that came out within the last twelve months, slung together with the barest semblance of a plot, along with numerous snide jibes at various celebrities of the last five minutes. The gags are played down at a witless lowest common denominator level.
Here, as with Epic Movie, Friedberg and Seltzer take the title of a particular genre, only to fill it with film references that are completely unrelated. The disaster movie genre, which was at its height in the 1970s with the likes of Airport (1970), The Poseidon Adventure (1972) and The Towering Inferno (1974) is ripe for parody – and has been several times with the likes of The Big Bus (1976) and Airplane/Flying High (1980).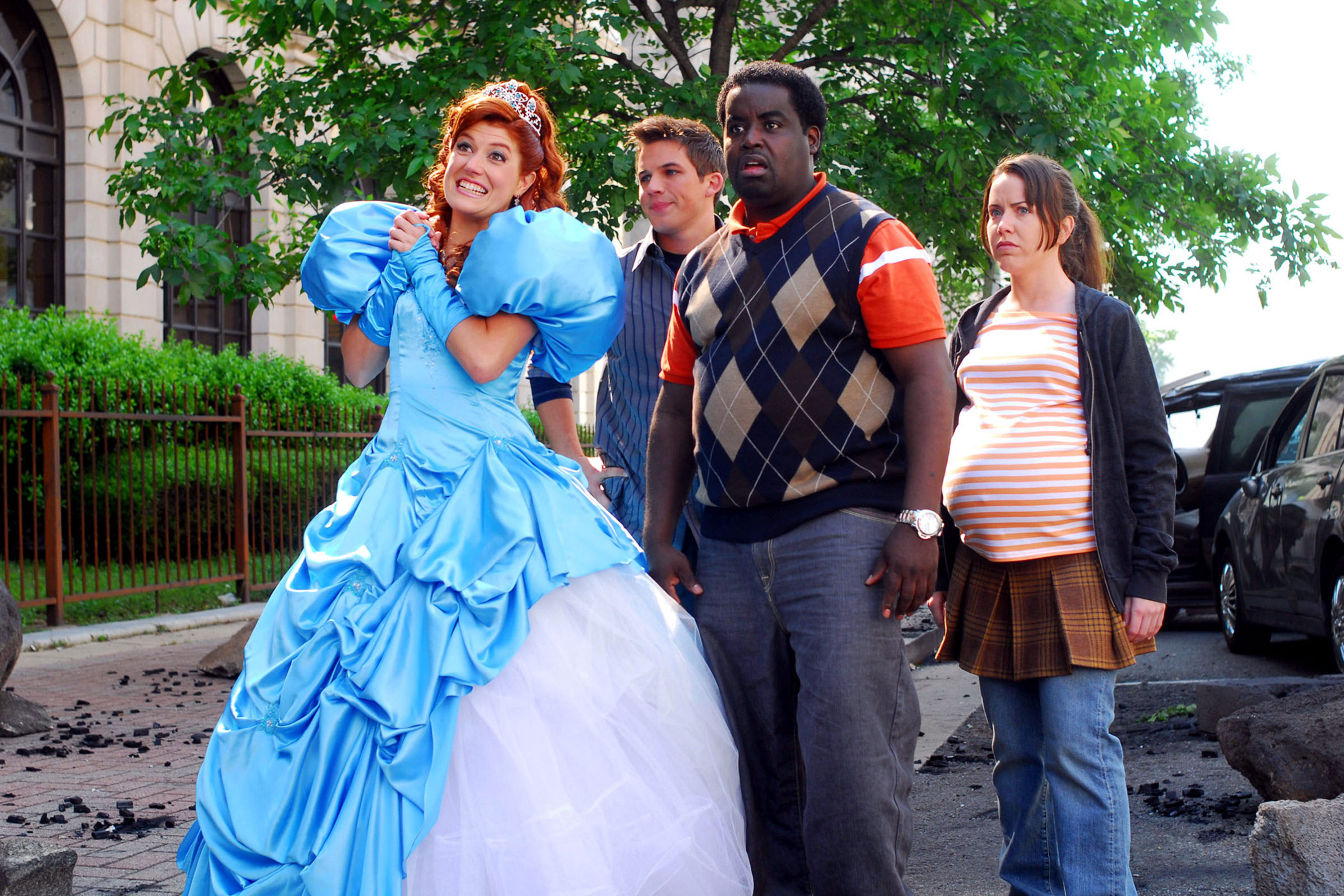 However, the only vague connection to any disaster movie here is the parody of Cloverfield (2008) – the other parodies cover everything from superhero films, Judd Apatow movies, animation and comedy, everything except disaster movies. It is the constant disappointment of Friedberg and Seltzer appropriating the name of an entire genre – and then featuring absolutely nothing to do with it. This peculiar obsession with parodying only recent films as opposed to entire genres of films that stretch way back may say something damning either about how it is expected that modern audiences have a severe lack of long-term memory and no sense of cinematic history, or perhaps more concerningly how Friedberg and Seltzer themselves do.
Included among the parodies here are:- 10,000 BC (2008) where Matt Lanter is a caveman and gets trod on by a dinosaur and squelched into a pile of dinosaur poop, while the sabre-tooth tiger turns out to be Amy Winehouse; the party scene featuring look-alikes of Javier Bardem's Anton Chigurgh from No Country for Old Men (2007), Jonah Hill and Christopher Mintz-Plasse from Superbad (2007), along with parodies of High School Musical (2006) and the Curving the Bullet scene from Wanted (2008); the girls from Sex and the City (2008) turn up but are drag queens; Gary "G-Thang" Johnson goes to answer his shoe phone a la Maxwell Smart in Get Smart (2008) but it is covered in dogshit; the group are joined by an airheaded copy of Amy Adams' Princess from Enchanted (2007); are attacked by the trio of chipmunks from Alvin and the Chipmunks (2007) turned feral; there is a spoof of Indiana Jones and the Kingdom of the Crystal Skull (2008) but Indiana Jones is played by a dwarf; a live-action equivalent of Beowulf from Beowulf (2007) turns up to fight naked and there is much joking about his gay tendencies; and there are various parodies dotted throughout of Night at the Museum (2006), The Chronicles of Narnia: Prince Caspian (2008), Hancock (2008), Jumper (2008), Kung Fu Panda (2008), The Love Guru (2008) and Speed Racer (2008).
At one point, it is randomly mentioned that they need a hero whereupon likenesses of Batman, The Incredible Hulk, Hellboy and Iron Man turn up one after the other only to be crushed by cows – notedly these are superheroes who have a cinematic lineage that goes back several years but who all appeared in films in 2008. Probably the most amusing parodies are those of Juno (2007) with a number of jibes at the affectedness of Diablo Cody's dialogue where at least Crista Flanagan gives an amusing performance that stands out above the witlessness of the rest of the film.
There are also numerous gags thrown in the direction of various celebrities – Jessica Simpson, Justin Timberlake, Dr Phil, Hannah Montana/Miley Cyrus and Michael Jackson (who seems a particular target of these parody films and has been an object of derision in most of Friedberg and Seltzer's films to date). Mostly the film plays everything down at a level of crude Lowest Common Denominator gags – Amy Winehouse turns up and gives an extremely long belch, gay jokes, people being dumped in and splattered with shit, gags about very hairy women. In its favour, Disaster Movie felt less annoying, crude and offensive to one's intelligence than some other of Friedberg and Seltzer's films have; that still makes it nowhere near a good film.
---
Trailer here
---