---
Crew
Director – Robert Rodriguez, Screenplay – James Cameron & Laeta Kalogridis, Based on the Manga Gunnm by Yukito Kishiro, Producers – James Cameron & Jon Landau, Photography (3D) – Bill Pope, Music – Tom Holkenborg, Senior Visual Effects Supervisor – Joe Letteri, Visual Effects Supervisors – Richard Hollander & Eric Saindon, Visual Effects – DNeg (Supervisors – Raymond Chen & Michael Grobe), Framestore (Supervisor – Nigel Denton-Howes), Rising Sun Pictures (Supervisor – Tom Wood), The Third Floor, Inc. & Weta Digital (Supervisors – Nick Epstein, Mark Gee, Anders Langerlands, Phillip Leonhardt & Charles Tait), Special Effects Supervisor – Rob Trevino, Makeup Effects – KNB EFX Group Inc (Supervisors – Howard Berger & Greg Nicotero), Production Design – Steve Joyner, Concept Design Supervisors – Dylan Cole & Ben Procter. Production Company – Lightstorm Entertainment/Troublemaker Studios.
Cast
Rosa Salazar (Alita), Christoph Waltz (Dr Dyson Ido), Keean Johnson (Hugo), Jennifer Connelly (Chiren), Mahershala Ali (Vector), Jackie Earle Haley (Grewishka), Ed Skrein (Zapan), Jorge Ledenborh Jr. (Tanji), Lana Condor (Koyomi), Jeff Fahey (McTeague), Idara Victor (Nurse Gerhad)
---
Plot
It is the year 2563, three hundred years after the Earth has been devastated by The Fall. Roboticist Dr Dyson Ido finds a damaged cyborg body in the junk yards of Iron City, which lies beneath the floating city of Zalem where the elites live. He attaches the cyborg to the body he built for his late daughter and brings it to life, naming it Alita, although she has no memory of who she was. Soon Alita forms an attachment to Hugo, a teenage Motorball player aiming to win the big tournament that will allow him to go up to Zalem. Suspecting that Dr Ido is responsible for a series of attacks that are robbing people of their cybernetic attachments, Alita follows him and fights off cyborg attackers. During the course of this, she discovers that she has remarkable fighting abilities. Ido recognises that Alita is a Berserker, a deadly killing machine leftover from the wars with the United Republic of Mars. Others recognise who she is and determine to capture her.
---
Alita: Battle Angel is a film I have waited with a great deal of anticipation to see for several years. It was at one point announced as a project by James Cameron. Given that Cameron would consider worth devoting the usual decade plus he does to the project automatically elevates it considerably. Presumably because he is too occupied with making nobody really knows how many sequels to Avatar (2009), Cameron handed the directorial reins of Alita over to Robert Rodriguez.
James Cameron and Robert Rodriguez seem talents almost at such opposite extremes that one does a double-take seeing the two names in collaboration. (See bottom of the page for either's other genre credits). They make very different films – Cameron creates fierce action films and grand epics of technology and humanism and seems constantly interested in pushing technical frontiers in effects; Rodriguez makes action films that seem to be over-spilling with zany creative energy or gonzo homemade children's films. Cameron is an exacting perfectionist who can take years in search of technical perfection; Rodriguez is a manic workaholic who churns out films that sometimes look scrappy with the rough corners showing.
Alita is based on the manga Gunnm (1990-5) that appeared in Business Jump magazine and concerns a young cyborg girl with no memory who becomes a bounty hunter in the future world while discovering she has remarkable fighting abilities in the lost art of Panzer Kunst. The manga was renamed Battle Angel Alita for its English-language publication. There were subsequent follow-up manga and an anime adaptation Battle Angel (1993) that was released in two OVA episodes of thirty minutes apiece. James Cameron had read the manga some time during the 1990s, had obtained the rights and announced at various points throughout the 2000s he would be directing a film version. However, this was sidelined by his work on Avatar and he eventually asked Robert Rodriguez to step in and take over.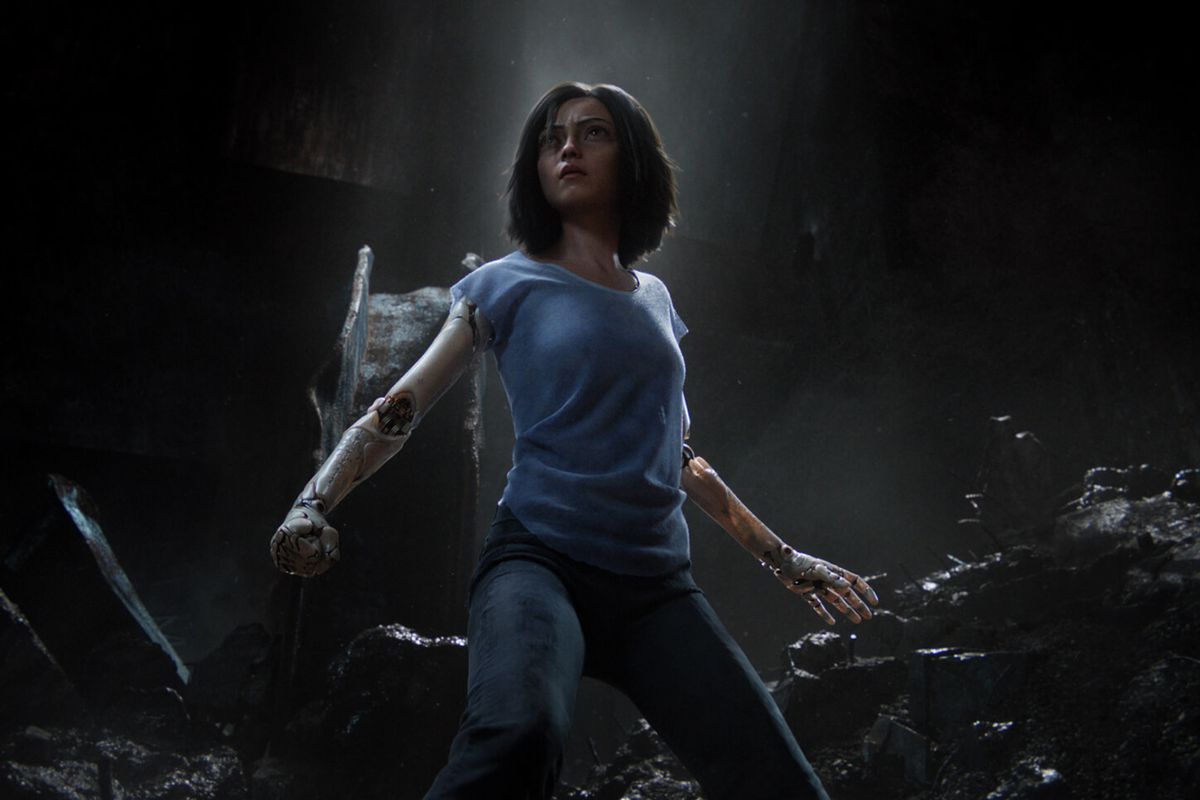 It is hard to say what a disappointment Alita: Battle Angel is. Whatever James Cameron saw in the project, it can't have been the script. The one we end up with up surprisingly simplistic – teen is brought to life in a laboratory by a father figure; meets cute guy and hangs out in the rough end of town; is pursued by bad guys; finds the only way she can triumph is in the sports arena. When you think of the defining genre works that Cameron created with The Terminator (1984) and Aliens (1986), this seems like a film that belongs more in the arena of a juvenile fantasy like Solarbabies (1986) or Prayer of the Rollerboys (1991).
One can only assume that Cameron's interest had more to do with creating the title character via the motion capture process he used on Avatar. Even then there is the feeling that Alita is a mocapped character because she could be rather than because it allowed the filmmakers to do something that had been theretofore impossible. In the majority of the scenes in which she appears, Alita is wearing a top and all that we see of her cyborg nature is her arms – there seems no real reason why these scenes could not have been shot with an actress wearing a couple of prostheses and why when it came to the full body character that said actress's head could not have been digitally inserted onto a mocap body in the same way it is with Ed Skrein and Jeff Fahey's characters.
The upshot of this is that we have a film featuring a character who is regular in appearance but happens to be played by a CGI creation. With slightly larger than normal anime eyes, the effect slips into Uncanny Valley – you have a very human-like character who exhibits normal expressions but you spend the entire time being distracted by the fact that the look is slightly off and not right.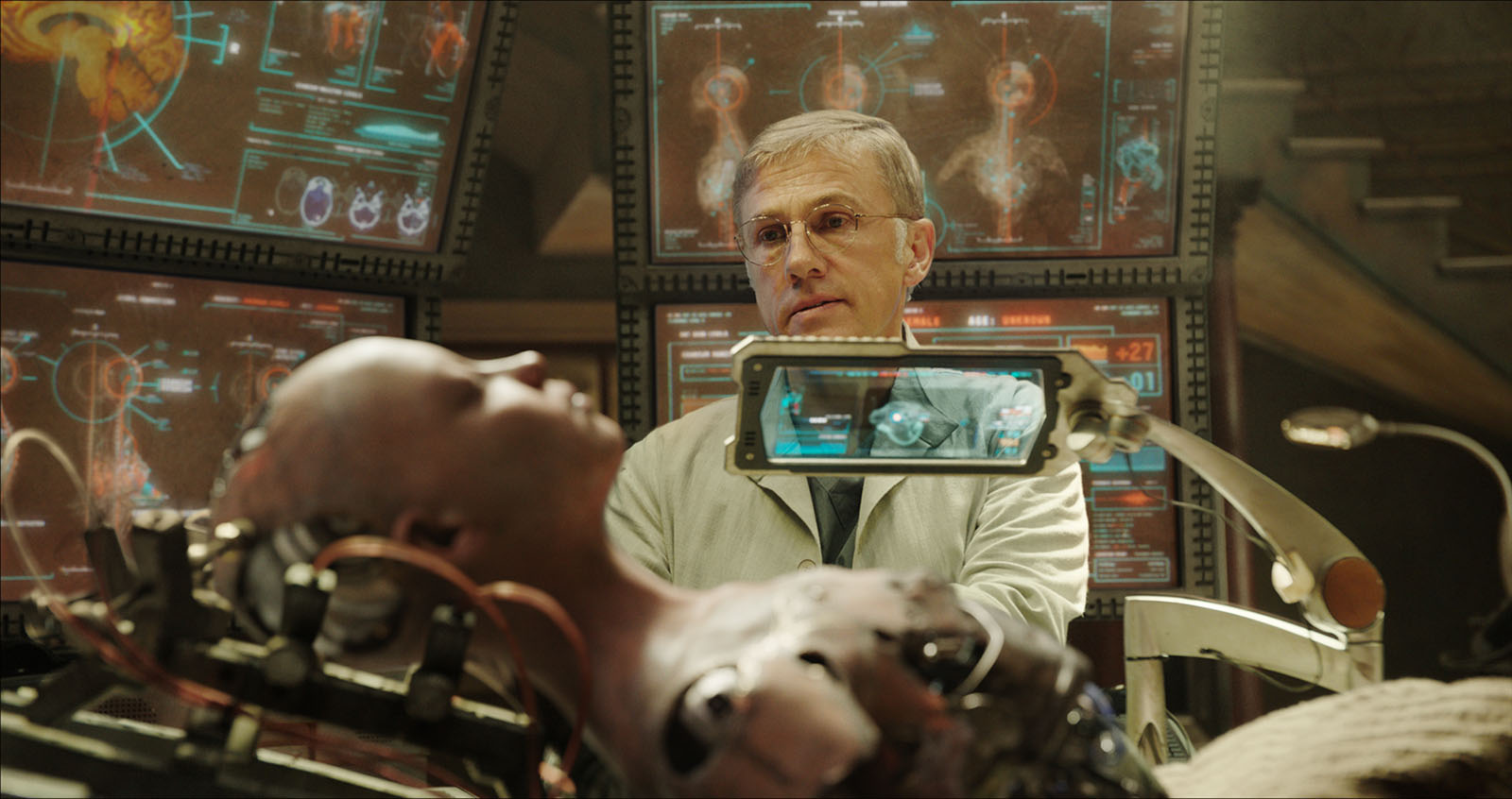 The disappointment of Alita: Battle Angel is that unlike say the similar A.I. (Artificial Intelligence) (2001) where Steven Spielberg and Stanley Kubrick's voices complemented each other to create something great, here Cameron and Rodriguez's mutual voices end up cancelling the other out. With Terminator 2: Judgement Day (1991) and Avatar, James Cameron showed he was on the cutting edge of the CGI revolution – indeed, his The Abyss (1989) was one of the very first films to employ CGI. On the other hand, Robert Rodriguez has taken the role of visual effects supervisor on a number of his films and even created his own effects house Troublemaker Digital but the results have always felt cut price and inferior.
On screen, Rodriguez's often corner-cut hand with visual effects trumps Cameron's expertise. Aside from Alita, which looks almost human, the effects elsewhere look lesser. The film delivers some amazing background images of Iron City and Zalem with dense city streets buzzing with novel futuristic technology but it all looks like obvious CGI eye candy not something with real living, breathing depth. Similarly the large-scale games of Motorball in the arena look like no more than more elaborate versions of the videogame sequences in Rodriguez's Spy Kids 3D: Game Over (2003).
On the other hand, in allowing so much of the action in the film to be mocapped and represented by CGI, Robert Rodriguez's usual pyrotechnic flair for action scenes seems strangely muted. The fight in the bar is one you reach an end with a shrug rather than feeling exhilarated by it as you feel like you should have – compare it to something like the balletic action scenes in Rodriguez's Desperado (1995) to see just how lacking it is. The fight in the alleyway is so-so, boosted solely by some cool looking effects in the scene where Alita takes on a woman with a gleaming metal spider's body. The one sequences that does stand out is the one where Alita is fighting Grewishka in the sewers and he is attacking her with arms that are chains with giant claws on the end that end up slicing her to pieces but where she manages to fight back and defeat him despite being reduced to just a torso with a single arm left attached to her body.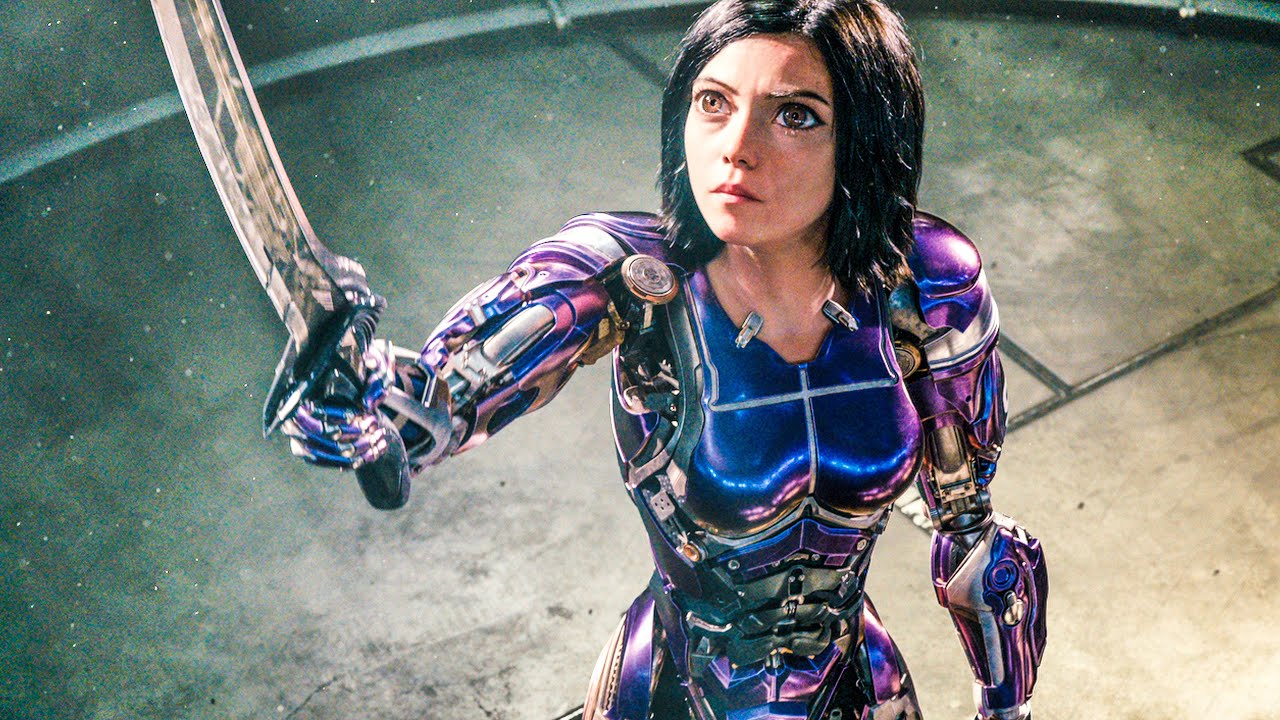 Robert Rodriguez's other films of genre interest are the vampire/getaway thriller From Dusk Till Dawn (1996); the witty teen body snatchers film The Faculty (1998); the juvenile spy adventure Spy Kids (2001) and sequels Spy Kids 2: Island of Lost Dreams (2002), Spy Kids 3-D: Game Over (2003) and Spy Kids: All the Time in the World (2011); the graphic novel adaptation/film noir pastiche Sin City (2005) and Sin City: A Dame to Kill For (2014); the children's film The Adventures of Sharkboy and Lavagirl in 3-D (2005); the zombie film Planet Terror (2007), half of the Quentin Tarantino collaboration Grindhouse (2007); the children's film Shorts (2009); Machete Kills (2013), a sequel to his earlier Mexican-themed action film that frequently enters into science-fiction territory; Red 11 (2019), a mind-bending work set during an experimental drug trial; the kid superheroes film We Can Be Heroes (2020); and the reality-bending Hypnotic (2023). Rodriguez has also produced From Dusk Till Dawn 2: Texas Blood Money (1999), From Dusk Till Dawn 3: The Hangman's Daughter (2000) and Predators (2010), as well as developed the tv series From Dusk Till Dawn (2014-6).
James Cameron's films as director include:- Piranha II: Flying Killers/Piranha II: The Spawning (1981), The Terminator (1984), Aliens (1986), the underwater alien contact film The Abyss (1989), Terminator 2: Judgment Day (1991), the spy comedy True Lies (1994), the runaway success of Titanic (1997), Avatar (2009) and Avatar: The Way of Water (2022). Cameron has also written the millennial virtual reality film Strange Days (1995), which was directed by his wife Kathryn Bigelow, as well wrote/produced Terminator: Dark Fate (2019) and produced the near future tv series Dark Angel (2000-2), the remake of Solaris (2002), the rock diving survival film Sanctum (2011) and Cirque du Soleil: Worlds Away (2012). He also hosts and produces the tv documentary series AMC Visionaries: James Cameron's The Story of Science Fiction (2018).
---
---