---
Spain/USA. 2018.
Crew
Director – Rodrigo Cortes, Screenplay – Mike Goldbach & Chris Sparling, Based on the Novel by Lois Duncan, Producers – Marty Bowen, Wyck Godfrey, Adrian Guerra, Meghan Hibbett & Stephenie Meyer, Photography – Jarin Blaschke, Music – Victor Reyes, Visual Effects Supervisor – Alex Villgrasa, Visual Effects (Supervisor – Jose Ramon Alonso), Special Effects Supervisor – Pau Costa, Makeup Effects – DDT (Supervisors – David Marti & Montse Ribe), Production Design – Victor Molero. Production Company – Temple Hill/Fickle Fish Films/Nostromo Pictures/Department de la Cultura de la Generalitat de Catalunya.
Cast
AnnaSophia Robb (Katherine 'Kit' Gordy), Uma Thurman (Madame Duret), Isabelle Fuhrman (Izzy), Victoria Molores (Veronica), Noah Silver (Jules Duret), Taylor Russell (Ashley), Rosie Day (Sierra), Rebecca Front (Miss Orlonsky), Kirsty Mitchell (Ginny Gordy Gabrowski), Pip Torrens (Professor Farley), Jodhi May (Heather Sinclair), Jim Sturgeon (Dave Gabrowski), Julia Stressen-Reuter (Young Kit)
---
Plot
Katherine 'Kit' Gordy is a rebellious teenager. Her mother and stepfather make the decision to send her to the Blackwood Boarding School that promises to reform troubled teens. Kit arrives to discover that she is only one of five pupils at the school, all of them troubled girls. The headmistress Madame Duret insists that they be given instruction in art, mathematics, music and literature. Kit is surprised to see all of the girls suddenly flourishing and developing remarkable aptitude in various of these fields. Kit herself becomes a highly talented pianist. However, Kit also sees that some of the girls are being taken over by their newfound talent and working obsessively to the point of exhaustion. As she digs deeper, she discovers how Madame Duret is channelling the spirits of dead geniuses and using the girls as vessels so that they can further their works.
---
Spanish director Rodrigo Cortes perked my attention with his second film Buried (2010), a thriller about Ryan Reynolds trapped inside a coffin. The novelty of the film was that Reynolds was the sole person on screen for the duration, only reacting to others via cellphone, and that the camera remained inside the coffin with him. Cortes next went on to make Red Lights (2012), a strong and intelligent work about debunkers of the supernatural. In the interim, Cortes also wrote the script for the ghost story Emergo/Apartment 413 (2011) and produced the thriller Grand Piano (2013).
Down a Dark Hall was adapted from the novel Down a Dark Hall (1974) by Lois Duncan. Duncan was a Young Adult horror writer and has had other works adapted into film with Wes Craven's Summer of Fear/Stranger in Our House (tv movie, 1978), Killing Mr Griffin (tv movie, 1997), I've Been Waiting For You (tv movie, 1998), Stranger With My Face (tv movie, 2009) and most famously the slasher film I Know What You Did Last Summer (1997), even though she deplored the screen version. The surprise name to see on the credits is that of Stephenie Meyer – none other than the original author who started the whole Twilight (2008) phenomenon – who is listed as a producer.
I was not sure what to expect from Down a Dark Hall before watching. The plot involving sinister happenings at a girls' boarding school has served as the basis for a number of other horror films – look no further than the likes of The House That Screamed (1969), The Picnic at Hanging Rock (1975), Suspiria (1977), Saint Ange (2004) and The Moth Diaries (2011), while it seems regularly favoured by other Young Adult works such as the Harry Potter series, Vampire Academy (2014) and Fallen (2016). The boarding school setting is prevalent enough that by the time of Down a Dark Hall it feels like it is verging on cliche.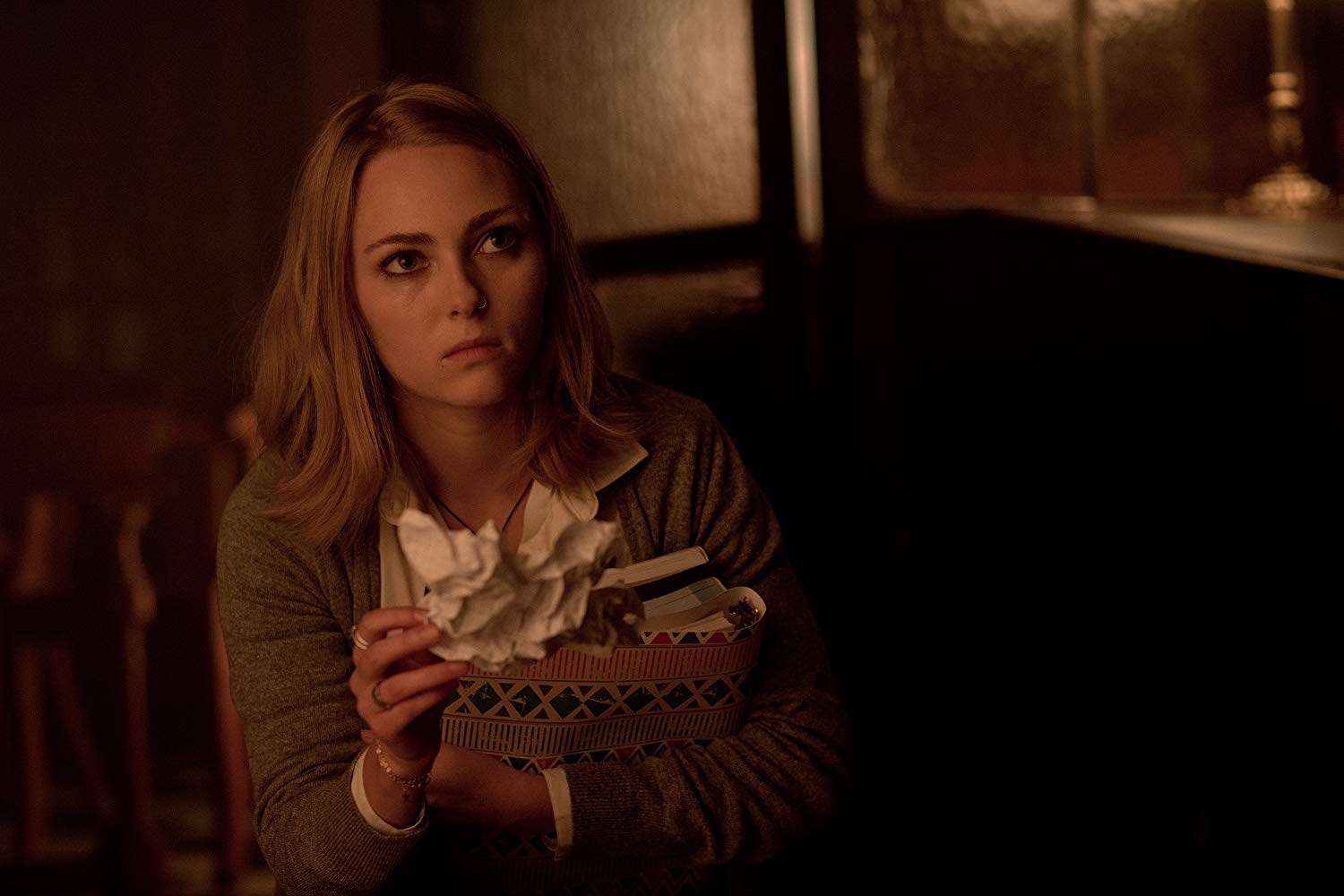 It is with a sense of over-familiarity that one settles into the film. Furthermore, seeing Uma Thurman doing a variant on the gimlet-eyed headmistress with a silly Germanic (?) accent causes you to have to stifle a set of the giggles. Rodrigo Cortes piles on oodles of brooding atmosphere but much of this is killed by the decision to process everything in desaturated colours, which wash the whole film out into a muddy grey-brown. The main issues I had with Down a Dark Hall was its structure. It seems set up to be a horror film but it never really does become one except in a PG-rated way where everything is played safe for Young Adult audiences.
The structure of the story is all obvious. AnnaSophia Robb is written in some interestingly jagged strokes at the outset. When we meet her, she is all hostile, undirected aggression but as soon as she settles into the boarding school this dissipates and she becomes a standard YA heroine. She begins an investigation around the school and it takes us no real time to work out (something the publicity department has told us anyway) that Madame Duret is channelling the spirits of the dead artists and scientists through the girls.
There is no real mystery to AnnaSophia uncovering these things – the only real surprise at the big revelation part way through the film is that what the film leads us to believe is happening is exactly what is going on. The last section after this non-revelation proceeds in exceedingly predictable directions to a climax where the school is invariably burned down.
---
---