(Los Parecidos)
---
Mexico. 2015.
Crew
Director/Screenplay – Isaac Ezban, Producers – Isaac Ezban, Miriam Mercado & Elsa Reyes, Photography – Isi Sarfati, Music – Edy Lan, Visual Effects Supervisor – Franz A. Novotny, Special Effects Supervisor – Oscar Jara, Production Design – Patricia Burgos. Production Company – Red Elephant Films/Yellow Films/Zensky Cine/Fidecine 2015.
Cast
Gustavo Sanchez Parra (Ulises Martinez), Cassandra Ciangherotti (Irene), Humberto Busto (Alvaro Gerazo), Catalina Salas (Rosa), Fernando Becerril (Martin Aguilar), Santiago Torres (Ignacio), Carmen Beato (Gertrudis), Maria Elena Olivares (Roberta)
---
Plot
October 1968. Ulises Martinez is at a bus station urgently trying to get to Mexico City where he wife is about to give birth. However, the station is cut off by a heavy rainstorm and all buses have been cancelled. He is joined by Irene, who is fleeing from her husband, and various others over the course of the night, including a crazed old woman who speaks a language nobody can understand. Increasingly stranger things begin to happen. They are all disturbed when the attendant and then the others, both men and women, one by one start to manifest a beard, hair and facial features to become identical copies of Ulises.
---
Mexican director Isaac Ezban made a splash at various international and fantastic film festivals with his debut feature The Incident (2014), which concerned people trapped in a pocket universe and stuck endlessly replicating the same objects over and over. The Incident was conceptually captivating, even if Isaac Ezban started to fall down with the end where he was required to rationalise and allow all of it to make sense. Ezban returned with The Similars, his second film, and a similar kind of conceptually mind-boggling scenario also involving objects/people being duplicated.
The period we are told is a date in October, 1968. The setting is a remote bus station that is cut off from the rest of the world by a storm – this remains the entire location for the film until the closing scene. Into the midst of this are introduced a varied cross-section of the sort of people that usually turn up in these Isolated By Crisis stories – a man trying to get to his pregnant wife before she delivers, a woman who may have killed her abusive husband, a woman who speaks in an incomprehensible babble, an angry medical student and an upper-class woman with a son who is attached to a strange life support device.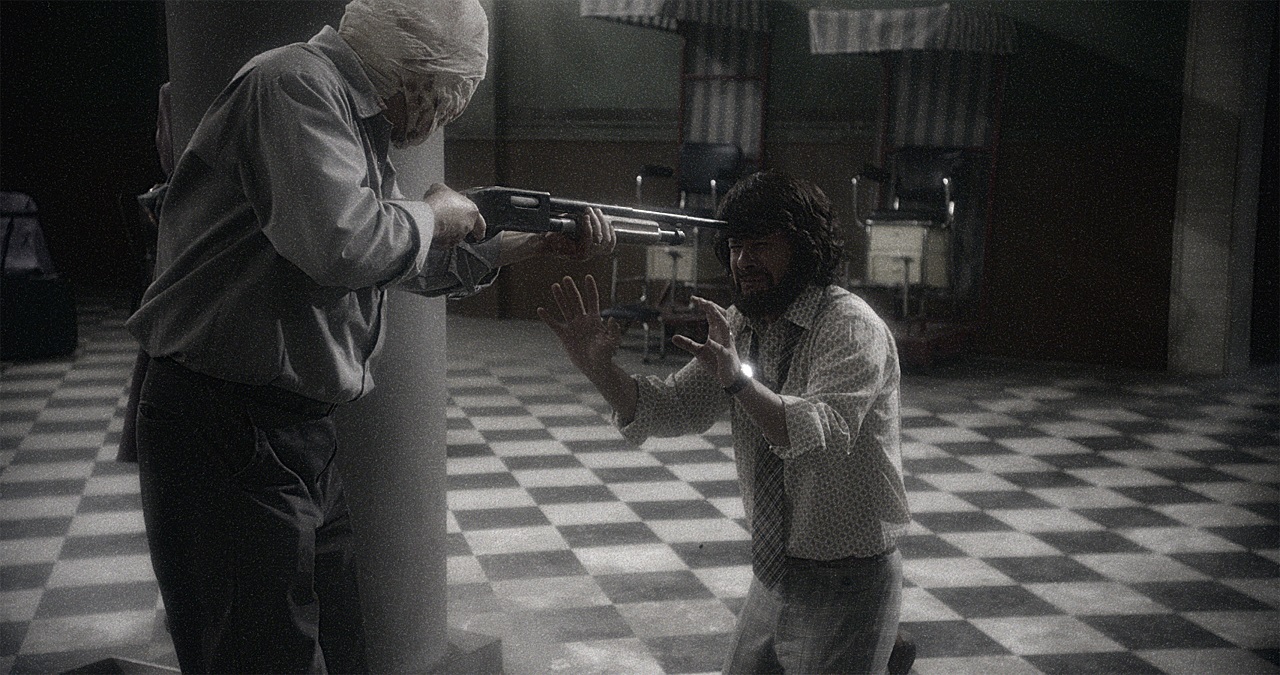 This is a set-up – diverse strangers thrown into a locale that shuts them off from the rest of the world – that has worked well for films such as The Mist (2007) and The Divide (2011) and numerous disaster movies. The film initially has you focused on wondering what has happened to the outside world and what is keeping them imprisoned. As we are focused on them trying to find a way out of the station, things start getting really strange and the group have to deal with a series of bizarre transformations where each of them, irrespective of whether men or woman, starts to change into the likeness of the bushy-bearded and curly haired Gustavo Sanchez Parra. This starts to give The Similars a creepily weird WTF quality as we wonder what on earth is going on – as was much the case with The Incident too. During this time, Ezban whips the pace up into one of frenetic melodrama, accompanied by a 1940s big score.
Throughout, Isaac Ezban gives the film the feel of an episode of The Twilight Zone (1959-64). This is particularly so when it comes to the very folksy down-to-earth narration that has been strongly modelled on the introductions that Rod Serling used to give to the tv series. The colour tone throughout the film has been desaturated until it almost appears as though the whole show is taking place in monochrome. Most particularly, the wild left field end revelation [PLOT SPOILERS] about everything being controlled by a boy with incredible reality-manipulating mental powers reminds strongly of The Twilight Zone episode It's a Good Life (1961), which was notedly also remade by Joe Dante in Twilight Zone – The Movie (1983).
Isaac Ezban next made the English-language multiverse film Parallel (2018), as well as one of the episodes of the anthology Barbarous Mexico (2014), while he also produced the horror film Presagio (Omen) (2015).
---
Trailer here
---