---
Crew
Director – Oliver Parker, Screenplay – William Davies, Story – Hamish McColl, Producers – Tim Bevan, Chris Clark & Eric Fellner, Photography – Danny Cohen, Music – Ilan Eshkeri, Visual Effects – Framestore London (Supervisor – Bob Duncan), Special Effects Supervisor – Mark Holt, Production Design – Jim Clay. Production Company – Relativity Media/Studio Canal/Working Title.
Cast
Rowan Atkinson (Johnny English), Dominic West (Simon Ambrose), Rosamund Pike (Kate Sumner), Gillian Anderson (Pamela Thornton), Daniel Kaluuya (Agent Tucker), Tim McInnerny (Patch Quartermain), Pik Sen Lim (Killer Cleaner), Mark Ivanir (Karlenko), Richard Schiff (Titus Fisher), Burn Gorman (Slater), Stephen Campbell Moore (Prime Minister), Togo Igawa (Ting Wang), Josephine de la Baume (Madeleine), Wale Ojo (President Chambal)
---
Plot
Johnny English has been suspended from MI7 following a disastrous incident in Mozambique that resulted in the newly appointed President being assassinated. Johnny has retreated to Tibet to undergo training in Eastern disciplines. With the news of a planned assassination of the Chinese President, Johnny is recalled to duty. He uncovers the existence of the top-secret assassination group known as Vortex and travels between Hong Kong and England in search of the pieces of a key that is essential to their plans. Trying to trace the members of Vortex, Johnny realises that there is a mole inside MI7. However, trying to root out the mole instead has him hunted as the suspected Vortex agent, while the real mole makes plans to use a mind-control drug to kill the Chinese President.
---
Johnny English (2003) was one of the entries amid the fad for spy movie spoofs that began with the success of Austin Powers, International Man of Mystery (1997) and sequels. It was based on a character that Rowan Atkinson, the star of Blackaddder (1982-9) and Mr Bean (1990-5), had created in a series of credit card commercials. At charitable best, Johnny English was seen as a lightweight timewaster. It failed to garner many good reviews and Rowan Atkinson was seen as hitting far below the level of wit that he did as Blackadder and Mr Bean.
The film did make reasonable money at the box-office. And so here Rowan Atkinson is brought back for another outing as Johnny English. Indeed, 2011 seemed to be a year where various films that originally jumped aboard the Austin Powers fad saw fit to drag out another entry even if the world never asked them to – the same year also saw a fourth entry in Robert Rodriguez's Spy Kids series with the instantly forgettable Spy Kids: All the Time in the World (2011). Both films seemed to be trying to wring more out of a spy spoof fad that had hit its peak and died off around 2003, some eight years earlier.
Johnny English Reborn has been placed in the hands of director Oliver Parker. Parker gives the impression that he is slumming it, being used to working far more in the high arts end of the market, having previously made the Shakespeare adaptation Othello (1995) and several adaptations of Oscar Wilde's works with An Ideal Husband (1999), The Importance of Being Earnest (2002) and Dorian Gray (2009). although he did subsequently stay with comedy for the big screen remake of Dad's Army (2016).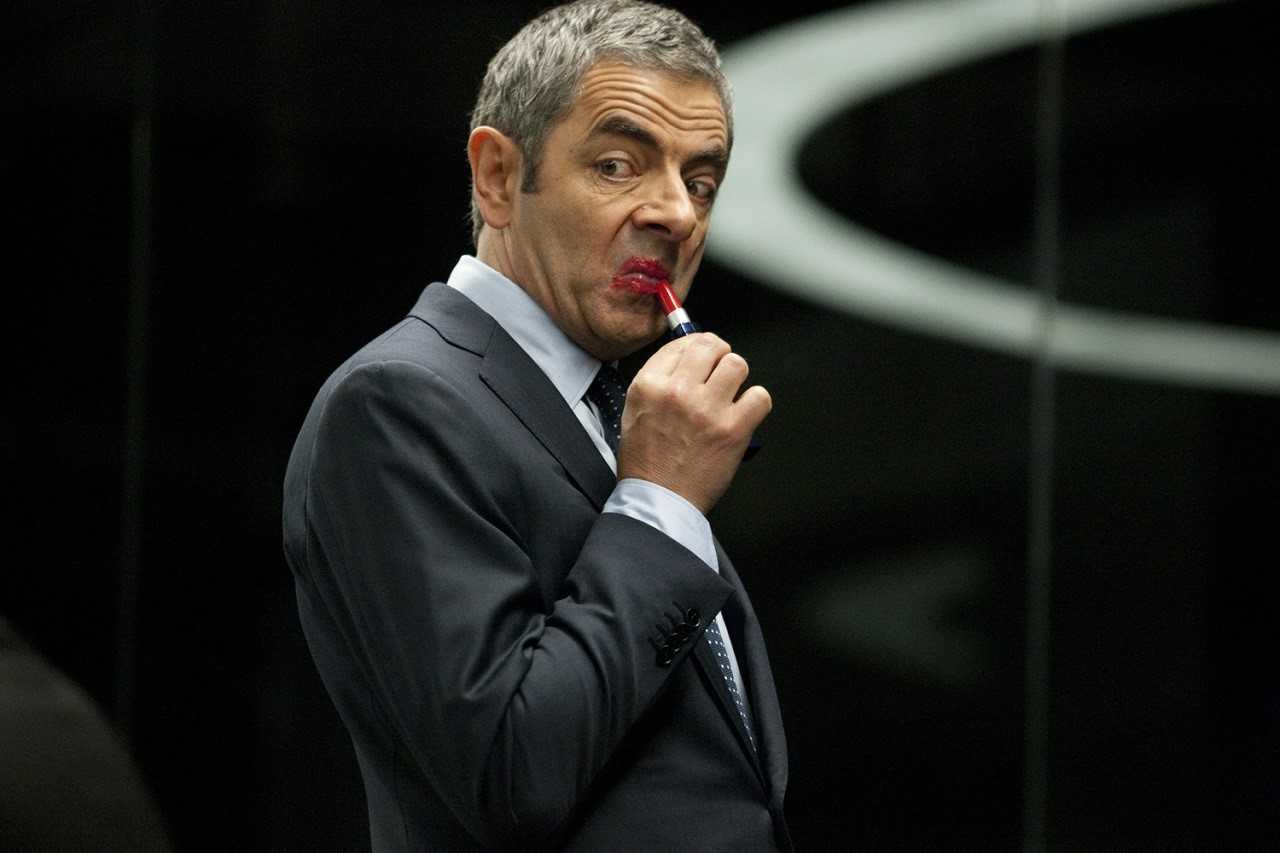 Johnny English Reborn is essentially the same mix as before, although with what looks like a larger budget, including location shooting in Hong Kong and Argentina. This allows for much more in the way of action sequences, including a motorised wheelchair race through the streets, tomfoolery with a helicopter and a climactic assail of a mountain lair and fight around a gondola, whereas the first film was focused more on pure slapstick sequences. This film also appears to be mimicking the James Bond films more so than the first with a Q sequence parody, a golf game modelled on the one in Goldfinger (1964), and variants on the mountain lair assault from On Her Majesty's Secret Service (1969) and fight aboard a gondola from Moonraker (1979).
The plot is an exceedingly routine one thrown together from various spy film plot elements that first involves the collection of the pieces of a McGuffin gadget (that does not appear to have any clear purpose when assembled), followed by Rowan Atkinson becoming a rogue agent (a plot that seems requisite for each of the Mission: Impossible films) and a big climactic lair offensive to stop the villain from unleashing his mind control device.
The slapstick sequences are as inane as before – fooling around with the Q gadgets where Rowan Atkinson accidentally takes a lozenge that gives him a helium voice; two different sequences that involve Rowan Atkinson pursuing the murderous Chinese cleaning lady (Pik Sen Lim) and mistakenly tackling and beating up old ladies instead; nonsense around the golf course and piloting a helicopter; Atkinson accidentally hitting the up and down controls on a conference chair during a very important mission briefing.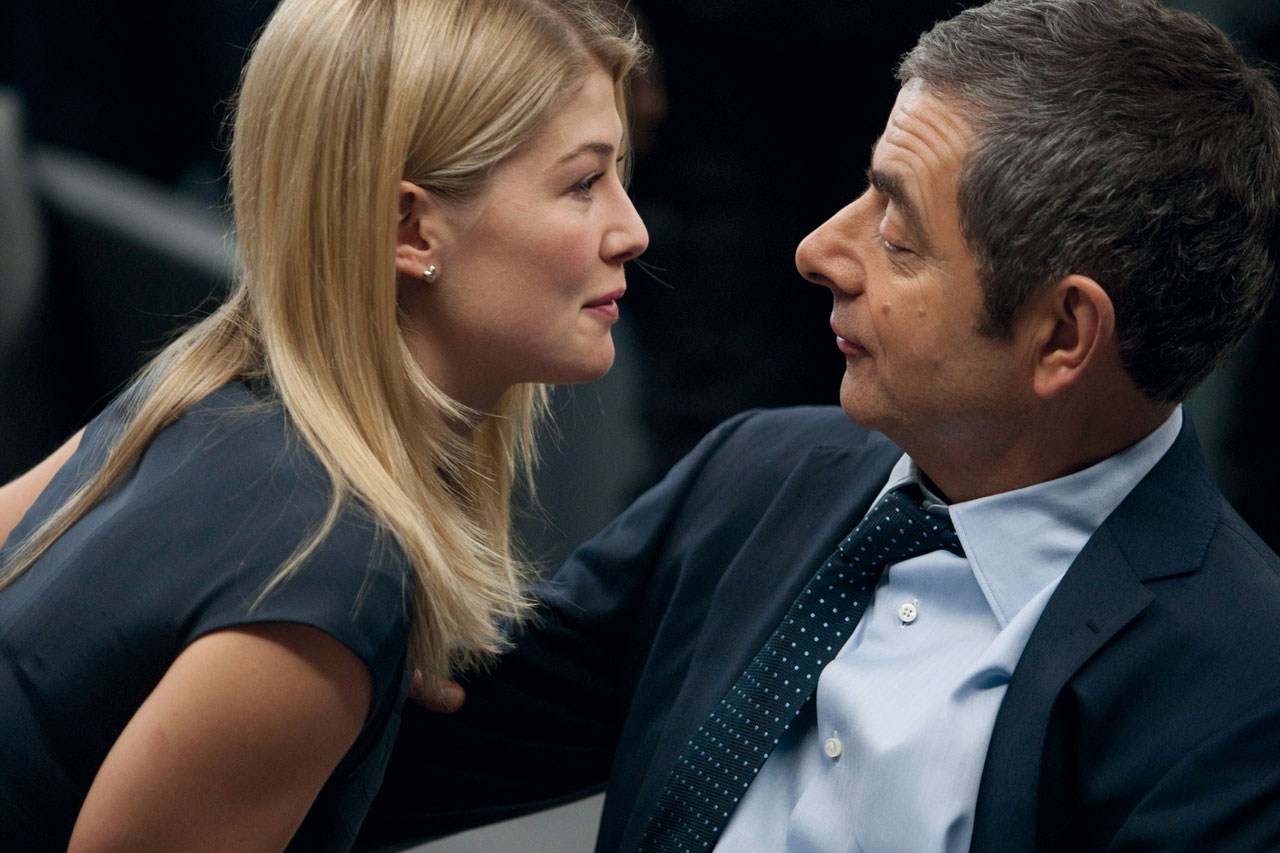 There is a mildly amusing but eventually belaboured sequence in Hong Kong with Rowan Atkinson pursuing a man who uses all the lightning fast acrobatics jumping over fences, sliding down buildings and kicking his feet around that are familiar to Hong Kong martial arts films while Atkinson outwits him by more leisurely methods such as taking the elevator, opening the gate in the fence and catching a ride between buildings on the end of a crane. When it comes down to it, the gags in the Johnny English films are pitched for children in the single digit age range and are crude and witless to anybody with more sophisticated sensibilities.
In the end, Johnny English Reborn emerges slightly better than the first film – some of the gags even produced the vague semblance of a smile – but not that much. Rowan Atkinson is capable of far better than this – and without wishing to be uncharitable, at age 56 he is looking just a little too old to be playing the dashing playboy spy (or even a parody of such). The film does feature Gillian Anderson, once the cult queen of tv's The X Files (1993-2002, 2016-8) who almost entirely vanished from screens thereafter. She did relocate to England and now turns up as the equivalent of M (and sporting a British accent). Alas, for her all second billing in the film, Anderson is not given nearly enough to do.
Rowan Atkinson subsequently returned with a further sequel Johnny English Strikes Again (2018).
---
---