---
Crew
Director – Rupert Goold, Screenplay/Based on the Play by Mike Bartlett, Producer – Simon Maloney, Photography – Philippe Kress, Music –Jocelyn Pook, Visual Effects – Lenscarefx, Production Design – Andrew McAlpine. Production Company – Drama Republic/Masterpiece.
Cast
Tim Pigott-Smith (King Charles), Oliver Chris (Prince William), Richard Goulding (Prince Harry), Tamara Lawrance (Jess), Adam James (Prime Minister Tristan Evans), Charlotte Riley (Kate), Margot Leicester (Carmilla), Priyanga Burford (Mrs Stevens), Tim McMullan (James Reiss), Kate Brayben (Diana)
---
Plot
The Queen has died and Prince Charles is appointed the new King of England. Soon after, Prime Minister Tristan Evans comes to visit Charles for their weekly conference. However, Charles disagrees with the government's plans to introduce draconian measures to curtail the freedom of the press and refuses to sign the bill that is handed to him. This causes a crisis with the entire nation in uproar, split between support or Charles and calls for his abdication. In the midst of this, Prince Harry meets and become involved with Jess, a commoner of African descent. His falling for her proves problematic as members of the palace retinue seek to keep them apart.
---
King Charles III (2014) was play by British playwright Mike Bartlett that received reasonable acclaim. Bartlett has written a number of plays since the early 2000s and is regarded as a rising name. He has also written assorted tv work including the tv mini-series' The Town (2012), Press (2018) and Trauma (2018), as well as episodes of Doctor Who (2005- ), Bartlett writes the film version of King Charles III, while the roles are played by many of the actors from the stage version. The film aired on the BBC.
King Charles III is a 'What If?' story. It is science-fiction in the sense that it speculates about a potentially very likely near-future scenario – the ascendency of Prince Charles to the English throne following his mother Queen Elizabeth II's death – something that seems far more grounded in real world events than most SF scenarios ever are.
There has been some precedence for this before. There was the devastatingly brilliant To Play the King (1992), a sequel to the original British House of Cards (1990), which pitted an ineffectual King Charles (Michael Kitchen) against Ian Richardson's Machiavellian Prime Minister Francis Urquhart. (The influence of House of Cards/To Play the King is strong here with the film borrowing that show's technique of having the lead character addressing the camera in second person). In the world of speculative political scenarios, there was also The Trial of Tony Blair (2007), a damning attack on Prime Minister Tony Blair for his complicity in the Iraq War that came in the form of a similar near-future scenario.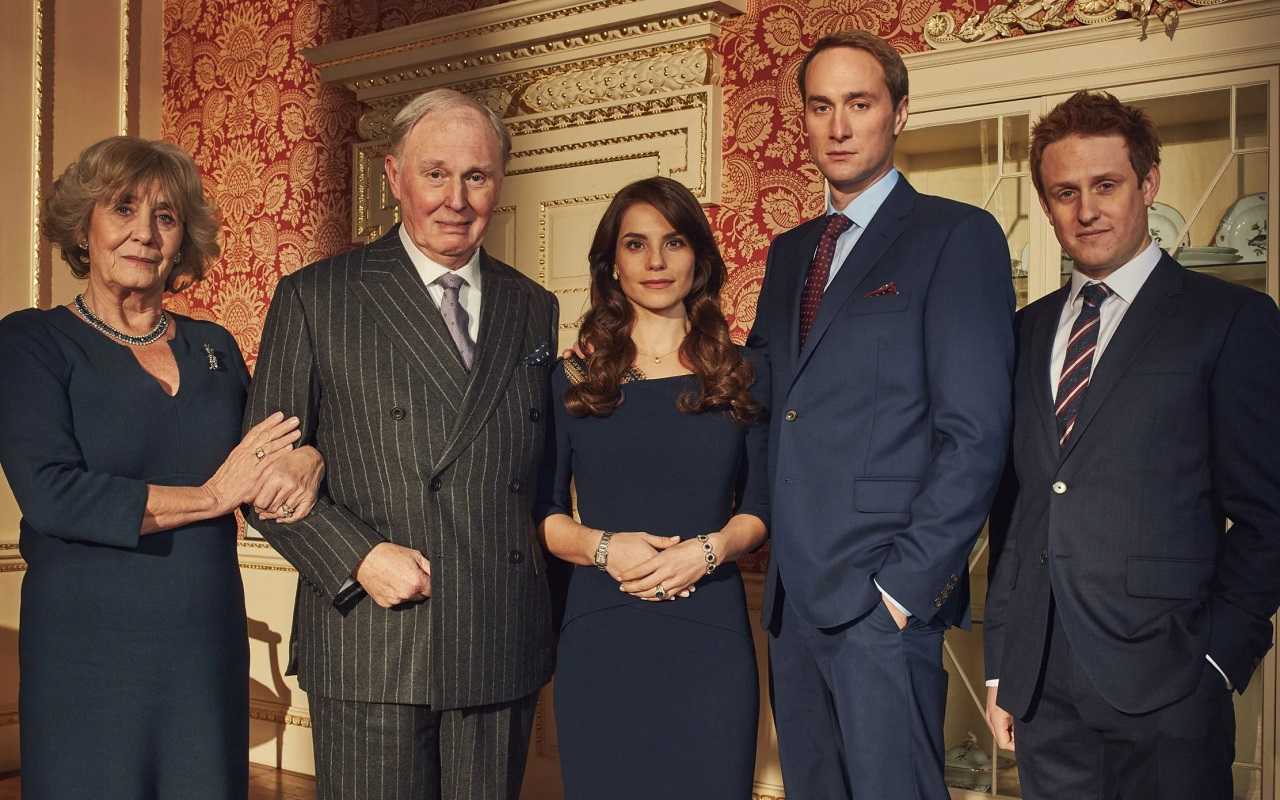 One of the most unique parts about the show is how Mark Bartlett writes it in formal Shakespearean prose. Mike Bartlett's writing is biting, Some of the most savage writing is reserved for Kate Middleton who is seen as an overly ambitious social climber wont to come out with lines like "our column inches [in the press] are the greatest thing we possess." Tamara Lawrance's Jess has a cutting piece where she compares how she gave birth to her child in an overcrowded and underfunded NHS hospital while seeing Kate give birth in a private hospital at the expense of the taxes she pays. Charles's end eulogy for the blandness of what the monarchy will become under Willian as king is particularly damning.
The film throws snide digs in the direction of Prince Harry, suggesting that James Hewitt was his father (given that his red hair is not exactly a Windsor family trait). Harry's relationship with the Afro-British Tamara Lawrance is reflective of Harry's involvement with Meghan Markle, which had only just come about a few months before the film – the two did not even publicly appear together until some months after the show aired. The film becomes uncannily predictive of both Meghan's political outspokenness, the dislike of her among the Royal Family's gatekeepers and of Harry's desire to step back from the royal limelight.
Veteran British screen and stage actor Tim Piggot-Smith slots into the role of Charles with unnerving mimicry. This would be one of Piggott-Smith's last performances – he passed away only a month before the show aired. (In seeming irony, Piggott-Smith was given an OBE by the Queen the same year that King Charles III aired). Charles does seem an unlikely candidate for being a rebel, especially when Bartlett makes him the defender of liberal principles against a much more mercenary-minded conservative government. The ending he receives is a particularly unglamorous one, even one where Mark Bartlett seems to have an odd sympathy for him and the institution he represents.
---