---
Crew
Director – Paul McGuigan, Screenplay – David Bourla, Producers – Bruce Davey, William Vince & Glenn Williamson, Photography – Peter Sova, Music – Neil Davidge, Music Supervisor – Liz Richardson, Visual Effects Supervisor – Kent Houston, Visual Effects – Digiscope (Supervisor – Brennan Prevatt), Peerless Camera Company (Supervisor – John Swinnerton), Special Effects Supervisor – Mark Meddings, Production Design – Francois Seguin. Production Company – Summit Entertainment/Icon Productions/Infinity Features Entertainment, Inc.
Cast
Chris Evans (Nick Gant), Dakota Fanning (Cassie Holmes), Djimon Hounsou (Henry Carver), Camilla Belle (Kira Hudson), Cliff Curtis (Hook Waters), Ming-Na (Emily Wu), Xiaolu Li (Pop Girl), Neil Jackson (Victor Budarin), Nate Mooney (Pink Stein), Maggie Siff (Teresa Stowe), Haruhiko Yamanouchi (Pop Father), Corey Stoll (Agent Mack), Scott Michael Campbell (Agent Holden), Paul Car (Wo Chiang), Kwan Fung Chi & Jacky Heung (Pop Boys), Joel Gretsch (Nick's Father), Colin Ford (Young Nick)
---
Plot
Ever since experiments conducted during World War II, there have been people with various psychic powers. These include Watchers (those that can predict the future), Movers (those with psychokinetic abilities), Pushers (those who can put thoughts into other people's heads) and others. Nick Gant is an American Mover who lives in hiding in Hong Kong. He is suddenly visited by thirteen year-old Cassie Holmes, a Watcher who tells him things that are about to happen and asks his help finding a case that contains six million dollars. This is crucial to saving the life of Cassie's mother, a Watcher of great potency who is being held prisoner by The Division, the US agency that monitors psychics. Immediately after this, they are pursued by Division agents, including Henry Carver, a powerful Pusher who killed Nick's father, as well as local Hong Kong gangs. The key in Cassie's visions is Kira Hudson, a Pusher who has escaped from Division custody, and is hunted by all. They find Kira who turns out to be Nick's ex. As Nick comes up with an elaborate scheme to protect Kira and obtain the case, all of Cassie's visions about what is going to happen continue to lead to their deaths.
---
Push is an interesting film. It did not do hugely successfully in cinematic release and accrued mostly negative reviews from the mainstream press. All of which is a shame as when I discovered it, though not anticipating a great deal from the film, I found it to be far better than anything I had expected it to be.
Push reminds a good deal of tv's Heroes (2006-10) – at least in the first season before the show nosedived. Heroes featured an ensemble of characters each with different superpowers and traces their interweavings and conflicts as they came together. Like Heroes, Push is a superhero story but one that strips out all comic-book elements such as capes and secret identities.
What I enjoyed about Push was its conceptual joy – of it creating a set-up and then playing with the various combinations and permutations of powers. We get fascinating glimpses of the powers in action – the Division Sniffers turning up in Chris Evans's apartment, having followed his trail from a toothbrush he touched as a kid, and then being able to read the entire history of a glass of water. Or the scene where Corey Stoll's Agent is Pushed by Camilla Belle and told that Djimon Hounsou killed his sister, something that is not immediately evident until the subsequent scene where Hounsou is reminding Stoll that he does not even have a sister and Stoll is vehemently insisting otherwise, before Hounsou Pushes back, telling him to put his gun in his mouth and that it is okay, the bullets have been removed, and then walks off as Stoll shoots himself in the background of the shot.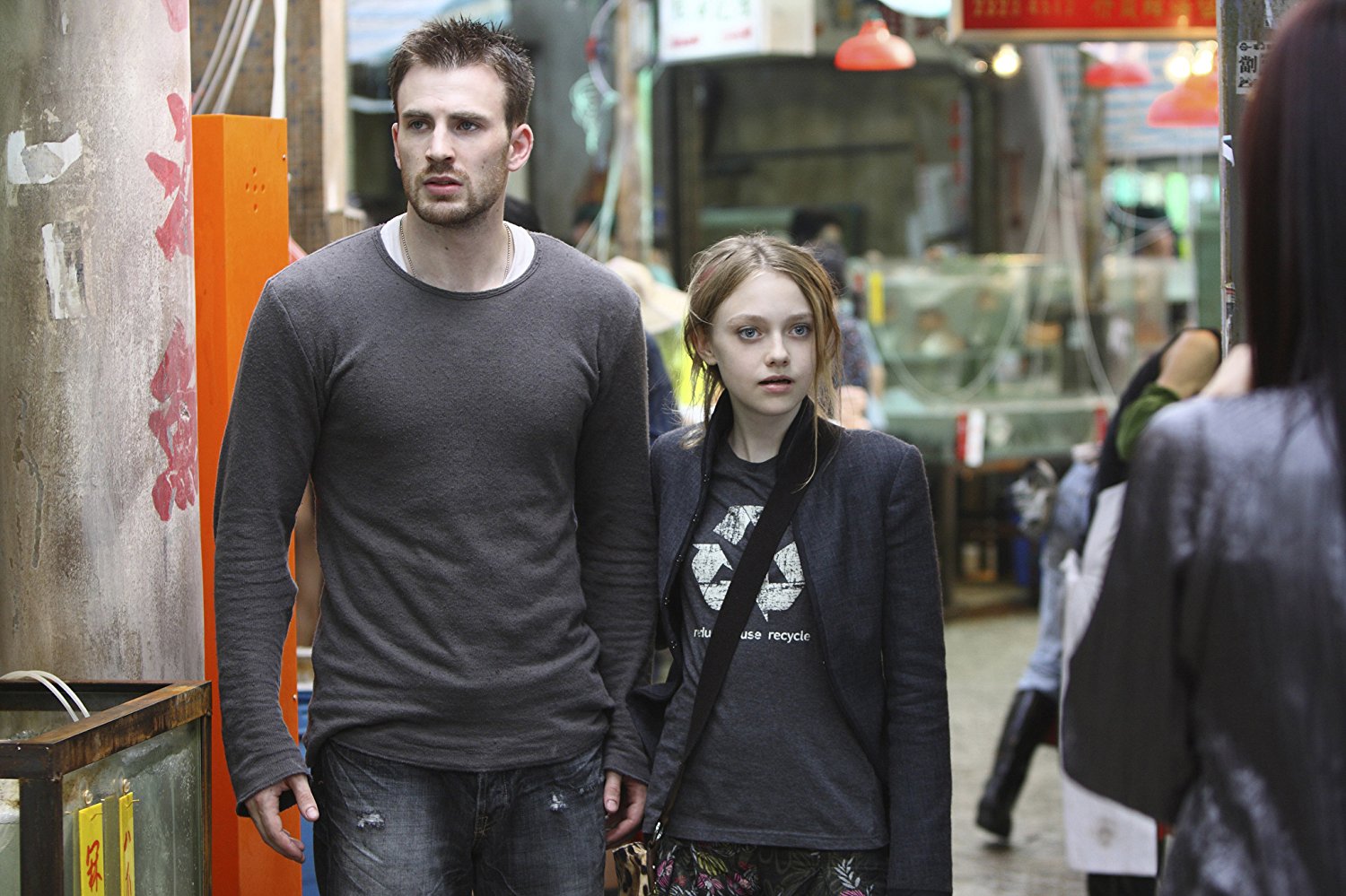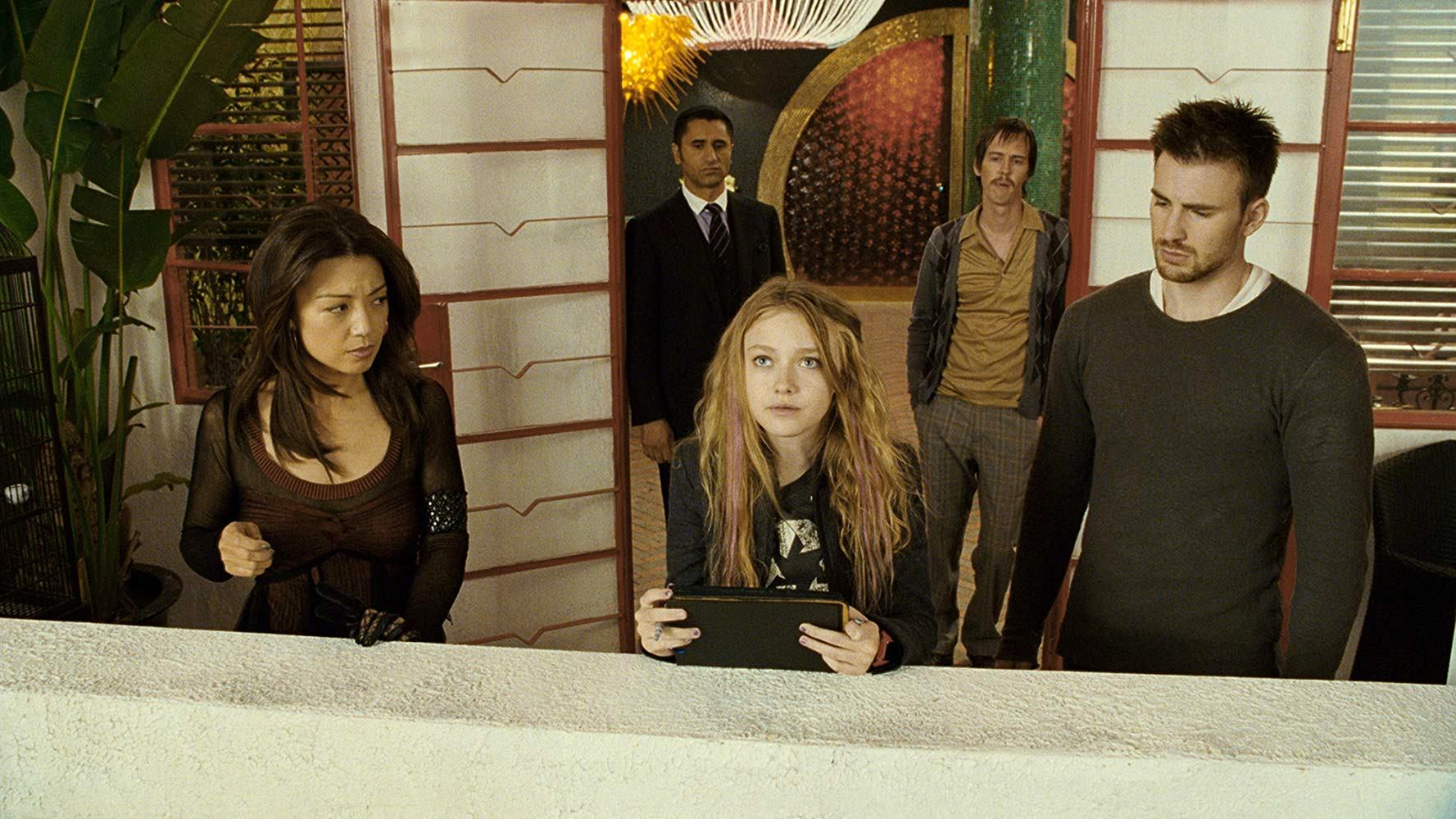 When it comes to the point where Chris Evans hatches his plan to use all of the combinations of powers available to him – Shifters to create illusions of a false case, a Wiper to erase his own memory of having done this, and everybody following unplanned courses of action to foil the Watchers before opening their envelopes of instructions – the film becomes positively ingenious. There is another dazzling scene near the end where Camilla Belle suddenly reveals to Chris Evans that she Pushed him when they met, making him believe that they had a past relationship, when in fact she did not even know him before that moment. It is a scene that abruptly turns the entire film on its head, leaving us not knowing what is true.
Director Paul McGuigan made a point of shooting the film with a minimal amount of CGI, filming most of the effects sequences in camera. This immediately makes Push something different, where the action comes with a viscerality rather than a CGI-pumped up artificiality. There is a dazzling sequence where Chris Evans goes into confront Djimon Hounsou and secretly floats two guns up around ceiling level to protect himself, only for Hounsou's guard (Neil Jackson) to turn the guns back on Evans and the two to charge throughout the restaurant shooting at one another with the levitated guns. Paul McGuigan shot the film in Hong Kong – his stated reason for doing so was in seeing present-day Hong Kong akin to the Casablanca of Casablanca (1942), as a location where characters can vanish into the margins of society. Cinematographer Peter Sova shoots the city with a tourist's eye that looks fabulous on screen.
In the lead role, Push features Chris Evans – who previously went through superheroics (albeit of the costumed variety) as Johnny Storm in Fantastic Four (2005) and Fantastic Four: Rise of the Silver Surfer (2007) and subsequently joined the Marvel Cinematic Universe as Captain America. Evans plays with a naturally handsome charisma that has leading man status and stardom written all over it. Paired alongside him is child actress Dakota Fanning, now aged fifteen, who plays with a sharp intelligence. The two have a relationship and rapport that works well on screen. Unlike Heroes, or a host of other superhero films, this is a work inhabited by characters of real-world complexities. On the other hand, as the sought-after girl, Camilla Belle seems characteristically neurotic and unhappy on screen.
Push comes from Scottish director Paul McGuigan who previously ventured onto the genre stage with his first film The Acid House (1998) and then subsequently went to work in the US mainstream with efforts such as Wicker Park (2004), Lucky Number Slevin (2006) and Film Stars Don't Die in Liverpool (2017). McGuigan also ventured into genre material with the thoroughly demented Victor Frankenstein (2015). Screenwriter David Bourla has turned out a number of other science-fiction scripts, mostly for low-budget films such as Yesterday's Target (1996), Doomsday Rock (1997), When Time Expires (1997) and Nostradamus (2000).
---
---