---
Crew
Director/Screenplay – Joss Whedon, Story – Zak Penn & Joss Whedon, Producer – Kevin Feige, Photography – Seamus McGarvey, Music – Alan Silvestri, Visual Effects Supervisor – Janek Sirrs, Visual Effects – Industrial Light and Magic (Supervisor – Jeff White, Animation Supervisor – John Chu), Additional Visual Effects – Cantina Creative, Digital Domain (Supervisor – Erik Nash), Eye Pictures, Fuel VFX, Hy*drau*lx (Supervisors – Colin Strause & Greg Strause), Luna Pictures, Scanline VFX, The Third Floor, Twixter & Weta Digital (Supervisor – Guy Williams), Special Effects Supervisor – Daniel Sudick, Live Action and Suit Effects – Legacy Effects, Production Design – James Chinlund. Production Company – Marvel Studios.
Cast
Robert Downey Jr (Tony Stark/Iron Man), Chris Evans (Steve Rogers/Captain America), Mark Ruffalo (Bruce Banner/The Hulk), Scarlett Johansson (Natasha Romanoff/Black Widow), Chris Hemsworth (Thor), Tom Hiddleston (Loki), Samuel L. Jackson (General Nick Fury), Jeremy Renner (Clint Barton/Hawkeye), Clark Gregg (Agent Phil Coulson), Cobie Smulders (Agent Maria Hill), Stellan Skarsgård (Erik Selvig), Gwyneth Paltrow (Pepper Potts), Jerzy Skolimowski (Georgi Luchkov), Paul Bettany (Voice of Jarvis), Powers Boothe & Jenny Agutter (Members of World Security Council), Harry Dean Stanton (Security Guard)
---
Plot
At a secret underground S.H.I.E.L.D. base, the alien artifact known as The Tesseract comes to life. It opens a gateway out of which emerges the Asgardian god Loki. Loki has been given a staff of power by the alien Chitauri that he uses to take over the minds of several S.H.I.E.L.D. agents, including Clint 'Hawkeye' Barton, and escape with The Tesseract. Nick Fury immediately pushes the World Council to put the defunct Avengers Initiative into operation to counter the threat. To this extent, a number of superheroes are persuaded to come into action – top S.H.I.E.L.D. operative Natasha Romanoff is recalled from an undercover operation in Russia; Tony Stark is convinced to abandon his self-interest and don the Iron Man suit to save the world; while a recently cryogenically awakened Steve Rogers agrees to put on the Captain America costume and becomes The Avengers' field head. They also bring Bruce Banner in from where he is living in the slums of Calcutta for his expertise with gamma rays in order to track the whereabouts of The Tesseract. They are later joined by the Asgardian Thor, returned to stop his brother Loki's intended goal of becoming ruler of Earth. Loki is tracked down and captured in Stuttgart and taken prisoner aboard a S.H.I.E.L.D. flying fortress. They gradually come to realise that this is part of Loki's plan and that he has manipulated events to allow the Hulk inside Bruce Banner to emerge and go amok against the team, at the same time as the fortress is invaded by his mind-controlled agents. Using The Tesseract, The Chitauri now open a gateway over New York City and emerge to invade Earth en masse. Earth's only defence becomes the might of Avengers assembled to fight off the invading hordes.
---
Films adapted from Marvel Comics properties have become massive throughout the 00s with adaptations of works such as Blade (1998), X-Men (2000), Spider-Man (2002), Daredevil (2003), Hulk (2003), The Punisher (2004), Elektra (2005), Fantastic Four (2005), Man-Thing (2005), Ghost Rider (2007), Iron Man (2008), Captain America: The First Avenger (2011), Thor (2011), Guardians of the Galaxy (2014), Ant-Man (2015), Deadpool (2016), Doctor Strange (2016), Black Panther (2018), Venom (2018), Captain Marvel (2019), Black Widow (2021), Eternals (2021), Shang-Chi and the Legend of the Ten Rings (2021) and various sequels to these, as well as the tv series' Agents of S.H.I.E.L.D. (2013-20), Daredevil (2015-8), Agent Carter (2015-6), Jessica Jones (2015-9), Luke Cage (2016-8), The Defenders (2017), Inhumans (2017), Iron Fist (2017-8), The Punisher (2017-9), Runaways (2017-9), The Falcon and the Winter Soldier (2021- ), Hawkeye (2021- ), Loki (2021- ), WandaVision (2021- ), Moon Knight (2022- ), Ms Marvel (2022- ) and She-Hulk: Attorney at Law (2022- ). Almost all of these have spun off sequels and risen to the top of the box-office in their respective years.
The Avengers – also erroneously and confusingly referred to by some reviewers as Avengers Assemble because of a series of posters released a matter of weeks before the film opened, although known only as The Avengers on the film's credits – is the culmination of one of the most conceptually ambitious cinematic exercises ever conducted. We have had occasions of films being planned as a single story that spans several films – see in particular the popularity of The Lord of the Rings and Harry Potter films in the last few years. However, what Marvel Studios has done goes way beyond that in creating plot strands that run through several different films that eventually merge into one here. Things began in 2008 with Iron Man, which contained a post-credits Easter Egg where Samuel L. Jackson's Nick Fury appears to Robert Downey Jr recruiting him to join The Avengers. This continued a few weeks later with the release of The Incredible Hulk (2008) where Tony Stark made a similar surprise post-credits appearance to Bruce Banner.
We had post-credits jokes in other films – the end of Iron Man 2 (2010) showed the discovery of Thor's hammer, while the film was threaded with plot elements that were being set up for The Avengers where Nick Fury made appearances throughout and other characters such as Scarlett Johansson's Natasha Romanoff were introduced; next there was the introduction of Jeremy Renner's Hawkeye in Thor and a post-credits sequence introducing The Tesseract and Loki as the upcoming villain; while The Tesseract emerged as a major plot McGuffin throughout Captain America: The First Avenger and the film ended with Steve Rogers being resurrected in the present-day by S.H.I.E.L.D.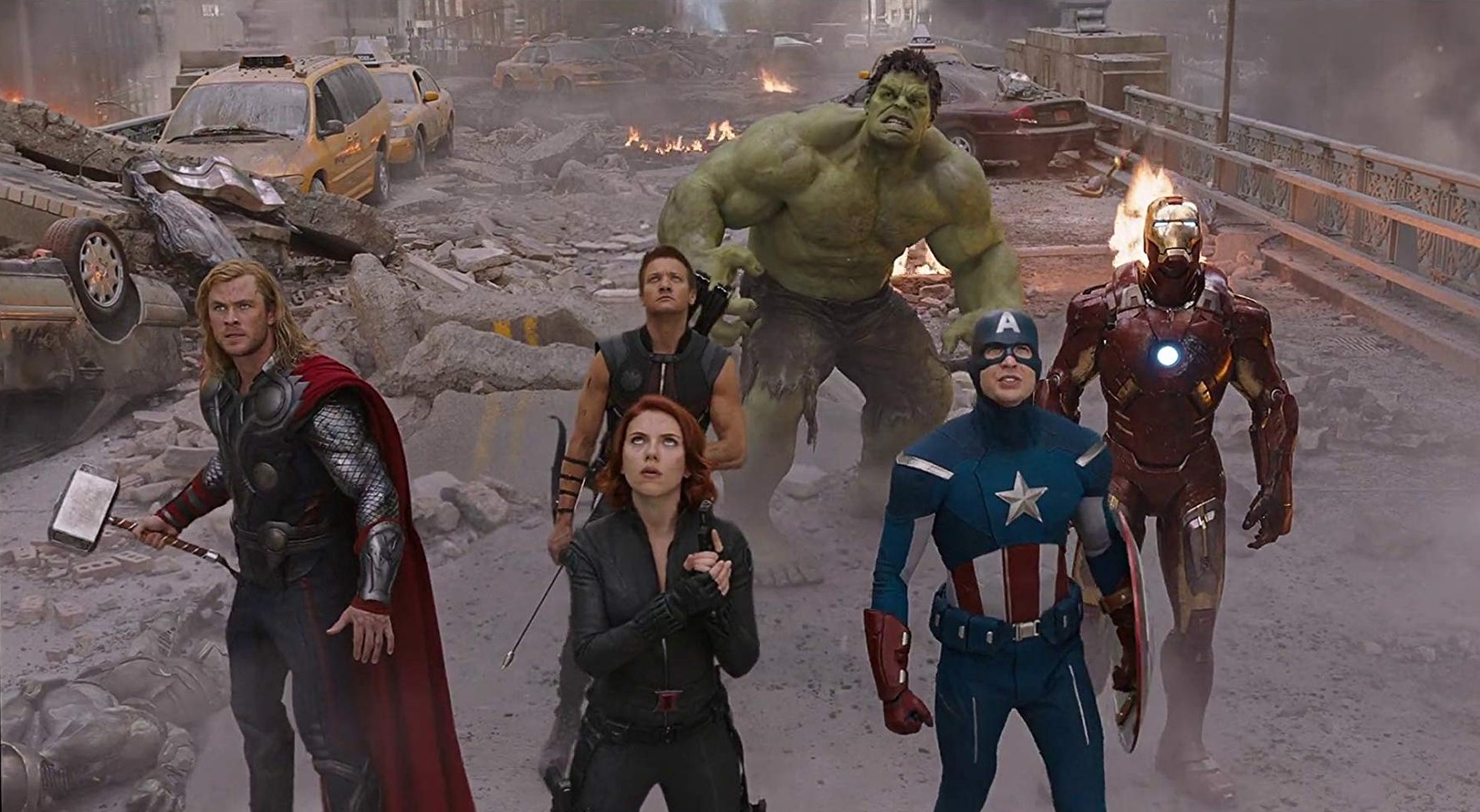 There seems an extraordinary ambition to this that is as epic in a business sense as any superheroic battle that any of these films manage – to not only create a series of plot strands that weave throughout five big-budget films (and hope that they are all successful enough that such a forward gamble will pay off) but also five films that are being produced by several different studios. Samuel L. Jackson has been contracted to appear in nine films and others like Robert Downey Jr, Mark Ruffalo and Chris Evans nearly as many. Moreover, things do not end there, as The Avengers contains no less than two post-credits sequences, including one that introduces Thanos.
For a certain generation of us raised on tv re-runs, The Avengers will always be Steed and Mrs Peel, played by the suavely bowler hatted Patrick MacNee and the lynx-like Diana Rigg in The Avengers (1962-9). (Or if you prefer, Steed, Purdy and Gambit in The New Avengers (1976-8) – we shall quickly skip over and pretend the disastrous big screen remake The Avengers (1998) with Ralph Fiennes and Uma Thurman never happened).
The Avengers were first introduced in 1963 under their own title where Marvel were clearly trying to compete with DC's team up of in-house superheroes in Justice League of America, which appeared in 1960 and became an immediate success. Over the years, The Avengers have undergone numerous different incarnations and featured a constantly rotating roster of Marvel superheroes. The film version of The Avengers generally holds true to the comic-book origins in the way that the group came together to combat Loki, although several of the originating members such as Hank Pym/Ant Man and his wife Janet/The Wasp have been cut and others like Hawkeye who did not join until later have been added. Indeed, this incarnation of The Avengers seems far more closely modelled on The Ultimates (2002-4) comic-book series by Mark Millar, the creator of Kick-Ass (2010), which reconceived The Avengers and knitted their backstory together and more importantly introduced elements such as the involvement of S.H.I.E.L.D. and the invading Chitauri. There are a surprising number of parallelsbetween The Avengers here and the animated Marvel adaptation Ultimate Avengers (2006), which has a very similar plot, especially in the way that The Incredible Hulk becomes the team's secret advantage as they fight off the Chitaui in a climactic battle over a big city. Ultimate Avengers had also spawned a sequel Ultimate Avengers II (2006) and there had been two Avengers animated tv series with The Avengers (1999-2000) and The Avengers: Earth's Mightiest Heroes (2010– ).
The Avengers has been placed in the directorial hands of Joss Whedon. Whedon is a cult figure to anybody who has had any dabblings in fandom, best known as the creator of tv's Buffy the Vampire Slayer (1997-2003) and its spinoff Angel (1999-2004), as well as the short-lived space opera tv series Firefly (2002-3), which has developed an enormous fan following, and the less popular Dollhouse (2008-10), as well as the web series Dr Horrible's Sing-a-Long Blog (2008), a musical spoof of mad scientists, and created The Nevers (2021- ). Whedon has also written the screenplays for a variety of genre films including the original Buffy the Vampire Slayer (1992), Toy Story (1995), Alien: Resurrection (1997), Titan A.E. (2000) and Atlantis: The Lost Empire (2001). He made his directorial debut with the big-screen Firefly spinoff Serenity (2005) and more recently produced the fandom documentary Comic-Con Episode IV: A Fan's Hope (2011), wrote/produced the horror film The Cabin in the Woods (2012) and wrote/produced In Your Eyes (2014) about a psychic connection and wrote and performed uncredited directing duties on Justice League (2017), and subsequent to this went onto direct a modernised film version of Shakespeare's Much Ado About Nothing (2013). Whedon is a self-confessed comic-book fan and has been associated with several cinematic comic-book properties in the past – he was at one point to direct and write the first X-Men film before this was inherited by Bryan Singer and during the early half of the 00s was attached to a touted big screen version of DC's Wonder Woman.
Audiences responded to The Avengers and turned it into the No 3 box-office hit of all time. People clearly like the idea of seeing characters coming together in a shared universe and pitted together, as witness the success of titles like The Avengers and DC's Justice League in print, and beyond that authors like Philip Jose Farmer, Kim Newman and Alan Moore's League of Extraordinary Gentlemen who are constantly imagining the encounters between characters of popular fiction and media. It says something appealing when a film such as The Avengers whose pitch is almost entirely in terms of fanservice can become as big a hit as this – who says the nerds haven't taken over the world?
I would go out on a limb and say that I think the handling of the various Marvel characters here far surpasses their treatment in almost all of their films to date. Scarlett Johansson incarnates Black Widow with far more kickass lethality in her first five minutes on screen here – an hilarious scene where she takes a phone call from Clark Gregg during the middle of being tortured by Russian thugs, before proceeding to take them all out while tied to a chair – than she did in all of Iron Man 2. I had mixed feelings about both Thor and Captain America: The First Avenger as films but think that both Chris's Evans and Hemsworth take the opportunity to fine tune their characters here – we see Steve Rogers emerging with a stalwart old-fashioned belief in honour and duty and stepping into the role of the leader of the group with an assured certainty, while Chris Hemsworth seemed not much more than a blonde body-builder in Thor but finally emerges here as much more at home in the role and as something that approaches the demi-god like character of the comic-book. Robert Downey Jr seemed somewhat off form in Iron Man 2 but is back in the role here with scene-stealingly sarcastic brilliance. Both the Incredible Hulk films received mixed audience reception (although I have a liking for Ang Lee's Hulk far more than most are prepared to give it). I enjoyed Mark Ruffalo's incarnation of Bruce Banner far more than either Eric Bana or Edward Norton's respective outings in the role (or for that matter Bill Bixby's). I think Mark Ruffalo is one of the most underrated actors around at the moment and he gives Banner just the right degree of shy nervousness and intellectual strength to come across as far more likeable and endearing a Banner than any of the others. The scenes of confrontation between he and a needling Robert Downey Jr contain some of the best writing in the film. Equally, Samuel L. Jackson gets his most substantial screen time as Nick Fury than in any of the Marvel Universe films to date, while a minor character like Clark Gregg's Agent Coulson is written with far more depth than all of his other appearances put together (at least prior to his taking the lead in Marvel Agents of S.H.I.E.L.D.).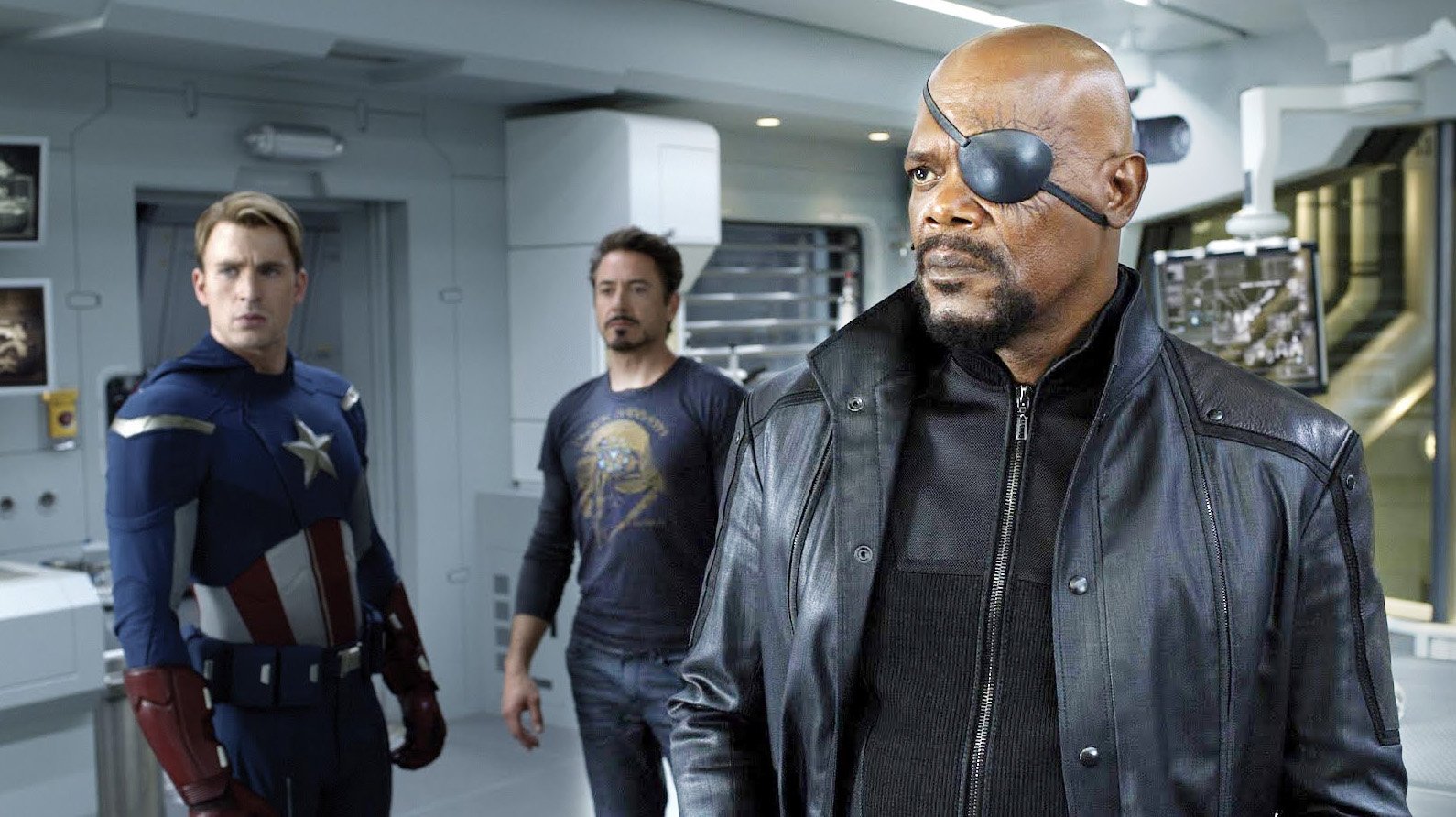 The delight about The Avengers is the writing. Traditionally, films featuring multiple superhero team-ups and/or competing super-villains tend to feel crowded and too busy to give all of them sufficient dramatic time to be satisfying. Examples of this might be some of the X-Men sequels – in particular X-Men: The Last Stand (2006), X-Men Origins: Wolverine (2009) and X: First Class (2011) and Iron Man 2, or else the multi-villain line-up of Spider-Man 3 (2007) and the unmentionable Batman & Robin (1997) over at DC. The only film one can think of where this does work reasonably as a story is the overly derided version of The League of Extraordinary Gentlemen (2003). The Avengers proves one exception to this. Indeed, when it comes to the expected superheroic punch-up/team-up, the first half of the film is surprisingly low key with most of the screen time focused on the interplay between the characters. Joss Whedon and Zak Penn, who also wrote X2 (2003), Elektra, X-Men: The Last Stand and The Incredible Hulk, and directed the amusing mockumentary Incident at Loch Ness (2004), give the characters constant tensions and conflicts and it is these that one ends up watching with fascination rather than the superheroics. Whedon's writing has an extraordinary operatic grace in its dance of characters and constant ability to deliver haunting lines and penetrating analysis of each of the players. This is also one Marvel Comics adaptation of recent vintage that places an emphasis on humour more than any other. The film positively bristles with quotable one-liners, most of which Robert Downey Jr ends up getting and consequently stealing the show, although a number of the other lines – especially The Hulk's "Puny gods" – end up bringing down the house.
Joss Whedon's one prior theatrical directorial outing Serenity often seemed like a tv episode stretched out onto the big screen where he seemed to be pulling punches at times in going for the possibilities that the big screen could offer in favour of his characters and their stories. I did wonder for a long time whether this might also be the case here, whether he was placing the emphasis on a character-driven incarnation of The Avengers. Thankfully this does not turn out to be the case. There is a possibly overlong sequence during the middle of the film with The Avengers coming together to fight off an attack on the S.H.I.E.L.D. flying fortress and save it before it crashes. Whedon finally gets it together for an epic-sized showdown between The Avengers and Chitauri invaders that ends up trashing numerous well-known landmarks of New York City. It is here that the film is at its spectacular best – even if the action never quite scales the epic-sized orgies of mass destruction to be found in some of Michael Bay's Transformers sequels.
The only complaint one might make about The Avengers is its unnecessary conversion to 3D. Like a number of other films of recent – Alice in Wonderland (2010), Clash of the Titans (2010), The Last Airbender (2010), The Green Hornet (2011) – this is a film that was originally shot flat and never intended to be released in 3D until the studio decided to post-convert it (something that also happened to Joss Whedon's The Cabin in the Woods). Unlike many of these others, the results are not dismal – but it is also clear that The Avengers is not a film that fits naturally into the 3D process – for instance, there are almost nothing in the way of objects poking out of the screen, apart from one shot where Scarlett Johansson pulls a gun on Mark Ruffalo, but equally almost nothing in the way of depth perspective shots, apart from a couple of minor shots watching elevators descend into the bowels of the S.H.I.E.L.D. laboratory. When the 3D singularly fails to take any advantage of the almost useless virtues that it offers the movie-going experience, it only makes you increasingly cynical about the process.
This was followed by Avengers: Age of Ultron (2015), Avengers: Infinity War (2018) and Avengers: Endgame (2019). The Avengers was parodied in The Starving Games (2013).
(Winner in this site's Top 10 Films of 2012 list. Nominee for Best Adapted Screenplay, Best Supporting Actor (Robert Downey Jr) and Best Supporting Actor (Mary Ruffalo) at this site's Best of 2012 Awards).
---
---