---
USA. 1982.
Crew
Director/Producer – Charles Band, Screenplay – Alan J. Adler, Frank Levering & Michael Shoob, Photography (3-D) – Mac Ahlberg, Music – Richard Band, Special Effects – Doug White, Makeup Effects – Lance Anderson, James Kagel & Stan Winston, Art Direction – Pamela B. Warner. Production Company – An Irwin Yablans-Charles Band Production.
Cast
Robert Glaudini (Dr Paul Dean), Demi Moore (Patricia), Luca Bercovici (Ricus), James Davidson (Merchant), Al Fann (Collins), Cherie Currie (Dana), Tom Villard (Zeke), Vivien Blaine (Miss Daley)
---
Plot
In the year 1992, scientist Dr Paul Dean manages to accidentally infect himself with a two-foot long parasitic organism that burrows into his stomach. He flees across country and hides in the small desert town of Joshua where he endeavours to find a cure. A gang of local hoods then break in and steals his specimen container. Upon opening it, one of them is infected by another parasite. The parasite moves from victim to victim, using its host to kill another body for it to then inhabit. As Dean races to find a cure, a corporate assassin arrives with orders to bring he and the parasite, which is wanted for weapons research, back.
---
Parasite is one of the cheap efforts that came out trying to exploit the short-lived 1981-3 3-D revival fad that was inspired by the surprise success of the abysmal Western Comin' at Ya (1981). A whole host of other 3-D films came out but it was a hard stretch to find a single film that was even vaguely watchable, let alone good, amongst them.
Parasite was the second directorial outing from a young Charles Band who, along with his father Albert, would later found both Empire Productions and Full Moon Productions, production houses that specialised in low-budget, occasionally enterprising, genre films, including the various Ghoulies, Trancers and Puppetmaster series. (See bottom of page for Charles Band's other directorial credits).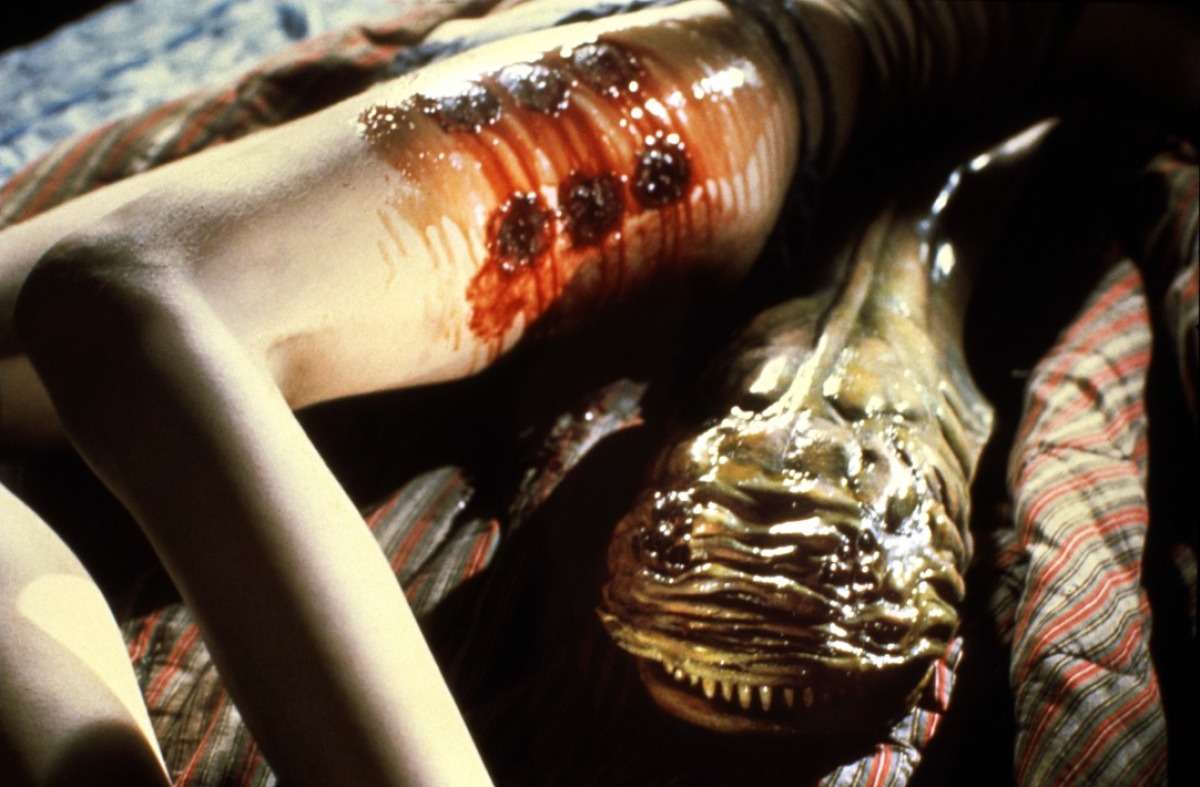 Parasite has been designed as no more than an earthbound copy of Alien (1979). The physical look of the creature has been copied directly from H.R. Giger's chestburster, while the film comes with similar references to shady corporations wanting the creature for weapons research. Stan Winston's cheesy parasite effects provide some low-level 3-D schlock shocks – there are some occasionally entertaining effects of parasites dropping into the audience's faces, even an impaled pipe dripping blood out of the screen. Unfortunately, Band's direction is dull to the point of indifference. Moreover, he makes no use of the 3-D other than to keep popping things out into the audience's faces.
Hero Robert Gloudini is an actor of remarkably little affinity for the profession. A twenty-year-old Demi Moore, in only her second film role, plays the love interest.
Charles Band has produced over 200 films. As director, his other genre films include:- Crash (1977), The Alchemist (1983), Metalstorm: The Destruction of Jared-Syn (1983), an episode of The Dungeonmaster/Ragewar: The Challenges of Excalibrate (1984), Trancers/Futurecop (1985), Pulse Pounders (1988), Crash and Burn (1990), Meridian (1990), Trancers II (1991), Doctor Mordrid (1992), Dollman Vs. the Demonic Toys (1993), Prehysteria! (1993), Head of the Family (1996), The Creeps/Deformed Monsters (1997), Hideous (1997), Mystery Monsters (1997), Blood Dolls (1999), Puppet Master: The Legacy (2003), Dr Moreau's House of Pain (2004), Decadent Evil (2005), Doll Graveyard (2005), The Gingerdead Man (2005), Evil Bong (2006), Petrified (2006), Dead Man's Hand (2007), Decadent Evil II (2007), Dangerous Worry Dolls (2008), Evil Bong II: King Bong (2009), Skull Heads (2009), Evil Bong 3D: The Wrath of Bong (2011), Killer Eye: Halloween Haunt (2011), The Dead Want Women (2012), Devildolls (2012), Puppet Master X: Axis Rising (2012), Ooga Booga (2013), Unlucky Charms (2013), Gingerdead Man vs Evil Bong (2013), Trophy Heads (2014), Evil Bong 420 (2015), King of Cult (2015), Evil Bong: High 5 (2016), Evil Bong 666 (2017), Puppet Master: Axis Termination (2017), Evil Bong 777 (2018), Barbie & Kendra Save the Tiger King (2020), Barbie & Kendra Storm Area 51 (2020), Corona Zombies (2020) and Evil Bong 888: Infinity High (2022).
---
Trailer here
Full film available online here:-
---