---
Crew
Director – John R. Leonetti, Screenplay – Carey Van Dyke & Shane Van Dyke, Based on the Novel by Tim Lebbon, Producers – Robert Kulzer, Scott Lambert & Alexandra Milchan, Photography – Michael Galbraith, Music – tomandandy, Visual Effects Supervisors – Dennis Berardi & Matt Glover, Visual Effects – Mr. X, Special Effects Supervisor – Derek Liscoumb, Makeup Effects Design – Paul Jones, Production Design – Bob Ziembicki. Production Company – Constantin Film/Emjag Productions.
Cast
Stanley Tucci (Hugh Andrews), Kiernan Shipka (Ally Andrews), Miranda Otto (Kelly Andrews), Kate Trotter (Lynn), John Corbett (Glenn), Billy MacLellan (The Reverend), Dempsey Bryk (Rob), Kyle Breitkopf (Jude Andrews)
---
Plot
A group of spelunkers in Pennsylvania break into a cave, unleashing hordes of flying creatures that has been living there. Soon the world is overrun by the creatures that attack anything that makes the smallest sound. In Montclair, New Jersey, architect Hugh Andrews tries to get his family away to safety. His teenage daughter Ally has been deaf since an accident that killed her grandparents. Attacked by the creatures en route, they take refuge in a house. However, there they are targeted by a group of religious extremists that have cut out their tongues to maintain silence and want Ally in order to breed with.
---
The Silence was a film released direct to Netflix. The plot about creatures that attack anything that makes noise had it quickly dismissed as a copy of the highly successful A Quiet Place (2018) that was released theatrically thirteen months earlier. The two films have exactly the same premise right down to the daughter of the family being deaf and communicating via sign language. There was also comparison to the Netflix film Bird Box (2018), which had a not dissimilar premise to either film in which people are forced to stay indoors and not look outside lest they be attacked by creatures.
In truth though, the accusation that The Silence is a copy of either film is more a coincidence of timing rather than it being created as a ripoff. I had personally read notices that The Silence was in production before I had even heard of either A Quiet Place or Bird Box. Moreover, the film is based on a book that predates all of these – The Silence (2015) by British author Tim Lebbon, who also furnished the story that became the basis of the Nicolas Cage horror film Pay the Ghost (2015).
There are some differences between the two. Structurally, A Quiet Place and The Silence are different – A Quiet Place could almost be a sequel to The Silence in that The Silence covers the outbreak and initial catastrophe, whereas A Quiet Place is set some time after the catastrophe has occurred and focuses on the survivors and the life they have created for themselves and climaxes with their eventual discovery of a means of fighting back. In fact, the structure of The Silence is much closer to Bird Box – the initial outbreak, the flight of survivors as they work out what is attacking them, their siege in a house against an additional threat from other humans and the eventual contact with others and journey to a place of refuge. This makes me think that quite possibly Tim Lebbon might have had a good case for suing the makers of A Quiet Place for stealing from his story. All of that said, A Quiet Place does an infinitely better job of telling the same story than The Silence does.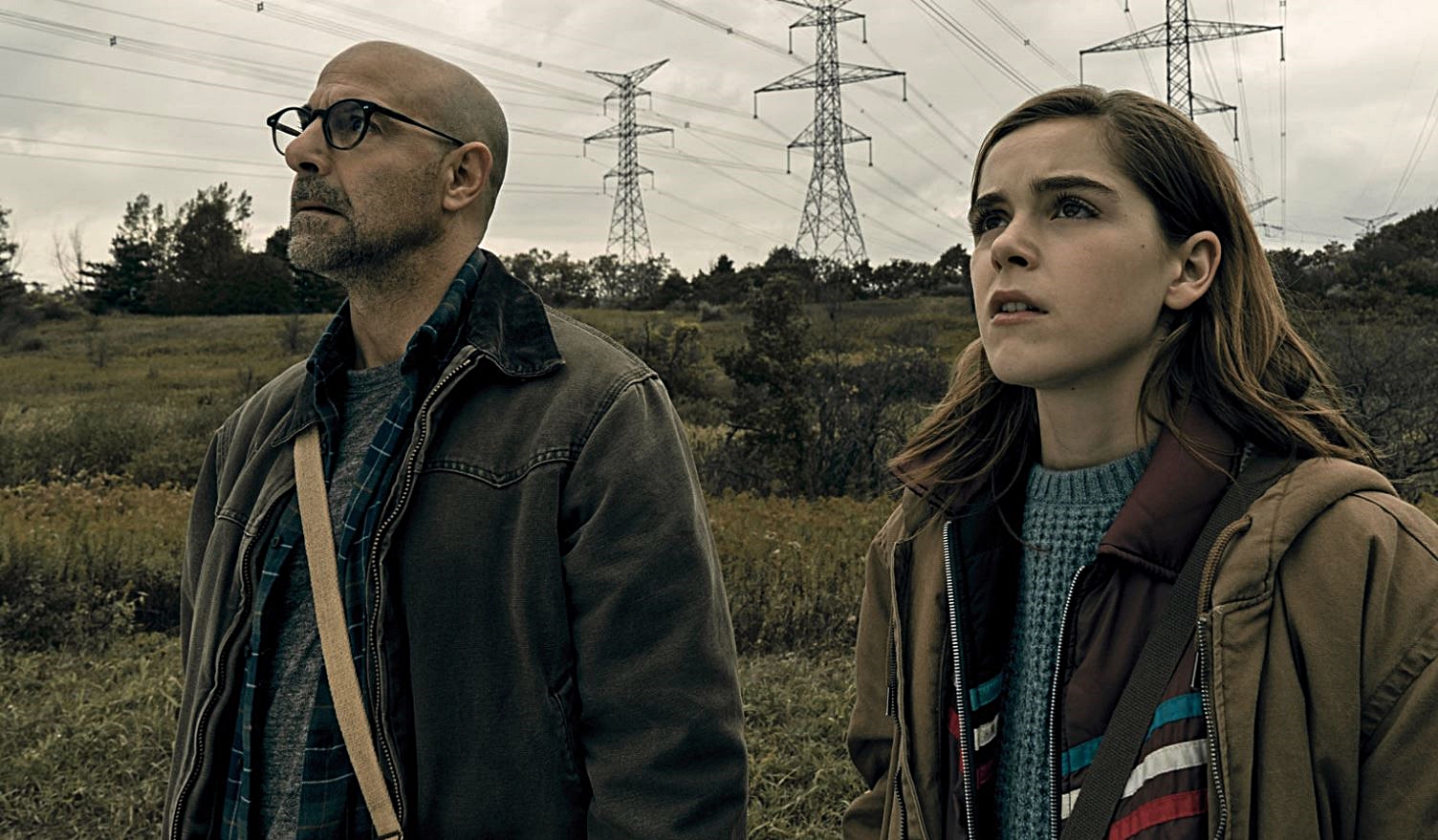 Where The Silence falls down is in being lumbered with John R. Leonetti, a former cinematographer who branched out as a director and for a time seemed to specialise in sequels to other people's films with the likes of Mortal Kombat: Annihilation (1997), The Butterfly Effect 2 (2006) and Annabelle (2014), although he did eventually start into original material with the likes of Wolves at the Door (2016), Wish Upon (2017) and the subsequent Lullaby (2022). The problem with everything he makes as a director is that Leonetti signs on as though it were simply a job and he was not personally invested in the product created – just like some for-hire director signed onto a tv show that nobody making is interested in (the way teenage and children's television often is). There is no personal touch to any of his films, merely someone who is marshalling actors and setting up shots rather than putting together a show they care about.
The Silence feels like a film where the dramatics, the characters, the tension generated, everything that takes place is canned and delivered by autopilot. A perfect example of this is when Kiernan Shipka delivers an empty and meaningless voiceover: "Three years ago I lost my grandparents and my hearing but somehow I feel that my parents lost the most." It is not a piece of dialogue that anybody reflecting on a life-changing condition would ever say – they would talk about their pain, the shock of loss and difficulty of adjustment, the confusion they experienced. Rather what we have is a film trying to tweak a button that says Cue Soft Reflective Voiceover.
Probably the most ridiculous aspect of the film is the one where various of the cast members use sign language and speak their dialogue out at the same time. The idea of people interpreting sign language by it being spoken aloud and voicing their own responses has often been used in films to translate for non-sign language users. However, the effect of both the deaf person and the person they are communicating speaking aloud as though they were having a regular conversation at the same time as they are signing is a ridiculous one that shredded every piece of credibility for me only moments into the film.
---
---