---
Crew
Director – Norman Tokar, Screenplay – Ted Key, Producer – Ron Miller, Photography – Charles F. Wheeler, Music – Lalo Schifrin, Special Effects – Art Cruickshank, Danny Lee & Eustace Lycett, Art Direction – Preston Ames & John B. Mansbridge. Production Company – Disney.
Cast
Ken Berry (Dr Frank Wilson), Ronnie Schell (Voice of Zunar J5-9 Doric 47 'Jake'/Sergeant Duffy), Sandy Duncan (Dr Liz Barrett), Harry Morgan (General Stilton), McLean Stevenson (Dr Norman Link), Roddy McDowall (Stallwood), William Prince (Mr Olympus)
---
Plot
A damaged UFO comes down on a farm. The inhabitant, a cat, emerges unnoticed as the military come. The ship is taken to the Energy Research Laboratory where scientists attempt to find out what powers it. The cat goes to one of the scientists Frank Wilson, who adopts it, naming it Jake. The cat then speaks to Frank, telling him its real name is Zunar J5/9 Doric 47 and demonstrating a range of telekinetic abilities, produced by the collar it wears. It must return and dock with its mothership within a matter of days or be abandoned on Earth for the next eleven years. Frank sets about trying to help Jake but Jake then announces that he needs the equivalent of $120,000 in gold to power the ship. Their only recourse is to win the money at the gambling table, aided by Jake's psychic powers.
---
At the time that they made The Cat from Outer Space, Disney were having great success with a series of live-action slapstick comedies, with the likes of the Herbie the Love Bug, Dexter Reilly and Witch Mountain films, The Apple Dumpling Gang (1976) and Freaky Friday (1976). In fact, these comedies had come to almost entirely supersede their production of animated films during this era.
1978 was also the year after Star Wars (1977) had made a huge hit and found Disney turning their formula to science-fictional themes to exploit the fad – something that became bloated with the following year's The Black Hole (1979). The Cat from Outer Space is an enjoyably silly effort that shows Disney trying to bend their live-action formula to take on science-fiction themes.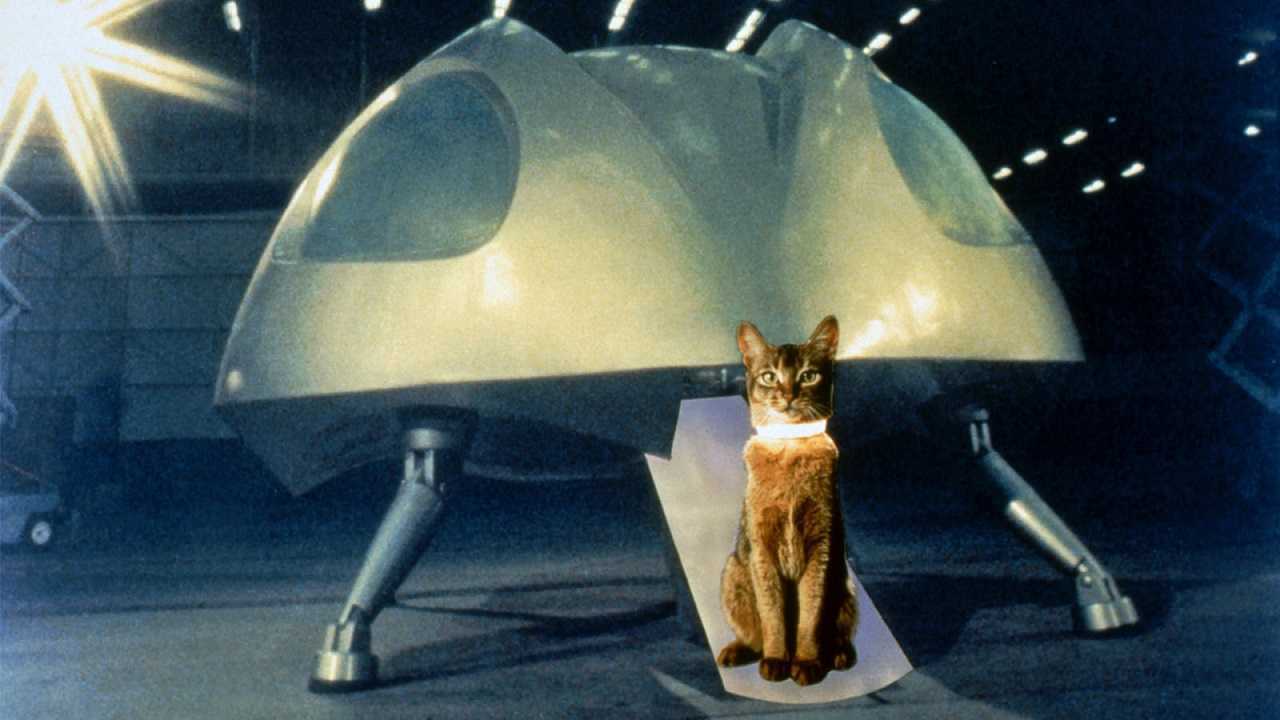 Like most of these live-action Disney films, the film is only held together by a series of slapstick sequences. The basic idea is slender. Mostly the cat and its psychic powers are the springboard for a series of enjoyable effects sequences as per the Witch Mountain films – the cat causing a cello and oboe to play by themselves; the pool game sequence where Sandy Duncan is aided by Jake's powers.
In what became a standing trope in Disney films, there are lots of scenes of people flying – Ken Berry and the cat flying around the saucer, a chase sequence where a motorcycle takes to the air over a fence, and an extended climax with the cat flying a biplane and Ken Berry having to conduct a mid-air rescue from a helicopter. The film is only set around these set-pieces and is slight, if amiable.
---
---