---
Crew
Director/Screenplay – Clay Liford, Producers – Jason Wehling & Brock Williams, Photography – Ellie Ann Fenton, Music – Curtis Heath & Lauren Sanders, Visual Effects Supervisor – Jason Wehling, Production Design – Chelsea Turner. Production Company – Gravitas Ventures/Well Tailored Films/Boxcar Films/Glass House Productions/Arts + Labor.
Cast
Michael Johnston (Neil Shafer), Hannah Marks (Julia Jordan), Michael Ian Black (Denis Howard), Peter Vack (Mike Holloway), Robert Longstreet (Blake Shafer), Dalton Phillips (Jack Anders), Jessie Ennis (Martine), Sarah Ramos (Marin Shafer), Missi Pyle (Ronnie), Tishuan Scott (Vanguard), Lucas Neff (The Kragon)
---
Plot
Fifteen-year-old Neil Shafer is a nerd in high school whose secret passion is writing slash – amateur fiction that imagines erotic relationships between the two male characters of various tv and film series. His specialty is the book and film series 'Vanguard'. Neil is greatly embarrassed when another student snatches the exercise book that contains his writings and it is shown all around the school. It is picked up by Julia Jordan who thinks it is hers. Neil and Julia discover a common interest in writing slash and quickly become best friends. She urges Neil to publish his work on the website The Rabbit Hole and he soon gains a following. At the same time, Neil is not sure about his own sexuality and whether he is gay or attracted to Julia. Julia pushes Neil to attend a special session held by the Rabbit Hole at Comicpalooza convention where they have been invited to come and read their works. Neil has also struck up a conversation with Denis, a gay fellow reader of his work, who urges him to meet up. Neil lies and says that he is eighteen years old to gain entry but this causes problems when the truth is found out.
---
Slash is a peculiar niche of fandom. It is fan-fiction (or fanfic) that imagines sexual relationships between two male characters of (usually) a tv series. This would appear to have originated sometime in the 1970s out of Star Trek (1966-9) fandom. The term 'slash' came out of the designation with which various stories were listed – K/S or Kirk-slash-Spock or various other abbreviations/combinations. The stories were originally printed in amateur fanzines but have become widespread with the advent of the internet. They exist in a legal grey zone, generally being tolerated by most studios, although some copyright holders such as Lucasfilm with the Star Wars series and Warner Brothers with Harry Potter characters have threatened legal action. The genre has attracted surprising academic credibility in recent years with studies seeing it as women's response to the lack of gender equality in traditional romance.
I have to tell you my slash story. Many moons ago when I was a young lad, I belonged to science-fiction fan club. Many of the women in the group were slash readers. This was before the days of the internet, meaning that the content was distributed in laser-printed zines (sometimes colour-illustrated, which from time to time resulted in them being impounded by customs). Among the group, there was also a writer's group where some of the women attendees wrote their own slash. This proved rather amusing, especially given that the women in the group had had little or no sexual experience and one was from time to time being quizzed about their own anatomy and experience to add detail to the stories.
This all culminated in a bizarre blow up when one member of the larger group went on a anti-slash moral crusade, citing concerns that such erotic material might find its way into the hands of children (even though there were no underage members of the group) and expressing great outrage on behalf of the stars of the shows who were purportedly being asked to autograph graphic illustrations of themselves in naked embrace with their fellow actors by rabid slash fans. As fan feuds are often wont to do, the whole matter of the corrupting influence of slash blew over and the slash fans cautiously retreated to enjoy it in the privacy of their own homes.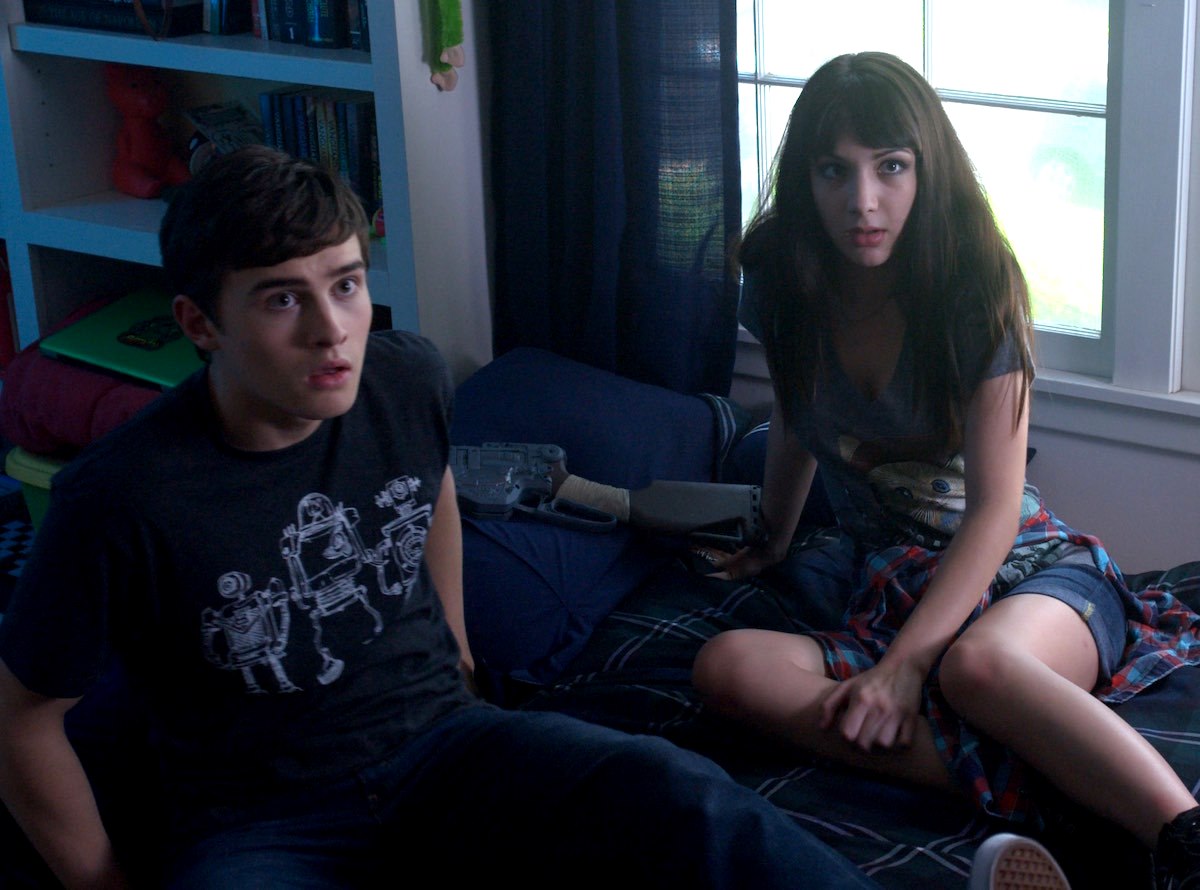 I feel that having been friends with a number of these slash readers and writers, having been led by my curiosity to delve in and read some of the material, and been privy to discussions about the reasons for their enjoying it, this does qualify me to hold a reasonably informed opinion about slash. As a result, I have some problems with the film's depiction of slash fandom and writing. Firstly, I do have to commend the film as it is clear that director/writer Clay Liford has dipped his toes into the community, has familiarised himself with the content and fan jargon, if not attended some of the conventions, as evidenced by the scenes where Missi Pyle engages in a detailed debate about the internal politics of various aspects of the fandom.
The biggest issue one has with the film would be that the principal slash writer shown in the film is a male. Now I am sure that various readers will descend to offer up examples otherwise but slash is a fandom that is principally written and consumed by women. There may be some male writers out there but they are probably akin to the same percentage of men who read and write romance novels. (The gay community for the record tends to look down on and laugh at slash in much the same way that the lesbian community regards lesbian vampire films as being an eroticised version created by and for males). So right out from the starting gate the film's major credibility gap is having a male protagonist, which is a statistical anomaly somewhere in the realm of the existence of unicorns.
The film also almost completely removes the motivations and reason that people have to read slash and allows it to exist in a psychological netherworld where it is just a peculiar hobby some people do in their spare time. (On the plus side, you can't entirely hate a film that critically discusses Poul Anderson and offers praises of the classic science-fiction book The Space Merchants (1953) by Cyril M. Kornbluth and Frederik Pohl). The other complaint would be that for a film about slash – ie. a form of fan fiction that is specifically erotic in nature – this is an awfully PG-rated film and we get very little depiction of the content. At the convention, we do get one or two jokes made about Harry Potter and The Brady Bunch (1969-74) slash, even Justin Bieber slash, not to mention Michael Ian Black tossing off a line about having the Christian Bale and Ben Affleck versions of Batman blowing each other.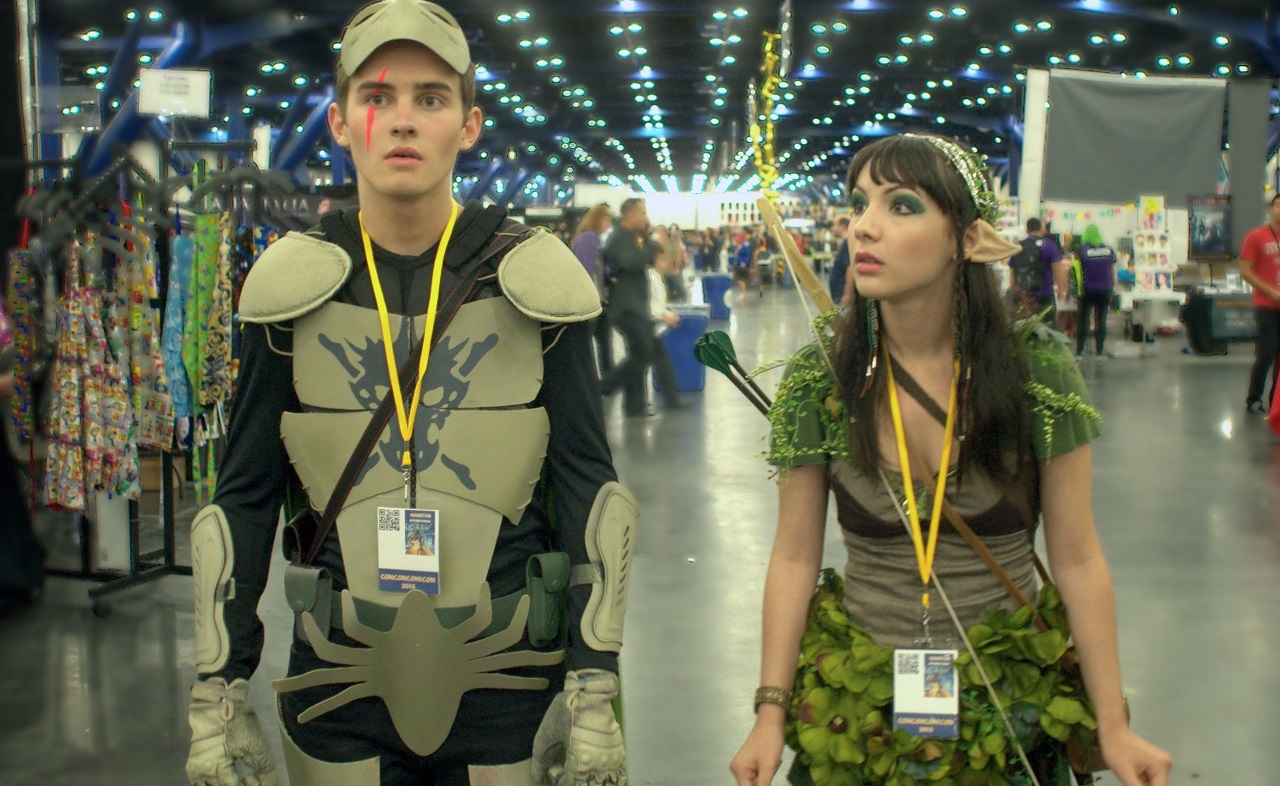 Slash feels like two competing films – one that wants to offer a depiction of the slash community, and another whole film that has been mashed onto that about Michael Johnston's relationship with Hannah Marks and his uncertainty about his own sexuality. Hannah Marks has been cast as a Mad Pixie Dream Girl and I have to say manages to completely ace the part with a performance that makes me want to look out for her in future. The scene where she turns up for dinner at Michael Johnston's parents' place is side-splitting. The Coming of Age story works reasonably – aside from the fact that it is awkwardly grafted onto the slash plot – and the dialogue often has a barbed snappiness that engages.
The film falters a bit at the end where the questions about Michael Johnston's sexual orientation are diverted off into a mildly subversive debate about whether a fifteen year-old should be allowed to participate in the writing and reading sessions of his own erotica – classic line from Hannah Marks "You guys write Teenage Mutant Ninja Turtles bondage porn and you're judging?" – where you get the impression the film is on the side of minors who are being prevented from expressing themselves and is questioning the non-inclusiveness of slash fandom.
Slash was the fourth film from Clay Liford. Liford had previously made the horror anthology A Four Course Meal (2006) and the science-fiction film Earthling (2010). He made the genesis of Slash with the fifteen-minute short film Slash (2012), which concerned itself with Harry Potter fandom (something that has been displaced to a non-copyrighted show here).
---
---