---
Crew
Director/Screenplay – Woody Allen, Producer – Robert Greenhut, Photography (b&w + some scenes colour) – Gordon Willis, Music – Dick Hyman, Makeup Effects – John Caglione, Production Design – Mel Bourne. Production Company – Orion Pictures.
Cast
Woody Allen (Leonard Zelig), Mia Farrow (Dr Eudora Fletcher), Susan Sontag (Herself), Saul Bellow (Himself), Bruno Bettelheim (Himself), Irving Howe (Himself)
---
Plot
A documentary charts the exploits of 1930s celebrity Leonard Zelig who had the remarkable ability to change his appearance to fit into whatever crowd he was amongst. Psychologist Dr Eudora Fletcher attempted to cure Zelig with therapy, realizing that his problem was due to low self-esteem and trying to please too many people. The Zelig case attained worldwide fame.
---
Woody Allen emerged as a talent in the 1970s with screwball comedies like Take the Money and Run (1969), Bananas (1972), Everything You Always Wanted to Know About Sex * But Were Afraid to Ask (1972), Sleeper (1973) and Love and Death (1975). From the point of Annie Hall (1977) onwards, Woody Allen's work became much more weightily introspective and his work of the 1980s subdues the buoyant silliness of his screwball comedies under a much more soberly intellectual humour, while Allen's work into the 1990s could frequently be described as dour and rather unhappy. Amidst this though, Allen's frequent forays into fantasy often bubble with a giddy froth as though they were up swings in manic depressive cycles.
Zelig was an experiment upon Woodt Allen's part in creating a documentary set around a fantastic, entirely fictional character. Allen was possibly inspired by the then recent Dead Men Don't Wear Plaid (1982), wherein director Carl Reiner composed a film based around inserting Steve Martin into clips from 1940s film noir thrillers. Allen had earlier composed another entire film by dubbing over footage from a Japanese spy thriller with What's Up Tiger Lily? (1965), while his Take the Money and Run also posed at the documentary form. The move of inserting a fictional character into historical footage was later copied by the much more famous Forrest Gump (1994), although Zelig is much cleverer and more sophisticated with what it does.
The idea is something that would seem an artistic conceit in any less adept director's hands but in Woody Allen's becomes a work of masterful satire. The narration wittily lampoons the mythologising sentiments of thirties documentaries, while clips from a film based on Zelig's life called The Changing Man do an hilarious job of mocking the sentimental frippery of the era's films.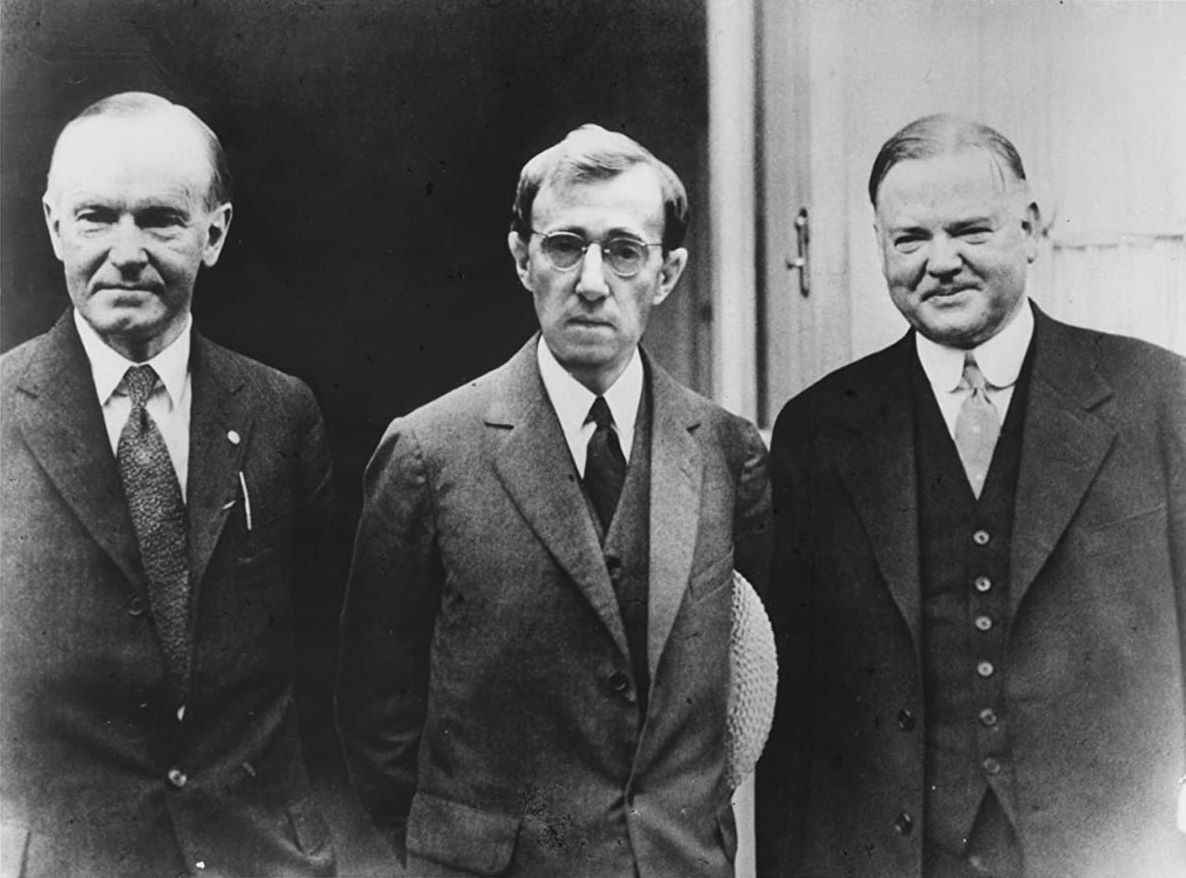 Zelig is a more freewheeling comedy in the style of Woody Allen's earlier slapstick films of the 1970s and away from the more meaning-laden works that Allen was making in the 1980s. Allen never strays far from his familiar persona, but the satirical objects are painfully accurate. There are a number of priceless Allen-esque one-liners packed away during the very funny live-action therapy sessions with the psychologist played by Mia Farrow.
On a technical level, Zelig is exceptional. The makeups are brilliantly conducted – Allen changes his features and race but still remains identifiably himself. Faked footage and real intermingle with flawless regard. The pseudo-documentary footage and stills are cleverly interwoven with the real, while Susan Sontag, Saul Bellow and others contemporary figures appear as themselves to reflect on Zelig's life. At times the mingling of fact and fiction and the wealth of detail afforded the fiction almost makes it seem as though a Leonard Zelig really did live.
Woody Allen's other films of genre interest are:– Play It Again Sam (1972), Everything You Always Wanted to Know About Sex * But Were Afraid to Ask (1972), Sleeper (1973), Love and Death (1975), A Midsummer Night's Sex Comedy (1982), The Purple Rose of Cairo (1985), New York Stories (1989), Alice (1990), Shadows and Fog (1991), Mighty Aphrodite (1995), Everyone Says I Love You (1996), Deconstructing Harry (1997), Match Point (2005), Scoop (2006), Midnight in Paris (2011), To Rome with Love (2012) and Magic in the Moonlight (2014).
---