---
Crew
Director/Screenplay – Woody Allen, Producer – Robert Greenhut, Photography – Carlo Di Palma, Production Design – Santo Loquasto. Production Company – Sweetland Films/Magnolia Productions
Cast
Woody Allen (Lenny Weinrib), Mira Sorvino (Linda Ash), Helena Bonham Carter (Amanda Sloan), Michael Rapaport (Kevin), Peter Weller (Jerry Bender), F. Murray Abraham (Muse), Jack Warden (Tiresias)
---
Plot
New York gallery manager Amanda Sloan tells her husband, sports writer Lenny Weinrib, that she wants a baby. After some doubts, they end up adopting a boy and name it Max. Lenny is unable to get over how bright Max is. His marriage with Amanda starts to go through a rough spot and Lenny becomes obsessed with the idea of finding Max's birth-mother. Occasionally aided by a Greek muse and a blind seer, Lenny traces the mother as being adult actress and prostitute Linda Ash. Lenny then takes it upon himself to help Linda get out of the business and find a decent guy to settle down with.
---
Woody Allen is one of the least likely names one would cite as a prolific fantasy film director, however he has directed a considerable body of fantasy films. (See below for Woody Allen's other titles). Allen gained fame in the 1970s with zany slapstick films like Take the Money and Run (1969), Bananas (1972), Everything You Always Wanted to Know About Sex * But Were Afraid to Ask (1972) and Sleeper (1973). By the 1980s, Allen's work began to weigh down with a quest for the meaning of it all in films such as Annie Hall (1977), his singular best work, Interiors (1978), Manhattan (1979) and Stardust Memories (1980).
The late 80s and 90s became a considerably less happy time for Allen with dour and unhappy works like Broadway Danny Rose (1984), The Purple Rose of Cairo (1985), September (1987), Another Woman (1988), Alice (1990) and Shadows and Fog (1991). However, after the mid-1990s, Allen's work began to return to form with the sophisticated and wittily enjoyable likes of Bullets Over Broadway (1993), Manhattan Murder Mystery (1994), Deconstructing Harry (1997), Small Time Crooks (2000), Match Point (2005) and Vicky Cristina Barcelona (2008). Mighty Aphrodite was a considerable return to high form for Woody Allen.
In Mighty Aphrodite, Woody Allen borrows from and parodies Greek tragedy. The plot with its ironic twists and leaps of fate mimics the Greek form and Allen has considerable fun with his Greek chorus who hilariously toss modern colloquialisms in amidst their poetry. There are a number of amusingly fantastique moments – with Allen trying to explain himself to chorus member F. Murray Abraham who is trying to intervene on the side of fate; Jack Warden as a blind seer; and amusing gags about prayers to Zeus that only reach a stentorious answer phone. Mighty Aphrodite was one of Woody Allen's most enjoyable and warmly funny in some time – the ending with the chorus bursting into a song and dance number as the credits roll bursts with a life and ebullience not to be found in any other Woody Allen film.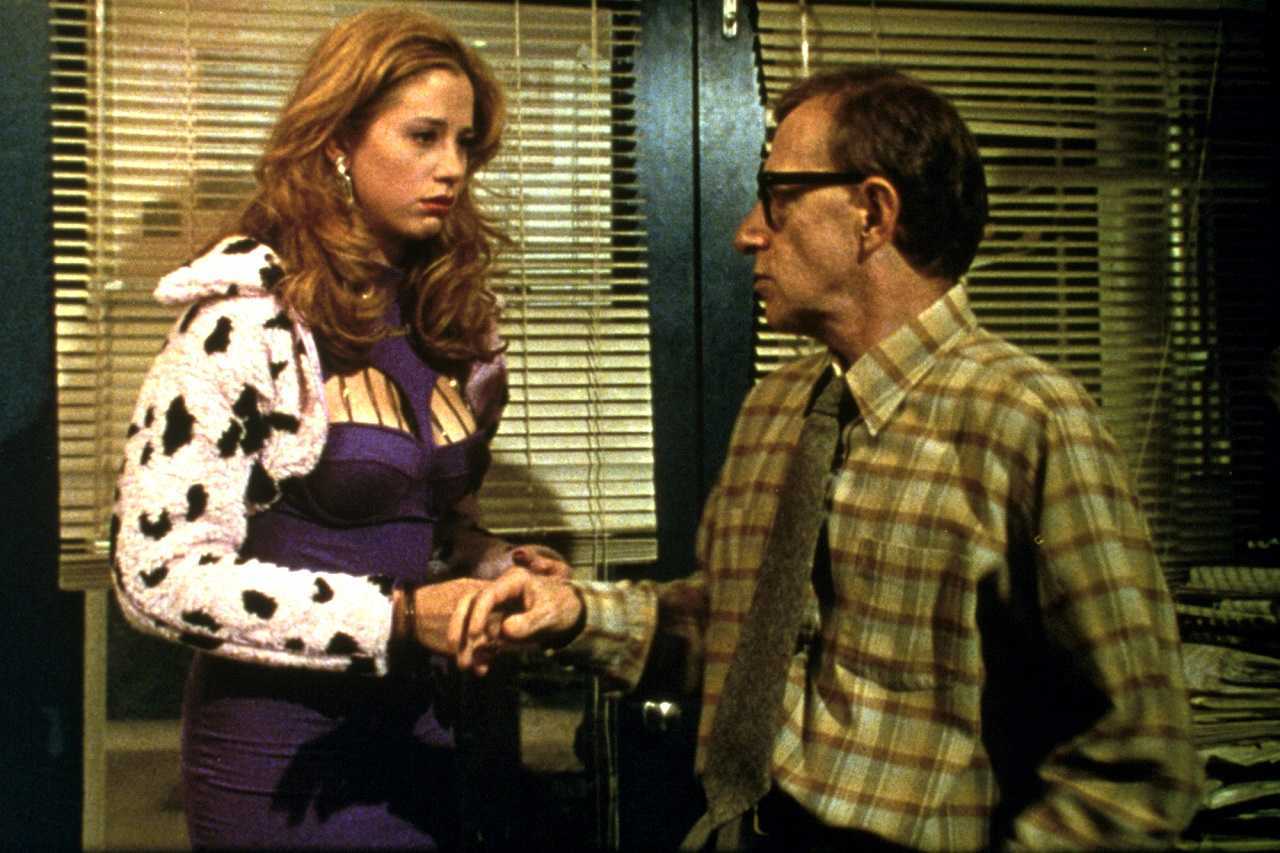 Contrarily, Woody Allen plays himself at possibly the most neurotic, nervous and unhappy we have seen him in a screen performance yet – he had just split with Mia Farrow and she was publicly dragging his name through the mud in a big way, so he is perhaps to be excused. On the other hand, there is a simply marvellous performance from Mira Sorvino (Paul Sorvino's daughter). She has been written in as almost the complete opposed of Woody Allen's usual persona – thoroughly unselfconscious, carefree and sexually extroverted. Sorvino plays the part with hilarious abandon (although the shrill voice does weary on one's nerves after a time). The scene where Allen goes to visit her for the first time is absolutely side-splitting. Mira Sorvino deservedly won an Oscar as Best Supporting Actress that year.
Woody Allen has a big-name cast on hand – although many of the names listed on the credits, such as Claire Bloom, Olympia Dukakis and David Ogden Stiers, are undetectable amongst the Greek chorus. In a flatteringly implausible move, Allen casts then 29-year old Helena Bonham Carter as his wife – a relationship that had a thirty-one year disparity in real life. (For some reason Allen also names his character after Lennie Weinrib, a veteran voiceover actor in numerous cartoons and the writer of tv's H.R. Pufnstuf [1969-73]).
Woody Allen's other genre films are:– Play It Again Sam (1972), Everything You Always Wanted to Know About Sex * But Were Afraid to Ask (1972), Sleeper (1973), Love and Death (1975), A Midsummer Night's Sex Comedy (1982), Zelig (1983), The Purple Rose of Cairo (1985), New York Stories (1989), Alice (1990), Shadows and Fog (1991), Everyone Says I Love You (1996), Deconstructing Harry (1997), Match Point (2005), Scoop (2006), Midnight in Paris (2011), To Rome with Love (2012) and Magic in the Moonlight (2014).
(Winner in this site's Top 10 Films of 1995 list. Winner for Best Actress (Mira Sorvino), Nominee for Best Original Screenplay at this site's Best of 1995 Awards).
---
---