---
Crew
Production Company – Touchstone.
Life Stories
Crew
Director – Martin Scorsese, Screenplay – Richard Price, Producer – Barbara De Fina, Photography – Nestor Almendros, Production Design – Kristi Zea.
Cast
Nick Nolte (Lionel Dobie), Rosanna Arquette (Paulette)
Life Without Zoe
Crew
Director – Francis Ford Coppola, Screenplay – Francis Ford Coppola & Sofia Coppola, Producers – Fred Fuchs & Fred Roos, Photography – Vittorio Storaro, Music – Carmine Coppola, Production Design – Dean Tavoularis.
Cast
Heather McComb (Zoe Montez), Talia Shire (Colette Montez), Giancarlo Giannini (Claudio Mendez), Alim Till (Abu), Don Novello (Hector), Tom Mondarosian (Prince Hasid)
Oedipus Wrecks
Crew
Director/Screenplay – Woody Allen, Producer – Robert Greenhut, Photography – Sven Nykvist, Production Design – Santo Loquasto.
Cast
Woody Allen (Sheldon Mills), Mae Questel (Sadie Millstein), Mia Farrow (Lisa), Julie Kavner (Treva Marx)
---
Plot
Life Stories:- Lionel Dobie, a gruff, reclusive modern artist, learns that his girlfriend/live-in pupil Paulette slept with another guy while on holiday. He persuades her to stay, which she does, interested in learning if she has any talent. Lionel, in his awkward way, tries to convince her that he loves her. Life Without Zoe:- Zoe Monetz is left at home in her New York apartment while her separated parents travel the globe. She tries to return a jewel given to her father, a famous opera singer, by an Arab queen and bring her parents back together. Oedipus Wrecks:- Sheldon Mills lives under the thumb of his mother who dominates every aspect of his life. During a magician's act, Sheldon's mother is invited to come up on stage as a volunteer in a disappearing trick but afterwards fails to reappear. The magician is baffled but Sheldon is glad. However, his mother reappears in the sky above Manhattan and starts telling Sheldon how to run his life in full view of the city.
---
New York Stories is a trilogy of short films from three prominent directors set around the common locus of New York City. Martin Scorsese's Life Lessons and Francis Ford Coppola's Life Without Zoe are non-fantastic but Woody Allen's Oedipus Wrecks is – and delightfully so.
Oedipus Wrecks is very much Woody Allen on his cringing one-note self-apologetics, but all the more funny for it, unlike the dreadfully pained soap opera of some his other full length offerings around the same time – September (1987), Another Woman (1988) and Alice (1990). Mae Questel, once the voice of Betty Boop, has a field day with her evisceration of the Jewish mother and the film is an absolute riot whenever she is on screen. The other joy of the segment is the casting of Julie Kavner, the voice of tv's Marge Simpson, as the wry, husky-voiced Jewish psychic, something that catches Woody Allen in a rare and heart-warmingly offhand romantic mood and where Kavner succeeds in lighting up the show. The scenes trying to exorcise Mae Questel, coming in one of Woody Allen's comedies of awkwardness, contain some very funny send up of genre clichés. Oedipus Wrecks is the gem of the three episodes.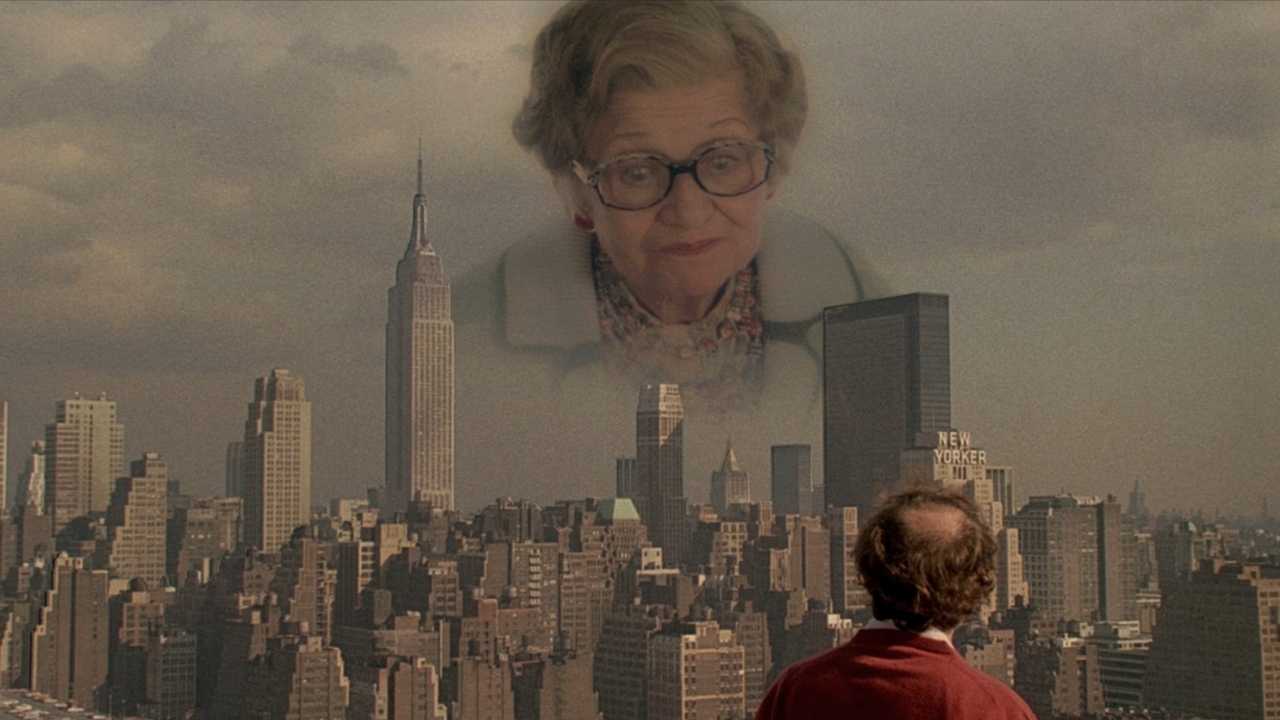 Of the other two episodes, only the Francis Ford Coppola segment is worthwhile. Life Lessons is an uncharacteristic bore from the usually always-watchable Martin Scorsese. Neither of the two characters in the episode is interesting or worth caring about – Nick Nolte's artist is an ungainly boor while Rosanna Arquette's pupil/girlfriend seems vainly self-absorbed – and it feels hard to generate any empathy in their dramas.
Traditionally, people tend to like the Martin Scorsese episode the best and regard Francis Ford Coppola's segment as the turkey among the three. I contrarily tend to think of it the other way around. Life Without Zoe has undeniable charm. It is an urban fairy-tale that sees New York through the eyes of a child's innocence and regards it as a modern Aladdin's cave of wonders. The plot is loose but the characterisations – from Heather McComb's Zoe, who with wonderful sophistication gives her parents advice, to the bum who lives in a cardboard box in the street – are magical. This segment has a beautiful soft-eyed lyricism – especially good being the opening pan around the apartment – that can leave one coming out wanting to dance. Coppola co-wrote the episode with his then eighteen year-old daughter Sofia, later the Oscar-nominated director of Lost in Translation (2003) and the Southern Gothic The Beguiled (2017), and also his cast his sister Talia Shire as Zoe's mother.
---
---