---
Crew
Director/Screenplay – Woody Allen, Producer – Charles H. Joffe, Photography – Ghislain Cloquet, Music – S. Prokofiev, Special Effects – Kit West, Art Direction – Willy Holt. Production Company – Jack Rollins and Charles H. Joffe Productions.
Cast
Woody Allen (Boris Dimitrovich Grushenko), Diane Keaton (Sonja), Harold Gould (Anton Ivanovich Leberakov), Olga Georges-Picot (Countess Alexandrovna), James Tolkan (Napoleon), Sol L. Fieder (Leonid Voskovec)
---
Plot
Boris Dimitrovitch Grushenko loves his cousin Sonja, even though she confesses that she loves his brother. Boris is then called up to the army to defend against Napoleon. Left behind, Sonja marries the herring merchant Leonid Voskovec but is unhappy with him and conducts numerous affairs. Meanwhile, Boris accidentally becomes the only survivor of a massacre on the front. Pronounced a hero, he returns to claim Sonja's love.
---
Love and Death was one of Woody Allen's earlier films. This was the point when Allen was making outright slapstick comedies – the likes of Take the Money and Run (1969), Bananas (1972), Everything You Always Wanted to Know About Sex * But Were Afraid to Ask (1972) and Sleeper (1973) – and before Annie Hall (1977) and the point when Allen started to become philosophical about comedy.
Love and Death is not one of Woody Allen's greater films but it is nevertheless a funny one. The film has been made on the cheap – the armies are not very big, Death is only wearing bedsheets, while the cheerleaders dancing for Russia in the battle scenes have 'Russia' only handwritten on their tops. The plot is a loose series of takes on Russian literature – it parodies Tolstoy and Chekhov but mostly Allen writes his typical humour over the general milieu.
Allen throws up amusing one-liners – Diane Keaton and Boris's brother's wife discuss the late brother: "I thought we should divide his letters – do you want the vowels or the consonants?" Olga Georges-Picot comments admiringly: "You're the greatest lover I've ever had," to which Allen's reply is "Well I practice a lot when I'm alone." Diane Keaton worries: "Boris is trying to commit suicide – last week he contemplated inhaling next to an Armenian."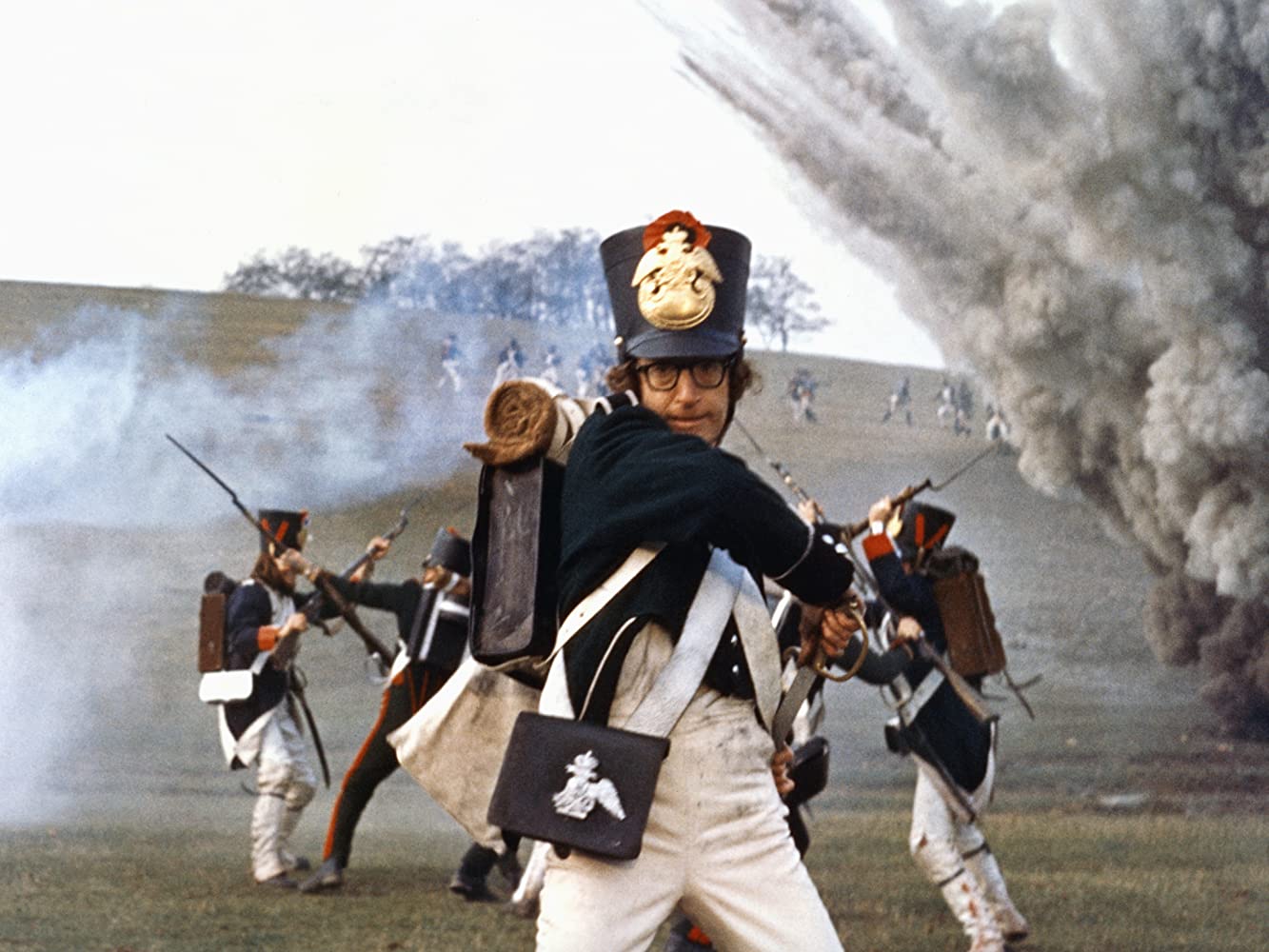 Love and Death is at its best when Woody Allen gets the chance to engage in visual comedy. There is a witty sequence with him stumbling about on the battlefield – bumbling in a parade line, getting his bayonet stuck in the target, his rifle collapsing as he tries to clean and shoot it, his sword getting stuck in his scabbard. There are a number of funny scenes with he and Olga Georges-Picot making eyes at one another from behind fans at the opera; or his struggle to kill an amorous Napoleon at the same time as Diane Keaton is fending Napoleon off.
There is a minor degree of fantasy in the film with Woody Allen parodying religious visions and with Death turning up throughout. In one scene, a ghost appears to Allen, giving him a ring whereupon they argue about trying to get a better price for it for tax purposes. The funniest scene in Love and Death is the last one with Allen gauchely dancing off after Death, for all the world like a jester, in a grand parody of the final image of Ingmar Bergman's The Seventh Seal (1957).
Woody Allen's other films of genre interest are:– Play It Again Sam (1972), Everything You Always Wanted to Know About Sex * But Were Afraid to Ask (1972), Sleeper (1973), A Midsummer Night's Sex Comedy (1982), Zelig (1983), The Purple Rose of Cairo (1985), New York Stories (1989), Alice (1990), Shadows and Fog (1991), Mighty Aphrodite (1995), Everyone Says I Love You (1996), Deconstructing Harry (1997), Match Point (2005), Scoop (2006), Midnight in Paris (2011), To Rome with Love (2012) and Magic in the Moonlight (2014).
---
---