aka Spy Kids: All the Time in the World in 4D
---
Crew
Director/Screenplay – Robert Rodriguez, Producers – Elizabeth Avellan & Robert Rodriguez, Photography (3D) – Jimmy Lindsey & Robert Rodriguez, Music – Robert Rodriguez & Carl Thiel, Visual Effects – Hybride (Supervisor – Daniel Leduc) & Troublemaker Digital (Supervisors – Toader Alex, Rodney J. Brunet & Chris Olivia), Special Effects Supervisor – John McLeod, Makeup Effects Supervisors – Howard Berger & Greg Nicotero, Production Design – Steve Joyner. Production Company – Troublemaker Studios.
Cast
Rowan Blanchard (Rebecca Wilson), Mason Cook (Cecil Wilson), Jessica Alba (Marissa Cortez Wilson), Jeremy Piven (Danger D'Amo/Tick Tock), Joel McHale (Wilbur Wilson), Alexa Vega (Carmen Cortez), Ricky Gervais (Voice of Argonaut), Daryl Sabara (Juni Cortez), Chuck Cureau (News Anchor)
---
Plot
Carmen and Juni Cortez's aunt Marissa is also an OSS agent, although her husband, tv reporter Wilbur Wilson, is unaware of this. Marissa is about to retire from duty and give birth to a baby. On her last day on the job, while heavily pregnant, she goes into action against the villain Tick Tock who is planning to steal The Armageddon Device but he makes an escape. Marissa retires to raise the baby and play stepmother to Wilbur's two children Rebecca and Cecil who dislike her. A villain known as The Time Keeper starts destroying time, causing everything to hurry along faster. Marissa is called back into action by OSS. As part of his plan, The Time Keeper needs the Chronos Sapphire but Marissa has given this to Rebecca in a pendant. As The Time Keeper's heavies come after the kids, Marissa is forced to explain to them that she is a spy. Carmen introduces them to the now defunct Spy Kids division. After Marissa and Carmen are waylaid by the Time Keeper, Rebecca and Cecil take it to arm themselves with Spy Kids gadgets and go into action.
---
Spy Kids: All the Time in the World is the fourth entry in Robert Rodriguez's Spy Kids series. The series began with the eminently likeable Spy Kids (2001), which proved a modest hit with its wacky juvenile variation on the spy film standard. The series continued with Spy Kids 2: Island of Lost Dreams (2002) and Spy Kids 3-D: Game Over (2003). In what feels like a film that nobody except the series' creators wanted to see, the basics are hauled out here for yet another entry and would be followed by the animated tv series Spy Kids: Mission Critical (2018- ).
In watching All the Time in the World, Spy Kids feels like a series that reached its maximum level of cuteness about two films ago. The rest has been dragged out in a strained attempt to justify any relevance and hoping that audiences will be drawn in by pumping the films full of gimmicks – Spy Kids 3-D: Game Over was shot in 3-D and presaged the current box-office fad by several years; while All the Time in the World spoofs the 3D fad by advertising itself as being in 4D and Aroma-Scope, reviving the old Smellovision concept that appeared in films such as The Scent of Mystery (1960) and Polyester (1981) where audiences are given a sniff card to scratch whenever a cue comes up on the screen.
I like most of Robert Rodriguez's work. He has made some great films – the Mexican Westerns El Mariachi (1993) and Desperado (1995), Machete (2010), witty genre-savvy efforts such as The Faculty (1998) and Planet Terror (2007), while his graphic novel adaptation Sin City (2005) should be on any list of modern cinematic masterworks. There is however another side to Robert Rodriguez. Since the 1990s and his marriage to his producer Elizabeth Avellan, he has become a father and has five children at current count.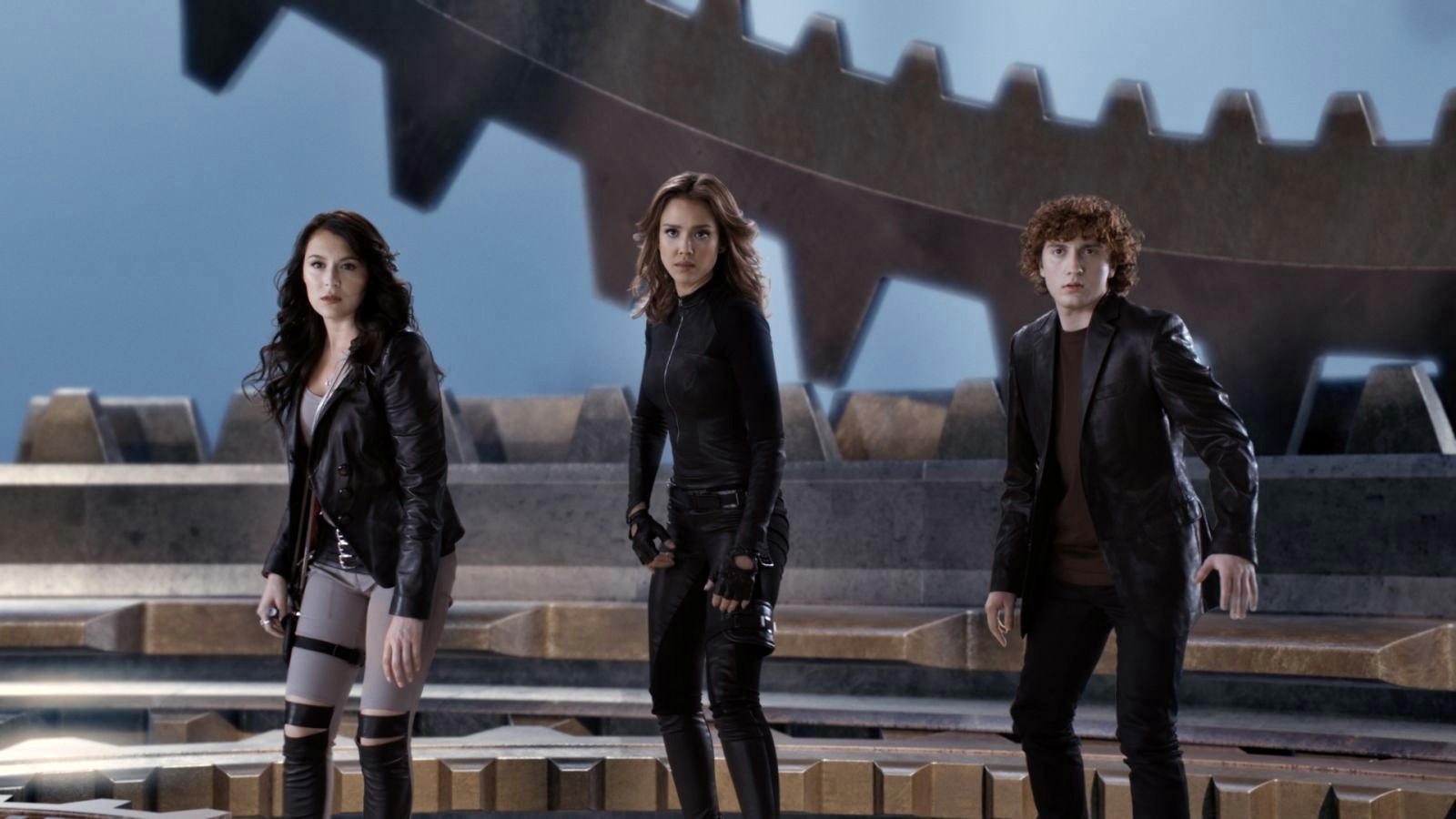 Just like when Robin Williams became a father, Rodriguez has turned towards making films that can be enjoyed by his kids – in fact, Rodriguez goes one step further and actively includes his kids in the filmmaking process. Rodriguez's children's films – the Spy Kids series, The Adventures of Sharkboy and Lavagirl in 3D (2005) and Shorts (2009) – have come to increasingly play towards the juvenile, featuring silly slapstick and nonsense visual puns such that they can barely be enjoyed by adults any more.
Spy Kids: All the Time in the World certainly must go down as Robert Rodriguez's worst film to date. The Spy Kids premise is starting to feel incredibly strained. Many of the principals from the other films have moved on – Antonio Banderas and Carla Gugino are no longer present as the parents; while Rodriguez stalwart Danny Trejo merely has a blink-and-you-miss-him cameo as Uncle Machete. Alexa Vega and Daryl Sabara, the original Spy Kids, are back but are clearly no longer kids – she is now looking very adult at age 23 and Sabara is an all grown-up nineteen. Thus the Spy Kids basics have to be rebooted with a new sets of kids – the unlikeable and surprisingly uncharismatic duo of Rowan Blanchard and Mason Cook who lack anything that Vega and Sabara had in the original films.
The film opens well with the scene where a pregnant Jessica Alba heads into action, taking on and defeating a horde of heavies in combat at the same time as she starts having contractions, as well as a chase involving her driving a car that can suddenly pop its tires out on springs to avoid a trail of spikes fired by the vehicle she is pursuing. It is here that Robert Rodriguez promisingly recaptures some of the zaniness that fired up the original Spy Kids.
Unfortunately, the rest of Spy Kids: All the Time in the World is all downhill. Far more than in any of his other children's films, Rodriguez gives into juvenile slapstick antics. There is a high-speed chase through the skies in futuristic miniature jets that involves the kids pelting pursuers with barf bags of vomit; Rowan Blanchard likes conducting practical jokes, including one that involves dumping blue cheese over Jessica Alba; and elsewhere there are antics with green goop thrown at the ceiling and Jessica Alba throwing bombs made of soiled baby diapers at attackers. Maybe the worst aspect of the film is the android dog voiced by British comic Ricky Gervais. Gervais's smartass one-liners quickly become extremely irritating, while the low point of the film is a scene where the dog gets to urinate a slick of oil, to defecate ball bearings against pursuers and then offer a paw for the kids to pull as he farts a noxious green gas.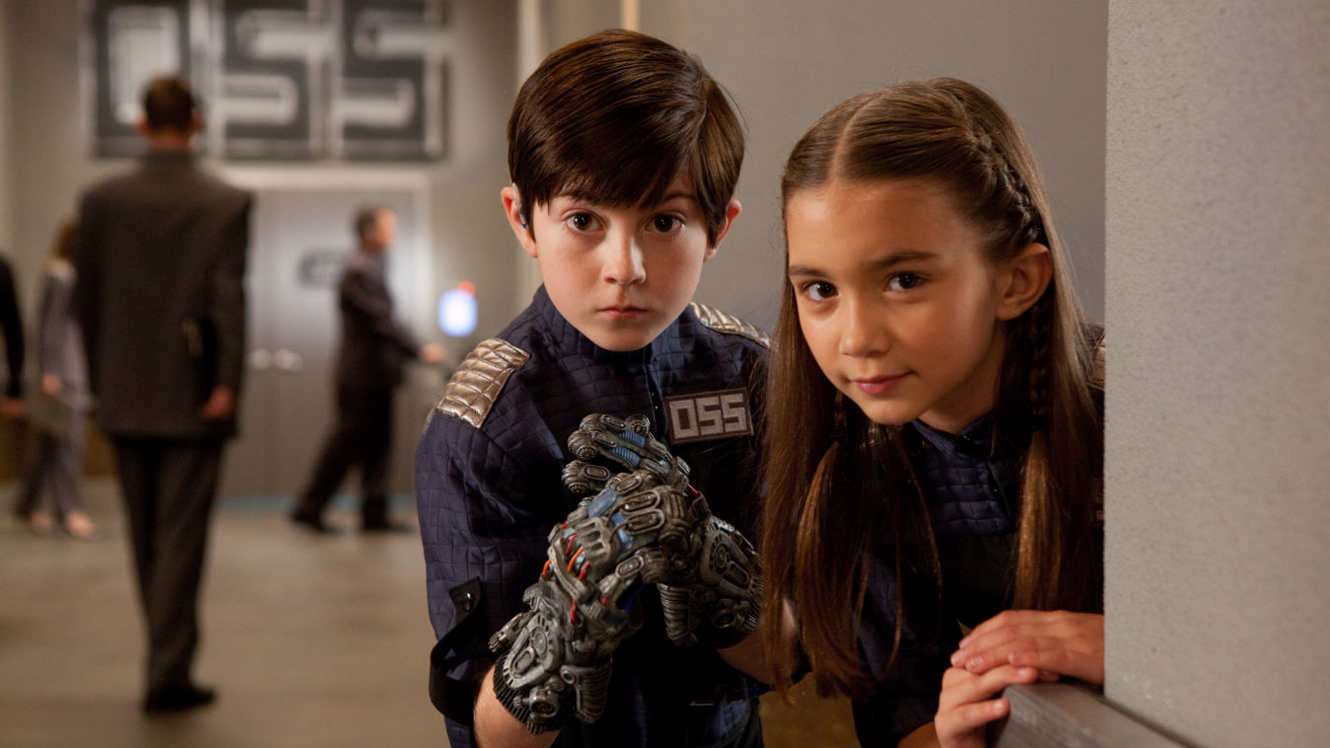 As with most of Robert Rodriguez's children's films, Spy Kids: All the Time in the World feels rushed and slipshod. The visual effects are the usual crappy ones churned out by Rodriguez's own in-house digital studio. The Aroma-Scope gimmick is a major disappointment – limited to no more than a slice of bacon, the blue cheese and a variety of candies for the most part. The great disappointment is that the sniff card I was handed was so cheaply mass-produced that the entire thing smelt of berries and more than half of the smells were unable to be detected when scratched.
Spy Kids: All the Time in the World leaves you with a sense of wondering why the film was mounted in the first place. Rodriguez seems to be trying to get back to the original Spy Kids idea but the exercise feels half-hearted and only sits there with an overwhelming sense of purposelessness. In lieu of anything else, all that Rodriguez has done is settled for playing up to the juvenile audiences as much as possible and hoping there are not enough adults in the audience to notice.
Robert Rodriguez's other films of genre interest are the vampire/getaway thriller From Dusk Till Dawn (1996); the witty teen body snatchers film The Faculty (1998); the graphic novel adaptation/film noir pastiche Sin City (2005) and Sin City: A Dame to Kill For (2014); the children's film The Adventures of Sharkboy and Lavagirl in 3-D (2005); the zombie film Planet Terror (2007), half of the Quentin Tarantino collaboration Grindhouse (2007); the children's film Shorts (2009); Machete Kills (2013), a sequel to his earlier Mexican-themed action film that frequently enters into science-fiction territory; the manga adaptation Alita: Battle Angel (2019); Red 11 (2019), a mind-bending work set during an experimental drug trial; and the kid superheroes film We Can Be Heroes (2020). Rodriguez has also produced From Dusk Till Dawn 2: Texas Blood Money (1999), From Dusk Till Dawn 3: The Hangman's Daughter (2000) and Predators (2010), as well as developed the tv series From Dusk Till Dawn (2014-6).
---
---