---
Crew
Director/Screenplay – Robert Rodriguez, Producers – Robert Rodriguez & Elizabeth Avellan, Photography – Guillermo Navarro, Music – John Debney, Gavin Greenaway, Harry Gregson-Williams, Los Lobos & Hector Pereira, Theme Music – Danny Elfman, Visual Effects Supervisors – Robert Rodriguez & Daniel Leduc, Digital Effects – Digiscope (Supervisor – Brad Kuehn), Digital Anvil, digital.art.media (Supervisor – Mark Koch), Hybride Technologies (Leduc) & Image 6, Miniature Effects – Biz Z Miniatures, Special Effects Supervisor – John McLeod, Makeup Effects – Kurtzman, Nicotero & Berger EFX Group (Supervisors – Howard Berger & Greg Nicotero), Production Design – Cary White. Production Company – Dimension Films/Troublemaker Films.
Cast
Alexa Vega (Carmen Cortez), Daryl Sabara (Juni Cortez), Antonio Banderas (Gregorio Cortez), Carla Gugino (Ingrid Cortez), Alan Cumming (Floop), Danny Trejo (Uncle Machete), Tony Shalhoub (Minion), Teri Hatcher (Miss Gradenko), Robert Patrick (Lisp), Cheech Marin (Felix Gumm)
---
Plot
Young Carmen and Juni Cortez are unaware that their parents Gregorio and Ingrid used to be top international spies. The two met when they were assigned to eliminate the other but decided to marry and raise a family instead. As agents starts disappearing, Gregorio and Ingrid, not wishing to upset the children, decide to go back into action for one last assignment. However, they are captured by Floop, a children's tv show host who is trying to perfect a world domination scheme using android children. The one thing Floop needs to perfect the androids is an artificial brain that is in Gregorio's possession. As Floop's minions come after the brain, Carmen and Juni discover that their parents are spies. They decide to go into action using their parents' spy gadgets in an attempt to rescue them.
---
Spy Kids comes from Robert Rodriguez, the American director who made a big splash with the zero budget feature El Mariachi (1993). Rodriguez subsequently went onto the revved-up action balletics of Desperado (1995) and genre works such as the vampire-getaway film From Dusk Till Dawn (1996), the witty alien body snatchers deconstruction The Faculty (1998), the brilliant film noir pastiche Sin City (2005) and the Planet Terror (2007) segment of Grindhouse (2007).
Spy Kids was a considerable change of pace for Robert Rodriguez – in that it is a children's film when Rodriguez was only known up to that point for his action films. It is something that made you do a double-take when you first saw the poster with his name on it in the theatre lobby. The second thing you think about is the concept, which treads a line between being potentially amusing and so cute it could be nauseating. The good advance word on Spy Kids was that Miramax thought so highly of the result that they greenlit a sequel even before the first film had been released.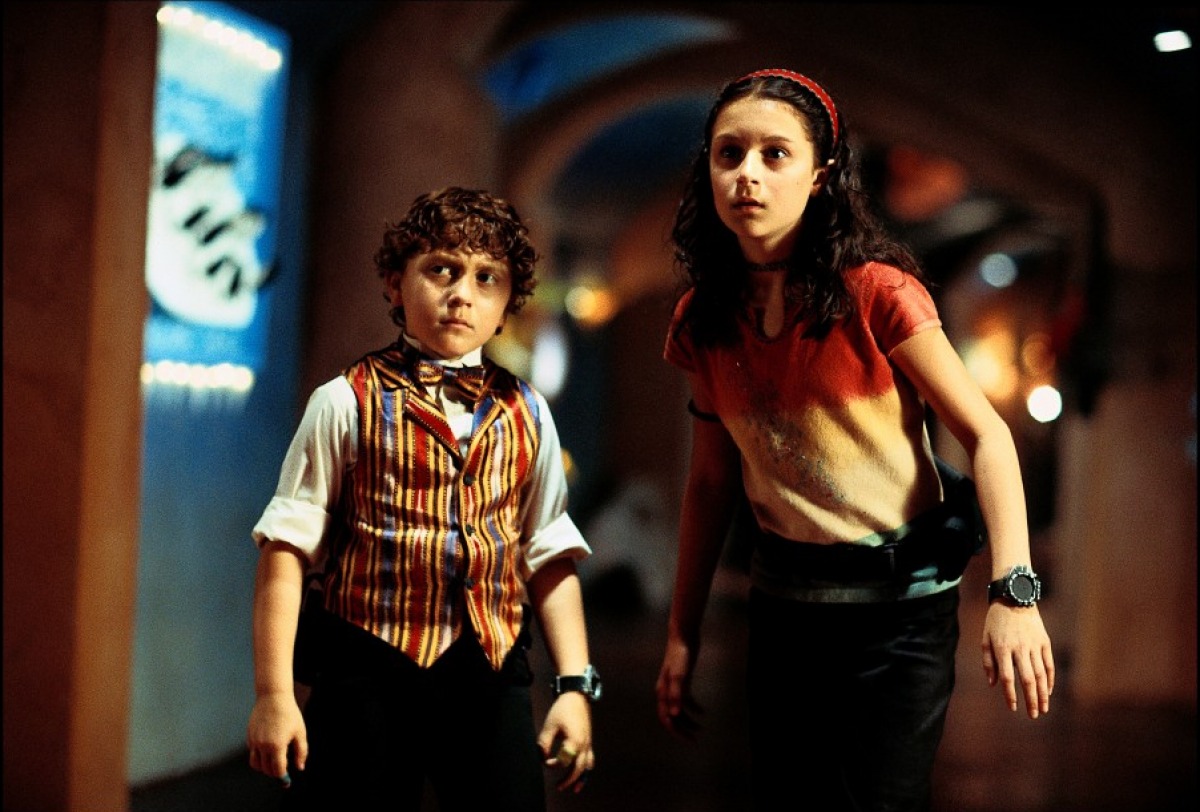 When seen, Spy Kids is an unpretentious and unabashed delight. It falls into the new post-Soviet Union genre of spy movies, typified by the James Bond spoofs begun with Austin Powers, International Man of Mystery (1997). Unlike the Austin Powers films, Spy Kids is not a parody, rather it is a straight adventure but where the spy genre tropes have been hyper-realised to the point that the film inhabits a tongue-in-cheek fantasy world.
There is so much visual invention to the film – from the surreal design work, which is like a mad scientist's castle version of a Playschool set (along with Alan Cumming as a host who has been clearly modelled on Pee-Wee Herman) to the exhilarating action scenes and Rodriguez's assuredly deft hand with humour – the romance between Antonio Banderas and Carla Gugino at the start of the film with the two never able to meet is an absolute delight.
A great deal of the film's fun comes in the gadgets. These go beyond the mere novelty of the James Bond films to a point where the film attains a kind of rubber elasticity where everything houses a gadget inside it – from the laser in the wedding ring to Carla Gugino's makeup containers that act as makeshift keyboard to explosive bubblegum, micro-sized videocameras, spraycans of instant cement and the ever-so-delightful moment where packaged food rehydrates as a perfect tray of McDonald's. Spy Kids is one film where the fun the filmmakers are having clearly spills over to the audience.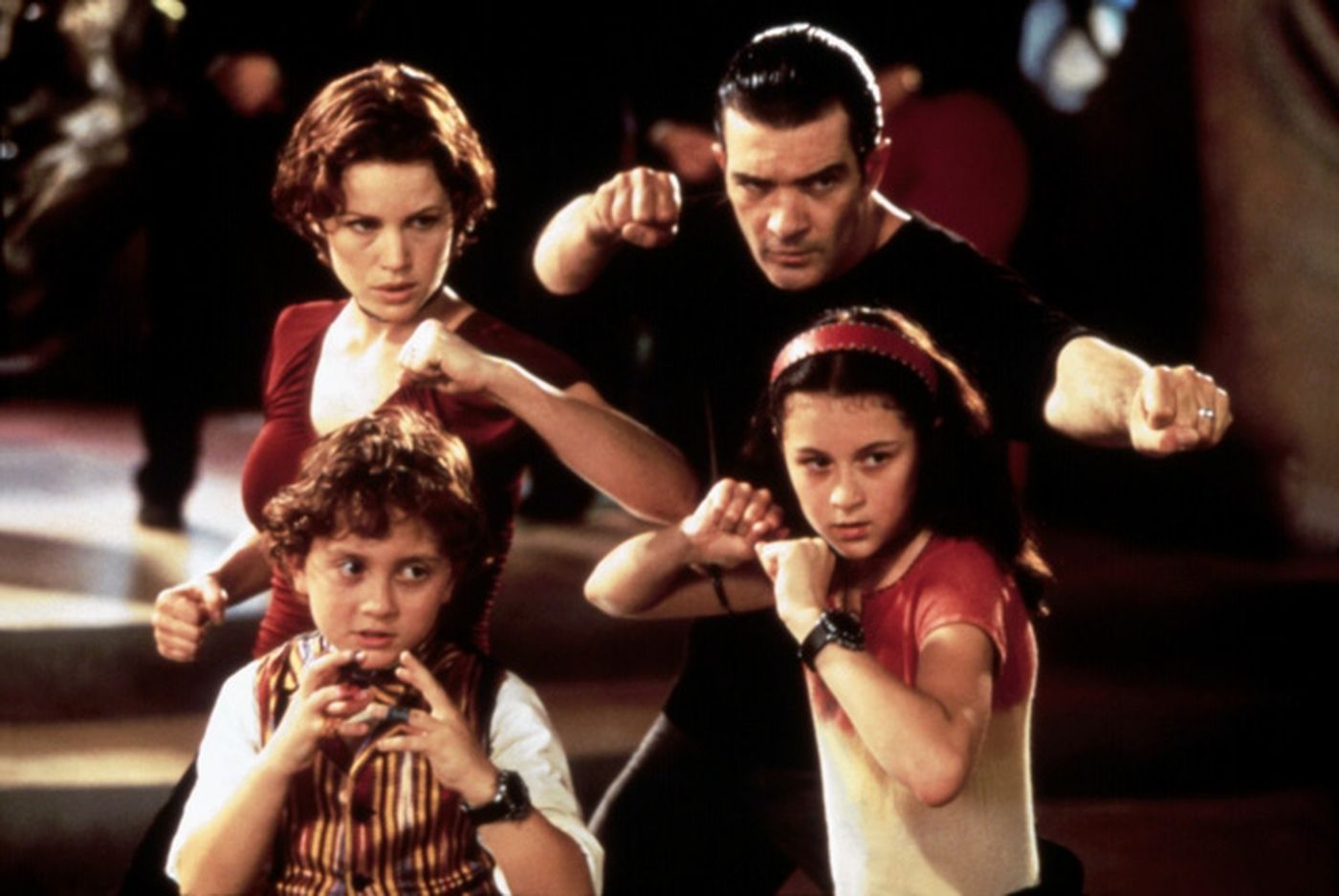 Robert Rodriguez and the principals all paired up again for three sequels – Spy Kids 2: Island of Lost Dreams (2002), Spy Kids 3-D: Game Over (2003) and Spy Kids: All the Time in the World (2011), followed by the animated tv series Spy Kids: Mission Critical (2018- ).
Robert Rodriguez's other films of genre interest are the vampire/getaway thriller From Dusk Till Dawn (1996); the witty teen body snatchers film The Faculty (1998); the graphic novel adaptation/film noir pastiche Sin City (2005) and Sin City: A Dame to Kill For (2014); the children's film The Adventures of Sharkboy and Lavagirl in 3-D (2005); the zombie film Planet Terror (2007), half of the Quentin Tarantino collaboration Grindhouse (2007); the children's film Shorts (2009); Machete Kills (2013), a sequel to his earlier Mexican-themed action film that frequently enters into science-fiction territory; the manga adaptation Alita: Battle Angel (2019); Red 11 (2019), a mind-bending work set during an experimental drug trial; and the kid superheroes film We Can Be Heroes (2020). Rodriguez has also produced From Dusk Till Dawn 2: Texas Blood Money (1999), From Dusk Till Dawn 3: The Hangman's Daughter (2000) and Predators (2010), as well as developed the tv series From Dusk Till Dawn (2014-6).
(Nominee for Best Actress (Alexa Vega) at this site's Best of 2001 Awards).
---
---