---
Crew
Director – Jay Roach, Screenplay – Mike Myers, Producers – Mike Myers, Demi Moore, Jennifer Todd & Suzanne Todd, Photography – Peter Deming, Music – George S. Clinton, Special Effects Supervisor – Rich Ratliff, Production Design – Cynthia Kay Charette. Production Company – Capella International/Juno Pix/Moving Pictures/New Line Cinema.
Cast
Mike Myers (Austin Powers/Dr Evil), Elizabeth Hurley (Vanessa Kensington), Robert Wagner (No 2), Seth Green (Scott Evil), Fabiana Udenio (Alotta Fagina), Michael York (Basil Exposition), Mindy Sterling (Frau Farbissina), Mimi Rogers (Mrs Kensington), Joe Son (Random Task)
---
Plot
In 1967, the evil super-genius Dr Evil eludes capture at the hands of secret agent Austin Powers by cryogenically freezing and then launching himself into orbit. Powers responds by having himself cryogenically frozen too. Thirty years later, Powers is thawed out as Dr Evil returns to Earth. However, as Dr Evil tries to hatch another world domination scheme and Austin tries to jump back into the Swinging Sixties lifestyle, both find that things have changed radically in the ensuing three decades.
---
Austin Powers, International Man of Mystery is a parody of the James Bond films. While not entirely a success, it does hit its target far more accurately and amusingly than the previous year's incredibly lame Spy Hard (1996), although not as charmingly as Stephen Chow's From Beijing with Love (1994).
Austin Powers has a good amount in common with the 1990s James Bond films GoldenEye (1995), Tomorrow Never Dies (1997) and The World is Not Enough (1999). Both in their own ways – Austin Powers comedically, the Bond films more seriously – portray the image of the sexually magnetic international playboy spy as an anachronism in the Safe Sex milieu of the 1990s. (Both also see the dangers posed by mega-corporations as far more ominous than anything a super-villain could come up with). In one of its few serious moments, Austin Powers offers up an intriguing speech where the villain accuses the Swinging Sixties rebellion of being outmoded, to which the hero stands up to say that it isn't, the 1990s are about having Freedom as well as Responsibility.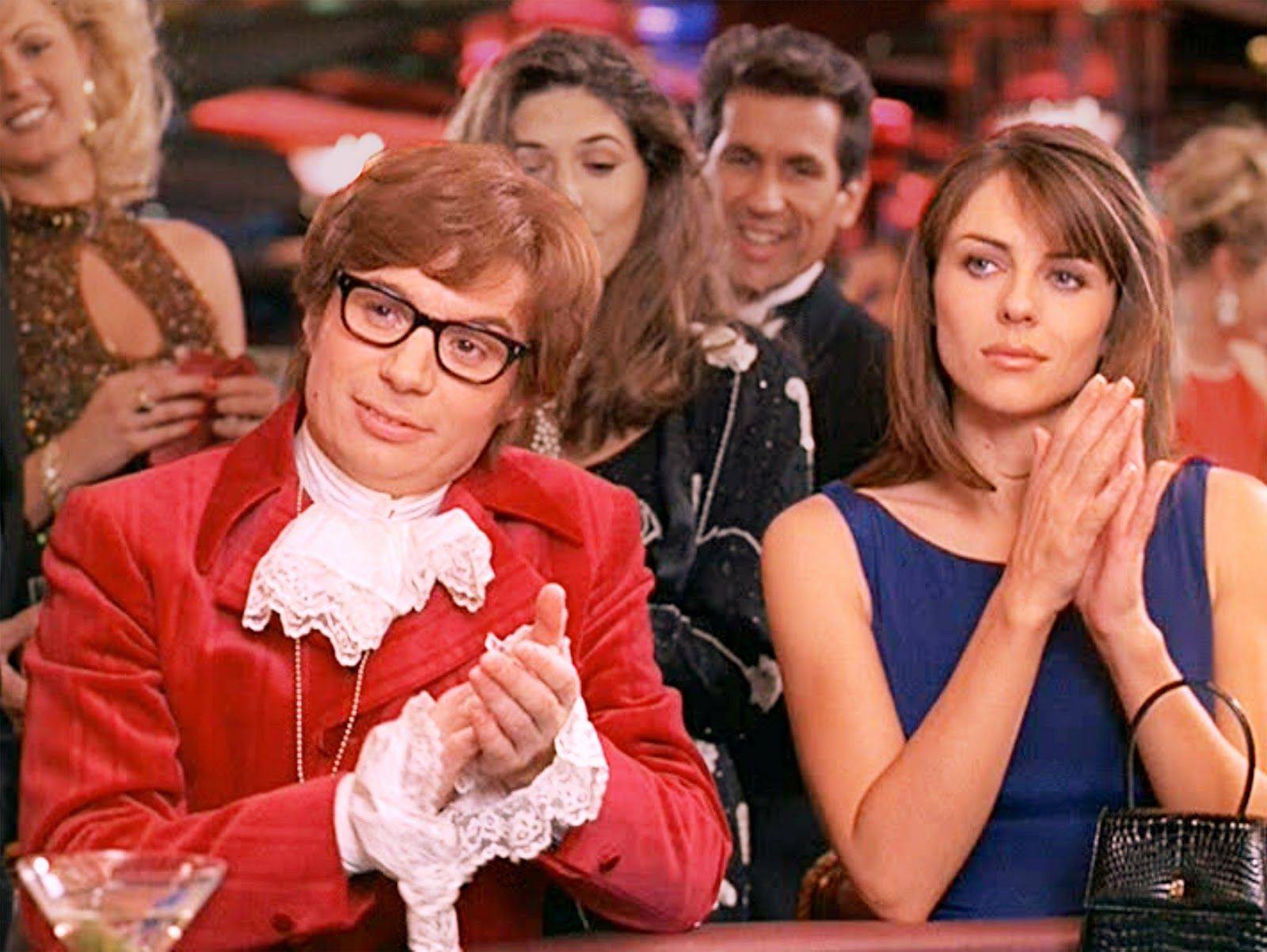 Austin Powers, International Man of Mystery does not always work. The first half-hour or so operates at a crass level of humour – a good deal of toilet humour and jokes about penis enlargers. At one point, the joke about Powers's outmoded sexual freeness seems very much in danger of being the only joke the film has.
And there is of course Mike Myers, whose greatest claim to fame at that point was Wayne's World (1992). Mike Myers's performances are always annoyingly self-congratulatory. He is forever preening to the camera as though waiting for the applause track, seeming caught up in how funny he thinks he is. Here he plays both Austin Powers and Dr Evil. As Powers [who has been modelled on Michael Caine's spy in the Harry Palmer films – see Billion Dollar Brain (1967)], he is short and unsexy – one cannot help thinking the part would have been more amusingly served by someone cut more in the classically handsome hero mold.
On the other hand, Myers's Dr Evil wittily parodies the Bond films' Blofeld – here Blofeld's white cat has been denuded by cryonic freezing and the victims he dumps out of chairs into an incinerator as in Thunderball (1965) refuse to die. There are some amusing scenes with Dr Evil and his son going into therapy. Particularly funny is a scene that sends up Bond-styled death traps where the villain's son begs to finish the hero and heroine off with a gun and wonders why the villain would prefer to put them in a trap that involves a slowly descending platform and a pool of sharks and not even bother to watch. There is also a priceless gag with one henchman standing waiting to be hit by a steamroller travelling at 5 mph.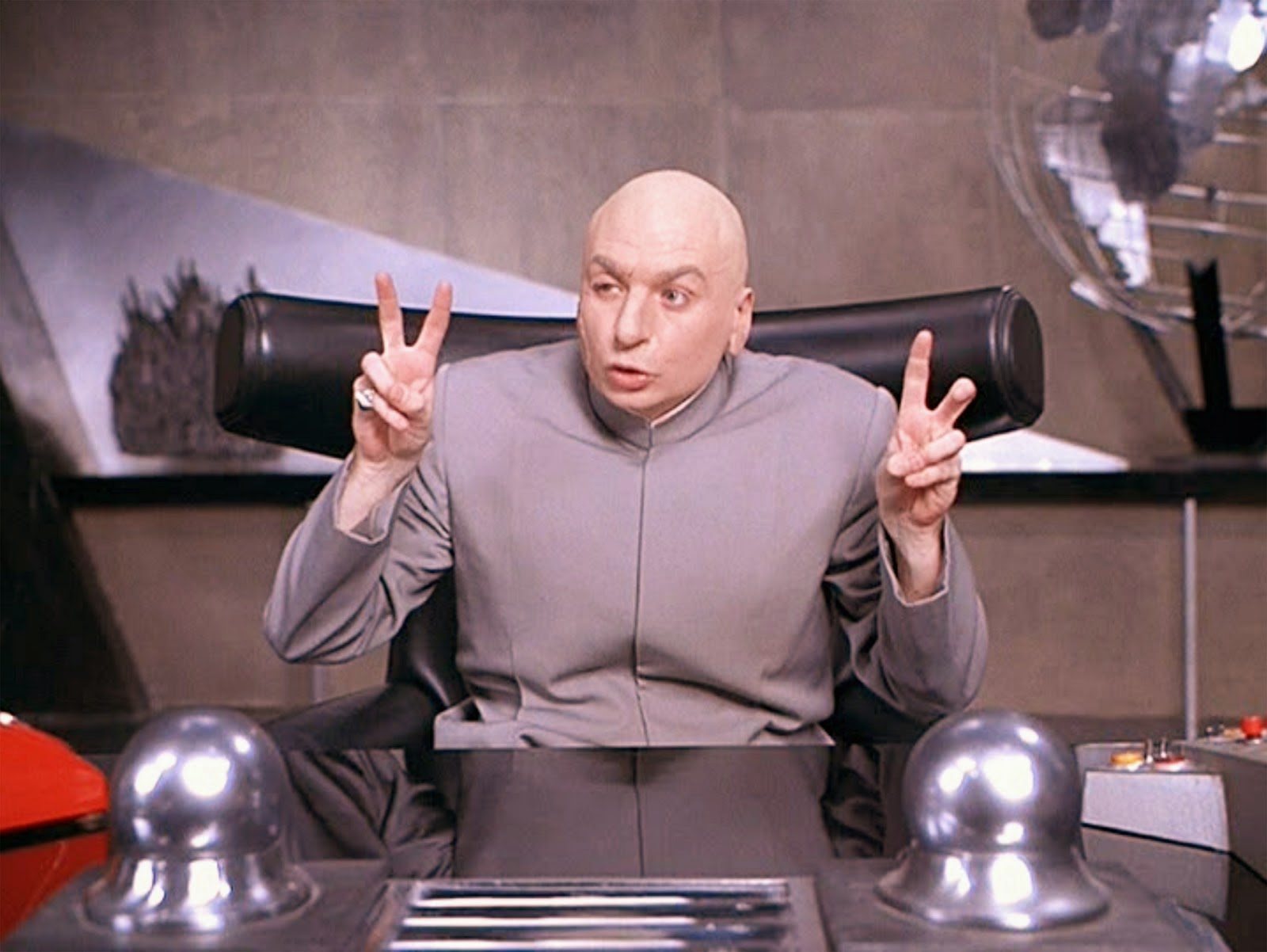 Austin Powers, International Man of Mystery was a huge hit and became a cult film, although more so on video than in its initial theatrical release. Austin Powers: The Spy Who Shagged Me (1999) is the enjoyable sequel. It was followed by the disappointing Austin Powers in Goldmember (2002), by which time the original's charms were starting to wear thin and the spy spoofery had become almost entirely supplanted by Mike Myers' on-screen antics.
Austin Powers's cult success has spawned a whole host of copycat spy spoof films throughout the early 2000s, with the likes of Cats & Dogs (2001), Spy Kids (2001) and sequels, Undercover Brother (2002), Agent Cody Banks (2003), Johnny English (2003) and D.E.B.S. (2004).
(Nominee for Best Actor (Mike Myers) at this site's Best of 1997 Awards).
---
---