---
Crew
Director – Nick Lyon, Screenplay – Ben Ripley, Producers – Frank Mancuso, Jr & Lorenzo O'Brien, Photography – Jaime Reynoso, Music – Paul Cristo & Kevin Haskins, Visual Effects & Makeup Effects – JML Film Corporation, Visual Effects – Eden, 11:11 Mediaworks, Post Logic, Semologic (Supervisor – Takahiko Akiyama) & 23D Films, Special Effects Supervisor – Daniel Cordero Chovy, Makeup Effects Supervisor – David Monzingo, Production Design – Cecilia Montiel. Production Company – 360 Pictures/MGM Television Entertainment.
Cast
Ben Cross (Tom Hollander), Helena Mattson (Miranda Hollander), Dominic Keating (Forbes McGuire), Marlene Favela (Azure), Roger Cudney (Leland Fisk), Marco Bacuzzi (Rinaldo), Cynthia Francesconi (Collette)
---
Plot
Miranda Hollander is a university lecturer with advanced degrees in classics and biology. She lives with her Uncle Tom after the death of her parents. After going out on a date, Miranda is found naked in the park, her body covered with blue lines. In the hospital, she transforms into an alien creature and slaughters many of the staff before Tom rescues her. Fleeing from the scene, Tom heads across the border into Mexico. On the way, he reveals to Miranda that he is not her uncle but that she was born from human-alien DNA. In Mexico, Tom goes in search of Forbes McGuire, his former partner that he parted ways with over Forbes's unethical experiments with the alien DNA. Forbes determines that Miranda is prematurely aging and the only way that she can be saved is with an infusion of human DNA. Tom abducts a local woman who tries to rob him and they use her stem cells. However, once she is repaired, the alien DNA asserts itself, whereupon Miranda turns sexually aggressive and heads out in search of prey.
---
Species: The Awakening was the fourth film in the series that began with Species (1995). Species was yet another copy of Alien (1979) that even went so far as to suborn H. R. Giger to come up with its biomechanoid designs but crossbred this with the heated sexuality of Basic Instinct (1992) with the alien incarnated as a sexually predatory woman. This gave way to two sequels with Species II (1998) and Species III (2004).
At least by the point of Species: The Awakening, the Species series has gravitated to the place it naturally belongs – the realm of the B-budget dvd-released monster movie. Species: The Awakening is an absurd film but has a wild surrealism that makes it undeniably watchable. Much of the film is conceived around a series of bizarrely surrealistic special effects set-pieces – Ben Cross being pursued through Mexican back alleys by a nun with piercing blue eyes (Marlene Favela) who is trying to grab him with a four metre-long tongue; he getting a ride with a taxi driver (Marco Bacuzzi) who then manifests a long prehensile metal jaw and starts trying to stab him with his tongue.
The climax of the film gives us a showdown between two Giger-ized alien women creatures – who even come replete with red lipstick and high heels as part of their biology – who fight each other, jabbing tongues through each other's heads, spitting out projectile spikes and hacking shards off the other's body. It is all slickly produced and photographed, even if everything present takes place in a B movie plot that is only premised around the provision of creature effects.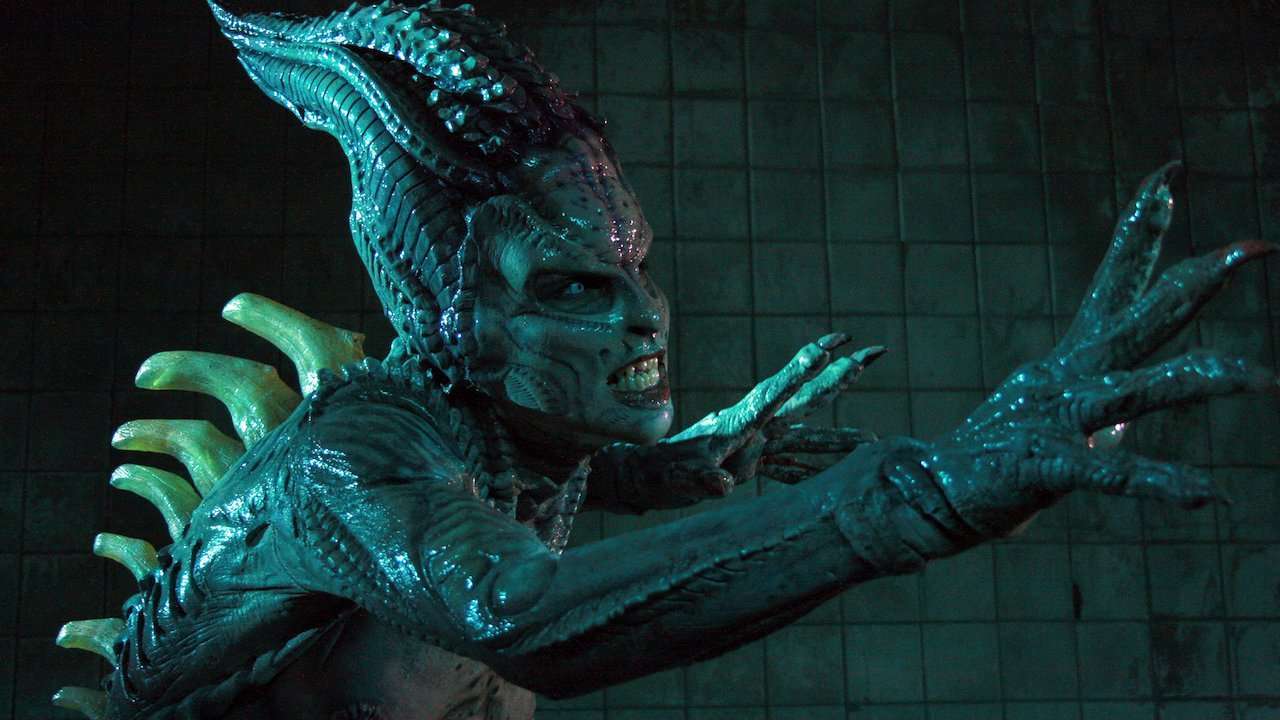 After coming to fame in the classy Chariots of Fire (1981), Ben Cross has done far too many of these cheap B movies throughout the 1990s and 00s. Here he at least proves a reliable trouper at the game. Dominic Keating, another British actor best known as Malcolm Reed on tv's Enterprise (2001-5), gives an awful performance. Keating plays to the gallery in outrageously fake Australian accent and if nothing else gives the film a dose of loud, cheesy vulgar ham that somehow suits the film quite well.
As with the previous entries, there is a bizarrely exaggerated misogyny underlying everything. This is made unsubtly clear from the mythology lecture that Helena Mattson gives in the opening scenes where she (dressed in a sizzling power-suit) talks about Zeus's punishment to man for stealing fire being women. Moreover, once Helena Mattson gets the stem cell injection and the alien DNA asserts itself, she swings between cliched sexual extremes. Up until then, she has been portrayed as the standard science-fiction movie girl next door/hot chick. After she gets the alien in her, she immediately propositions another girl for sex, starts talking trash and goes out dressed to kill seeming all Bad Girl. There seems an underlying sexism in what the film assumes here – that studious innocent Girl Next Door types are desirable, whereas women in charge of their sexuality and determined to enjoy it without apology are evil.
Director Nick Lyon has become a specialist in low-budget genre fare, having also made the likes of Grendel (2007), Annihilation Earth (2009), Zombie Apocalypse (2011), Rise of the Zombies (2012), Foreclosed (2013), Bermuda Tentacles (2014), Hercules Reborn (2014), Stormageddon (2015), They Found Hell (2015), Earthtastrophe (2016), Isle of the Dead (2016), Shockwave (2017) and Titanic 666 (2022).
---
---