---
Crew
Directors – The Brothers Strause, Screenplay – Shane Salerno, Producers – John Davis, David Giler & Walter Hill, Photography – Daniel C. Pearl, Music – Brian Tyler, Visual Effects – Hy*drau*lx (Supervisors – Colin Strause & Greg Strause), Special Effects Supervisor – Tom Lazarowich, Creature Effects – Amalgamated Dynamics (Supervisors – Alec Gillis & Tom Woodruff Jr), Production Design – Andrew Neskoromny. Production Company – John Davis/Brandywine Productions/Dune Entertainment, LLC.
Cast
Steven Pasquale (Dallas), Reiko Aylesworth (Kelly O'Brien), John Ortiz (Sheriff Eddie Morales), Johnny Lewis (Ricky), Kristen Hager (Jesse), David Paetkau (Dale Collins), Chelah Horsdal (Darcy), Robert Joy (Colonel Stevens), Ariel Gade (Molly O'Brien), Gina Holden (Carrie), Kurt Max Runte (Buddy Benson), Liam James (Sam Benson), Tom Woodruff Jr (Alien), Ian Whyte (Predator)
---
Plot
An Alien gets free aboard a Predator spaceship as it nears Earth, causing it to crash in the woods near the town of Gunnison, Colorado. A Predator hunter is despatched to track the Alien down as it rapidly starts to breed and claim victims throughout the town. In no time the locals finds themselves in the midst of a pitched battle as the two alien sides turn the town into a war zone.
---
AVPR: Aliens vs Predator Requiem is the sequel to AVP: Alien vs. Predator (2004). Alien vs. Predator was in turn a crossover between two of 20th Century Fox's franchises – the Alien series consisting of Alien (1979), Aliens (1986), Alien3 (1992), Alien: Resurrection (1997) and the subsequent Prometheus (2012) and Alien: Covenant (2017) – and the Predator series consisting of Predator (1987), Predator 2 (1990) and the subsequent Predators (2010), The Predator (2018) and Prey (2022). The Alien(s) vs Predator crossover was an idea that originally began as fan speculation, gaining life through a series of comic-books and merchandising spinoffs and then a videogame, not to mention an extraordinary number of spec fan scripts.
AVPR: Aliens vs Predator Requiem comes from Greg and Colin Strause who bill themselves as The Brothers Strause on screen. The Brothers Strause are better known as visual effects supervisors, starting out working for Light Matters/Pixel Envy in the mid-1990s and then forming their own company Hy*drau*lx. They are credited as visual effects supervisors on high profile films such as The Day After Tomorrow (2004), Aeon Flux (2005), Fantastic Four (2005), Poseidon (2006), 300 (2007) and Avatar (2009). The Brothers Strause began directing with various music videos and commercials, as well as a couple of short films, and AVPR: Aliens vs Predator Requiem was their debut as feature-film directors.
One supposed they should have had a sinking feeling about Aliens vs Predator Requiem after realising that the scriptwriter was Shane Salerno, who previously co-wrote the likes of Armageddon (1998) and Shaft (2000), as well as worked as a script doctor on Alien vs. Predator. Needless to say, The Brothers Strause are no equivalent of The Wachowski Brothers, or even for that matter the Farrelly Brothers, and Aliens vs Predator Requiem is disappointingly ill-conceived on almost all level.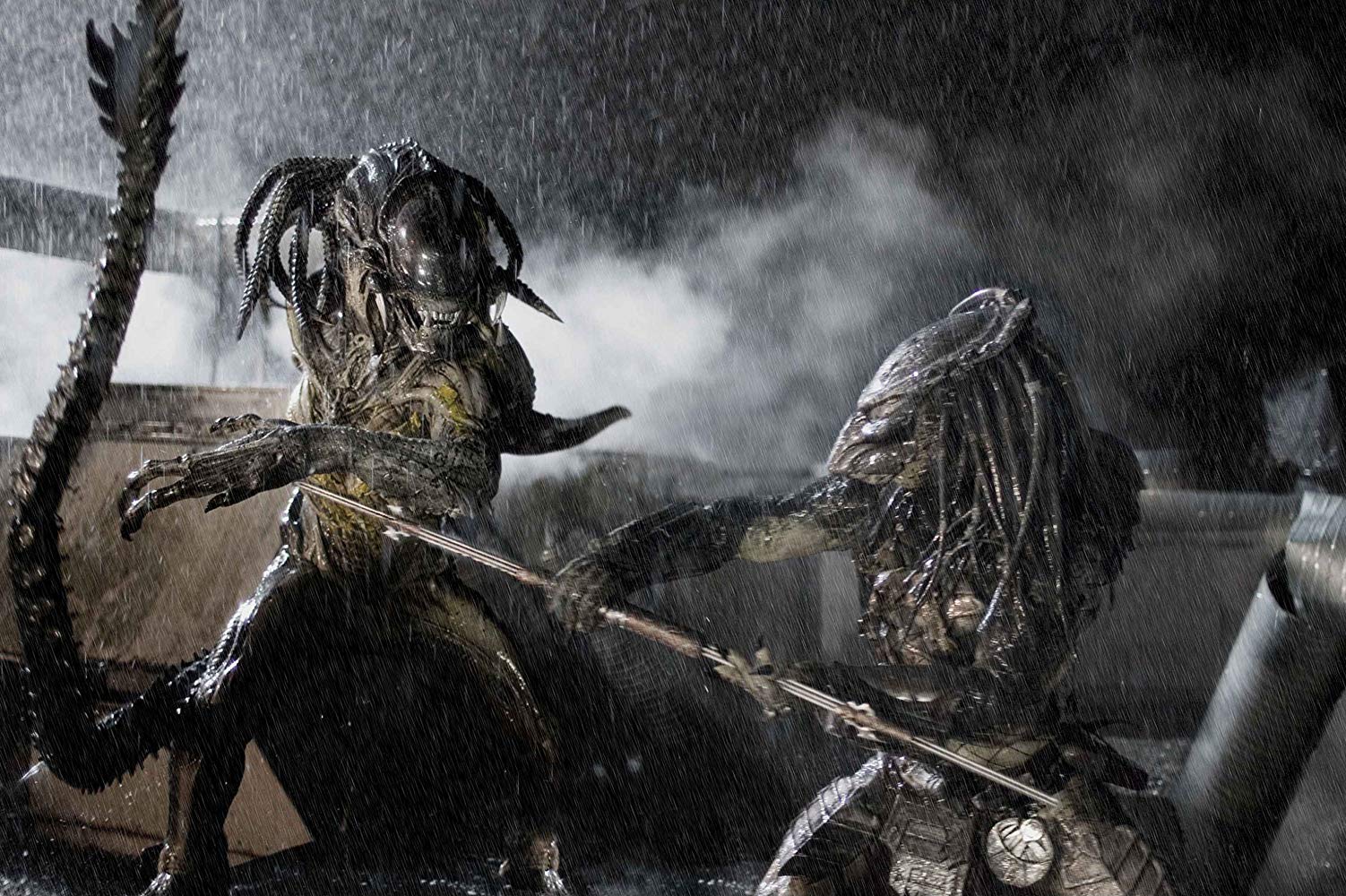 Alien and Aliens are classics of the genre because their respective directors Ridley Scott and James Cameron plunged their audiences into an intensively suspenseful and gruelling ride. Alien3 did so to a lesser extent, while Predator enjoyably mixed Alien up with action movie formula. More than that though, part of the reason that Alien became a classic was that it dug down into primal fears with the monster being deliberately associated with sexual imagery.
By the time of Aliens vs Predator Requiem, both the alien and the Predator have become no more than generic monsters. There is no build-up to the film, no unveiling of the various creatures' threat. For that matter, there seems to be no point throughout where any of the characters even work out what they are dealing with – what is going on is only meant to be assumed or inferred by referring to the other films.
Even then the attacks, which all seem to be shot either at night or in the rain, are directed in a way that is often hard to see what is going on or even which species of alien is attacking some of the time. The Brothers Strause seem to have no concept of creating suspense – rather the various aliens keep being thrown at an audience like pop-up shocks. These shocks get exceedingly lame – like the father who says "See, no monster" to his kid before an alien occludes his reflection in the window and then smashes through to grab him.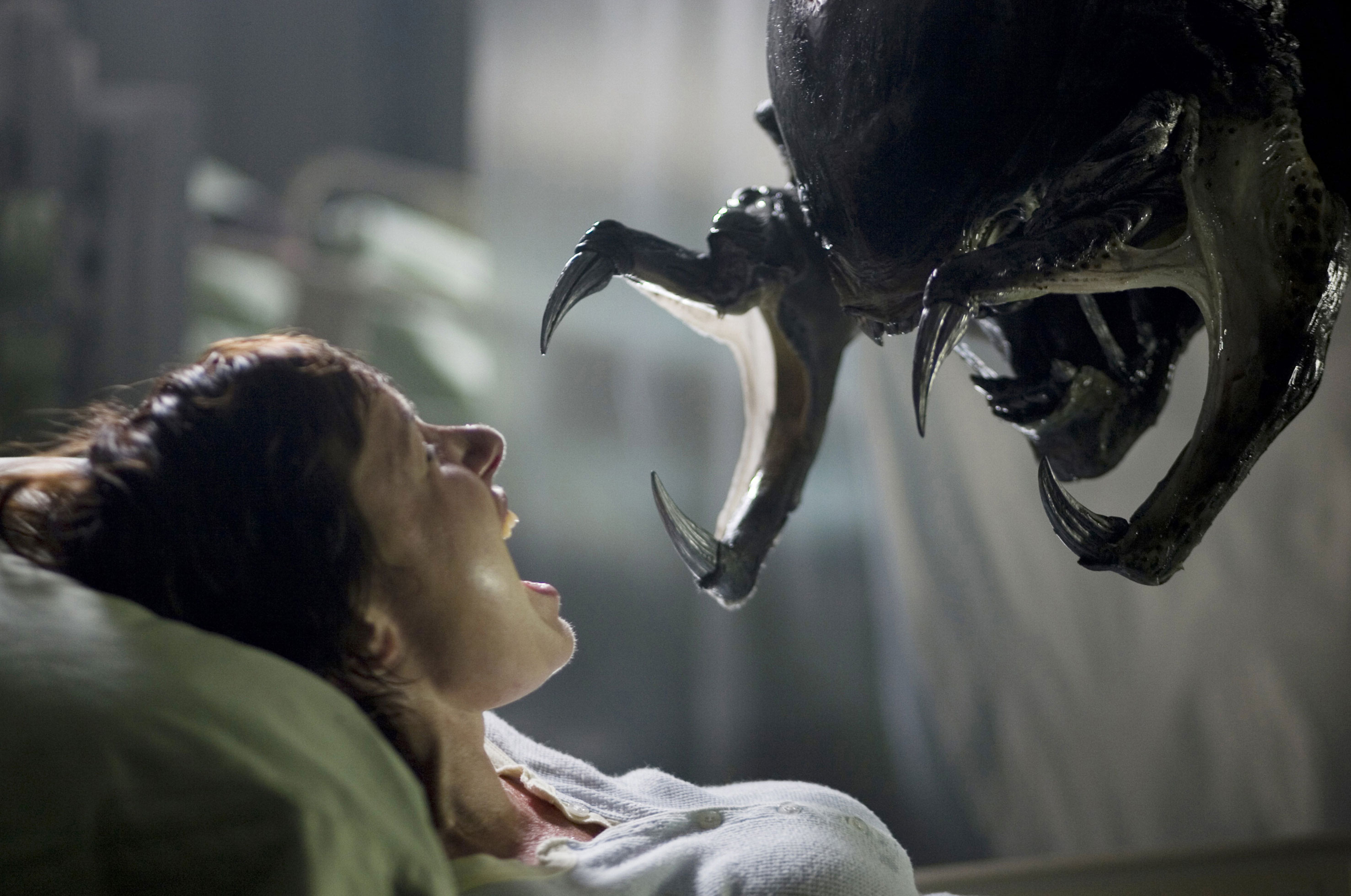 Indeed, with the setting now being contemporary, Aliens vs Predator Requiem looks like no more than an attempt to export the Alien and Predator franchises as yet another 00s teen horror film a la the likes of They (2002), Darkness Falls (2003), The Fog (2005) et al. It is sad to compare the tedious scenes here with teen guys making derisive insults at one another or fighting over a girl in a swimming pool with the sheer mastery of suspense that Ridley Scott and James Cameron showed in their respective efforts. The scenes where the party try to make their way through the alien-infested town streets have nothing on the marines venture into the alien labyrinth in Aliens.
The new spins on the creatures that we see often seem more absurd than anything else – like the scene where we see the alien inserting eggs down the oesophagus of a pregnant woman as though it were an automatic tennis ball firing machine, or what looks like an Alien-Predator crossbreed that turns up at the climax and is a standard alien but now with dreadlocks.
The Strause Brothers subsequently went onto direct the alien invasion film Skyline (2010), as well as to produce Take Shelter (2011) about a man who has visions of the end of the world, the ecological catastrophe film The Bay (2012), Beyond Skyline (2017) and the cloning film Elizabeth Harvest (2018).
---
---