---
Crew
Director – Peter Medak, Screenplay – Chris Brancato, Producer – Frank Mancuso Jr, Photography – Matthew F. Leonetti, Music – Edward Shearmur, Visual Effects – The Digital Magic Company (Supervisors – Joseph Grossberg & Ralph Maiers), Miniatures – Vision Crew Unlimited, Special Effects Supervisor – Jeff Jarvis, Makeup Effects – Steve Johnson's XFX Inc (Supervisor – Steve Johnson), Species Design – H.R. Giger, Production Design – Miljen Kreka Kljakovic. Production Company – FGM Entertainment.
Cast
Michael Madsen (Preston Lennox), Marg Helgenberger (Dr Laura Baker), Natasha Henstridge (Eve), Justin Lazard (Commander Patrick Ross), Mykelti Williamson (Dennis Gamble), George Dzundza (General Burgess), James Cromwell (Senator Judson Ross), Myriam Cyr (Anne Sampas), [uncredited] Peter Boyle (Robert Cromwell)
---
Plot
The Excursion expedition lands on Mars and Commander Patrick Ross becomes the first man to walk on the red planet. As the expedition returns to Earth, soil samples thaw out and infect the crew. On Earth, Laura Baker has succeeded in creating Eve, a genetically modified version of Sil whose reproductive drive is now controllable. Laura is soon shocked to find that there is another version of the alien creature on Earth. She reunites with Preston Lennox to track it down. They find that they are hunting Ross who has been infected with species DNA. He is having sex with as many women as possible, causing them to instantaneously become pregnant and give birth to alien male children.
---
Species (1995) was a silly piece of product posing as a film – a conceptual attempt to meld Alien (1979) and Basic Instinct (1992). Its value as a science-fiction film was as negligible as was the transparency of it as a marketing exercise. Expectedly it was a success, and was duly followed by this sequel, which is even more vacant and empty-headed.
Species at least had the prurient appeal of an emotionless and substantially naked Natasha Henstridge hunting lovers down. In a stab at creativity, Species II offers up the male of the species. However, the sex-change removes whatever minor charge that Species held – a primarily male audience watching a male multiply impregnating women has far less interesting a kick to it than watching a naked woman hunt men down. The plot also trendily jumps on the then interest in the discovery of the Mars rock – and in a way that bends the original concept of the alien out of shape.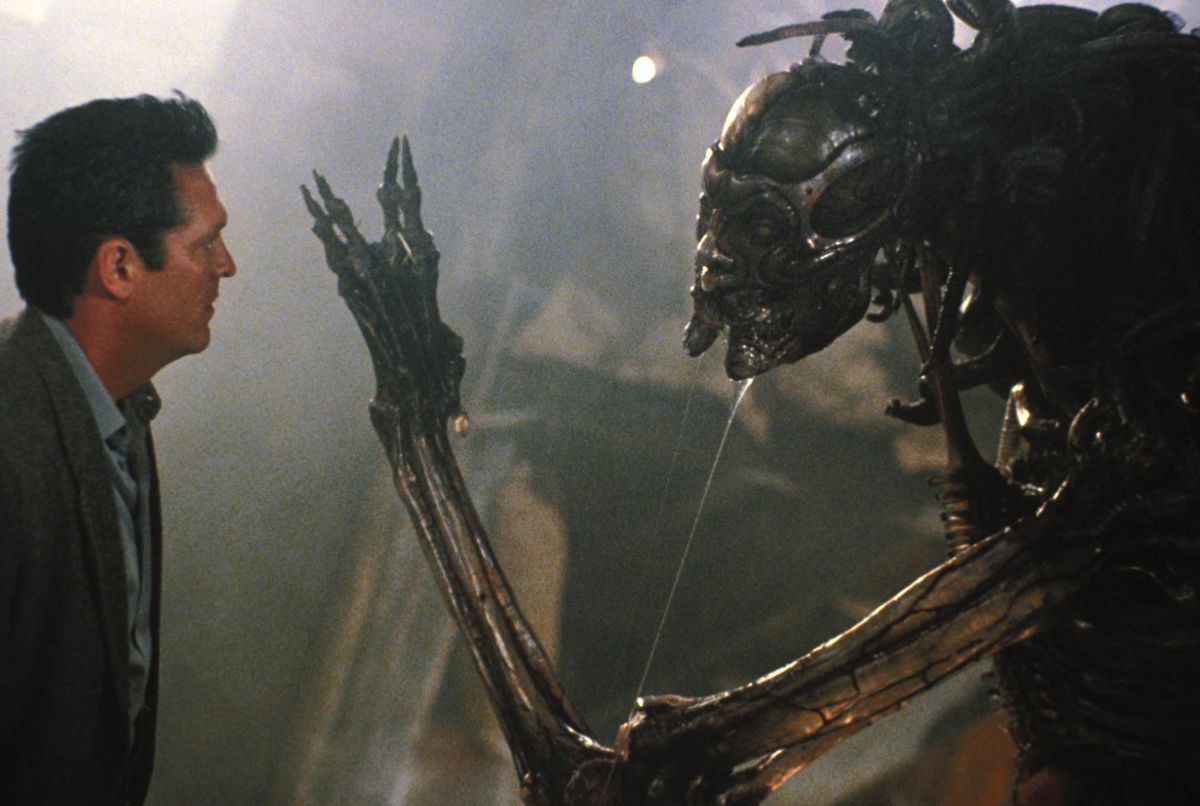 The sole novelty Species II has is its makeup effects. These prove to be amazingly silly – after a threesome with Justin Lazard, two women get pregnant and give birth to aliens within less than five minutes; blood trickles toward a wall and transforms into a tentacle that grabs a scientist's stomach and tears it out; Myriam Cyr's stomach rips open to reveal a giant tentacle that pins her husband against the wall by his face across the other side of the room. There is a cool effect with Justin Lazard blowing his head off with a shotgun and it regenerating from scratch in a matter of seconds, and a cool climax with two giant Giger-ized alien creatures mating and fighting.
However, Species II gives the impression it has been put together as nothing other than an exercise in makeup effects showmanship. It is real slumming for director Peter Medak who debuted with the witty iconoclastic comedy The Ruling Class (1972) and also made the worthwhile ghost story The Changeling (1980).
The series was continued in Species III (2004) and Species: The Awakening (2007), both of which returned to the first film's idea of a female alien.
(Winner in this site's Worst Films of 1998 list. Nominee for Best Makeup Effects at this site's Best of 1998 Awards).
---
---