---
Crew
Director – Bobby Miller, Screenplay – Scott Lobdell, Producers – Rupert Harvey & Barry Opper, Photography – Hein De Vos, Music – Russ Howard III, Visual Effects Supervisor – Rory Mark, Special Effects Supervisor – Doug Hardy & Hermie Venter, Creature Effects Supervisor – Werner Pretorious, Production Design – Robert Van De Coolwyk. Production Company – Blue Ribbon Content.
Cast
Tashiana Washington (Drea), Jaeden Noel (Phillip), Ava Preston (Trissy Lacy), Jake Fulton (Jake Lacy), Dee Wallace (Aunt Dee), Stephen Jennings (Sheriff Lewis Haines), Alex Jeaven (Mandy), Tristan de Beer (Gregory Sax), Ho Chow (Chef Leong), Nathan Lynn (Shawn), Pierre Malherbe (Backpacker Doug), Tanya Van Graan (Professor Lacy), Vash Singh (Kevin Loong), Leon Clingman (Ranger Bob)
---
Plot
Krites comes down near a small town and begin devouring everything they come across. Drea is working at a sushi restaurant. She wants most of all to get into local Leroy College but has been rejected. Her former best friend Mandy has been accepted and suggests that Drea take a job for the history department professor Lacy, which will go towards her recommendation. Drea takes the job, which turns out to be babysitting Lacy's two children Trissy and Jake. Drea's brother Phillip, who has a liking for Trissy, insists on coming along. Drea takes them to the park where they discover one of the Critters, not realising that it is the Krite queen. Finding it wounded, they take it home. However, this brings all of the other Krites after them.
---
The Critters series was one of those surprise video hits of the 1980s. The original Critters (1986) was intended as no more than a ripoff of Gremlins (1984) and as such proved perfectly enjoyable. Its success spawned three sequels Critters 2 (1988), Critters 3 (1991), which featured a teenage Leonard DiCaprio in his first film role, and Critters 4 (1992). Actor Don Opper is the common factor in all of these.
For some reason, the Critters series has been revived here again after a 27-year absence. Why now could be anybody's guess. The most likely is somebody still owned the copyright and were offered a certain amount of money based on the recognition factor. Old series that can be hauled out of mothballs for another chapter are now all the in-thing – only last year saw other VHS era series revived with Leprechaun Returns (2018) and Hellraiser: Judgment (2018).
It should be noted that most of the original creative talent from the original Critters films are absent apart from producers Rupert Harvey and Barry Opper. Noticeably absent are two key mainstays of the original – Barry Opper's brother Don who played Charlie McFadden in all of the original films and the Chiodo Brothers who provided the Critters effects. The sequel does bring out of mothballs a now 70-year-old Dee Wallace, who played the mother in the first film, and casts her as what one presumes to be a different character of an Earth-based bounty hunter named Aunt Dee.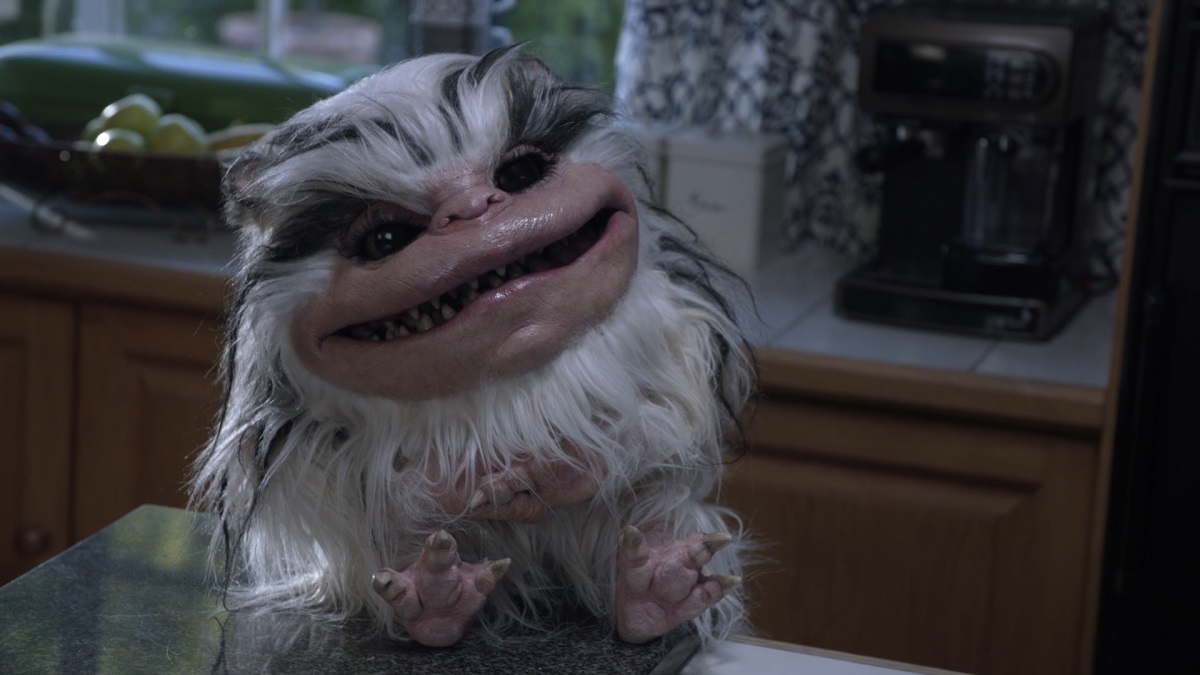 There are some minor spins on the familiar – the Critters develop a vulnerability to high-pitched sound, which can cause them to explode. Most notedly we get to meet the female of the species, the Krite queen who is essentially what Gizmo was to the Gremlins, a peaceful and non-malicious Critter come to stop the others from destroying the Earth.
Critters Attack! was the second film for director Bobby Miller who had previously made the horror film The Master Cleanse (2016). Miller remains faithful to the original films – the Critters are represented by physical effects where there would likely have been some pressure to update them to CGI. We even get an 80s styled synthesizer score. There is a little bit more gore than the original films.
In all, it is an exceedingly low demand film. Miller directs in an engaging enough way but the results are lightweight. This is the video-watching equivalent of a light snack while watching tv – something that fills in the time and you are not going to remember five minutes after you finished watching.
---
---