---
USA. 1995.
Crew
Directors – Cole McKay & Sherman Scott [Fred Olen Ray], Screenplay – M.B. Dick, Mark Litton & R.J. Robertson, Producers – Raimond Reynolds & Peter Stewart, Photography – Gary Graver & Mark Melville, Music Supervisor – Paul DiFranco, Computer Graphics – Susan Hayes, Digital Effects – Live Wire Productions (Supervisor – R. Christopher Biggs), Special Effects Supervisor – Larry Roberts, Special Pyrotechnic Effects – Players Special Effects (Supervisor – Kevin McCarthy), Makeup Effects – Obscure Artifacts (Supervisors – Christopher Bergschneider & Jeffrey Farley), Production Design – Dave Blass. Production Company – Maingrip Ltd.
Cast
Rebecca Budig (Carrie Turner), Ken Scott (Pichel), Zach Ward (Cooper), Sean Donahue (Spivak), Wendy Schumacher (Leslie), Roddy McDowall (Reicher), Stella Stevens (Chris Marsh), Greg Brazzell (Star Hunter), John Brandon (Detective John Taylor), Ted Monte (Officer Kyle), Hoke Howell (Jack Turner)
---
Plot
Three high school footballers and two cheerleaders and being driven back from a losing game by the assistant principal Mrs Marsh when the school bus breaks down in a rough neighbourhood of town. They seek refuge in the nearby warehouse home of the blind Reicher. They then discover that Reicher has a collection of severed human heads. He reveals that he is in actuality an alien hunstman come to Earth to pursue human game. They try to flee but find that they have been imprisoned inside a forcefield that extends for a radius of several blocks. Behind them Reicher unleashes an armoured robot, the Star Hunter. As the Star Hunter hunts them through the streets, they try to improvise weaponry to fight back.
---
Star Hunter is solid proof that Z movie-making is alive and well in the 1990s and that video has given a strong voice to it. Star Hunter is a Z-movie version of Predator (1987). Both stories draw from Richard Connell's classic short story The Most Dangerous Game (1924), filmed as The Most Dangerous Game (1932) and several times since, about a man being forced to survive using his wits and bare hands as he is hunted across an island by a Russian aristocrat. (For a more detailed overview see Films About Human Bloodsports and Death Games).
Star Hunter clearly models itself on Predator's specifically science-fictional take on The Most Dangerous Game – of an intergalactic huntsman hunting humans for sport. Whereas Predator set the story in the South American jungle and gave the alien crack Special Forces operatives as adversaries, Star Hunter economically sets it in a rough neighbourhood (walled off by an invisible forcefield) and has the human camp defended by high-school teenagers.
On the plus side, Star Hunter is slightly more faithful to the Connell story than Predator was – where in Predator the alien was given virtually nil in the way of character, here the alien is Roddy McDowall's aesthete who has a roomful of human heads as trophies just like Count Zaroff in the story, while the Predator-like alien is a robot under his control, not unlike Zaroff's hounds.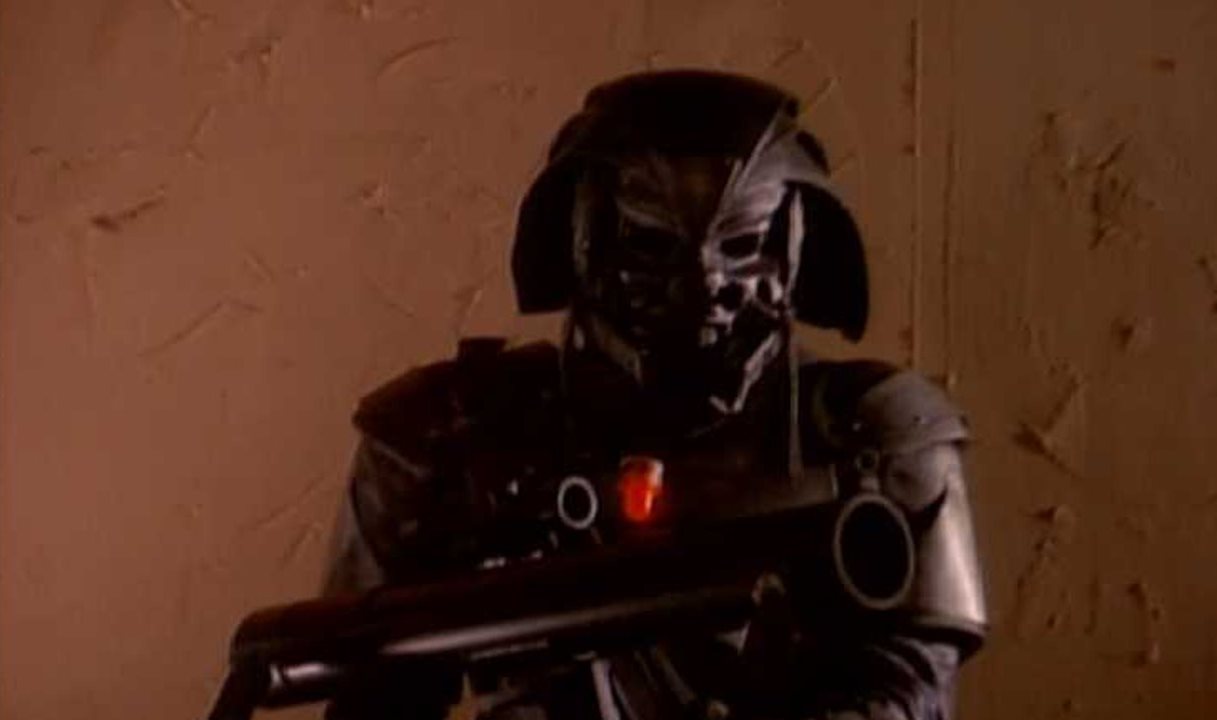 Alas, Star Hunter is drearily dull. For an action film, it is slow, things take forever to happen and then only consist of much repetitive running around. Some cutaway comic relief with two cops feels like it was inserted to pad out running time. The film is cheaply made – the alien suit looks shabby and instead of any super-scientific weaponry, all that it wields is a shotgun.
The only recognisable names among the cast are Stella Stevens as a gun-toting assistant headmistress who gets killed early in the action and Roddy McDowall as the huntsman who wears dark glasses throughout and gives a thoroughly awful performance. Both of them must have been hard up for the money and only signed on for a day's shooting – for most of the film, Roddy McDowall is represented by the same piece of footage on a handheld communicator.
The name of prolific B-budget sf/horror director Fred Olen Ray can also be found hiding on the credits (listed co-director Sherman Scott is one of Fred Olen Ray's numerous pseudonyms and it appears that he stepped in to finish shooting the film). Co-director Cole McKay is best known as a stuntman on numerous low-budget films.
---
Trailer here
---