---
USA. 1995.
Crew
Director/Producer/Blue Screen Effects Design – Fred Olen Ray, Screenplay – William C. Martell, Photography – Gary Graver, Music – Jeffrey Walton, Special Effects – Creature FX Workshop (Supervisor – Mark Rappaport), Production Design – Helen Hartwell. Production Company – Royal Oaks Entertainment.
Cast
Dee Wallace Stone (Laura Griffin), Barry Livingston (Professor Karl Griffin), Trenton Knight (Josh Griffin), Russ Tamblyn (Dr Woorter), Stella Stevens (Mrs Pringle), Christopher Stone (Colonel Jerry Cutter), Phillip Van Dyke (Skeeter), Brinke Stevens (Dr Price), Joey Andrews (Johnny Thomas)
---
Plot
Tired of having all his discoveries stolen by his double-dealing boss Dr Woorter, Professor Karl Griffin develops an invisibility formula at home. His young son Josh accidentally places some of the formula in a soda bottle and this is drunken by Karl's wife Laura who then becomes invisible. As Karl tries to develop an antidote at the lab, the formula is stolen by Woorter. Woorter then has Karl committed as insane and Josh placed in an orphanage. It is up to Josh's invisible mom to save the day.
---
Invisible Mom is a children's film from Fred Olen Ray. Fred Olen Ray is best known as an extraordinarily prolific director of cheap and deliberately cheesy sf/horror films whose chief virtue is unclad bimbos and a cheerful cynicism. Other Fred Olen Ray titles include the likes of The Adventures of Taura: Prison Ship Star Slammer (1986), The Phantom Empire (1986), Hollywood Chainsaw Hookers (1988), Bad Girls from Mars (1991), Attack of the 60 Foot Centerfolds (1995), Cyber Zone (1995), among many, many others. (Fred Olen Ray has made nearly 200 films to date – see below for a listing of his genre titles).
In being a children's film, Invisible Mom is somewhat of a change of pace for Fred Olen Ray. Not that much of a change – the effects are still cheap and cheesy; Olen Ray still employs his bimbos – Scream Queen Brinke Stevens appears as a psychiatrist – except they keep their clothes on. Olen Ray also has on board as Executive Producer actor Andrew Stevens who has produced and directed a stack of bad action movies in the 1990s (and under whose Royal Oaks production company banner Invisible Mom is made), while Stevens has also brought along his mom Stella who plays the nosy next-door neighbour.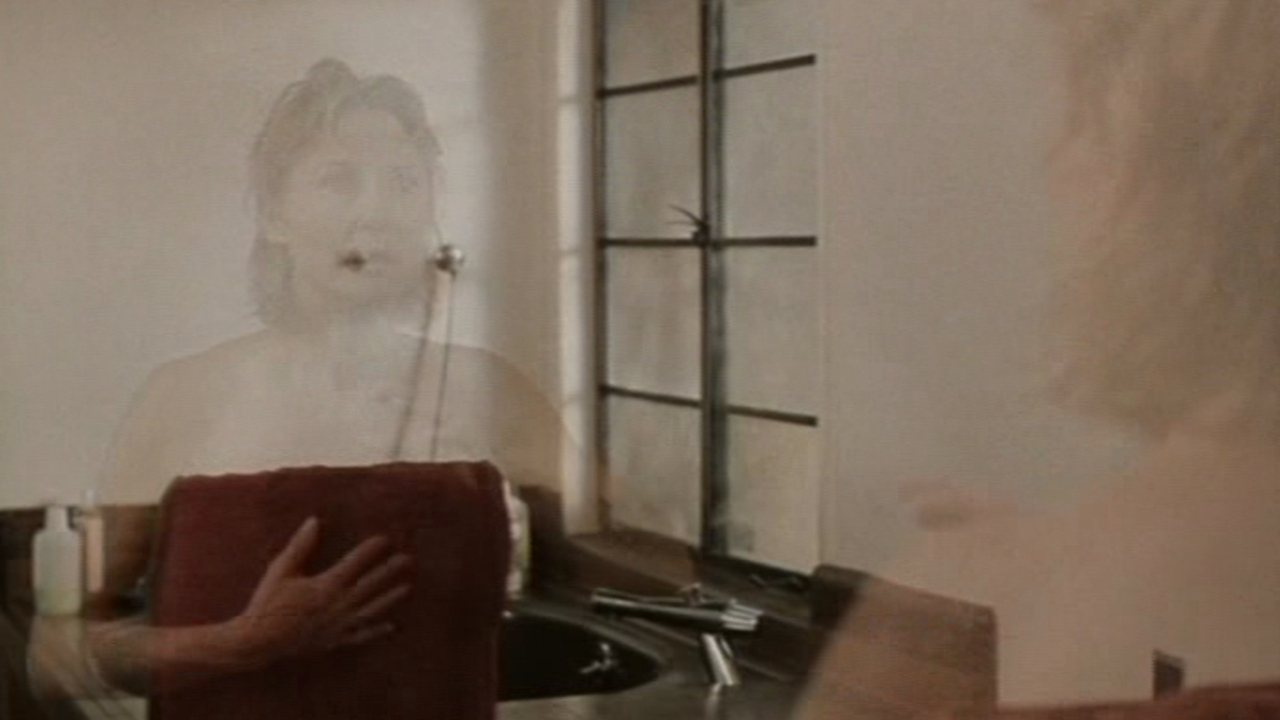 Fred Olen Ray designed the invisibility matte effects here himself and they are expectedly cheap and unconvincing. He does conduct the effect of an invisible person being reconstituted from the skeleton to the epidermis, prefiguring the more impressive hi-tech variation in Hollow Man (2000), but the effect is so cheaply conducted here that one can clearly see that the skeleton is only an anatomical model. Invisibility films as a rule tend to sink or swim depending on the conviction of their effects and considering the cheapness with which Olen Ray is conducting his effects, that does not leave much else to the film. Indeed, with Olen Ray's semi-clad bimbos and cheerfully cynical one-liners kept under restraint by the making of a children's film, there is not much of anything to Invisible Mom at all. Olen Ray also makes the assumption that many children's film do and pitches the supporting characterizations as shrill one-dimensional caricatures – Russ Tamblyn's scheming lab supervisor, Stella Steven's nosy neighbour, the school bully.
Invisible Mom is not a film where the plot falls into the realms of credibility – one of the major plot devices is when villain Russ Tamblyn schemes to have father Barry Livingston incarcerated as insane and his son sent to an orphanage just because Livingston makes the claim he has invented an invisibility formula. In the US, psychiatric incarceration against one's will is determined on the basis of whether one's behaviour is a demonstrable danger to one's self or to others, and certainly no child would ever be placed in an orphanage while the mother is still present, let alone still married to the father.
Fred Olen Ray stacks the film with his usual genre in-references. Being an invisibility film, the family are named Griffin after the lead character in The Invisible Man (1933) and its H.G. Wells source novel. When Barry Livingston places a parcel in the Out tray, the letter beneath it is clearly addressed to 'Larry Talbot, Llanwelly, Wales' – the lead character and location for the Lon Chaney Jr The Wolf Man (1941). Peculiarly, the teenage son Trenton Knight has posters for the Z-grade caveman movie Eegah (1962) on his wall and the film is later seen screening on tv.
Fred Olen Ray and principal cast members Dee Wallace, Trenton Knight and Barry Livingston later returned with a sequel Invisible Mom 2 (1999). Around the same time, Olen Ray also made Invisible Dad (1997), which was also a children's film about invisibility and featured Russ Tamblyn, although is unrelated to this film.
Fred Olen Ray has made a lengthy list of genre films. These include:- The Brain Leeches (1977), The Alien Dead/It Fell from the Sky (1980), Scalps (1983), Biohazard (1984), The Tomb (1985), The Adventures of Taura: Prison Ship Star Slammer (1986), The Phantom Empire (1986), Cyclone (1987), Beverly Hills Vamp (1988), Deep Space (1988), Hollywood Chainsaw Hookers (1988), Warlords (1988), Alienator (1990), Bad Girls from Mars (1990), Spirits (1990), Haunting Fear (1991), Scream Queen Hot Tub Party (1991), Wizards of the Demon Sword (1991), Evil Toons (1992), Little Devils (1993), Dinosaur Island (1994), Mind Twister (1994), Possessed By the Night (1994), Attack of the 60 Foot Centerfolds (1995), Cyber Zone/Droid Gunner (1995), Star Hunter (1995), Night Shade (1996), Passionate Revenge/Friend of the Family II/Hell Hath No Fury (1996), Hybrid (1997), Little Miss Magic/Kidwitch (1997), Billy Frankenstein (1998), Dear Santa/My Dad Santa (1998), Illicit Dreams 2 (1998), Invisible Dad (1998), Active Stealth (1999), Fugitive Mind (1999), Invisible Mom 2 (1999), The Kid with X-Ray Eyes (1999), Prophet (1999), Critical Mass (2000), Sideshow (2000), Kept (2001), Stranded (2001), Venomous (2001), Thirteen Erotic Ghosts (2002), Final Examination (2003), Bikini-a-Go-Go/Curse of the Erotic Tiki (2004), Genie in a String Bikini (2004), Haunting Desire (2004), Teenage Cavegirl (2004), Glass Trap (2005), Tomb of the Werewolf (2005), Bikini Girls from a Lost Planet (2006), Bikini Pirates (2006), Ghost in a Teeny Bikini (2006), Bewitched Housewives (2007), The Girl With Sex-Ray Eyes (2007), Nuclear Hurricane (2007), Super Ninja Bikini Babes (2007), Polar Opposites (2008), Solar Flare (2008), Tarzeena, Queen of Kong Island (2008), Voodoo Dollz (2008), Dire Wolf (2009), Silent Venom (2009), Bikini Frankenstein (2010), Bikini Jones and the Temple of Eros (2010), Housewives from Another World (2010), Turbulent Skies (2010), Twilight Vamps (2010), Lady Chatterly's Ghost (2011), Little Witches (2011), Rewind Time Machine (2011), Super Shark (2011), Dirty Blondes from Beyond (2012), Abner the Invisible Dog (2013), After Midnight (2014), Unwanted Guest (2016), Stage Fright (2017), The Twin (2017) and Piranha Women (2022).
---
---