---
Crew
Director – Fred Olen Ray, Screenplay – Paul Garson, Producer – Paul Hertzberg, Photography – Paul Elliot, Music – David A. Jackson, Animation – Bret Mixon, Special Effects Supervisor – Kevin McCarthy, Art Direction – Maxine Shepard, Cyclone Designed and Created by Tracy Design, Inc.. Production Company – CineTelFilms, Inc.
Cast
Heather Thomas (Teri Marshall), Jeffrey Combs (Rick Davenport), Martin Landau (Bosarian), Dar Robinson (Rolfe), Ashley Ferrare (Carla Hastings), Robert Quarry (Knowles), Martine Beswicke (Walters), Huntz Hall (Long John), Michael Regan (McCardy), Tim Conway Jr. (Barrell), Dawn Wildsmith (Hanna), Troy Donahue (Bob Jenkins)
---
Plot
Rick Davenport has built The Cyclone, a hi-tech motorcycle outfitted with lasers and rocket launchers. His girlfriend Teri Marshall persuades him to leave the lab and go out to a club for the night, only for Rick to be stabbed on the dancefloor. Afterwards, Teri is approached by government agents who were backing the development of The Cyclone and want to get their hands on it but she claims no knowledge. Back home, she views a video left by Rick telling her how to use The Cyclone and how the transformer is the key without which it will not work. He also warns her that the only agent he trusts to deliver it to is Bob Jenkins. Teri goes to meet Bob but he is shot. She is forced to go on the run on The Cyclone, hotly pursued by arms dealers who want to obtain the machine for a sale.
---
Fred Olen Ray is one of the most prolific directors of all time with some 140 plus films to his credit. Olen Ray has almost always worked in exploitation genres – he started making films just before the video revolution arrived and later moved into cable markets. All of his films are either B-budget science-fiction, action films or works of softcore erotica. He was the most well-known proponent of the Scream Queens fad of the 1980s featuring minimally talented girls who would whip their tops off at the drop of a hat. One of the virtues of Olen Ray's films are his employing a cast of former name actors, lots of genre in-jokes and sometimes an appealingly cynical sense of humour. (A full list of Fred Olen Ray's genre films is at the bottom of the page).
The 1980s was a period of vehicle fantasies that saw efforts such as Firefox (1982), Blue Thunder (1983) and Black Moon Rising (1985) on cinema screens and on television the massive hit of Knight Rider (1982-6), as well as the tv version of Blue Thunder (1984) and its copycat Airwolf (1984-6). All of these featured hi-tech planes, helicopters and cars either being employed in the service of law enforcement agencies – which was usually the case in tv versions – or else a furious attempt being made to gain possession of them – which was usually the case in the film versions. Coming from Fred Olen Ray, Cyclone is an entrant into the cycle that has been construed so as to take place on as low a budget as possible. You suspect that Olen Ray's conception for the film has simply been the idea of having Blue Thunder – which concerned a hi-tech helicopter outfitted with all manner of fantastical armaments and devices being sought after by government agents – set on wheels.
The disappointment of Cyclone is that Olen Ray does little with the possibilities. He creates a fantastical vehicle with hi-tech gadgetry but we never see any of this in action until the chase sequence right near the end – even then we only get a couple of scenes of Heather Thomas firing lasers and rockets. Where a much-better budgeted film would have thrown in numerous action sequences, Olen Ray only gives us a total of two car chase sequences throughout. To their credit, these are both reasonable action scenes. The rest of the film is padded with the in-politicking and betrayal between the various agencies or scenes with people shooting at each other in a warehouse corridor that badly betray the film's low-budget nature.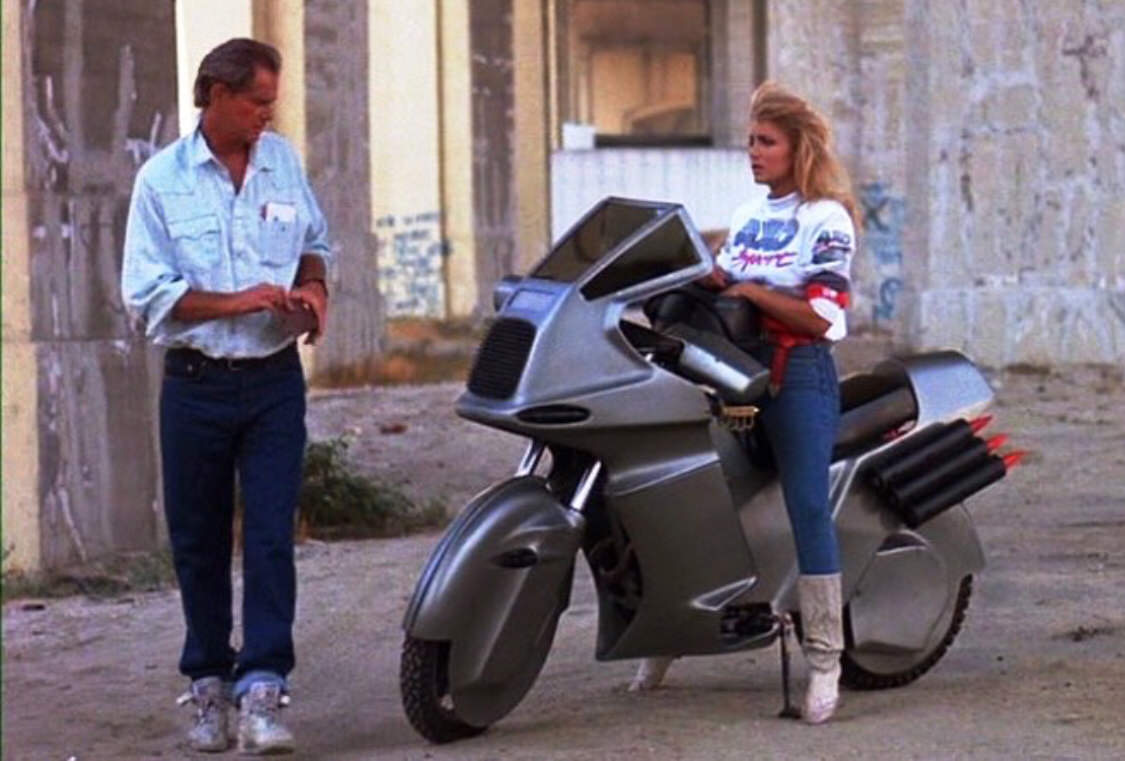 One of the things that you always find in Fred Olen Ray's films is an incredible cast of formerly well-known names. There is Heather Thomas, who was then a hot name as a result of the tv series The Fall Guy (1981-6), and Jeffrey Combs who became an instant genre-favourite after appearing in Re-Animator (1985) a couple of years earlier. Combs has a fairly straight role here before being killed off fairly early in the show. His most amusing scene is one where he gets turned on after he persuades Heather Thomas to recite physics. There is Martin Landau, caught between a career lull of hit tv series such as Mission: Impossible (1966-73) and Space: 1999 (1975-7) and his rediscovery in the 1990s as a serious actor and Oscar winner. During this time, Landau was making ends meet taking parts in B movies, giving a series of terrible and wooden performances where his capacities as an award-winning actor were nowhere in evidence. Here Landau has a bizarrely awful scene where he tries to explain to Heather Thomas that business deals are like two lovers meeting where Landau's stilted delivery has the unintended effect of causing this to come out as downright creepy.
Also present is Martine Beswick who became a cult actresses in several Anglo-horror films in the 1960s/70s, most notably as the latter half of Dr Jekyll and Sister Hyde (1971); Troy Donahue, a minor matinee idol of the 1960s; and Robert Quarry, who gained a certain fame as Count Yorga, Vampire (1970). The most unique name present though is Huntz Hall, one of the core members of the Bowery Boys/East End Kids, who made a great many poverty-row comedy films during the 1940s/50s, who has a part as the bug-eyed owner of the workshop Heather Thomas goes to to obtain parts.
Fred Olen Ray has made a lengthy list of genre films. These include:- The Brain Leeches (1977), The Alien Dead/It Fell from the Sky (1980), Scalps (1983), Biohazard (1984), The Tomb (1985), The Adventures of Taura: Prison Ship Star Slammer (1986), The Phantom Empire (1986), Beverly Hills Vamp (1988), Deep Space (1988), Hollywood Chainsaw Hookers (1988), Warlords (1988), Alienator (1990), Bad Girls from Mars (1990), Spirits (1990), Haunting Fear (1991), Scream Queen Hot Tub Party (1991), Wizards of the Demon Sword (1991), Evil Toons (1992), Little Devils (1993), Dinosaur Island (1994), Mind Twister (1994), Possessed By the Night (1994), Attack of the 60 Foot Centerfolds (1995), Cyber Zone/Droid Gunner (1995), Invisible Mom (1995), Star Hunter (1995), Night Shade (1996), Passionate Revenge/Friend of the Family II/Hell Hath No Fury (1996), Hybrid (1997), Little Miss Magic/Kidwitch (1997), Billy Frankenstein (1998), Dear Santa/My Dad Santa (1998), Illicit Dreams 2 (1998), Invisible Dad (1998), Active Stealth (1999), Fugitive Mind (1999), Invisible Mom 2 (1999), The Kid with X-Ray Eyes (1999), Prophet (1999), Critical Mass (2000), Sideshow (2000), Kept (2001), Stranded (2001), Venomous (2001), Thirteen Erotic Ghosts (2002), Final Examination (2003), Bikini-a-Go-Go/Curse of the Erotic Tiki (2004), Genie in a String Bikini (2004), Haunting Desire (2004), Teenage Cavegirl (2004), Glass Trap (2005), Tomb of the Werewolf (2005), Bikini Girls from a Lost Planet (2006), Bikini Pirates (2006), Ghost in a Teeny Bikini (2006), Bewitched Housewives (2007), The Girl With Sex-Ray Eyes (2007), Nuclear Hurricane (2007), Super Ninja Bikini Babes (2007), Polar Opposites (2008), Solar Flare (2008), Tarzeena, Queen of Kong Island (2008), Voodoo Dollz (2008), Dire Wolf (2009), Silent Venom (2009), Bikini Frankenstein (2010), Bikini Jones and the Temple of Eros (2010), Housewives from Another World (2010), Turbulent Skies (2010), Twilight Vamps (2010), Lady Chatterly's Ghost (2011), Little Witches (2011), Rewind Time Machine (2011), Super Shark (2011), Dirty Blondes from Beyond (2012), Abner the Invisible Dog (2013), After Midnight (2014), Unwanted Guest (2016), Stage Fright (2017) and The Twin (2017).
---
Trailer here
Full film available online here:-
---