---
Crew
Director/Producer/Digital Effects Design – Fred Olen Ray, Screenplay – Steve Armogida, Photography – Gary Graver, Music – Jeffrey Walton, Special Effects Supervisor – Steve Barkett, Pyrotechnic Effects – Kevin McCarthy, Production Design – Candi Guterres. Production Company – American Independent.
Cast
J.J. North (Angel), Tammy Parks (Betty Bennett), John LaZar (Dr Paul Lindstrom), Ted Monte (Wilson), Tim Abell (Mark), Jay Richardson (Bob Gordon), Raelyn Saalman (Inga Sorenson), Nikki Fritz (Rosita), Michelle Bauer (Dr Joyce Mann), George Stover (Dr Eric Kramer), G. Gordon Baer (Vic Stryker), Stanley Livingston (Glenn Manning), Russ Tamblyn (Gas Station Attendant), Ross Hagen (Truck Driver), Tommy Kirk (Passenger)
---
Plot
Three girls, Angel Grace, Betty Bennett and Inga Sorenson, are competing for the role of 'Plaything' magazine's centrefold of the year amid much bitchy rivalry. Feeling that her breasts are not big enough, Angel goes to her doctor Paul Lindstrom begging for more of the anti-aging serum he gave her. He gives her a case of vials, warning that the serum is still experimental. As Angel and the others go to publisher Bob Gordon's Malibu beachside mansion for the shoot, Lindstrom and his associates discover that the serum has turned a lab rat giant size. Angel drinks several vials in an attempt to look her best for the layout and the others are startled when she abruptly grows to sixty feet tall on the beach. As Angel panics over what to do, Gordon and the photographer Mark plot to manipulate her feelings for Mark in order to exploit her, while planning to turn her over to the military for experiments when they are done.
---
Fred Olen Ray is one of the genre's most prolific directors. Specialising in B-budget films, Olen Ray has made numerous action films, thrillers and especially works that centre around science-fiction, horror and softcore erotica. Olen Ray is clearly a genre fan and peoples his films with references to other films, former actors and in-jokes. Olen Ray was also a strong proponent of the Scream Queens fad that began in the late 1980s, involving minimally talented actresses who would whip their clothes off at the drop of a hat. Even his non-erotica works come with a plentiful supply of these bimbos in small parts (a number of whom – Michelle Bauer, Nikki Fritz – appear in supporting clothed parts here). All of this is put together with a wry cynicism that has often proved the saving grace of many of Olen Ray's films, helping patch over the budgetary shortcomings with a cheerful acknowledgement of the cheesiness of the production. (A full list of Fred Olen Ray's films is at the bottom of the page).
Attack of the 60 Foot Centerfolds is essentially the B-movie classic Attack of the 50 Foot Woman (1958) having been reconceived as one of Fred Olen Ray's bimbo films. It should be noted that just a couple of years earlier 50 Foot Woman was remade as Attack of the 50 Ft. Woman (1993) starring Daryl Hannah and is what almost certainly inspired this. You certainly cannot complain that Attack of the 60 Foot Centerfolds is not a film that offers up exactly what you expect of it. True to form, Fred Olen Ray has his three leading centerfolds whipping their tops off for a modelling shoot within minutes of the film's opening.
However, where Attack of the 50 Foot Woman served as an early feminist parable in which Allison Hayes suddenly gained an injection of empowerment and turned the tables on her abusive and scheming husband, Olen Ray by comparison sets the case for women's liberation back some forty years by having J.J. North's only real motivation being that she wants to have a larger set of breasts and win the coveted role of centerfold of the year. Even this could have served as an interestingly satirical message about how an exploited centerfold finds that her giant size gives her the empowerment to stand up against a manipulative adult entertainment industry for the image of the body perfect it forces her into – but being a Fred Olen Ray film, such self-examination lies well beyond the film's limited horizons.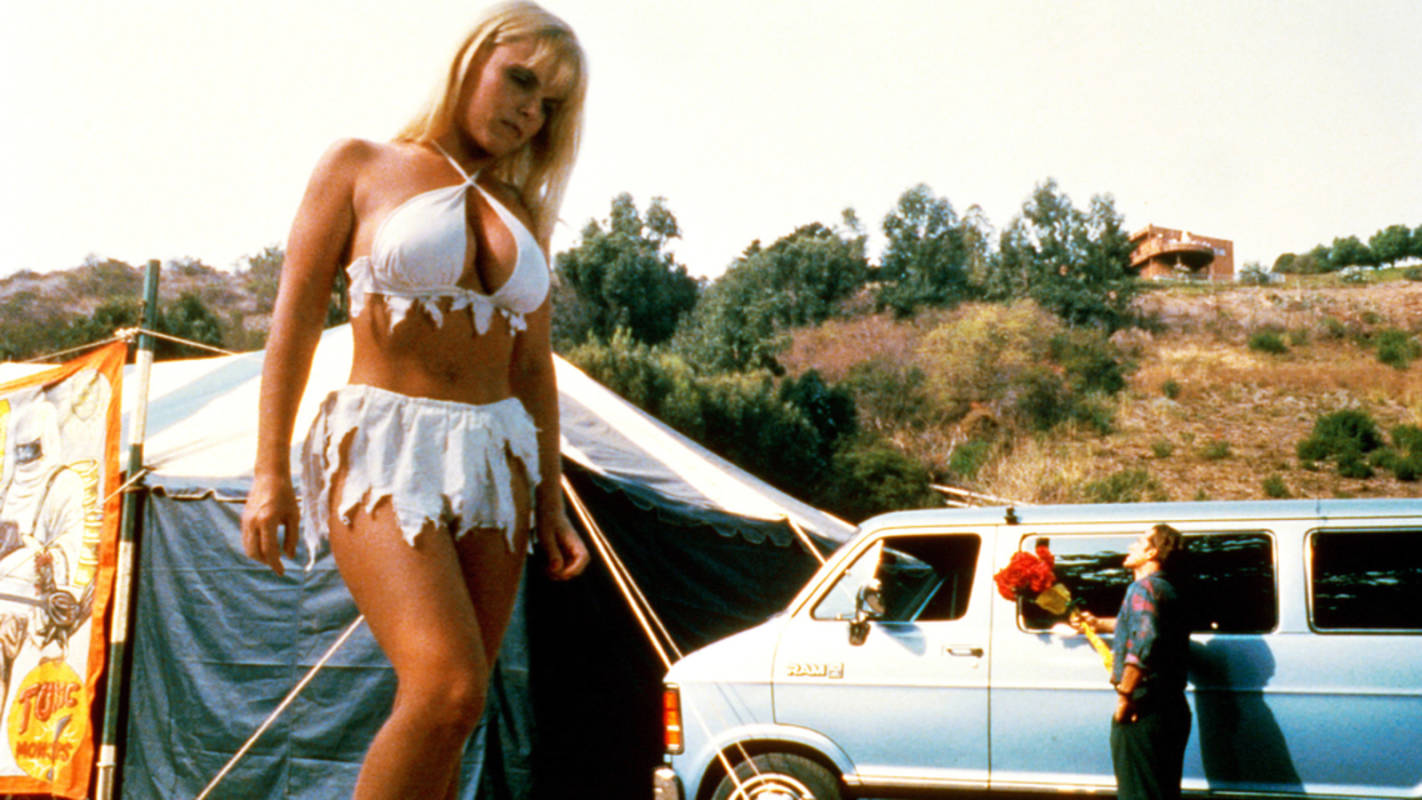 Olen Ray plays much of the film for excruciatingly lame humour – a gag with Nikki Fritz trying to act as porter and carrying a mountain of baggage while just managing to avoid stepping on bear traps, snakes and rollerskates placed in her way; or with G. Gordon Baer as an exterminator attempting to stop a giant rat at the laboratory. Occasionally there is the sarcastic wit that makes some of Fred Olen Ray's films tolerable – photographer Tim Abell popping up from between J.J. North's cleavage and announcing "I'm over here. I'm getting the money shots." There is also the amusing climactic image that parodies a classic monster movie – rather than having a monster rampaging through the city, Olen Ray gives us two giant women engaged in a cat fight in downtown Hollywood.
There are plenty of Fred Olen Ray's typical genre in-jokes and homages. In one scene, J.J. North goes to the doctor's surgery and encounters a man with his face wrapped in bandages just like Claude Rains's Griffin in The Invisible Man (1933) – "Mr Griffin, haven't seen you for awhile," says the nurse. "Frankly, my dear, neither have I," comes the reply. Asked by the bandaged man if the doctor is in, the nurse replies "Yes, but he can't see you right now." There is a reporter running around named Glenn Manning, the title character in The Amazing Colossal Man (1957). There is also a spoof of the approach of the T-Rex in Jurassic Park (1993) with the shot of a beer bottle rippling on a pick-up dashboard as J.J. North approaches.
There are plentiful cameos from former name actors and Olen Ray regulars, including Russ Tamblyn in an amusing role as a gas station attendant who claims to have been abducted by a UFO, as well as Ross Hagen who has a scene with former Disney 1960s teen star Tommy Kirk as two old timers who see the giant J.J. North. Outside the Hollywood wax museum, there are also cameos from Famous Monsters of Filmland editor Forrest J. Ackerman as Dracula and fellow B movie director Jim Wynorski as a cowboy, as they react to the appearance of the giant centerfolds.
Fred Olen Ray has made a lengthy list of genre films. These include:- The Brain Leeches (1977), The Alien Dead/It Fell from the Sky (1980), Scalps (1983), Biohazard (1984), The Tomb (1985), The Adventures of Taura: Prison Ship Star Slammer (1986), The Phantom Empire (1986), Cyclone (1987), Beverly Hills Vamp (1988), Deep Space (1988), Hollywood Chainsaw Hookers (1988), Warlords (1988), Alienator (1990), Bad Girls from Mars (1990), Spirits (1990), Haunting Fear (1991), Scream Queen Hot Tub Party (1991), Wizards of the Demon Sword (1991), Evil Toons (1992), Little Devils (1993), Dinosaur Island (1994), Mind Twister (1994), Possessed By the Night (1994), Cyber Zone/Droid Gunner (1995), Invisible Mom (1995), Star Hunter (1995), Night Shade (1996), Passionate Revenge/Friend of the Family II/Hell Hath No Fury (1996), Hybrid (1997), Little Miss Magic/Kidwitch (1997), Billy Frankenstein (1998), Dear Santa/My Dad Santa (1998), Illicit Dreams 2 (1998), Invisible Dad (1998), Active Stealth (1999), Fugitive Mind (1999), Invisible Mom 2 (1999), The Kid with X-Ray Eyes (1999), Prophet (1999), Critical Mass (2000), Sideshow (2000), Kept (2001), Stranded (2001), Venomous (2001), Thirteen Erotic Ghosts (2002), Final Examination (2003), Bikini-a-Go-Go/Curse of the Erotic Tiki (2004), Genie in a String Bikini (2004), Haunting Desire (2004), Teenage Cavegirl (2004), Glass Trap (2005), Tomb of the Werewolf (2005), Bikini Girls from a Lost Planet (2006), Bikini Pirates (2006), Ghost in a Teeny Bikini (2006), Bewitched Housewives (2007), The Girl With Sex-Ray Eyes (2007), Nuclear Hurricane (2007), Super Ninja Bikini Babes (2007), Polar Opposites (2008), Solar Flare (2008), Tarzeena, Queen of Kong Island (2008), Voodoo Dollz (2008), Dire Wolf (2009), Silent Venom (2009), Bikini Frankenstein (2010), Bikini Jones and the Temple of Eros (2010), Housewives from Another World (2010), Turbulent Skies (2010), Twilight Vamps (2010), Lady Chatterly's Ghost (2011), Little Witches (2011), Rewind Time Machine (2011), Super Shark (2011), Dirty Blondes from Beyond (2012), Abner the Invisible Dog (2013), After Midnight (2014), Unwanted Guest (2016), Stage Fright (2017) and The Twin (2017).
---
---