---
Crew
Director – Johannes Roberts, Screenplay – Noel Clarke, Davie Fairbanks, Johannes Roberts & Marc Small, Story – Noel Clarke, Producers – Noel Clarke & Manu Kumaran, Photography – Tim Sidell, Music – Christian Henson, Visual Effects Supervisor – Piers Hampton, Visual Effects – Prime Focus, Special Effects Supervisor – Neal Champion, Makeup Effects Design – Paul Hyett, Production Design – Malin Lindholm. Production Company – Big Yellow Films.
Cast
Noel Clarke (Charlie), Colin O'Donoghue (Mark), Antonia Campbell Hughes (Shelley), Laura Haddock (Nikki), Jamie Thomas King (Chris), Ned Dennehy (David), Alex Price (Jake), Geoff Bell (Bob)
---
Plot
Something crashes down out of the sky near the Storage 24 storage locker warehouse in Battersea, London. Charlie has just broken up with his girlfriend Shelley. He his best friend Mark now go to the warehouse so that Charlie can retrieve some of his belongings from the locker he and Shelley shared. However, they find Shelley and her friends there going through things and this breaks into an argument. They then discover that an alien creature is in the warehouse. They try to escape as the creature comes after them, only to find that the power cut caused by the crash has locked the doors and trapped them inside.
---
Storage 24 is a minor genre entry from the UK. Director Johannes Roberts has been making low and medium-budget horror films for most of the last decade with the likes of Sanitarium (2001), Darkhunters (2004), Hellbreeder (2004), Forest of the Damned (2005), When Evil Calls (2006), F (2010), Roadkill (2011), The Other Side of the Door (2016), 47 Meters Down (2017), The Strangers: Prey at Night (2018), 47 Meters Down: Uncaged (2019) and Resident Evil: Welcome to Raccoon City (2021).
The film is produced and written by its star Noel Clarke, an actor better known to genre followers for the recurring role as Billie Piper's boyfriend Mickey in Doctor Who (2005– ) and several film roles, including the zombie film Doghouse (2009) and even a part in Star Trek: Into Darkness (2013). Clarke has written several films and directed four others, including the non-genre Adulthood (2008), 4.3.2.1. (2010) and Brotherhood (2016), as well as the interesting reality-bending science-fiction film The Anomaly (2014) and the abduction and imprisonment thriller 10×10 (2018).
I was kind of holding out hope that Storage 24 might have been another Attack the Block (2011) but it isn't. All that we have is a film that is a not particularly imaginative copy of the basics of Alien (1979) – but set in a storage locker. When it comes to thinking of exciting and novel places that you could have an alien monster stalk a human cast, a warehouse that consists of corridors filled with identical locked doors hardly seems an interesting place. All that the cast seem to do is run up and down the featureless hallways that extend from one end of the facility to the other and occasionally for something different scale through the air conditioning ducts.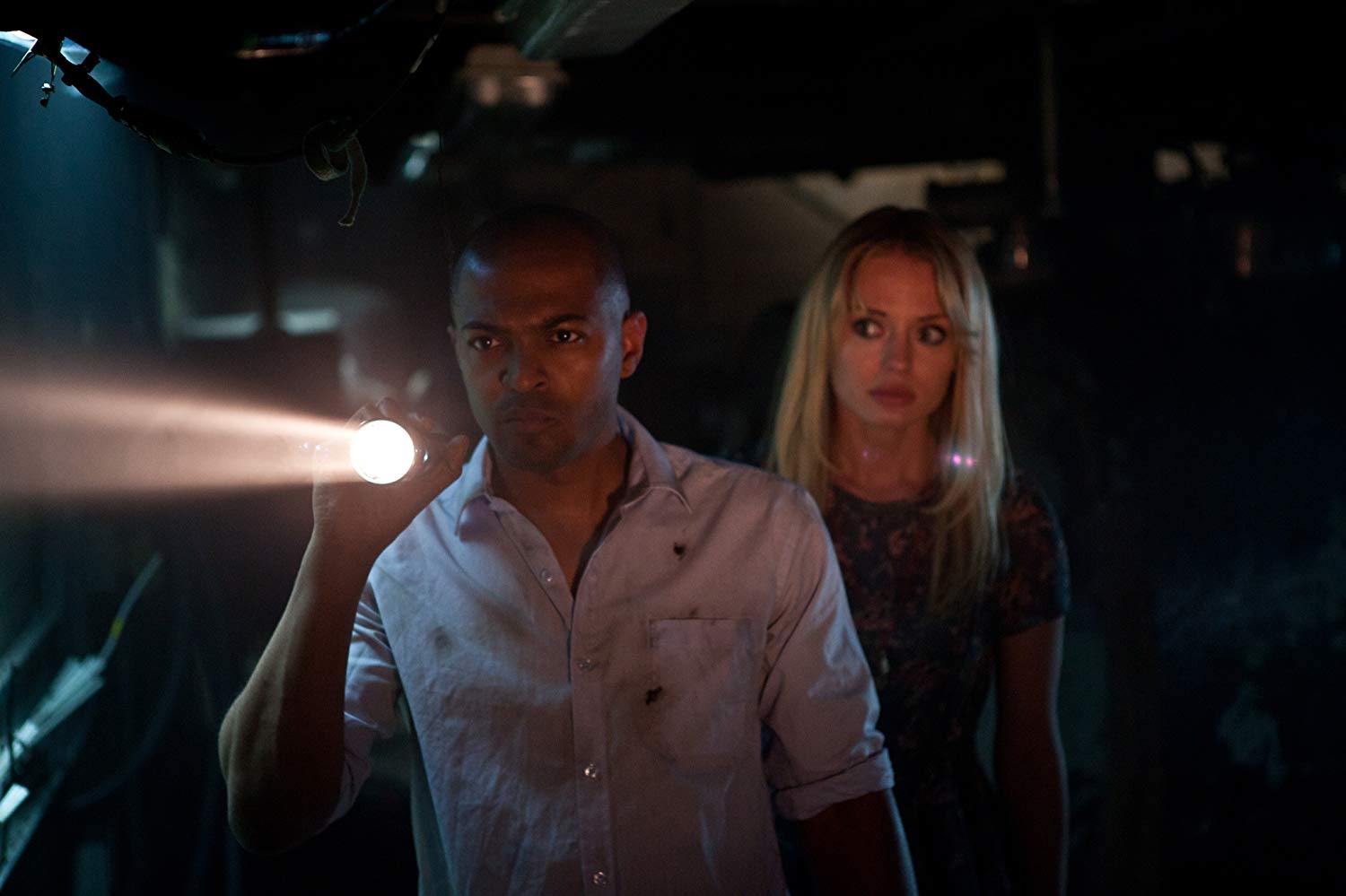 The alien monster is an unimaginative copy of H.R. Giger with the sole difference being that it is about three metres tall (played by an actor on stilts) and has a peculiar set of jaws that would in biological actuality surely cause it problems eating. The cast are a dull bunch, while Noel Clarke writes himself in as an unappealingly hot-headed hero.
Despite a prolific career directing horror, Johannes Roberts does little to get the pulse racing. Mostly the film feels like an endless regurgitation of cliches and moves from any number of Alien clones. There is a passable sequence with Noel Clarke trapped in a ventilation duct as the alien starts crushing it in but you strain to find anything else out of the routine.
Sadly to say, Storage 24 is a film where there is little of any originality, depth, anything – you keep wondering what people saw in the film that they wanted to commit the money and resources to making it. By the time of a tired twist ending where Noel Clarke finally emerges from the storage locker and looks up to a cheap effect of an alien invasion blitzing London, you cease to care.
---
---