---
Crew
Director/Screenplay – Johannes Roberts, Based on the Videogame Resident Evil by Capcom, Producers – Hartley Gorenstein, James Harris & Robert Kulzer, Photography – Maxime Alexandre, Music – Mark Korven, Visual Effects Supervisor – Jo Hughes, Visual Effects – Mr X, Special Effects Supervisor – Skyler T. Wilson, Makeup Effects/Prosthetics – Applied Arts FX Studio (Concept Design – Daniel Carrasco), Production Design – Jennifer Spence. Production Company – Constantin Film International/Davis Raccoon Films.
Cast
Kaya Scodelario (Claire Redfield), Robbie Amell (Chris Redfield), Hannah John-Kamen (Jill Valentine), Tom Hopper (Albert Wesker), Avan Jogia (Leon Kennedy), Donal Logue (Chief Irons), Neal McDonough (William Birkin), Lily Gao (Ada Wong), Josh Cruddas (Ben Bertolucci), Chad Rook (Richard Aiken), Marina Mazepa (Lisa Trevor), Nathan Dales (Vickers), Pat Thornton (Truck Driver), Lily Dale Reid (Young Claire), Holly De Barros (Sherry Birkin), Janet Porter (Annette Birkin), Daxton Grey Gujral (Young Chris)
---
Plot
September, 1998. Claire Redfield returns to Raccoon City to stay with her brother Chris. Raccoon City is all but a ghetto town after The Umbrella Corporation have recently moved their operations away. Some of the residents are appearing with strange infections. Claire has been communicating with a scientist who has given her information about the illicit experiments being conducted by The Umbrella Corporation. Chris is an officer on the RPD and they now have to deal with the infected that are turning into a zombified state. Chris joins a team sent on a call-out the mansion of Umbrella founder Oswell Spencer. Inside they find a secret entrance leading down into the abandoned Umbrella laboratories filled with lurking zombies and genetic mutations.
---
Capcom's Resident Evil, a fierce survival horror videogame, first appeared in 1996 and has spread to more than a dozen follow-ups and offshoots since then, as well as a series of spinoff novels and comic-books. The game gained even more popularity when it was adapted into the live-action film Resident Evil (2002) from Paul W.S. Anderson starring Milla Jovovich. Anderson went on to produce two immediate sequels with Resident Evil: Apocalypse (2004), Resident Evil: Extinction (2007) and then returned to direct Resident Evil: Afterlife (2010), Resident Evil: Retribution (2012) and Resident Evil: The Final Chapter (2016), all starring Milla Jovovich. There were also three anime films with Resident Evil: Degeneration (2008), Resident Evil: Damnation (2012) and Resident Evil: Vendetta (2017), as well as the anime tv series Resident Evil: Infinite Darkness (2021- ) and the live-action tv series tv series Resident Evil (2022).
If 2021 is noted for anything other than a wave of pandemic films, it is surely the year of the endlessly recycled Intellectual Property. We've seen remakes such as Candyman (2021), Dune: Part One (2021), Mortal Kombat (2021) and West Side Story (2021), further entries in the G.I. Joe, Halloween, The Conjuring, The Matrix, Paranormal Activity, The Purge, Saw and V/H/S series, and further adventures of the Addams Family, Cruella (2021), Godzilla vs. Kong (2021), James Bond, Spider-Man, Tom and Jerry (2021), a Space Jam sequel and more films based on Disney theme parks. And that's not even getting to the number of properties that are getting revived by streaming services such as a I Know What You Did Last Summer (2021- ) tv series and something like six Marvel-based tv series in the last twelve months and approaching an equal number of Star Trek and Star Wars tv series.
A Resident Evil reboot has been mentioned ever since the last film, which was seemingly unironically called 'The Final Chapter', appeared in theatres. There were even plans for a tv series at one point. James Wan was for a time involved as a producer. The sequel now emerges as a prequel. Paul W.S. Anderson is still present as an Executive Producer.
The director is the British Johannes Roberts who worked in the B-budget horror arena for several years. There he has made the likes of Sanitarium (2001), Alice (2002), Darkhunters (2004), Hellbreeder (2004), Forest of the Damned (2005), F (2010), Roadkill (2011) and Storage 24 (2012). He emerged to wider acclaim with the theatrically released The Other Side of the Door (2016), The Strangers: Prey at Night (2018) and in particular 47 Meters Down (2017), a thriller about two sisters trapped underwater in a shark cage with a failing oxygen supply and surrounded by sharks, which produced a sequel with 47 Meters Down: Uncaged (2019).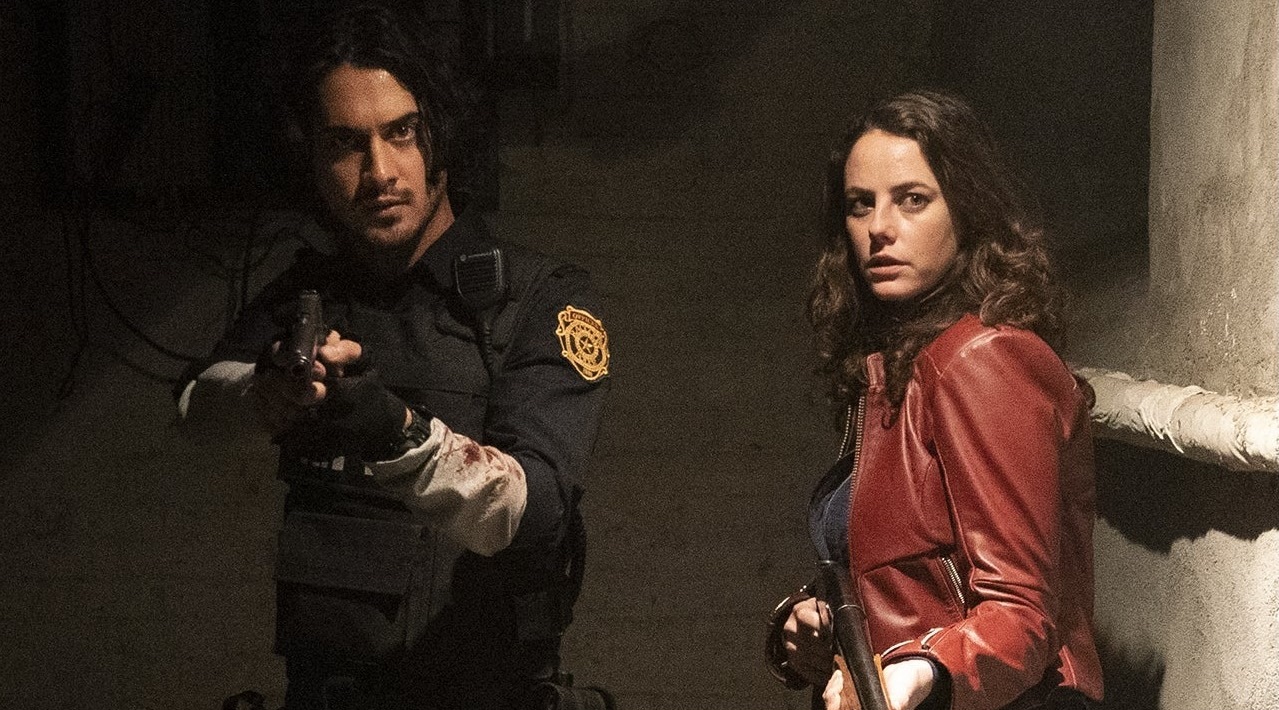 Johannes Roberts makes an immediately different Resident Evil film. Both his and the other films nominally feature similar plots about characters facing off against zombies and mutations. However, Paul W.S. Anderson places his focus on action spectacle, whereas Johannes Roberts makes more of a fierce survival horror film. Rather than Milla Jovovich's kickass action moves, Johannes Roberts focuses on the nastiness of the creature effects and people being slaughtered. Even the lighting levels of either are different – Anderson's films take place in daylight and cleanly lit facilities, whereas most of Raccoon City takes place at night or in the underground facility with low or no lighting levels – indeed, the only daylit scenes throughout are the brief ones at the very end of the film.
Johannes Roberts stated that he made Welcome to Raccoon City with a determination to take the franchise closer back to what the games were. To this end, there is a good deal of fanservice paid to the games. The storyline is closely adapted from the first two Resident Evil games. The design of mansion and police station were based on the actual blueprints from the game, even down to replicating the font type of messages that appear in the game. The film is even set back in the 1990s when the games were first released – what I found amusing, as someone who was around in the era, was the effort to replicate 1990s technology where VCRs and Palm Pilots are dominant technologies and people talk about meeting up in chatrooms and The Golden Girls (1985-92) airs on tv in the background.
I liked Johannes Roberts' take on Resident Evil far more than Paul W.S. Anderson's constant spectacle and action movie posturing. Raccoon City is not a particularly great film but it comes with a certain visceral drive. The only real complaint is that more than half the film consists of bringing the assorted characters together and the amount of survival horror scenes in the complex, which are what the game is all about, are limited – clearly the result of the film being set up with further sequels in mind. That said, I would far rather watch more of Resident Evil sequels from Johannes Roberts than I would from Paul W.S. Anderson.
---
Trailer here
---