---
Crew
Director – Jon Watts, Screenplay – John Francis Daley, Christopher Ford, Jonathan Goldstein, Chris McKenna, Erik Sommers & Jon Watts, Story – John Francis Daley & Jonathan Goldstein, Based on the Comic Book Created by Steve Ditko & Stan Lee, Producers – Kevin Feige & Amy Pascal, Photography (3D) – Salvatore Totino, Music – Michael Giacchino, Visual Effects Supervisor – Janek Sirrs, Visual Effects/Animation – Sony Pictures Imageworks (Supervisor – Theo Bialek), Visual Effects – Cantina Creative (Supervisor – Stephen Lawes), Digital Domain (Supervisor – Lou Pecora), Iloura (Supervisor – Dan Bethell), Industrial Light and Magic, Luma Pictures (Supervisors – Brendan Seals & Kevin Souls), Method Studios, & Trixter (Supervisor – Dominik Zimmerle), Special Effects Supervisor – Dan Sudick, Production Design – Oliver Scholl. Production Company – Marvel Studios/Pascal Pictures.
Cast
Tom Holland (Peter Parker/Spider-Man), Michael Keaton (Adrian Toomes/Vulture), Robert Downey Jr. (Tony Stark/Iron Man), Jon Favreau (Happy Hogan), Jacob Batalon (Ned), Laura Harrier (Liz), Marisa Tomei (Aunt May Parker), Zendaya (Michelle), Bokeem Woodbine (Herman Schultz/Shocker #2), Donald Glover (Aaron Davis), Tony Revolori (Flash Thompson), Gwyneth Paltrow (Pepper Potts), Abraham Attah (Abe), Hannibal Buress (Coach Wilson), Tyne Daly (Anne Marie Hoag), Michael Mando (Mac Gargan), Jennifer Connelly (Voice of Karen/Suit Lady), Logan Marshall-Green (Jackson Brice/Shocker #1), Hemky Madera (Mr Delmar), Chris Evans (Captain America), Kenneth Choi (Principal Morita)
---
Plot
Fifteen-year-old Peter Parker is a student at New York City's Midtown High School. At the same time, he maintains a secret identity as Spider-Man. Peter is stoked about having been asked by Tony Stark to fight with The Avengers and afterwards being gifted a hi-tech spider suit designed by Stark Industries. Peter is eager to work with Tony again but receives little response from his messages and calls to Happy Hogan. Peter goes into action to solve an ATM robbery in his neighbourhood only to come up against thieves who are using advanced weaponry. Peter sneaks back into his room in his Spider-Man costume only for his best friend Ned to be waiting and discover his identity. Ned accidentally blurts out that Peter and Spider-Man are friends in front of Liz, a girl Peter likes, and there is pressure on him to invite Spider-Man to a party she is holding. In tracing the source of the weaponry, Peter comes up against Adrian Toomes, a contractor who has salvaged artifacts from the Chtauri crash site. Toomes has rebuilt these into weaponry and a mechanical flying suit so that he can operate as Vulture.
---
Created by artist Steve Ditko and written by Stan Lee, Spider-Man first appeared in Amazing Fantasy #15 in August 1962 and has become one of the most popular of Marvel Comics superheroes. The character has appeared on the screen a number of times beginning with the animated tv series Spider-Man (1967-70). Before the modern era, the most famous of these incarnations was the live-action tv series The Amazing Spiderman (1977-9), which had the pilot episode served up to international audiences in theatres as Spider-Man (1977) and then two further cinematic releases, Spider-Man Strikes Back (1979) and Spiderman and the Dragon's Challenge (1980), that were recut from episodes of the tv series.
There were various big screen Spider-Man films planned during the 1990s from sources as diverse as Cannon Films and directors lie Albert Pyun and James Cameron. Such a film did not emerge until Sam Raimi's Spider-Man (2002) starring Tobey Maguire, which was a huge success and instrumental in laying the groundwork for the massive success that Marvel Comics are enjoying on the big-screen. Raimi and Maguire made two other films with Spider-Man 2 (2004) and Spider-Man 3 (2007) but Raimi then bowed out.
Spider-Man was one of the handful of Marvel characters – along with The Fantastic Four, The X-Men and The Incredible Hulk – where the character copyright was held by another studio and thus could not be tied up to the rest of the Marvel Cinematic Universe. Sony were stuck in the position of holding the Spider-Man copyright in the midst of a massively popular Marvel renaissance (which they themselves were in no small part responsible for creating) but were not sure where to go next. Their solution was to reboot the series with The Amazing Spider-Man (2012) and The Amazing Spider-Man 2 (2014) starring Andrew Garfield, which set out to build a highly ambitious storytelling arc over the course of several films.
Alas, the Andrew Garfield reboot series ground to a halt after The Amazing Spider-Man 2. The thing that is being misreported about The Amazing Spider-Man 2 is that it was a flop. This is not true – it earned over $700 million worldwide. Admittedly, this was less than the previous films but The Amazing Spider-Man 2 was still the twelfth highest grossing film of the year and earned an amount that any other film would regard as a roaring success. What did seem to kill it was the fan and critical drubbing it received. (I am in one of critical minority who liked the film). Sony's plans seemed to go awry after that point. The belief that The Amazing Spider-Man 2 was a flop torpedoed a planned Secret Six film and Sony again seemed at a loss what to do with their hold on the copyright. Plans were announced for a time of an animated Spider-Man film, which eventually emerged with Spider-Man: Into the Spider-Verse (2018) and Spider-Man: Across the Spider-Verse (2023), plus the Venom (2018) and Venom: Let There Be Carnage (2021) spinoffs starring Tom Hardy, and Morbius (2022).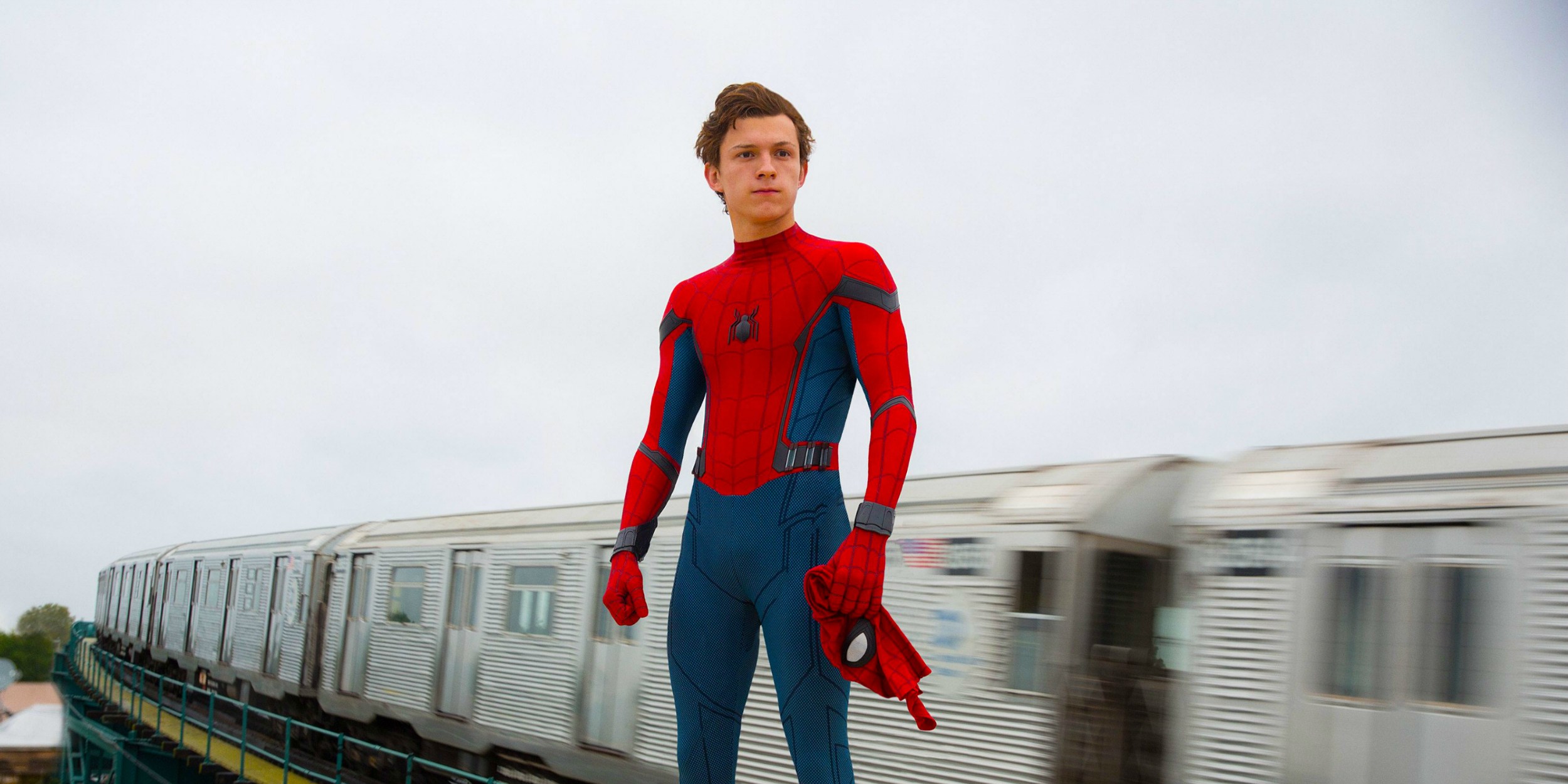 Sony then decided to go with the third reboot of the franchise in the space of a decade. The ingenious solution they found was to strike a deal with Marvel to tie up to the MCU. Tom Holland's Peter Parker mde his debut in the MCU film Captain America: Civil War (2016), where Holland ended up stealing the show in his handful of scenes, and went on to repeat this in the subsequent Avengers: Infinity War (2018) and Avengers: Endgame (2019). In return, Sony have built that integration with the MCU back in to the story of Spider-Man: Homecoming as a means of bolstering their own property.
Spider-Man: Homecoming has been placed in the hands of Jon Watts who has made various shorts and been working in comedy television since the early 2000s. Watts made his feature-length debut with the Eli Roth-produced horror film Clown (2014), based on his earlier short film, and subsequently went on to the Sundance breakout hit of the wittily enjoyable Cop Car (2015). The script comes from several people including John Francis Daley and Jonathan Goldstein who are responsible for comedy work and the scripts for Horrible Bosses (2011) and Cloudy With a Chance of Meatballs 2 (2013); Jon Watts' regular writer Christopher Ford who also wrote Robot & Frank (2012) and The Clovehitch Killer (2018); and Chris McKenna and Erik Sommers who are producers and writers on tv's Community (2009-15) and writers of films such as Jumanji: Welcome to the Jungle (2017), The Lego Batman Movie (2017) and Ant-Man and the Wasp (2018).
What makes Spider-Man: Homecoming so enjoyable as opposed to all the other MCU (and now DCEU) films out there is the freshness that Jon Watts and Tom Holland bring to it. Holland – no relation to or to be confused with the director of Fright Night (1985) and Child's Play (1988) – has been a British actor on the rise in the last couple of years with roles in high-profile films such as In the Heart of the Sea (2015), The Lost City of Z (2016) and the tv mini-series Wolf Hall (2015). Cast as a fifteen year-old despite being twenty-one in real-life, Holland gives a fantastic performance. He plays with a nervous and bubbly eagerness that makes a distinctly different character than any previous actors in the role.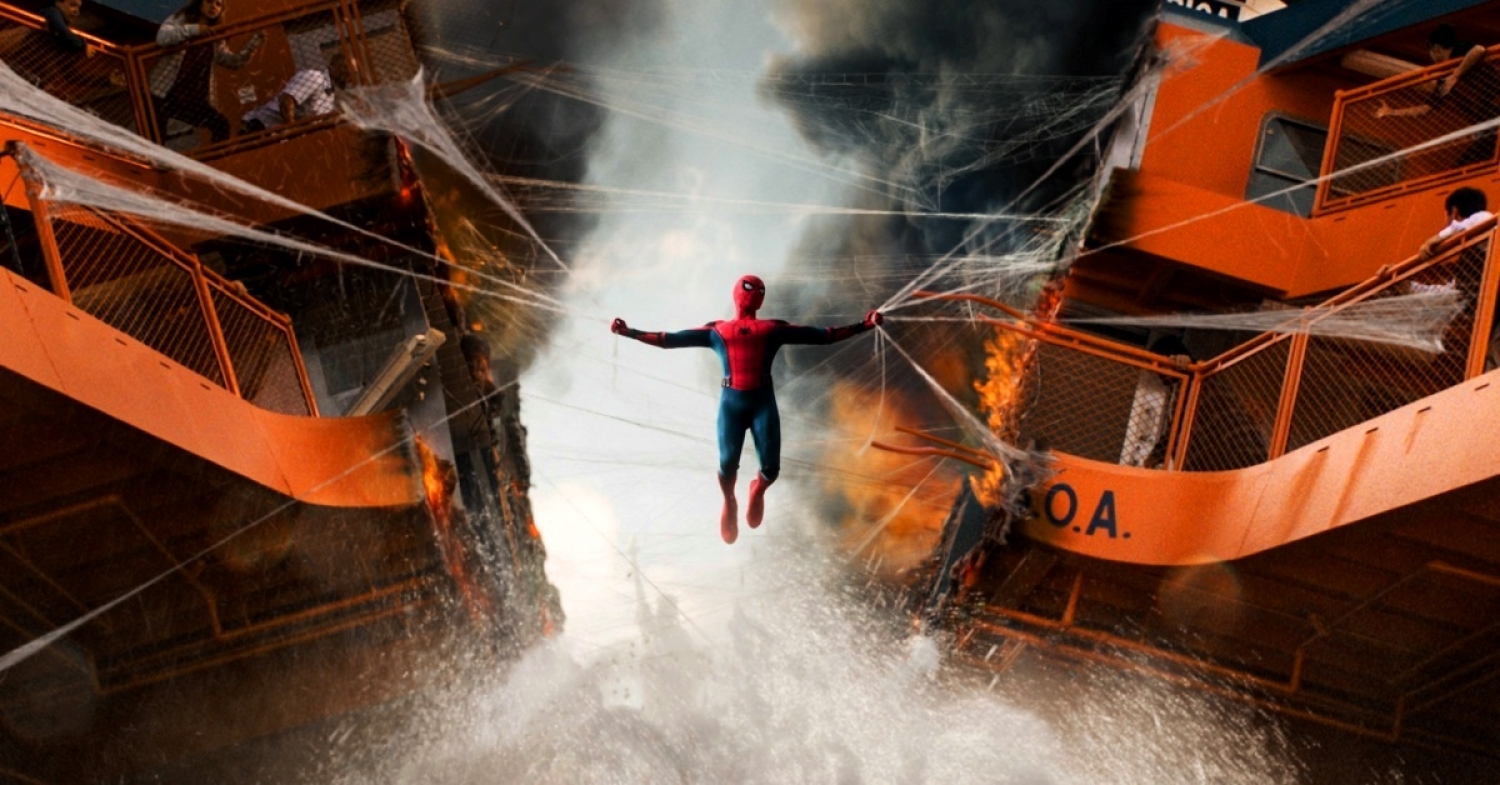 Equally, Jon Watts has terrific natural energy – the montage of scenes where we see Spider-Man in action, apprehending a would-be car thief, being greeted by assorted New Yorkers, riding atop trains, sitting on a fire escape answering a call all burst with creativity. Not to mention have a beauty in the photography that often feels like a love poem to New York City. The same could be said for the energy of the scene where Holland is in pursuit of the van and is dragged through several backyards where we see him crashing through swimming pools, accidentally demolishing treehouses, greeting people who are barbecuing, spooking kids camping the night in a tent in the backyard and throwing a stick for a dog.
Jon Watts creates some spectacular superheroic action sequences. The most breathtaking of these is the one where Spider-Man and Vulture are fighting aboard the Staten Island Ferry and Vulture's fallen raybreams slice the ferry in half, which leaves Spider-Man having to race down the divide trying to thread the ship together with webbing and then being left trying to hold it together with his body. (Although one thing that does get you is the question of Spider-Man's strength – he is able to hold an entire car ferry together and is later seen catching a jet engine with his webbing but after being buried beneath the roofing of a warehouse by Vulture is struggling to lift it off. A little bit of Google Fu tells me that if he can lift a jet engine, which is about 3000 lbs (equal to 1.5 tons) and hold together a Staten Island Ferry (normally about 2500-3000 tons) with his body, then he should have little problem with lifting a warehouse roof, which should only be around about 1-2 tons). The climactic scene with Spider-Man and Peter fighting around a disintegrating airplane seems to fall in its shadow of the Staten Island Ferry sequence but could easily be an enthralling showcapper in any other superhero film.
What does seem odd about Spider-Man: Homecoming is how much Sony seem to be bowing at the feet of Marvel. Indeed, the relationship between Peter Parker and Tony Stark you feel could be a metaphor for Sony's relationship to Marvel – one where Tony Stark has been cast as the highly successful and world-famous mentor who treats Peter as a beginner and never seems to care much about the efforts he makes. Even the climax of the film where Tony is ready to welcome Peter into the fold with the rest of The Avengers only for Peter to decide to go it on his own mirrors the Sony-Marvel relationship and their choice to straddle a line between independence and integration at the same time.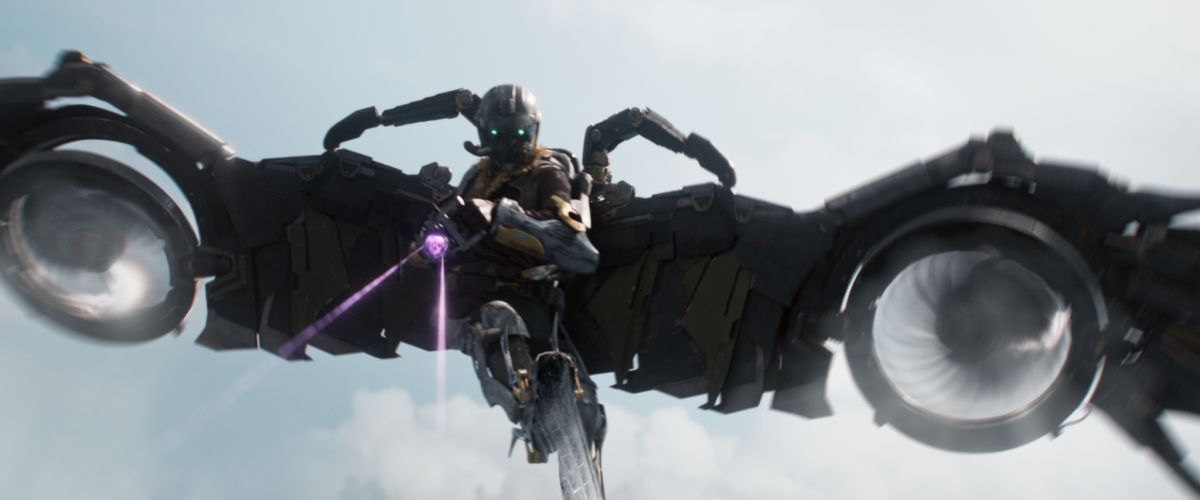 Moreover, Sony's eagerness to integrate into the MCU now leaves them seeming like they have to kowtow to Marvel and try and connect up to the MCU at every possible opportunity – and in ways that totally rewrite comic-book canon. In the comic-book, Peter makes his own suit and his ability to spray webbing is an inherent biological ability caused by his mutation; whereas here the suit and webbing are all made by Stark Industries, while the suit itself has a considerable arsenal of gadgetry and powers it never did in the comic books. (It even has limitations placed on it by Stark Industries, which again seem more about the metaphor for the relationship between Sony and Marvel Studios). The other ridiculous thing that shows just how much Sony are now bowing at the feet of Marvel is how almost every single one of the major action sequences – the pursuit of the van, the Staten Island Ferry sequence, every sequence except the one at the Washington Monument – requires Spider-Man to be rescued by Tony Stark.
People were upset about the rewriting of the Green Goblin's story in The Amazing Spider-Man 2 but seem strangely silent when it comes to the far wider continuity rewrites in the much better received Homecoming. The idea of Peter being in high-school was the way that the character was originally introduced in 1962. However, Aunt May is reduced from the senior she usually is to be played by 52 year-old Marisa Tomei who could be classified as a MILF (and even has Jacob Batalon lusting after her, as well as Robert Downey, Jr leching on her in Civil War). As we learn in the final scenes, Mary-Jane has been rewritten as a Latina (played by Zendaya who could be a spitting image for a teenage Michelle Rodriguez). Indeed, the school that Peter attends has been rewritten with an emphasis on diversity such that the Caucasian Peter seems to be in a distinct minority. One of the new characters we have not met in the comic-books is Ned (no surname) played by Jacob Batalon, Peter's best friend who gets to discover his secret identity (and is based in no small part one suspects on Pete Ross who used to appear in Superboy comics).
The other oddity is that the film also rewrites MCU continuity. We learn it is eight years between the events of The Avengers (2012) and Peter's being suborned by Tony Stark in Civil War. Homecoming is also set during The Avengers' moving from Stark Tower to their new headquarters in upstate New York. Over in the MCU, the move from Stark Tower to the new hq happened during the events of Avengers: Age of Ultron (2015). This creates confusion as Civil War clearly takes place after Age of Ultron – Civil War, for instance, features characters such as Vision and Scarlet Witch that were first introduced in Age of Ultron – and yet Homecoming has the headquarters move only occurring sometime after the events of Civil War.
Tom Holland subsequently returned for Spider-Man: Far from Home (2019) and Spider-Man: No Way Home (2021).
(Winner in this site's Top 10 Films of 2017 list. Nominee for Best Actor (Tom Holland) at this site's Best of 2017 Awards).
---
---