---
Crew
Director – Sam Raimi, Screenplay – Alvin Sargent, Story – Michael Chabon, Alfred Gough & Miles Millar, Based on the Comic Book Created by Steve Ditko & Stan Lee, Producers – Avi Arad & Laura Ziskin, Photography – Bill Pope, Music – Danny Elfman, Visual Effects Designer – John Dykstra, Visual Effects Supervisor – Scott Stokdyk, Visual Effects – Sony Pictures Imageworks (CG Animation Supervisor – Anthony LaMolinara), Special Effects Supervisor – John Frazier, Dr Octopus Animatronics – Edge FX (Supervisor – Steve Johnson), Production Design – Neil Spisak. Production Company – Marvel Enterprises/Laura Ziskin/Columbia.
Cast
Tobey Maguire (Peter Parker/Spider-Man), Kirsten Dunst (Mary Jane Watson), Alfred Molina (Dr Otto Octavius/Dr Octopus), James Franco (Harry Osborn), Rosemary Harris (Aunt May), J.K. Simmons (J. Jonah Jameson), Donna Murphy (Rosalie Octavius), Daniel Gillies (Captain John Jameson), Dylan Baker (Dr Curt Connors), Elya Baskin (Ditkovich), Mageina Tovah (Ursula Ditkovich), Bill Nunn (Joseph 'Robbie' Robertson)
---
Plot
Peter Parker is working as a pizza delivery boy and a photographer for The Daily Bugle, as well studying as a full-time student. He is feeling stressed, struggling to pay the rent and make deadlines. Meanwhile, Mary Jane Watson is having success as a model and is appearing in a play. A meeting with Mary Jane again leaves Peter struggling with the feelings for her that he must deny. This hurts even more when Mary Jane announces her engagement to J. Jonah Jameson's son John. At the same time, Peter is writing an assignment on the brilliant physicist Dr Otto Octavius. Dr Octavius holds a demonstration in which he attempts to create a controlled fusion reaction. However, this goes wrong, creating an out-of-control explosion, before Peter appears as Spider-Man and pulls the plug. The accident damages Octavius's four artificially intelligent exo-skeletal arms and fuses their control into his brain. The arms take over, turning Octavius into an out-of-control monster that Jameson nicknames Dr Octopus. Meanwhile, Peter finds peace with himself by tossing out the Spider-Man costume and throwing himself into life as Peter. Just as he does, Dr Octopus teams up with Harry Osborn, still seeking revenge for his father's murder. Harry promises Octopus supplies of the rare tritium element he needs to complete his experiment if he will deliver Spider-Man to him. To do this, Dr Octopus targets Peter by kidnapping Mary Jane.
---
Spider-Man (2002), the big screen adaptation of the Marvel Comics character, was an enormous hit – in fact, it was the No. 1 grossing film of 2002. Director Sam Raimi, the principal cast and most of the behind-the-scenes personnel then returned for this sequel. I was one of the minority voices that found Spider-Man overrated. While the web-slinging superheroics were exhilarating, Spider-Man failed to work on a psychological level, with Sam Raimi only delivering the characters conflicts in winsomely simplistic terms and by resorting to corny dramatic devices such as having the Green Goblin converse with his refection and his costume as character motivation.
The good news is that Spider-Man 2 is a major improvement over the original. Sam Raimi has polished his act and gotten rid of the silly plot devices – there is maybe the odd trace lingering, like where we see Peter Parker trying to explain his reasons for not wanting to love Mary Jane into a payphone, and some of the earnest goody two-shoes mawkishness – scenes with everybody on the subway fervently promising to keep Spider-Man's secret, the kid next door wishing for a hero – but for the most part Spider-Man 2 is a considerable improvement.
The new team of writers – which include novelist Michael Chabon, author of Wonder Boys (2000); Alfred Gough and Miles Millar, producers/creators of the Superman series Smallville (2001-11) and the screenwriters of Shanghai Noon (2000), Herbie: Fully Loaded (2005), The Mummy: Tomb of the Dragon Emperor (2008) and I Am Number Four (2011); and all polished into place by veteran screenwriter Alvin Sargent, author of films such as Paper Moon (1973), Ordinary People (1980), Nuts (1987) and Unfaithful (2002) – have placed an exceptional script at Sam Raimi's disposal.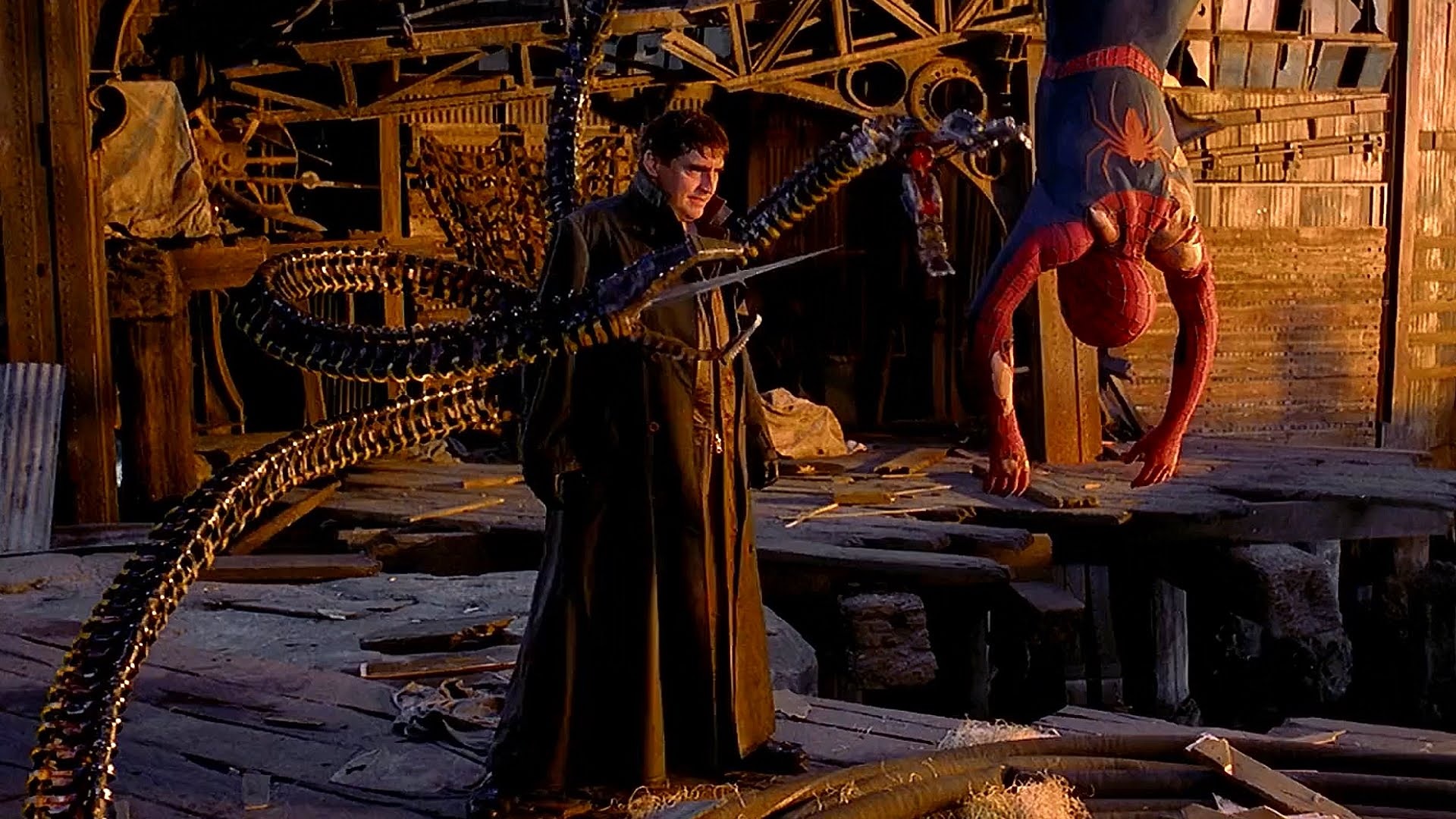 Indeed, this is one of the finest Soul of the Superhero scripts to ever grace cinema screens. The writing team get right inside Peter Parker's essential Clark Kent dilemma – between the confidence and assurance of superherodom and between the clumsy, often painful stumblings of ordinary life. They dig into all the character conflicts of the comic-book – Peter's feeling that his duty to being a superhero is causing problems in real life; his unrequited love and denial of feelings for Mary Jane (the entire film could almost be constructed as a riposte to the surprising downer that was left hanging at the end of the first film); his guilt over Uncle Ben's death; his desire not to allow Spider-Man be exploited by J. Jonah Jameson's sensationalism. Sam Raimi perhaps gives us a few too many scenes of Peter stumbling over his own feet, dropping his school books and the like but in terms of writing, the character is conducted with enormous strength. Indeed, the character of Spider-Man is so strongly developed that the central villain Dr Octopus almost takes a backseat to the other dramas at the forefront of the film.
The other person who has polished his act between this and the first film is special effects man John Dykstra, best known for Star Wars (1977). Dykstra conducts all the swoops, dives and camera acrobatics that he did in the first film and in ways that often make you cry out at the vertiginous virtuosity of it. The scenes with Spider-Man battling Dr Octopus as he rips off and throws bank vault doors and runs up and down the side of a building with Aunt May a hostage up is surely about as exciting as it is possible for a superheroic battle to get.
Sam Raimi later stages an equally breathtaking set-piece with Spider-Man and Dr Octopus fighting around the outside of an elevated train – with Spidey ducking oncoming trains, being dragged down along the street and ducking in between cars, fighting in and out of the carriages between commuters, with Doc Ock holding hostages up in his claws and throwing them off as Spidey tries to catch them in webs, and the climactic overture where Spider-Man uses first his legs and then his entire body to halt the out-of-control train. (Although, real world physics kept quibbling in the back of one's mind during these scenes. Superheroic strength and invulnerability is one thing but this is an act that would almost certainly snap the spine of anyone with less than titanium-strength bone structure as though it were a twig). Nevertheless, Spider-Man 2 is almost completely satisfying and successful as a superhero film. It is all that the first film should have been.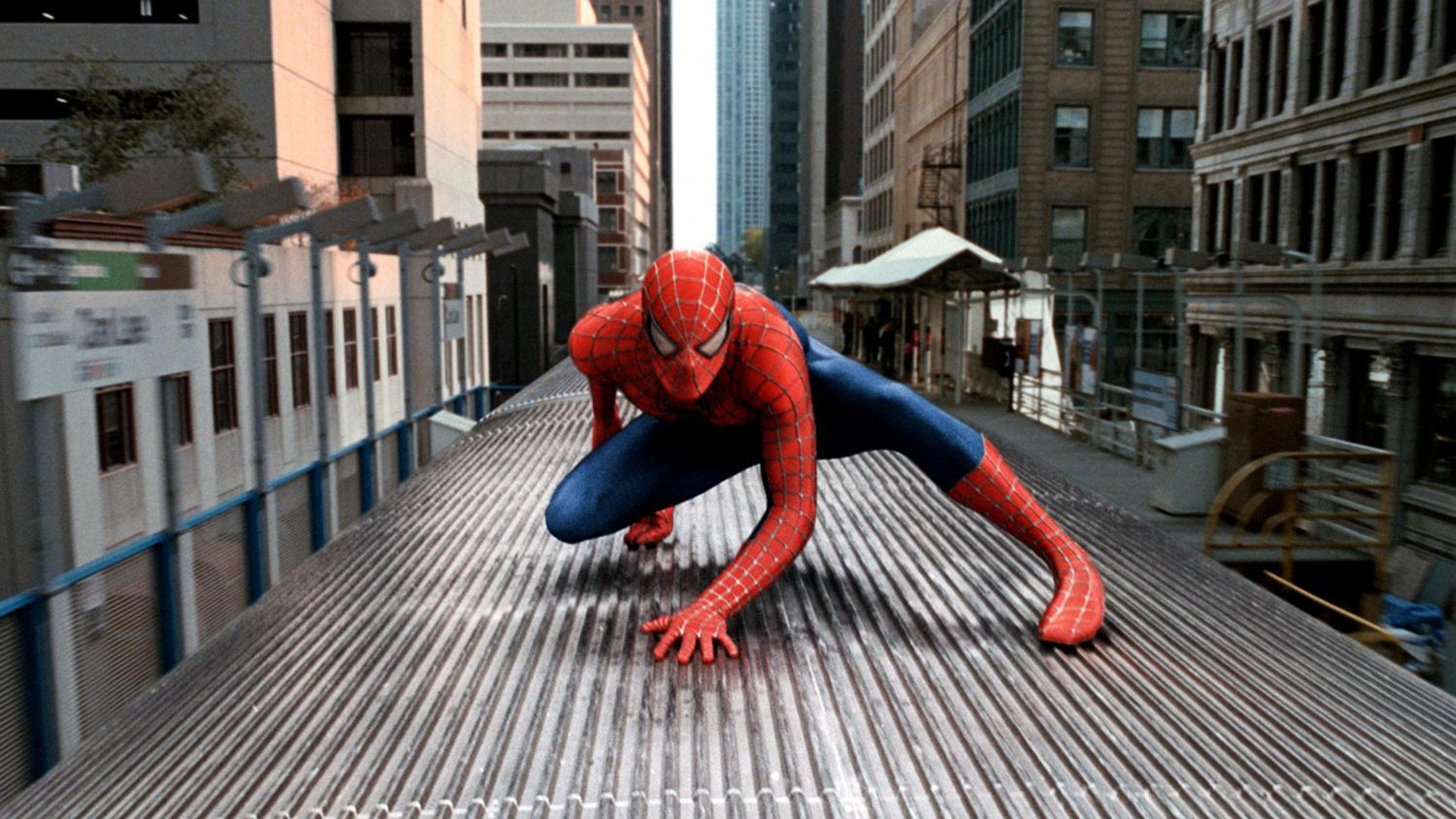 Sam Raimi, Tobey Maguire, Kirsten Dunst and most of the other principal talents returned for the next film Spider-Man 3 (2007). Raimi, Maguire et al quit after that point, however the series was subsequently rebooted with The Amazing Spider-Man (2012) and The Amazing Spider-Man 2 (2014). We then received yet another reboot of the series that goes back to Peter Parker's high school years with Spider-Man: Homecoming (2017), Spider-Man: Far from Home (2019) and Spider-Man: No Way Home (2021), featuring Tom Holland. The latter also features a reappearance from Tobey Maguire and Alfred Molina as Dr Octavius. Holland's Spider-Man also merged with the Marvel Cinematic Universe in Captain America: Civil War (2016) and appears in Avengers: Infinity War (2018) and Avengers: Endgame (2019). In addition, there was also the animated Spider-Man: Into the Spider-Verse (2018) and Spider-Man: Across the Spider-Verse (2023). Venom (2018) and its sequel Venom: Let There Be Carnage (2021), and Morbius (2022) were further spinoffs of the Spider-Man universe.
Sam Raimi's other genre films include:- the horror film The Evil Dead (1981) and its sequels The Evil Dead II (1987) and Army of Darkness (1992); the bizarre cartoonish crime drama Crimewave (1985); the dark superhero film Darkman (1990); the psychic thriller The Gift (2000); the horror film Drag Me to Hell (2009); Oz: The Great and Powerful (2013); and Doctor Strange in the Multiverse of Madness (2022). Raimi also co-wrote the Coen Brothers fantasy film The Hudsucker Proxy (1994) and produces the zombie film The Dead Next Door (1989) under the pseudonym The Master Cylinder. Sam Raimi has also had some success with his Renaissance Pictures production company, who have been particularly enterprising in the field of television fantasy. Theatrically, Renaissance have produced the bizarre Lunatics: A Love Story (1991), John Woo's American debut Hard Target (1993) and the Van Damme time-travelling action film Timecop (1993). On television, Renaissance have produced such genre works as the superhero series M.A.N.T.I.S. (1994-6), the smalltown Deviltry show American Gothic (1995) and then had enormous hits with the dual successes of the tongue-in-cheek revisitings of Greek myth and sword and sorcery with Hercules: The Legendary Journeys (1994-9) and Xena: Warrior Princess (1995-2001). These were followed by similar tongue-in-cheek series as Young Hercules (1998-2000), the futuristic Cleopatra 2525 (2000-2), the historical romp Jack of All Trades (2000-1) and the Evil Dead tv spinoff Ash vs Evil Dead (2015-8) and film reboot Evil Dead Rise (2023). Raimi has also formed the Ghost House Pictures production company and co-produced the likes of the American remake of The Grudge (2004), Boogeyman (2005), The Messengers (2007), Rise (2007), 30 Days of Night (2007), The Possession (2012), Evil Dead (2013), Poltergeist (2015), Don't Breathe (2016), The Unholy (2021) and the tv series Legend of the Seeker (2008-10) and 13: Fear is Real (2009) as well as Raimi Pictures that produced Crawl (2019), Umma (2022) and 65 (2023).
(Nominee for Best Adapted Screenplay and Best Special Effects at this site's Best of 2004 Awards. No. 2 on the SF, Horror & Fantasy Box-Office Top 10 of 2004 list).
---
---