aka The Amazing Spiderman
---
Crew
Director – E.W. Swackhamer, Screenplay – Alvin Boretz, Based on the Comic Book Created by Steve Ditko and Stan Lee, Producer – Edward J. Montagne, Photography – Fred Jackman, Music – Johnnie Spence, Electronic Music – Greg Hundley, Special Effects – Don Courtney, Art Direction – James Hulsey. Production Company – Danchuck Productions.
Cast
Nicholas Hammond (Peter Parker/Spider-Man), Thayer David (Edward Byron), David White (J. Jonah Jameson), Michael Pataki (Captain Barbera), Lisa Eilbacher (Judy Tyler), Jeff Donneli (Aunt May)
---
Plot
While working with radioactive materials, physics student Peter Parker is bitten by an irradiated spider. Afterwards, Peter finds that he has gained remarkable powers that now allow him to climb walls and sense danger just like a spider. He adopts a masked costume and starts using these powers to fight crime. This soon has him labelled 'Spider-Man' by the press. At the newspaper where he moonlights as a photographer, Peter is given the job of obtaining photographs of Spider-Man. He goes into action when blackmailer Edward Byron demands a fifty-five million dollar ransom from the city or else he will set loose ten people, each programmed with mind-control devices, to kill themselves at a designated hour.
---
The character of Spider-Man first appeared in Amazing Fantasy #15 in 1962, as created and written by Marvel Comics publisher Stan Lee and drawn by Steve Ditko. The character only appeared in one of several stories in that issue but response was overwhelming. (Interestingly, Stan Lee was initially advised against creating such a character on the supposition that people are frightened by spiders). Within less than a year, Spider-Man had earned his own comic-book Amazing Spider-Man and went upward from there to become the single most popular character in the Marvel Comics canon, the only character whose popularity was ever in danger of challenging Marvel's rival DC Comics's characters of Superman and Batman. Moreover, Stan Lee's dictum of creating superheroes with real world problems proved a novel spin that brought superheroics down to size and created a new inwardly drawn superhero.
In the 1970s, Spider-Man was one of a package of Marvel characters, including The Incredible Hulk, Dr Strange, The Human Torch, Captain America and Submariner, that were purchased for development for tv. This was the era of The Six Million Dollar Man (1973-8), The New Original Wonder Woman (1976-9) and just before the huge success of the Christopher Reeve Superman (1978) when the superhero was at a height of popularity. The Hulk was made into The Incredible Hulk (1977-82), a bland but popular combination of Dr Jekyll and Mr Hyde and The Fugitive (1963-7), starring Bill Bixby and with its pilot released cinematically as The Incredible Hulk (1977). The was a tv pilot made of Dr. Strange (1978) but this never went to series; there were two terrible Captain America pilots made Captain America (1979) and Captain America II (1979) but neither were picked up; Submariner was dumped because the character was too close to tv's The Man from Atlantis (1976-8); and the Human Torch was canned when some executive decided that it might inspire children to set themselves alight and jump out of windows.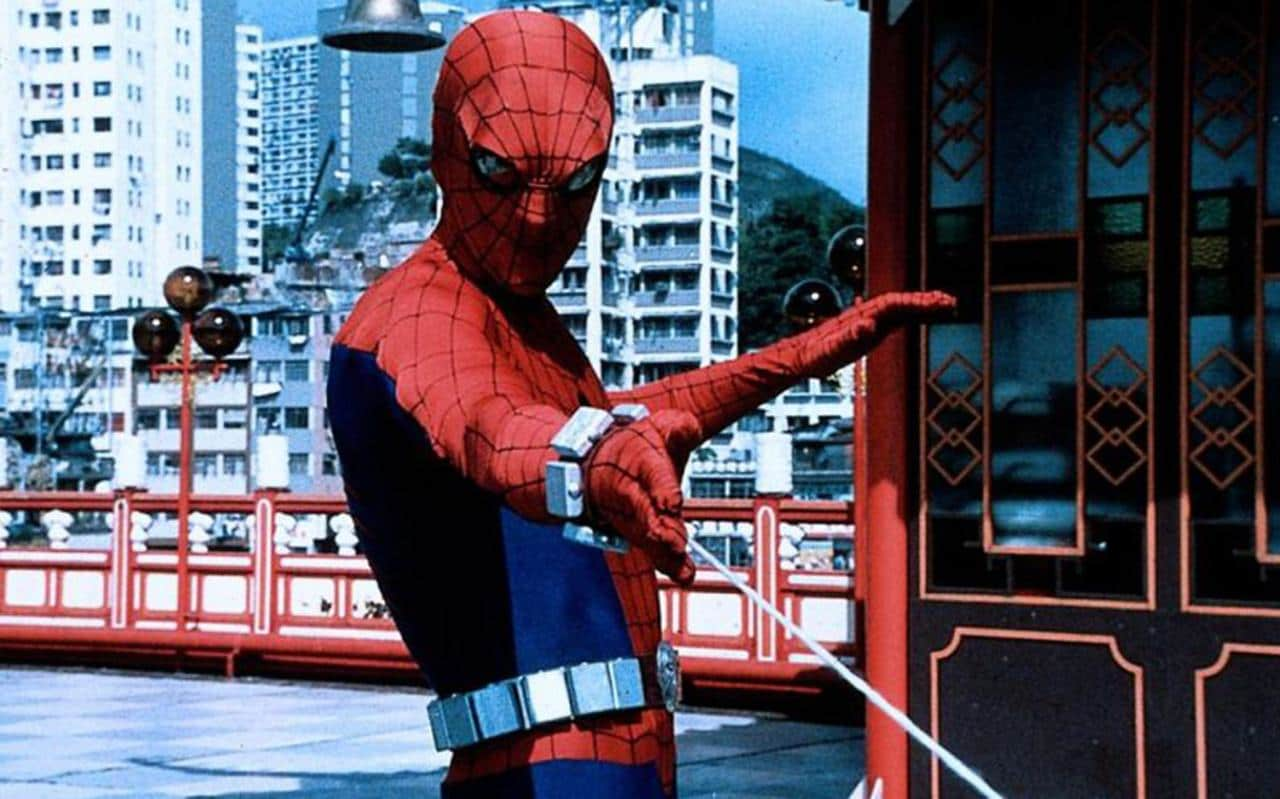 Out of these, Spider-Man became the basis of a short-lived tv series The Amazing Spiderman (1977-9), which only lasted for thirteen episodes that were never given any regular network scheduling. The Amazing Spiderman must be one of the dreariest tv series ever made. There was a complete lack of super-villains – the series merely involved Spider-Man taking on run of the mill criminals. Other than the costumed title character, it was no different from the average cop show of the time such as Kojak (1973-8) or Starsky and Hutch (1975-9). The episodes were directed in the dullest way imaginable and Nicholas Hammond made a completely blank Spider-Man.
This was the pilot for the tv series, which was released cinematically outside of the USA. Deservedly, the comic-book fans hated Spider-Man. It is too bland a film to ever be interesting and a silliness overrides most of the proceedings. Occasionally it has its small successes. It does get some of the characters right, albeit watered-down – like Peter Parker's nervousness and edgy double-identity dilemma, although this is badly overplayed and without subtlety by Nicholas Hammond. (As an actor, Nicholas Hammond astounds with the incredible lack of expressiveness he presents. His Spider-Man is bizarrely played as a Marcel Marceau-like mime). Better are the characters of Captain Barbera and J. Jonah Jameson, which are played with some of the crustiness of their comic-book originals, although these were watered down in the subsequent tv series.
The disco muzak score and weirdly atonal sound effects accompanying the action is often outlandishly inappropriate. The special effects are reasonable, with the swinging between and falls down the side of buildings being often breathtaking.
There were two further Spider-Man cinematic releases, both edited from episodes of the tv series – Spider-Man Strikes Back (1979), which was re-edited from the tv episodes The Deadly Dust) and Spiderman and the Dragon's Challenge (1980), which was re-edited from tv episodes The Dragon's Challenge). Spider-Man was later recreated in several highly successful big-budget, big-screen adaptations Spider-Man (2002), Spider-Man 2 (2004) and Spider-Man 3 (2007) starring Tobey Maguire; The Amazing Spider-Man (2012) and The Amazing Spider-Man 2 (2014) starring Andrew Garfield; and Spider-Man: Homecoming (2017), Spider-Man: Far from Home (2019) and Spider-Man: No Way Home (2021), featuring Tom Holland, as well as the animated Spider-Man: Into the Spider-Verse (2018), while Holland's Spider-Man also appears in Captain America: Civil War (2016), Avengers: Infinity War (2018) and Avengers: Endgame (2019). Venom (2018) and its sequel Venom: Let There Be Carnage (2021), and Morbius (2022) were further spinoffs of the Spider-Man universe.
E.W. Swackhamer was a director who worked almost entirely in television between the 1960s and his death in 1994, directing many episodes of classic series. His other genre works include the Hollywood ghost story tv movie Death at Love House (1976); the pilot for the Nicholas Hammond tv series that was theatrically released outside the US; The Death of Ocean View Park (1979) about a haunted amusement park; the tv pilot Vampire (1979); and the tv movie Bridge Across Time/Terror at London Bridge (1985) featuring a resurrected Jack the Ripper.
---
---