---
Crew
Supervising Director/Producer – Bob Richardson, Directors – Will Meugniot & Richard Sebast, Screenplay – Greg Johnson, Screen Story – Greg Johnson & Craig Kyle, Based on the Comic-Book The Ultimates by Bryan Hitch & Mark Millar, Music – Guy Michelmore, Music Supervisor – David Ari Leon, Animation – Dongwoo Animation Co., Supervising Animation Director – Tae-Ho Han. Production Company – Marvel Studios/MLG Productions 2, Inc.
Voices
Jeffrey D. Sams (Black Panther/Prince T'Challa), Justin Gross (Captain America/Steve Rogers), Marc Worden (Iron Man/Tony Stark), Nolan North (Hank Pym/Giant-Man), Grey DeLisle (Janet Pym/Wasp), Michael Massee (Bruce Banner), Olivia d'Abo (Black Widow/Natalia Romanoff), Nan McNamara (Professor Betty Ross), Dave Boat (Thor), Andre Ware (General Nick Fury), James K. Ward (Herr Kleiser), Mark Hamill (Dr Oiler), Fred Tatasciore (The Hulk/Jarvis), Dave Fennoy (King T'Chaka), Susan Dalian (Nakinda), Chi McBride (Chief Elder)
---
Plot
In the African kingdom of Wakanda, the prince heir T'Challa is witness as a man in a S.S. uniform slaughters his father King T'Chaka. Afterwards, T'Challa inherits the kingdom and his father's ability to transform into the Black Panther. T'Challa sees a newspaper photograph of Captain America fighting the same S.S. officer and heads to the USA to find Captain America and demand to know who the man is. In the aftermath of the Chitauri invasion, The Avengers are facing internal problems – Bruce Banner has been locked away as dangerous on Nick Fury's orders; Captain America refuses to take time off from fighting, not wanting to confront his own fears; while Hank Pym obsessively risks himself in his efforts to exceed 61 feet in height. After T'Challa confronts Captain America, Nick Fury suggests that The Avengers go to Wakanda to deal with Herr Kleiser, the S.S. officer, in actuality a Chitauri shapeshifter. T'Challa declines the offer because Wakanda has turned its back on the world and will permit no strangers to enter its borders. Fury orders The Avengers to covertly enter Wakanda but they take surprising damage at the hands of the Wakandan natives. A Chitauri ship then appears over Wakanda, creating a shield that spreads to cover the entire world, while sending out robotic creatures to attack en masse. The Chitauri are seeking to obtain a meteorite of vibranium buried beneath Wakandan soil. Though locked up and distrusted, Bruce Banner may hold the solution to defeating the Chitauri.
---
Ultimate Avengers II is a sequel to Ultimate Avengers (2006), one among a series of animated films based on Marvel Comics properties that were released direct to dvd in tandem with their big-budget live-action films. The Ultimate Avengers films are in turn based on The Ultimates (2002-4) by Mark Millar, a comic-book series that offers a reboot of the Marvel universe, interweaving together the origin stories of the various characters. In that Ultimate Avengers II follows directly on from Ultimate Avengers and features an almost identical production crew and voice cast, not to mention that the two films were released a few months apart, one assumes that both were made back-to-back.
Ultimate Avengers II follows on very closely from Ultimate Avengers continuity-wise. You could easily imagine the two as a single story arc in a weekly tv series, for instance. This certainly leads to some interesting developments on what has gone before as we see that the unit that became The Avengers in the last film is starting to fractionate off – Bruce Banner has been regarded as dangerously unstable and untrustworthy as a result of The Hulk's rampages and is kept locked up by the military and dosed with valium; Captain America has become grim and burned out, obsessively throwing himself into crime-fighting rather than confronting his (never specified) fears; Hank Pym has become egomaniacally obsessed with pushing his height higher at great personal risk.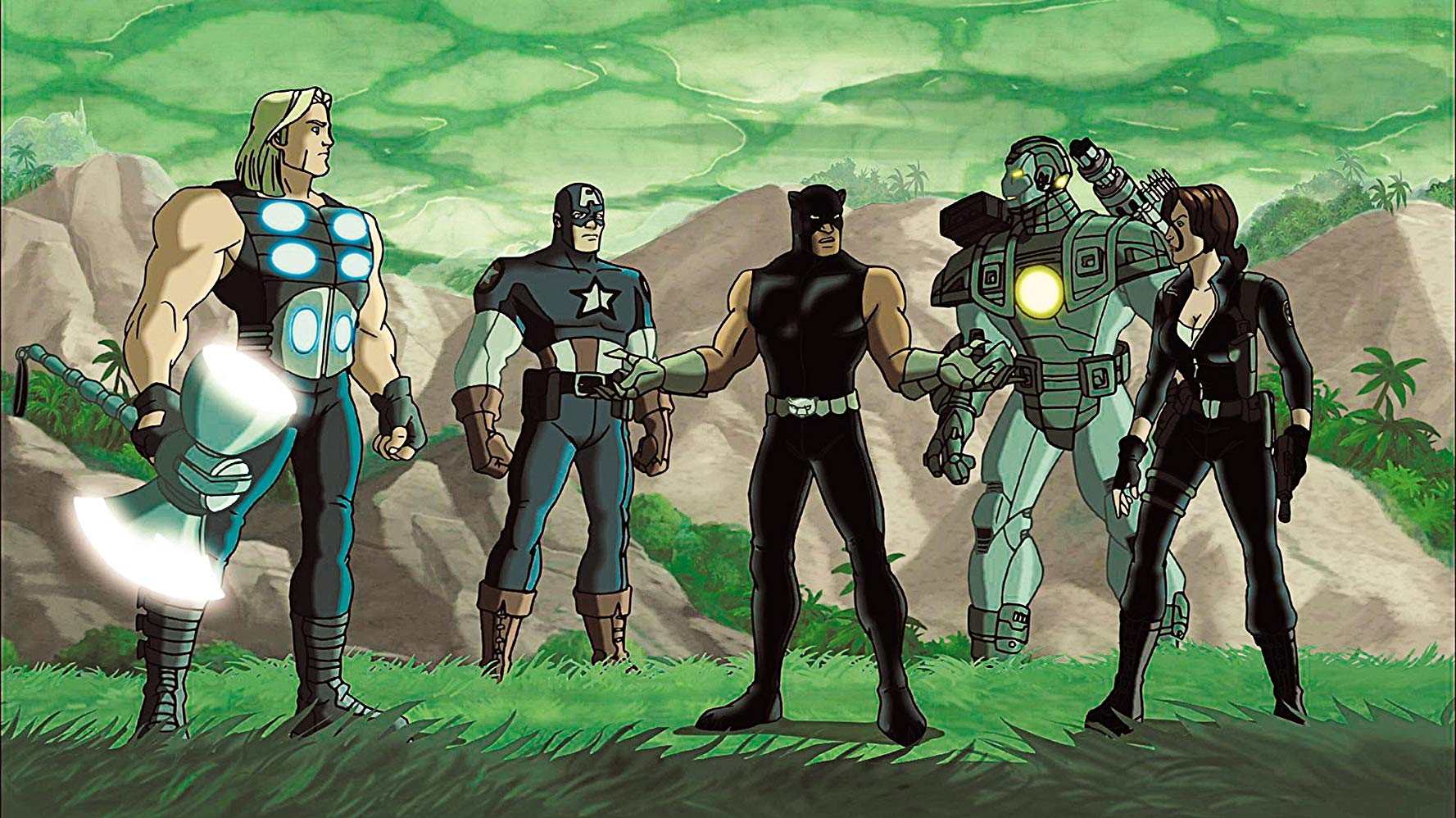 Ultimate Avengers stood up well. It introduced the characters and their various origin stories and brought them together in an epic-sized adventure. Ultimate Avengers II unfortunately falls too much in the shadow of that first film and fails to fully stand as its own work. Much of the film is spent playing catch up with where the first film left us and from there simply extruding what happened a little further. It lacks the same fun the first film had in the sense of the various origin stories of the well-known characters being woven together. It should be noted that while Ultimate Avengers reasonably followed the plot of The Ultimates, Ultimate Avengers II bears no resemblance the plot of the comic-book The Ultimates 2 (2004-7).
The one new character we get this time is that of Black Panther, who first appeared in 1966 and had the distinction of being the first ever Black superhero – Black Panther/T'Challa essentially becomes the central character of Ultimate Avengers II. The film reasonably closely follows the Black Panther origin story, introducing the death of T'Challa's father T'Chaka, Wakanda's closure to the rest of the world and the vibranium meteorite buried beneath the kingdom, albeit winding these in with the Ultimate Avengers backstory – for example, it is now the Chitauri who kill King T'Chaka as opposed to the super-villain Ulysses Klaw as in the comic-book. Black Panther was introduced in live-action to the Marvel Cinematic Universe as played by Chadwick Boseman in Captain America: Civil War (2016) and received his own film with Black Panther (2018).
Certainly, once it brings all the plot elements together, Ultimate Avengers II rises to a reasonably invigorating climax with the various superheroes fighting off the aliens. Some of the images of the alien invasion with attacking tripod machines have undeniably been borrowed from H.G. Wells' The War of the Worlds (1898). Nevertheless, Ultimate Avengers II is disappointingly perfunctory. Despite raising interesting character issues, they are not given adequate time to be satisfactorily developed. The plot seems too schematically developed and proceeds in a direct line towards its end without bringing any of its character issues to a satisfying closure.
---
---