---
Crew
Music – Guy Michelmore. Production Company – Marvel Studios/MLG Productions 6, Inc
Hulk Vs Wolverine
Crew
Supervising Director/Producer – Frank Paur, Screenplay – Craig Kyle & Christopher Yost, Animation Supervisor – Takuji Endo, Animation – Madhouse Studio.
Voices
Steve Blum (Wolverine/Logan), Fred Tatasciore (Hulk), Bryce Johnson (Bruce Banner), Nolan North (Deadpool), Janyse Jaud (Lady Deathstrike), Mark Acheson (Sabretooth), Tom Kane (The Professor), Colin Murdock (Omega Red)
Hulk Vs Thor
Crew
Director – Sam Liu, Screenplay – Christopher Yost, Story – Craig Kyle & Frank Paur, Producer – Frank Paur, Animation Supervisor – Takuji Endo, Animation – Madhouse Studio.
Voices
Fred Tatasciore (Hulk), Matt Wolf (Thor), Graham McTavish (Loki), Kari Wahlgren (Amora), Grey DeLisle (Sif), Bryce Johnson (Bruce Banner), Janyse Jaud (Hela), Jay Brazeau (Volstagg), Jonathan Holmes (Fandral), Paul Dobson (Hogun), Michael Adamthwaite (Balder), French Tickner (Odin)
---
Plot
Hulk Vs Wolverine:– Wolverine is employed by the military and sent into the Canadian wilderness to stop a rampaging Hulk. There he discovers that the Hulk is the alter ego of Bruce Banner. Both Wolverine and Banner are then captured by various mutants working for the Weapons X program. Realising that the Weapons X scientists intend to use the Hulk's genetic material to build an even more powerful soldier, Wolverine tries to stop this. Hulk Vs Thor:– In Asgard, it is the Odinsleep, the time when Odin must rest. This leaves the realm vulnerable and is an opportunity that the Ice Giants and other creatures take to attack. Loki snatches up Bruce Banner and with the help of the sorceress Amora is able to physically separate him from The Hulk. Loki then sends The Hulk to attack Asgard where he proves invulnerable to anything the Asgardians can bring against him. Thor realises that the only way to stop The Hulk is to reunite it and Banner.
---
Marvel Comics have had huge success on the big-screen from the beginning of the 2000s onwards. During this same period, DC Comics also enjoyed success with their dvd-released DC Universe Original Animated Movies. This was something that Marvel sought to replicate in a series of animated films. These include Ultimate Avengers (2006), Ultimate Avengers II (2006), Doctor Strange (2007), The Invincible Iron Man (2007), Next Avengers: Heroes of Tomorrow (2008), Thor: Tales of Asgard (2011) and Iron Man: Rise of Technovore (2013). These have never met the same success as their DC counterparts, despite the employment of some of the same creative personnel – Sam Liu, who directs Hulk Vs Thor, has become a near-ubiquitous in the DC Universe Original Animated Movies, for instance.
Hulk Vs is actually two short films, Hulk Vs Wolverine and Hulk Vs Thor. Hulk Vs Wolverine runs to 37 minutes, while Hulk Vs Thor comes in with slightly longer length at 45 minutes. Both come from the same creative team and both feature Fred Tatasciore, who has voiced The Hulk in numerous other Marvel animated and videogame incarnations, as The Hulk and Bryce Johnson as Bruce Banner. Both are standalone stories and it does not matter which order in which you watch them.
I had low expectations of these Marvel animated films, most of which have not been fairly average and nothing standout. It was thus that I was surprised by Hulk Vs, which easily emerge as the best of the bunch seen so far. Watching Hulk Vs Wolverine first, I was blown away. The entire segment has been conceived as no more than a superheroic punch-up set against the background of the Weapons X program who are wanting to make super-soldiers out of the Hulk's DNA. (In actuality, Hulk vs Wolverine is more of a Wolverine film that it is a Hulk film with Wolverine being the principal point-of-view character). Supervising director Frank Paur does a top-notch job with the superheroic action.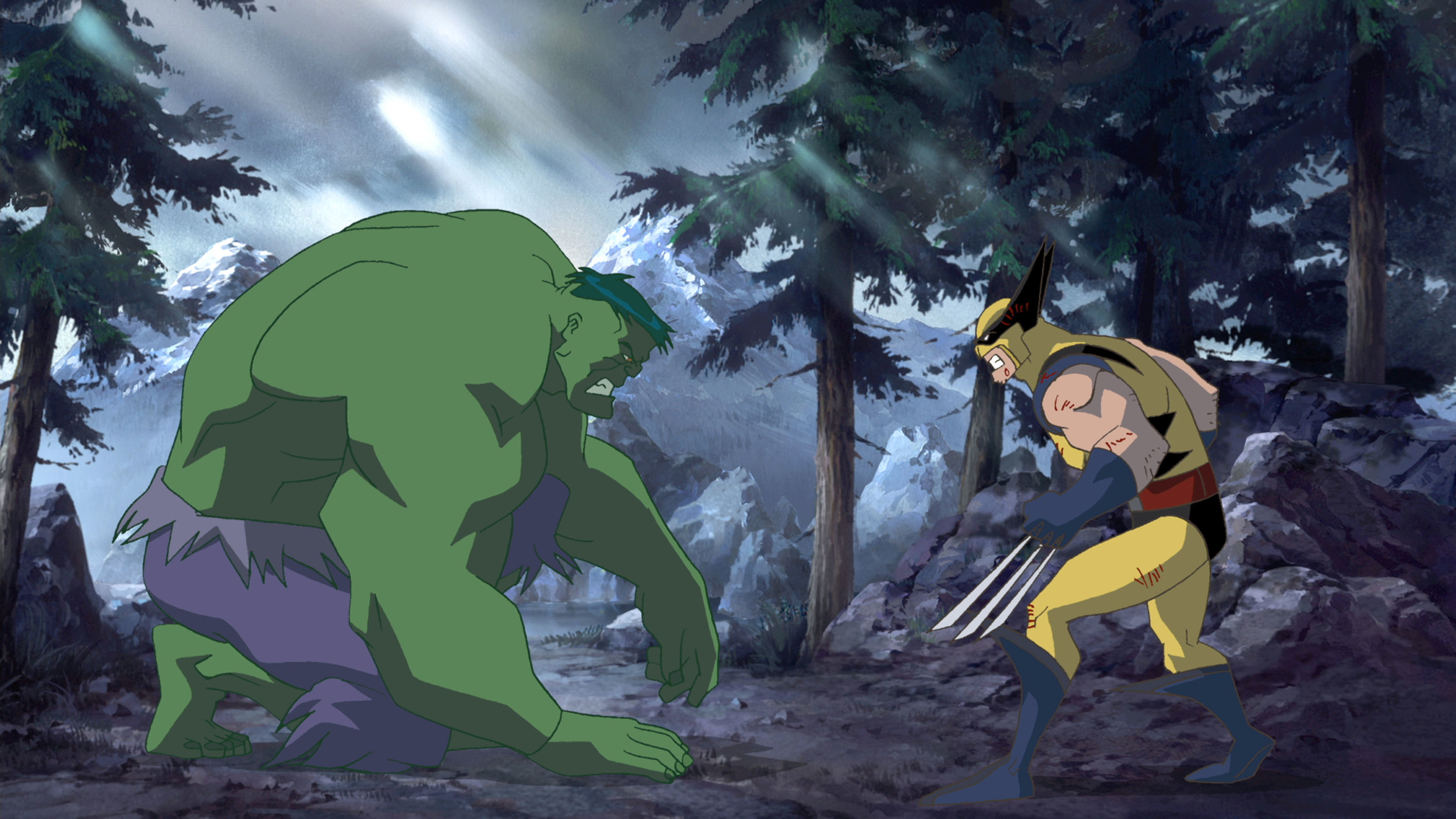 Recruited for the occasion are a number of B-list characters, including Sabretooth, Lady Deathstrike and Omega Red. The unexpected one among the bunch is Deadpool and the surprise is how much Hulk vs Wolverine gets the smartass backtalk and wry quips of the character down before Ryan Reynolds stepped into the part in Deadpool (2016) seven years later. If you weren't aware of the release dates, you would think that Hulk Vs came after Deadpool and they had modelled the character here on Reynolds' performance and voice.
After such a fine start with Hulk Vs Wolverine, Hulk vs Thor comes as somewhat quieter in nature. Like Hulk vs Wolverine, it has been construed as no more than a superheroic punch-up – there is slightly more plot added in that we have a rationale involving Loki snatching up Bruce Banner and using magic to physically separate he and The Hulk in order to turn The Hulk, now pure rampaging aggression, against Asgard. The battles are not quite as epic as in Hulk Vs Wolverine but the episode is not too bad, One should also note that this was made before Thor made his first film appearance in the Marvel Cinematic Universe in Thor (2011) and so he is incarnated in terms of the original comic-book design with a winged helmet.
Marvel made two subsequent Incredible Hulk animated films with Planet Hulk (2010) and Hulk: Where Monsters Dwell (2016).
---
---
Actors:
Steve Blum, Fred Tatasciore, Bryce Johnson, Nolan North, Janyse Jaud, Mark Acheson, Tom Kane, Matt Wolf, Graham McTavish, Kari Wahlgren, Grey DeLisle, Jay Brazeau, Jonathan Holmes, Paul Dobson, Michael Adamthwaite, French Tickner