---
Crew
Director – Richard Donner, Screenplay – Edward Khmara, Tom Mankiewicz & Michael Thomas, Story – Edward Khmara, Producers – Richard Donner & Lauren Shuler, Photography – Vittorio Storraro, Music – Andrew Powell, Visual Effects – Peter Donen & Robert Greenberg Associates, Special Effects – John Richardson, Production Design – Wolf Kroeger. Production Company – Warners/20th Century Fox.
Cast
Matthew Broderick (Philippe Gaston), Rutger Hauer (Etienne Navarre), Michelle Pfeiffer (Isabeau Anjou), Leo McKern (Imperious), John Wood (The Bishop of Aquila), Ken Hutchison (Captain Marquet)
---
Plot
The thief Philippe Gaston makes a remarkable escape from the dungeons of Aquila. He is rescued from pursuing soldiers by the sombre knight Etienne Navarre who takes him on as equerry. In his travels with Navarre, Philippe puzzles over the beautiful woman and the wolf that join them nightly. Slowly he pieces together the mystery surrounding Navarre. Navarre and the woman Isabeau Anjou were once lovers. However, the Bishop of Aquila desired Isabelle and placed a curse on them that made Navarre turn into a wolf by night and she a hawk by day. Now they are only ever able to touch for a single moment at sunrise and sunset.
---
At a time when the cinemas were filling with inept Italian copies of Conan the Barbarian (1982), this gentle romantic fantasy was a pleasant and surprising injection in the genre's creatively withering arm. Ladyhawke was made by Richard Donner who was had just come fresh from the huge success of Superman (1978). (See bottom of page for Richard Donner's other genre films). The script was from Edward Khmara, who also wrote the same year's sf film Enemy Mine (1985), along with a workover by James Bond series screenwriter Tom Mankiewicz.
Despite some problems – an overlong middle and a jarringly anachronistic modern rock score produced by 1970s progressive rock producer Alan Parsons – Ladyhawke is beautifully made. It is one of Richard Donner's best films, although was only a modest success when it came out. Donner directs with elan. There is a dizzyingly choreographed chase sequence at an inn with Matthew Broderick scurrying across trellises, under tables, between soldier's legs, even disguising himself as an old woman, which is a joy to behold.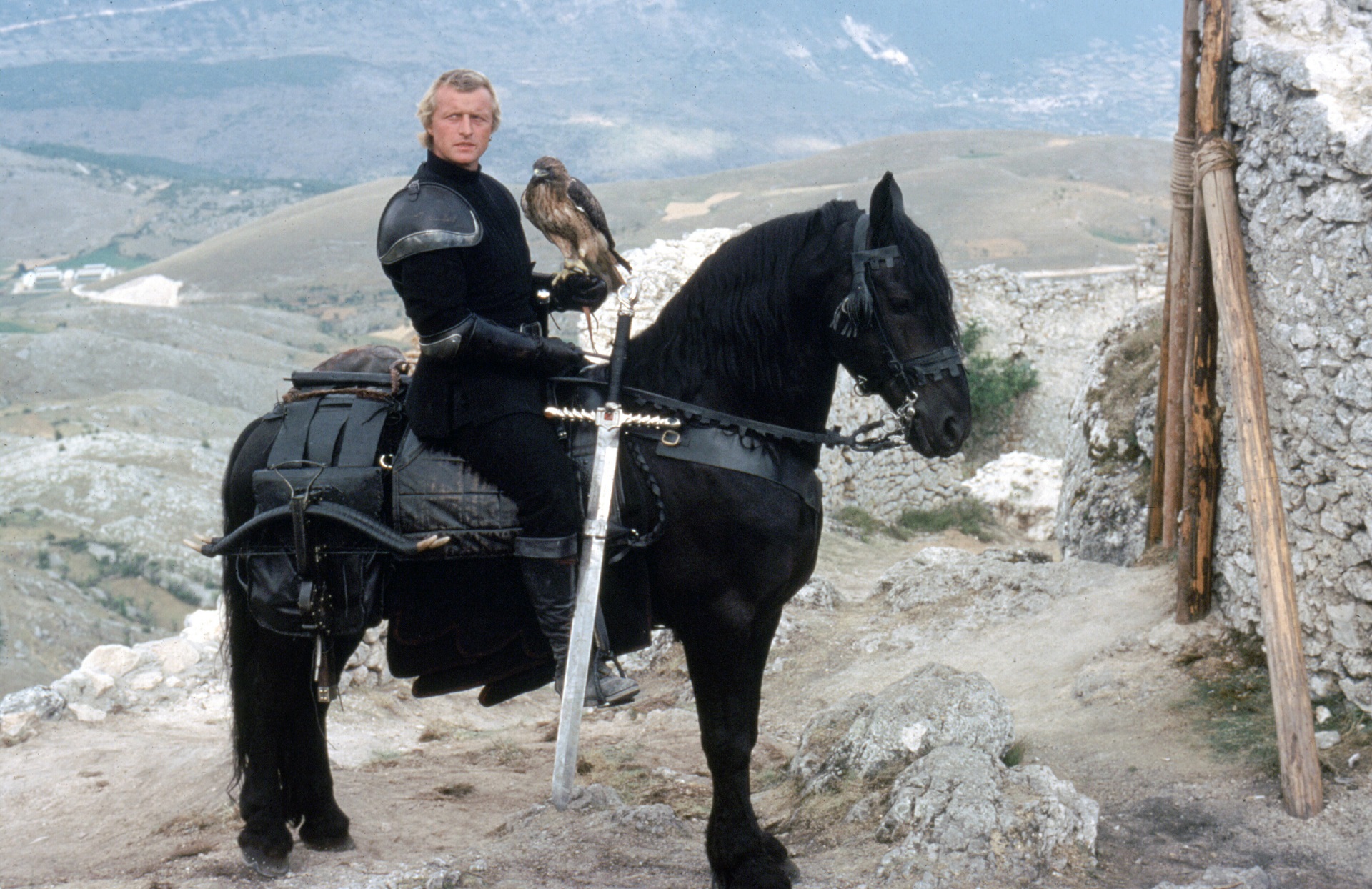 Cinematographer Vittorio Storraro's photography of the natural Italian locations is beautifully luminous – the entire film has the quality of mist-limned early morning-rise to it. Donner sweeps through the emotions without a misstep. The singly most beautiful scene is one with the wolf trapped in the ice and Michelle Pfeiffer coming to his aid with the two lovers touching in human form for a fleeting moment as the dawn rises. It is an exquisitely beautiful moment that remains in the memory long time after the film finishes.
The two romantic leads were Rutger Hauer, then fresh from his dynamic English-language debut in Blade Runner (1982), and a 27 year-old Michelle Pfeiffer in her first leading role. However, both seem somewhat mismatched in together. Rutger Hauer never ended up being the leading man he seemed eminently capable of being back in 1982. Here he brings merely stolidity to the role and lacks the necessary brooding qualities the part needs.
Cinematographer Vittorio Storraro conducts a seeming love affair with the pale porcelain beauty of Michelle Pfeiffer's features but she never becomes animated. The bland Pfeiffer is probably one of the more overrated actresses in Hollywood and here she never seems anything more than exquisite window dressing. On the other hand, Matthew Broderick, fresh from his successful debut in WarGames (1983), is a considerable delight, delivering a witty and engaging performance as an appealingly artful dodger.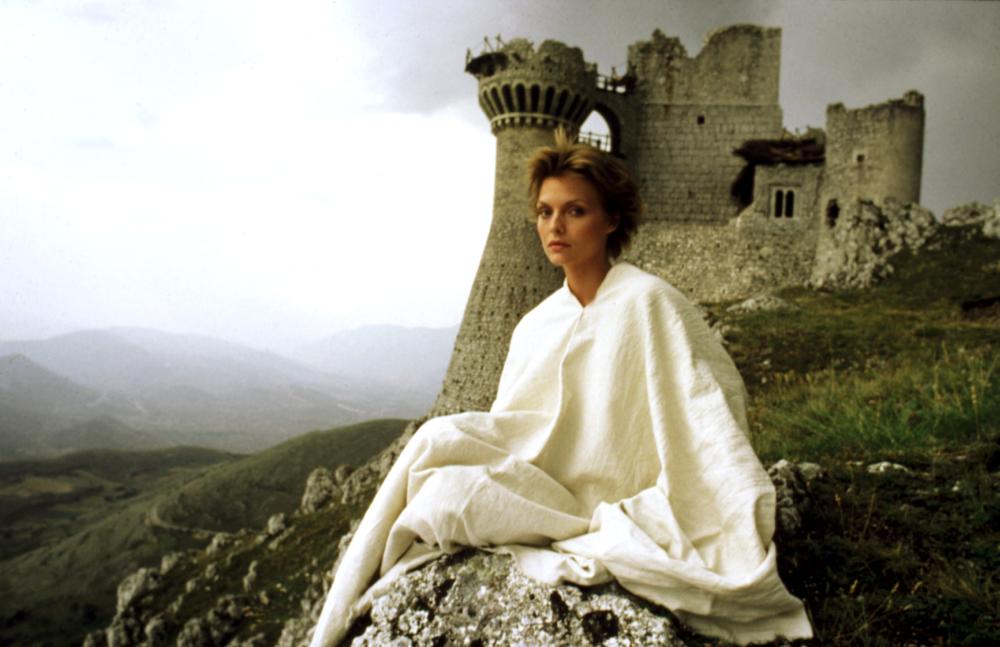 Richard Donner's other genre films are:– the classic anti-Christ film The Omen (1976); Superman (1978) and uncredited parts of Superman II (1980); the modernized Dickens tale Scrooged (1988); Radio Flyer (1992), an interestingly Spielbergian film about child abuse; the lame conspiracy/paranoia comedy Conspiracy Theory (1997); the time travel film Timeline (2003); and Superman II: The Richard Donner Cut (2006), his originally intended edit of Superman II (1980), which he had been removed from after much in-fighting with the producers.
In more recent years, Donner has less interestingly preoccupied himself with the bland Lethal Weapon films and has retired in the late 2000s. Donner also acts as producer on The Lost Boys (1987), the horror anthology tv series Tales from the Crypt (1989-96) and its two film spinoffs Tales from the Crypt Presents Demon Knight (1995) and Tales from the Crypt Presents Bordello of Blood (1996), Delirious (1991) about a writer trapped inside his own soap opera, the monster hunter film Matthew Blackheart (2002), the voodoo film Ritual (2002), and the comic-book adaptations X-Men (2000), Constantine (2005), X-Men Origins: Wolverine (2009) and X: First Class (2011).
---
---