(Låt den Rätte Komma In)
Sweden. 2008.
Crew
Director – Tomas Alfredson, Screenplay/Based on the Novel by John Ajvide Lindqvist, Producers – Carl Molinder & John Nordling, Photography – Hoyte Van Hoytema, Music – Johan Söderqvist, Visual Effects – Fido Film A.B. (Supervisor – Kaj Steveman), Production Design – Eva Noren. Production Company – EFTI/Filmpool Nord/Sandrew Metronome/Distribution Svierge/SVT/Chimney Pot/Fido Film/Ljudligan/WAG.
Cast
Kåre Hedebrant (Oskar), Lina Leandersson (Eli), Per Ragnar (Håkan), Patrik Rydmark (Conny), Peter Carlberg (Lacke), Ika Nord (Ginia), Karin Bergquist (Yvonne), Henrik Dahl (Erik), Karl Robert Lindgren (Gosta), Cayetano Ruiz (Mr Avila), Rasmus Luthander (Jimmy), Mikael Rahm (Jocke)
---
Plot
Twelve year-old Oskar is a schoolboy in the town of Vallingby near Stockholm and is badly bullied at school. While playing outside, Oskar meets Eli, a girl that seems his own age and lives in the apartment next door. She is cared for by Håkan who goes out and kills, stringing people upside down and draining their blood to bring back for Eli to drink. Fear of the killings is soon all over the news. Eli inspires Oskar to stand up and hit back at his bullies and he does so, placing the lead bully Conny in hospital. Håkan then fails in his latest kill and commits suicide by pouring acid over his face. This means that Eli is left on her own, having to go out and make her own kills. As the two of them become closer and Oskar starts to realize what she is, she tries to warn him away.
---
Let the Right One In is a strong and unusual variant on the vampire film from Sweden. The film is based on the 2007 debut novel of the same name by John Ajvide Lindqvist who also writes the screenplay for the film. Probably the starting point for Lindqvist was the character of Claudia, the woman who is eternally frozen in the unaging body of a pre-pubescent girl, in the Anne Rice novel/film Interview with the Vampire: The Vampire Chronicles (1994).
Far more so than it is a vampire film, Let the Right One In is a film about friendship and the closeness that slowly grows between young, bullied Kåre Hedebrant and the alien nevertheless warm-hearted Lina Leandersson. Tomas Alfredson shows these scenes with a real tenderness and vulnerability. Indeed, rather than any full on horror effect, the tone of the film resides among these soft, tender moments. Rather than Gothic mansions and night shadows, the backdrop of the film is the never-ending range of dreary urban apartment blocks and perpetually drab and washed-out light levels that seem to fill almost any contemporary Scandinavian film.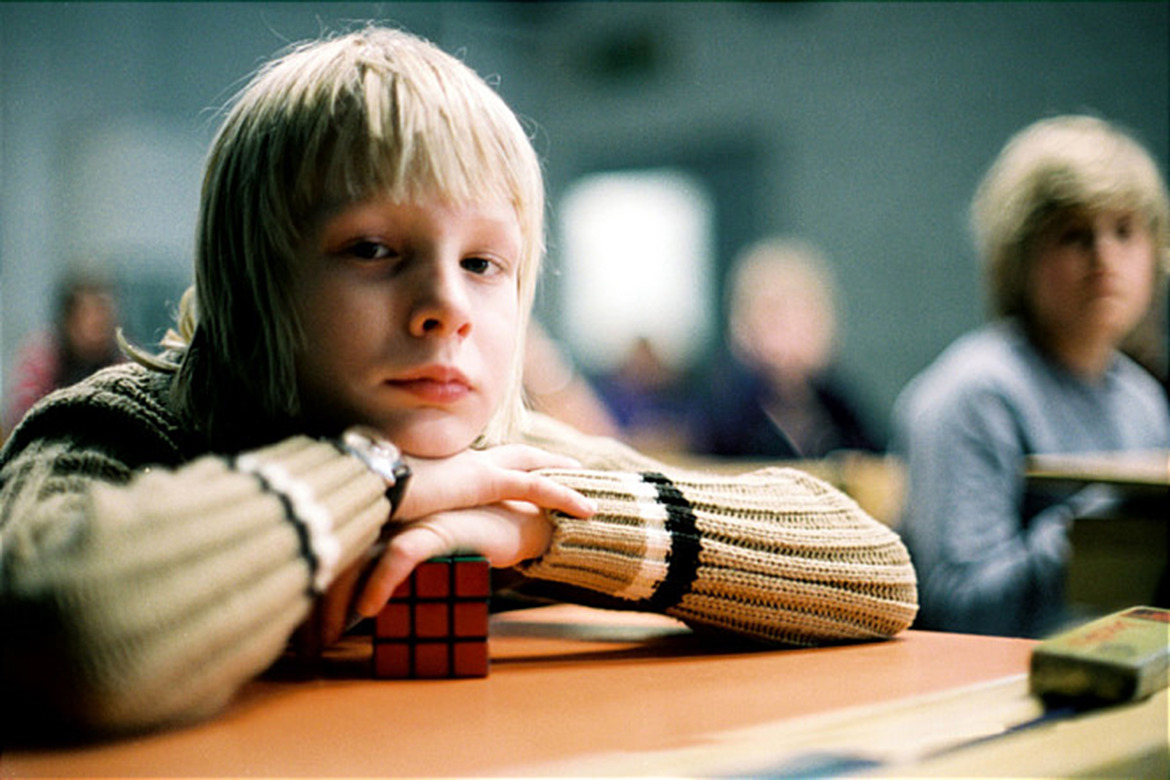 Certainly, this is contrasted with a number of moments of shock effect – Lina Leandersson calling for help from under a bridge and then pouncing on Mikael Rahm as he goes to her aid; the scenes with Per Ragnar hanging a victim upside down, gutting them and draining their blood into a jerry can.
The film covers most of the basics of vampire mythology and in new ways that are often fascinating to see. Like the scene where Kåre Hedebrant beckons Lina Leandersson to come over the threshold without being invited in to see what happens and she does but then starts to bleed from most of her openings. Or where a suicidal Ika Nord beckons an orderly to open the curtain to the naked daylight and she bursts into flame; or of Lina Leandersson seen scuttling vertically up several stories of the outside of the hospital. She keeps a coffin in the bath and the very last image of the film is the appealing one of Kåre Hedebrant on a train tapping Morse Code to a cardboard coffin beside him. There is even the subtle, never-seen suggestion that she can fly. For all this, director Tomas Alfredson surprisingly admitted in interviews to knowing little about vampire films prior to making Let the Right One In – the surprise of the film is then that he manages to do things in a way that fascinatingly reinterprets the elements of the genre.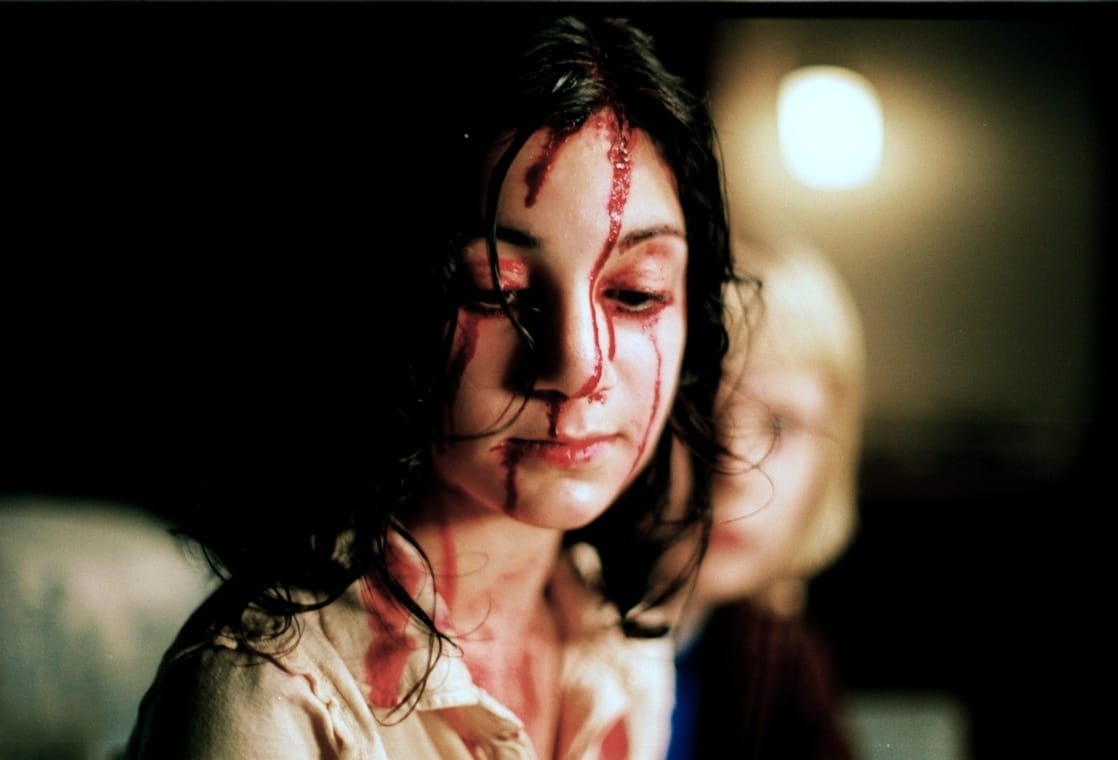 There is an excellent performance from Lina Leandersson as the vampire girl, where she radiates strength and intelligence well beyond her years. The young Kåre Hedebrant is also good. Chosen for his blonde hair and almost albinoid looks, he could almost be the vampire himself and even leaves one thinking that he is for a few minutes into the film.
Let Me In (2010) was a surprisingly good English-language remake starring Chloe Moretz in the Lina Leandersson role and with Kodi Smit-McPhee as the boy. The story was relocated from Sweden to New Mexico in the 1980s but remains surprisingly faithful to all the elements of this film.
Tomas Alfredson subsequently went onto the English-language John Le Carre spy thriller Tinker, Tailor, Soldier, Spy (2011) and the international production of the Norwegian serial killer thriller The Snowman (2017).
(Winner in this site's Top 10 Films of 2008 list. Nominee for Best Actress (Lina Leandersson) at this site's Best of 2008 Awards).
---
---