(Nosferatu, Phantom der Nacht)
---
West Germany/France. 1979.
Crew
Director/Screenplay/Producer – Werner Herzog, Based on the Novel Dracula by Bram Stoker and 1922 Film Nosferatu Written by Henrik Galeen, Photography – Jörg Schmidt-Reitwein, Music – Florian Flicke & Popol Vuh, Special Effects – Cornelius Siegel, Makeup – Dominique Ansambl Gordela & Reiko Kruk, Production Design – Ulrich Bergfelder & Henning von Gierke. Production Company – Werner Herzog Filmproduktion/Gaumont.
Cast
Klaus Kinski (Count Dracula), Bruno Ganz (Jonathan Harker), Isabelle Adjani (Lucy Harker), Walter Ladengast (Dr Van Helsing), Roland Topor (Renfield)
---
Plot
Real-estate agent Jonathan Harker leaves his hometown of Wismar and travels to Transylvania to complete a property sale for Count Dracula. However, the pale, rat-like Dracula drinks Jonathan's blood and then leaves him locked in his castle while he departs for Wismar. Dracula arrives in a ship filled with plague-infected rats. As Wismar succumbs to the plague, Dracula emerges at night to drink his fill. Captivated by the beauty of Jonathan's wife Lucy, Dracula determines to make her his.
---
1979 heralded a big vampire movie revival. The same year also saw the lavish Dracula (1979) remake with Frank Langella, the tv adaptation of Stephen King's Salem's Lot (1979), a tv pilot called Vampire (1979) and the spoofy Love at First Bite (1979) – even the silly Nocturna: Dracula's Granddaughter (1979), the sex comedy Dracula Blows His Cool (1979) and Nightwing (1979) featuring killer vampire bats. Nosferatu the Vampyre was a direct remake of Nosferatu (1922), the silent classic that was the first ever vampire film and the first (unofficial) screen adaptation of Dracula (1897).
The remake comes courtesy of German director Werner Herzog. Werner Herzog had made films like The Mystery of Kaspar Hauser (1974) and Strosczek (1977) but was then mostly known for Aguirre, the Wrath of God (1977) and the later Fitzcarraldo (1982), the latter two being made under extraordinarily arduous conditions where Herzog took entire film crews into the Amazonian rainforest. In more recent years, Herzog has moved into documentary with works like Echoes from a Somber Empire (1990), Bells from the Deep (1993), Gesualdo: Death for Five Voices (1995), Little Dieter Needs to Fly (1997), Wings of Hope (2000), The White Diamond (2004), Grizzly Man (2005), Encounters at the End of the World (2007), Cave of Forgotten Dreams (2010), Into the Abyss (2011), Queen of the Desert (2015), Into the Inferno (2016), Lo and Behold, Reveries of the Connected World (2016), Meeting Gorbachev (2018) and occasional dramas with Invincible (2001), Rescue Dawn (2006), The Bad Lieutenant – Port of Call: New Orleans (2009), My Son, My Son, What Have Ye Done (2009) and Salt and Fire (2016).
The original Nosferatu was controversial when it came out because the filmmakers had failed to obtain the screen rights to the Dracula story from Bram Stoker's widow. Attempts were made to disguise the connection by naming Dracula as Count Orlock but she successfully sued and all prints of the film were ordered destroyed. By the time of this remake, Dracula was in public domain and Werner Herzog was free to name the characters Dracula, Jonathan Harker, Van Helsing and so on.
As adaptations go, Werner Herzog launches into the book with a determination to shake up expectations of the story. Van Helsing is played as an indecisive old duffer rather than a sharp-witted savant who, when he finally does get around to staking the vampire, is promptly arrested for murder. The ending with a now vampiric Jonathan Harker riding off along a beach to take Dracula's place certainly makes for the most divergent of any version of the Bram Stoker tale to date.
In the original Nosferatu, director F.W. Murnau invoked a world of the wholly fantastique surrounding the vampire. There was the sense of having stepped over a physical line into a world that operated on almost Mediaeval notions. (Murnau's later Faust (1926) embraces an even more comprehensive Mediaeval worldview with images of the Four Horsemen of the Apocalypse and a personified Death covering an entire town in the shadow of its cloak).
On the other hand, Werner Herzog is a very different filmmaker to F.W. Murnau. Herzog is a painstaking realist and his films reject easy Hollywood dramatic cliches. Herzog is renowned for going to extraordinary lengths to make films, including twice trekking into the Amazonian rainforest, recruiting native tribes as extras and building entire settlements, which he had to settle into over two seasons when his production was rained out.
With Werner Herzog being such a concertedly realist filmmaker, it is as though F.W. Murnau's sense of a palpably fantastical otherworld is something alien to him. The most otherworldly Nosferatu the Vampyre gets is Jonathan Herher's journey through the rawly natural mountain terrain accompanied by a languidly dreamy score by German avant garde rock group Popol Vuh (who for some reason take their name from the Mayan holy book). Herzog rejects almost any sense of Klaus Kinski's Nosferatu as a supernatural being. There are no scenes here, as in the original, of Nosferatu vertically rising up out of his coffin or disappearing like a transparent wraith. This Dracula never demonstrates any supernatural powers, rather Klaus Kinski's vampire is a sad and pitiful creature whose condition is relayed solely in physical terms.
Werner Herzog conducts some often shot-for-shot copies of scenes from the original. Other times though the film is quite variant. Where F.W. Murnau was influenced by the Expressionist lighting schemes of The Cabinet of Dr Caligari (1919), Werner Herzog draws upon classical artwork – Expressionistic images of Dracula's giant bloated shadow moving along a whole wall impressively vie with the totentatz and Last Supper tableaux of the dying townspeople in the rat-infested streets, while Isabella Adjani's Lucy is modelled as a pre-Raphaelite Madonna in a performance given entirely in the weeping, fainting fits of a Gothic heroine.
One of Werner Herzog's greatest successes is the casting of his frequent collaborator Klaus Kinski as Dracula. (Kinski had previously played Renfield in an earlier adaptation of Stoker Count Dracula (1970) up against Christopher Lee's Dracula). Kinski is made up like Max Schreck in the original – bald and pale-faced, in high black Chinese collar and six-inch fingernails. However, where Max Schreck played the part as an otherworldly figure of piercing unearthly intensity, Klaus Kinski plays with a creepy whimpering shuffle. His Nosferatu seems like a frightened rat emerging into the daylight, ever so cautiously trying to find the acceptance of human company. It is a wonderful performance on Klaus Kinski's part and the sad, haunted soliloquies Herzog writes for him are marvellous.
As with the Murnau original, Dracula is not seen as a sensual seducer – as he is seen in most English-speaking versions of the story – but as a figure associated with rats and the Black Plague. Werner Herzog also keeps the original metaphor in the 1922 film of the town of Wismar as a stylised, idyllic centre of petty bourgeoisie values and Dracula as an incarnation of Mediaeval Death baying at the door. Interestingly, Herzog and his crew were refused permission to shoot in the original Bremen locations used by Murnau in the original, so travelled to the Dutch town of Delft instead. However, after shooting began and it was learned that they were planning to release a horde of rats throughout the town, the town's mayor refused further permission and the production was forced to relocate in Germany to shoot the rat scenes.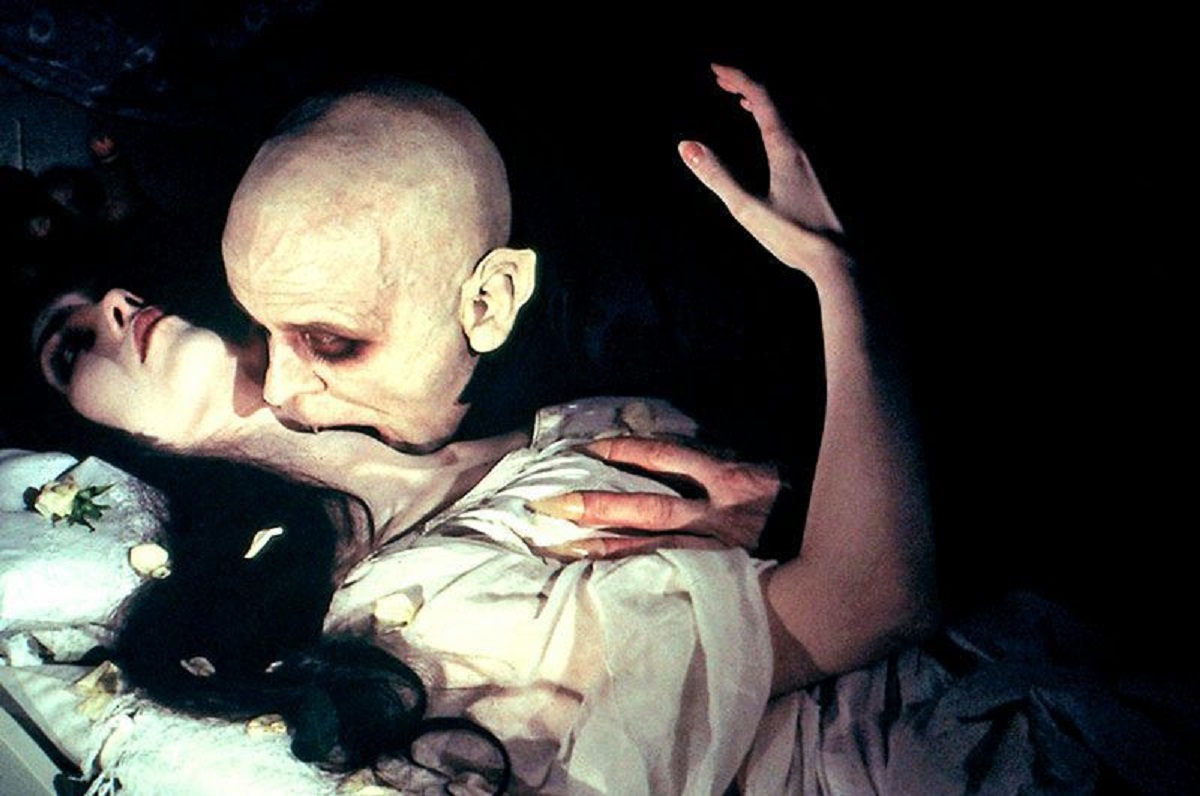 Nosferatu the Vampyre was sequelised, sans Werner Herzog but with Klaus Kinski and this time a full head of hair, in the dull Nosferatu in Venice/Vampires in Venice (1988).
Werner Herzog's other genre films include the surreal Even Dwarfs Started Small (1970) and the subsequent The Wild Blue Yonder (2005), a mockumentary about alien visitors, and the true crime film My Son, My Son, What Have Ye Done (2009). Herzog also starred in and produced the amusing mockumentary Incident at Loch Ness (2004). Later Herzog documented his tempestuous love/hate working relationship with the seemingly half-deranged Klaus Kinski, which stretched through four films, in the documentary My Best Fiend (1999).
The part of Van Helsing was played by the late Belgian writer and theatre director Roland Topor, who also designed and wrote the screenplay for the French animated sf film Fantastic Planet (1973), provided the novel and screenplay for the wonderfully paranoid Roman Polanski film The Tenant (1976), and script and art direction of the hilariously perverse Belgian talking animal puppet version of the Marquis de Sade story Marquis (1990).
Other adaptations of Dracula are:– Nosferatu (1922); Dracula (1931) with Bela Lugosi; the Spanish language version Dracula (1931) shot on the same sets as the Lugosi version starring Carlos Villarias; Hammer's classic Dracula/The Horror of Dracula (1958) with Christopher Lee; Dracula in Pakistan (1967), an uncredited remake of the Hammer film; the Spanish Count Dracula (1970) also with Christopher Lee; the cinematically-released tv movie Dracula (1974) with Jack Palance; Count Dracula (1977), the BBC tv adaptation with Louis Jourdan; the lushly romantic Dracula (1979) with Frank Langella; Francis Ford Coppola's visually ravishing Bram Stoker's Dracula (1992), featuring Gary Oldman; Guy Maddin's silent ballet adaptation Dracula: Pages from a Virgin's Diary (2002); the modernized Italian tv movie version Dracula (2002) with Patrick Bergin; the BBC version Dracula (2006) with Marc Warren; the low-budget modernised Dracula (2009); Dario Argento's Dracula (2012) with Thomas Kretschmann as Dracula; the low-budget Canadian Terror of Dracula (2012) with director Anthony D.P. Mann as Dracula; the tv series Dracula (2013-4) with Jonathan Rhys Meyers; the BBC mini-series Dracula (2020) starring Claes Bang; Bram Stoker's Van Helsing (2021), which actually features no Dracula; and The Asylum's Dracula: The Original Living Vampire (2022) with Jake Herbert.
---
---