USA. 1975.
Crew
Director – Jack Starrett, Screenplay – Wes Bishop & Lee Frost, Producer – Wes Bishop, Photography – Robert Jessup, Music – Leonard Rosenmann, Special Effects – Richard O. Helmer. Production Company – Saber-Maslansky/20th Century Fox.
Cast
Peter Fonda (Roger Marsh), Warren Oates (Frank Stewart), Lara Parker (Kelly Marsh), Loretta Swit (Alice Stewart), R.G. Armstrong (Sheriff Taylor)
---
Plot
Dirtbike racer Roger Marsh, his sponsor Frank Stewart and their respective wives take a holiday, driving a campervan across Texas. Stopping for the night in a field, a drunken Roger and Frank inadvertently witness a Satanist ritual that culminates in the sacrifice of a girl. They are seen and the Satanists pursue, determined to kill them. A furious cross-country chase ensues. In trying to find help along the way, they discover that even the local authorities in towns across the state are part of the Satanist conspiracy.
---
The way that Race with the Devil was publicised, particularly in its title, it seemed to offer the intriguing notion of a car chase between the cast and the Devil. It set up the intriguing suggestion of something akin to a combination of the surreal cult classic Vanishing Point (1971) and Angel Heart (1987). Or perhaps what would later emerge as Drive Angry (2011).
All of which contrives to make the film sound much more interesting than it is. In fact, the Horned One is only providing a billboard name and does not even appear in the film, while all the pursuit throughout is being conducted by his minions. The film is more akin to the climactic tanker chase in Mad Max 2 (1981) extended to a feature-length film and with hooded Devil worshippers instead of mohawked wasteland crazies.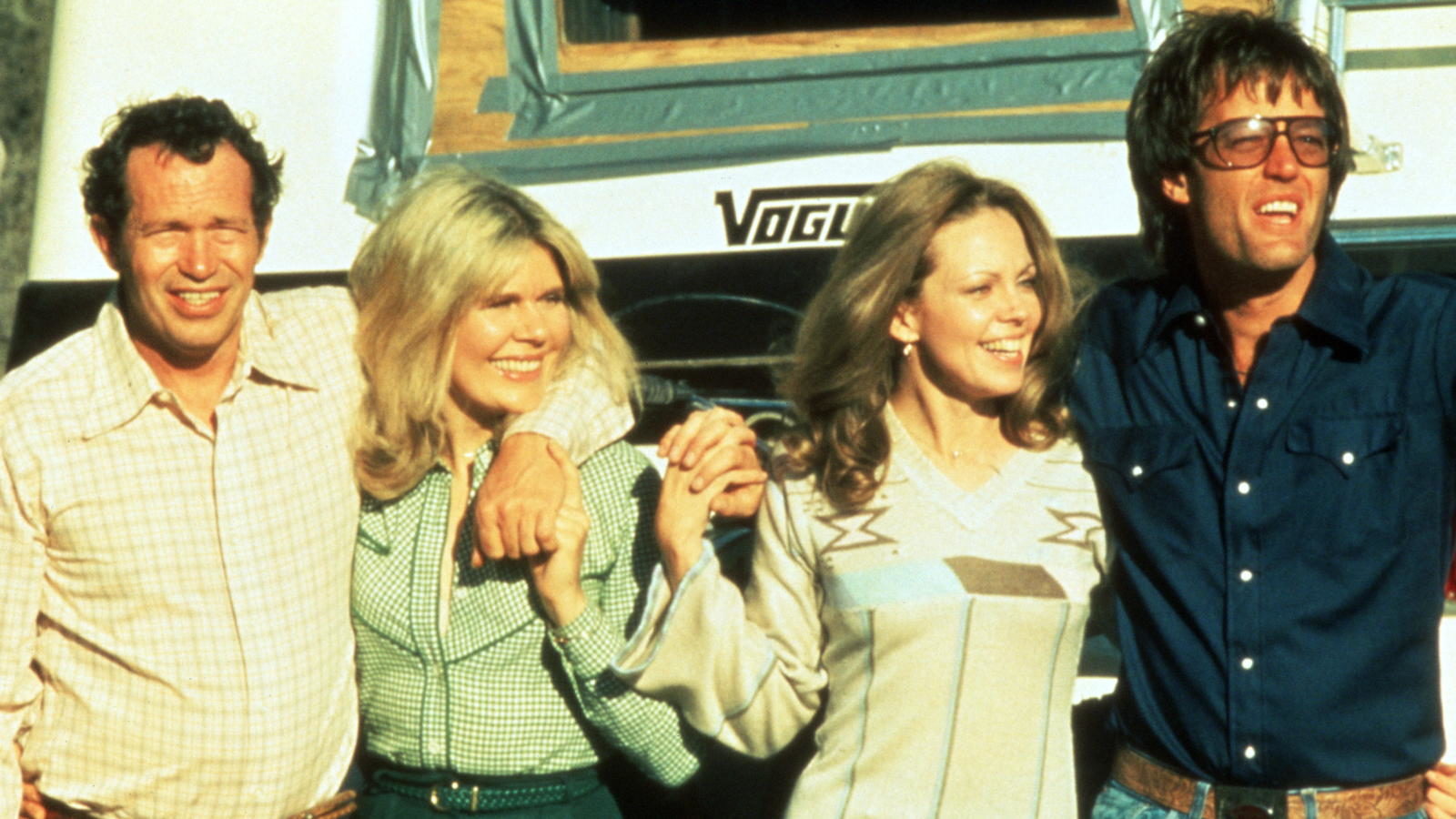 Race with the Devil mounts to disappointingly little. The story holds few surprises, mainly rehashing the credibility-defying coincidences and happenstance non-sequitirs of these occultic shenanigans that have become over-familiar through airing mainly in US-tv Movies of the Week.
Certainly, the fierceness of the action element does carry it some of the time, even when it does get rather over-the-top. Director Jack Starrett certainly generates an intriguing sense of a group of people at siege from a fierce onslaught that occasionally touches on the savage sense of propriety that we saw in Straw Dogs (1971). There are some decent jolts and a certain frenetic urgency generated.
Overall, Race with the Devil remains disappointingly light – it has only been conceptually brought together as a car chase film in the same vein of the success of the Peter Fonda vehicle Dirty Mary, Crazy Larry (1974) that has been mashed up with the then-1970s fad for Satanism and occult inspired by the popularity of Rosemary's Baby (1968) and The Exorcist (1973). The cast are not required to do more than act tough or scream, depending on their sex.
In 2005, a remake of Race with the Devil was announced by Chris Moore, although this has yet to emerge.
---
---