---
Crew
Director – Paul Currie, Screenplay – Nathan Parker & Todd Stein, Story – Todd Stein, Producers – Paul Currie, Bruce Davey, Steve Hutensky & Jodi Matterson, Photography – David Eggby, Music – Lisa Gerrard & David Orr, Visual Effects Supervisor – Simon Maddison, Visual Effects – Cumulus Visual Effects (Supervisor – William Gammon), Cutting Edge (Supervisors – Jonathan Dearing & Alex Lay), Plural & Flywheel Entertainment (Supervisor – Juan Robertson), Special Effects Supervisor – Tim Riach, Production Design – Michelle McGahey. Production Company – Lightstream Pictures/Walk the Walk Entertainment/Wild Eddie/Ingenious/2929 Productions/Screen NSW.
Cast
Michiel Huisman (Dylan Branson), Teresa Palmer (Sarah Barton), Sam Reid (Jonas Erdman), Richard Davies (Inky), Maeve Dermody (Sandy), John Waters (Bill), Kerry Armstrong (Catherine)
---
Plot
Dylan Branson works as an air traffic controller at New York's JFK Airport. He is very much attuned to the rhythms and patterns of life around him. One day, his inner tempo is off and he is only able to save two planes from colliding by a narrow margin. Afterwards, he is placed on a leave of absence. At a ballet performance, he meets and is attracted to art gallery manager Sarah Barton. With time on his hands, Dylan becomes aware how certain patterns repeat themselves every day – the same people he passes in the street saying the same things, the same noises and small inconsequential happenings. He becomes obsessed with these patterns, believing they draw him to Grand Central Station to something that happens at 2:22 every day and that this is a premonition of events to happen. As he becomes more obsessed, he believes that a murder that happened between a woman and the two men she was torn between back in 1986 is repeating itself between himself, Sarah and her ex Jonas.
---
2:22 was the second feature film from Australian producer/director Paul Currie. Currie had previously directed One Perfect Day (2004), a similar kind of life-changing drama, and a couple of sports biopic tv documentaries. Beyond that, he also has several credits as a producer, most notably on Mel Gibson's Hacksaw Ridge (2016).
2:22 is a head-scratching oddity that left me not know what to make of much of the film for most of the running time. You feel like it is trying to be a variant on Groundhog Day (1993) and one of the films that have come out copying its timeloop theme – Repeaters (2010), Source Code (2011), Edge of Tomorrow (2014), Before I Fall (2017), Naked (2017) etc.
Here Michiel Huisman seems to be repeating the same day and the same events happening over and over again. On the other hand, he is also experiencing normal sequential time and everything else is happening in the direction of time's arrow – ie. he meets Teresa Palmer and a relationship develops, is put on leave from his job – and everything proceeds from there as opposed to these events repeating themselves.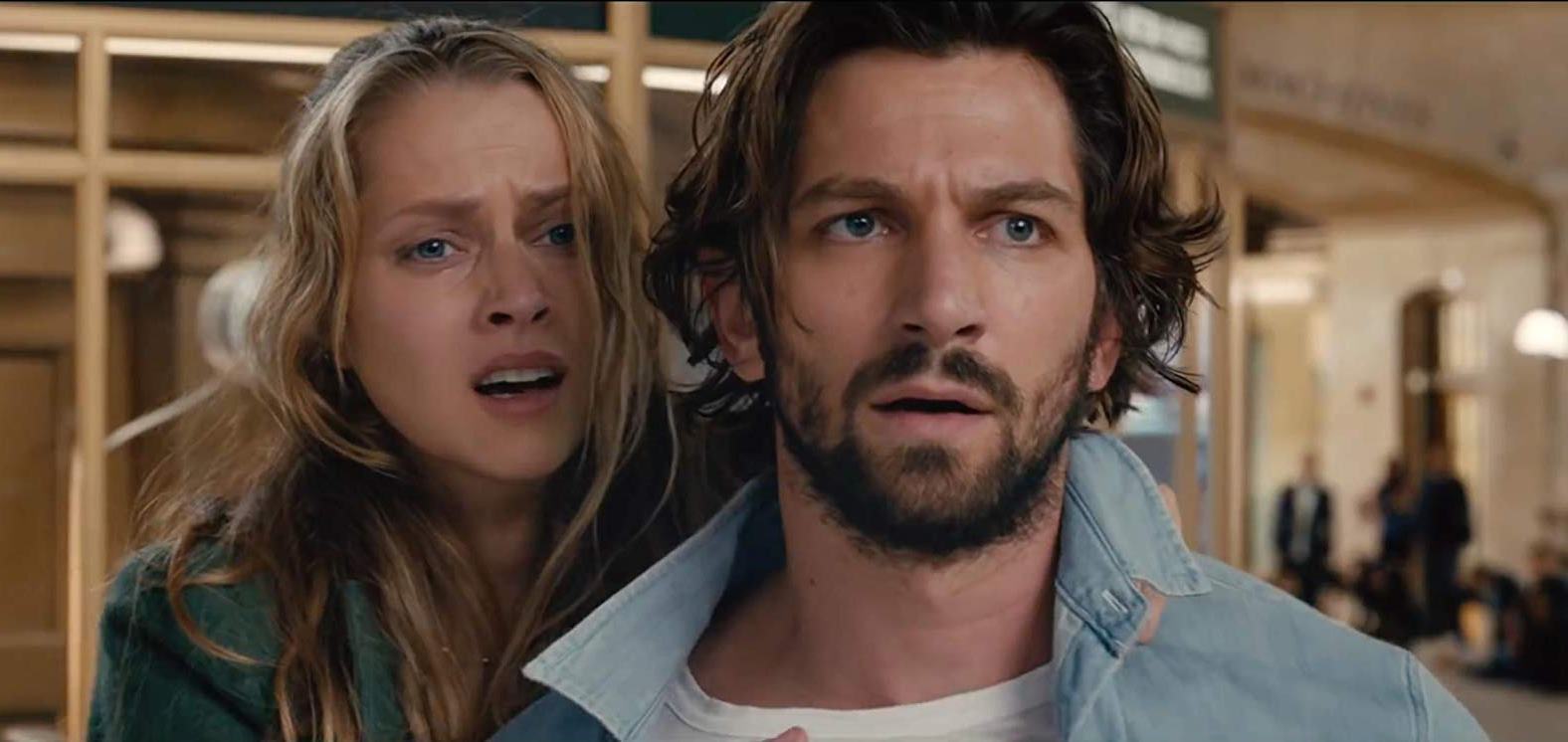 At the same time, Michiel, Teresa and her ex Sam Reid all appear to be re-enacting a doomed love triangle that culminated with one jealous party shooting the other at Grand Central Station at 2:22 on April 18th of 1986, which also happens to be Micheil and Teresa's birthdays. Here the film seems something akin to Dead Again (1991) wherein various people in the present find they are the reincarnated souls of the parties from a tragic love triangle in the past.
This certainly proves intriguing and holds your attention for some way in. As a non-New Yorker, Paul Currie has a very nice eye for the rhythms of the city and makes eye-catchingly pretty patterns out of the planes taking off and coming in at JFK Airport. It is just that the entire film falls down from a fatal case of failing to allow anything that happens to make sense. Why are people replaying the lives of three others from thirty years before? Why does the entire universe around Michiel Huisman seem to be repeating the same events but equally not at the same time? Is it reincarnation or what? The film reaches an end that gives all of this some emotional sense of closure while leaving your logic circuits melting down because nothing that happens in the film makes sense.
(Nominee for Best Cinematography at this site's Best of 2017 Awards).
---