aka The Miracle Workers
(Qi Men Dun Jia)
---
Crew
Director – Yuen Wo Ping, Screenplay – Tsui Hark, Wei Junzi, Yang Bingjia & Xu Shaofei, Producers – Jiang Wei, Nansun Shi, Tsui Hark, Wei Junzi & Anthony Wong, Photography (3D) – Choi Sung Fai, Music – Li Ye & Tsui Hark, Visual Effects Supervisors – Jang Seonghoo, Park Youngsoo & Son Ohhyoung, Visual Effects – Argo Studio (Supervisor – Jeon Cheonwoo), Asymmetric VFX Studio (Supervisor – Victor Luckysov), Filaments Visual Effects (Supervisor – Amit Dhawal), Illumina Technology Co. Ltd (Supervisor – Vanessa Zhou), Mofac Creative Works (Supervisor – Son Ohhyoung), Moo Media, Oscar VFX (Supervisor – Rajinikanth Reddy Vallapureddy), Terminal FX (Supervisor – Yevgen Skorobogatko), W2Studios (Supervisor – Lee Seungyong) & Yannix (Thailand) Co Ltd, Production Design – Wu Ming. Production Company – Film Workshop Co Ltd/Le Vision Pictures (Beijing)/Acme Inage/Film Can Productions Ltd/Le Vision Pictures (HK) Co Ltd/Gravity Picture Film Production Co/Shanghai Yoozoo Pictures Co. Ltd/Tencent Penguin Pictures/Flagship Entertainment Group Hong Kong Ltd/Youku Internet Technology (Beijing) Co Ltd/Tianjin Maoyan Media Co Ltd/Star Century Pictures Co. Ltd/Invincible Sword Film Co Ltd/Huerguosi Jizhi Film Co Ltd /Shanghai Morejoy Entertainment Co Ltd/Beijing Three Stones Media Co Ltd/Beijing Film Can Production Ltd/Beijing Cultural Investment and Development Group Co Ltd.
Cast
Da Peng (Zhuge Qing), Ni Ni (Dragonfly), Aarif Lee (Dao Yichang), Zhou Dongyu (Circle), Wu Bai (Big Brother), Yang Yiwei (Sharp Ears), Xie Miao (Weidong), Zhang Yilong (Far Sight), Liang Dahong (Thunderbolt), Zhang Lin (Pangolin), Xu Minghu (Ghost), Sun Mingming (Goldfinger), Yang Haoyu (Great Fortune-Teller), Akbep (White Tiger), Wei Lu (Red Eye), Huang Xiaoming (Huang Chang), Dang Shanpeng (Lord of Hell)
---
Plot
Dao Yichang is the new detective at the police bureau in Kaifeng City. His colleagues take a dislike to him and fabricate a series of Wanted posters for non-existent criminals and send him off to search for them. In his search, Yichang encounters Dragonfly who is able to change her face and the two are drawn into a fight to stop an alien fish creature. Dragonfly belongs to the magically empowered Wuyin Clan. They are fighting creatures that arrived from the stars two days ago. The clan seek the powerful Dunjia device that will aid them in the fight. In search of their prophesied leader, one of the group goes into a rival clan's hospital and believes the leader to be the naive and slow-witted girl he names Circle, later finding she is able to transform into one of the creatures. After Yichang is thrown out of the police bureau, Dragonfly takes pity and brings him along to join the clan. Together they set out to fight the alien creatures who are seeking to unite the five clans that can wield the instrument known as The Destroyer of Worlds.
---
The Thousand Faces of Dunjia is a collaboration between two legends of Hong Kong cinema – fight choreographer and sometimes director Yuen Wo Ping and Tsui Hark, the director/producer responsible for much of the shape of modern HK fantastic cinema. Tsui Hark is the legendary director of works like Zu: Warriors from the Magic Mountain (1983) and Green Snake (1993) – see below for Tsui's other films.
Yuen Wo Ping coordinated the action on films such as Tsui's Once Upon a Time in China (1991) and sequels, plus The Twin Dragons (1992), Fist of Legend (1994), Black Mask (1996), Crouching Tiger, Hidden Dragon (2000), Kung Fu Hustle (2004) and Fearless (2006), as well as Western films such as The Matrix and Kill Bill films. Yuen has also directed a number of films on his own with the likes of Snake in the Eagle's Shadow (1976), Legend of a Fighter (1982), Dragons vs Vampires (1986), Iron Monkey (1993), The Tai Chi Master (1993), Crouching Tiger, Hidden Dragon: Sword of Destiny (2016) and in particular the hit of Drunken Master (1978), which made Jackie Chan's reputation. The Thousand Faces of Dunjia is a remake of an earlier Yuen Wo Ping directed film The Miracle Fighters (1982).
I welcomed a merging of such talents as Yuen Wo Ping and Tsui Hark had rocked the HK fantasy genre in numerous outings they had each individually made. However, I ended up being disappointed with The Thousand Faces of Dunjia. There is nothing particularly wrong with the film – it assembles familiar elements of the genre such as the team of diverse fighters come together to take on a menace, their quest to gather certain magical artifacts, the fight against rival gangs and so on. Like the recent The Great Wall (2016), the film is never particularly clear whether it is an alien or a generic supernatural threat that they face – the main menace resembles demonic forces but the subtitles keep referring to them as alien creatures.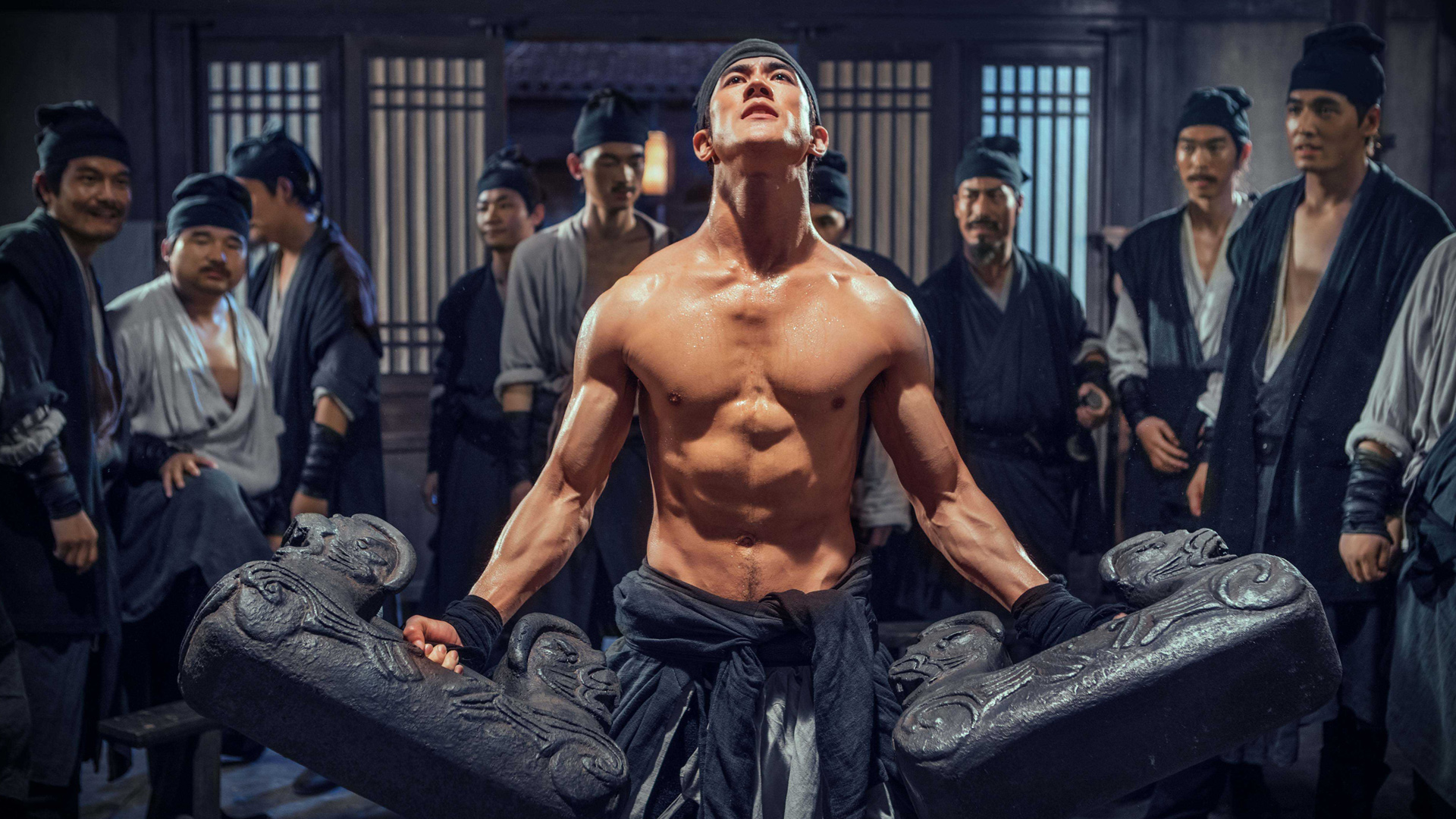 The main problem with The Thousand Faces of Dunjia is that Yuen Wo Ping is making a CGI-dominated film. Aside from some of Crouching Tiger, Hidden Dragon: Sword of Destiny, this is Yuen's first venture into the CGI fantasy film. This is a field that Mainland Chinese filmmakers have been doing extraordinary things with in recent works such as League of Gods (2016) and The Monkey King (2014) and sequels, which achieve an amazing blend between CGI superheroics and lush costume fantasy.
By contrast, Yuen Wo Ping turns out a standard drama more back around the 1990s era of something like Iron Monkey but with the addition of CGI creatures and superheroics. Conceptually, League of Gods and the Monkey King films and The Thousand Faces of Dunjia seem to come from different eras.
More to the point though, the CGI here is pretty but unconvincing eye candy. There are scenes chasing a fish creature around the town and the film builds to big battles between the team and the alien creatures. However, there comes a point where the CGI no longer seems real – the alien fish seems like a cartoon character that never realistically merges with the live-action elements – and you tune it out. I could put it down to Yuen Wo Ping's lack of experience with CGI, although it should be said that his mentor here Tsui Hark has been working with CGI since the early 2000s and recent works of his such as the Detective Dee films and Journey to the West: Demon Chapter (2017) demonstrate a fluency with the technology and none of these problems.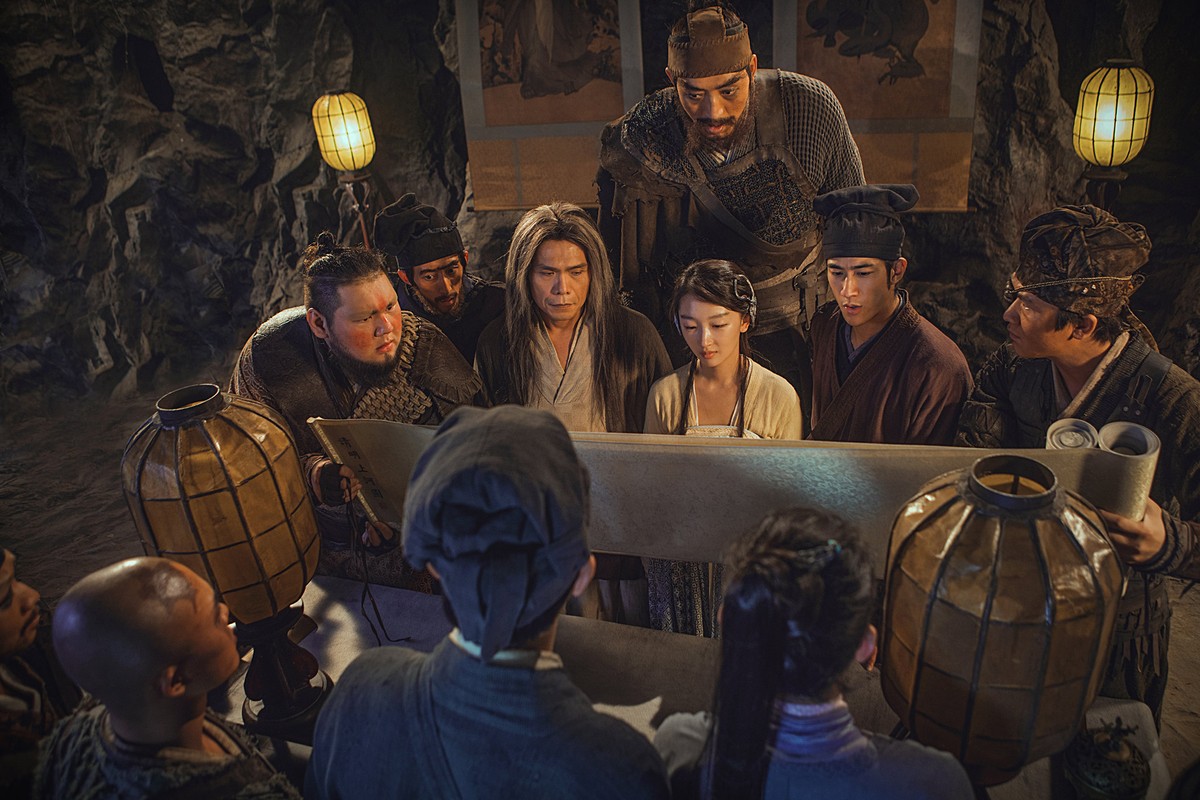 The emphasis on CGI also tends to prevent Yuen Wo Ping from doing what he does best – choreographing amazing fight scenes that blow away anything anyone else does – and places the film's emphasis on competent but unexceptional eye candy.
The film plays out passably with an at times sprawling plot that has a few too many characters running around. There is a considerable emphasis on the frenetic silliness that passes for comedy in HK cinema. The big disappointment of the film is that you reach the end with battles fought and so on before discovering that this is only Chapter 1 of what has been intended as a series of films. I cannot say I am rushing off to buy tickets to see the rest of the saga play out.
Tsui Hark's other genre films as director are:- The Butterfly Murders (1979), We're Going to Eat You (1980), Zu: Warriors from the Magic Mountain (1983), Aces Go Places III: Our Man from Bond Street/Mad Mission III: Our Man from Bond Street (1984), Green Snake (1993), Butterfly Lovers (1994), Zu Warriors/The Legend of Zu (2001), Black Mask 2: City of Masks (2002), Missing (2008), Detective Dee and the Mystery of the Phantom Flame (2010), Flying Swords of Dragon Gate (2011), Young Detective Dee: Rise of the Sea Dragon (2013), Journey to the West: Demon Chapter (2017) and Detective Dee: The Four Heavenly Kings (2018). Tsui Hark has also produced A Chinese Ghost Story (1987), The Laser Man (1988), Roboforce/I Love Maria (1988), A Chinese Ghost Story II (1990), Swordsman (1990), A Terracotta Warrior (1990), A Chinese Ghost Story III (1991), The King of Chess (1991), New Dragon Gate Inn/Dragon Inn (1992), Swordsman II (1992), Iron Monkey (1993), The Magic Crane (1993), Swordsman III: The East is Red (1993), Wicked City (1993), Burning Hell in Paradise (1994), Black Mask (1996), A Chinese Ghost Story: A Tsui Hark Animation (1997), Master Q (2001), Vampire Hunters/The Era of Vampires (2002) and Sword Master (2016).
---
---