---
USA. 2017.
Crew
Director – Michael Tiddes, Screenplay – Rick Alvarez, Cory Koller & Marlon Wayans, Based on the Film Naken Written by Marten Knutsson & Torkel Knutsson, Producers – Rick Alvarez, Todd Garner, Ryan Lewis, Ted Sarandos & Marlon Wayans, Photography – David Ortkiese, Music – David Newman, Visual Effects – Massive State Digital (Supervisor – Christian Cardona), Special Effects Supervisor – Walter Kiesling, Production Design – Ermanno Di Febo-Orsini. Production Company – Broken Road Productions/Baby Way Productions/Covert Media.
Cast
Marlon Wayans (Bob Anderson), Regina Hall (Megan Swope), Dennis Haysbert (Reginald Swope), J.T. Jackson (Benny), Scott Foley (Cody Favors), Eliza Coupe (Vicky), Loretta Devine (Carol), Brian McKnight (Himself), Cory Hardrict (Drill), Rick Fitts (Father Butterfield), David Sheridan (Officer Bentley), Neil Brown Jr. (Officer McBride), Jason Davis (Principal Melon), David Dwyer (Easy Earl), Nikeva Stapleton (Cute Girl), Jarod Valvo (Max)
---
Plot
Bob Anderson, a substitute teacher in New York City, leaves for Charleston, South Carolina to marry his fiancee Megan Swope, the daughter of successful businessman Reginald Swope and a successful doctor in her own right. Her father and those around him regard Bob as directionless, having never had a proper job and not good enough for Megan, even though she loves him. The night before the wedding, Bob goes out on the town with his best man Benny only to wake up naked in a hotel elevator. Realising it is an hour before the wedding, he rushes out on the street naked and tries to get to the church, only to be arrested. He then wakes up back in the elevator again and finds the last hour is repeating itself, although his attempts to get to the wedding are no more successful. In successive repeats of the scenario, he endeavours to find clothes and a suit, make it through a street race and various obstacles to get to the church and face others that don't want the wedding to go ahead, while trying to find the individual who tried to sabotage things by leaving him in the elevator after spending the night with a hooker. In dealing with the various problems, he comes to understand what is important to him and how to perfect the wedding he did not take seriously up until that point.
---
Marlon Wayans is the younger brother of Keenen Ivory Wayans and has maintained a steady comedy and acting career since the 1990s, including appearances in the tv series The Wayans Brothers (1995-9) and Keenen Ivory directed films such as Scary Movie (2000), Scary Movie 2 (2001), White Chicks (2004) and Little Man (2006). Marlon has starred in various other comedies such as The Sixth Man (1997) and Senseless (1998), and straight acting roles in genre works like Dungeons & Dragons (2000) and G.I. Joe: The Rise of the Cobra (2009). He was even purportedly the original casting choice as Robin in Batman Forever (1995). Throughout the 2010s, he has appeared in a string of comedies under director Michael Tiddes, which include the likes of A Haunted House (2013), A Haunted House 2 (2014), Fifty Shades of Black (2016) and Sextuplets (2019), most of which act as movie parodies in the Scary Movie vein.
Naked is essentially a variant on Groundhog Day (1993), the classic comedy in which Bill Murray gets caught in a timeloop and ends up reliving the same day over and over. The same idea has played out in a surprising number of other films, both comedic and serious, with the likes of 12:01 (1993), Retroactive (1997), Run Lola Run (1998), Repeaters (2010), Source Code (2011), Edge of Tomorrow (2014), ARQ (2016), Before I Fall (2017), Happy Death Day (2017), Boss Level (2020), Palm Springs (2020) and The Map of Tiny Perfect Things (2021), even two entire tv series with Day Break (2006-7) and Russian Doll (2019- ). Naked is a remake of an earlier film Swedish comedy Naken (2000). For greater detail about Timeloop Films see Timeloop Films.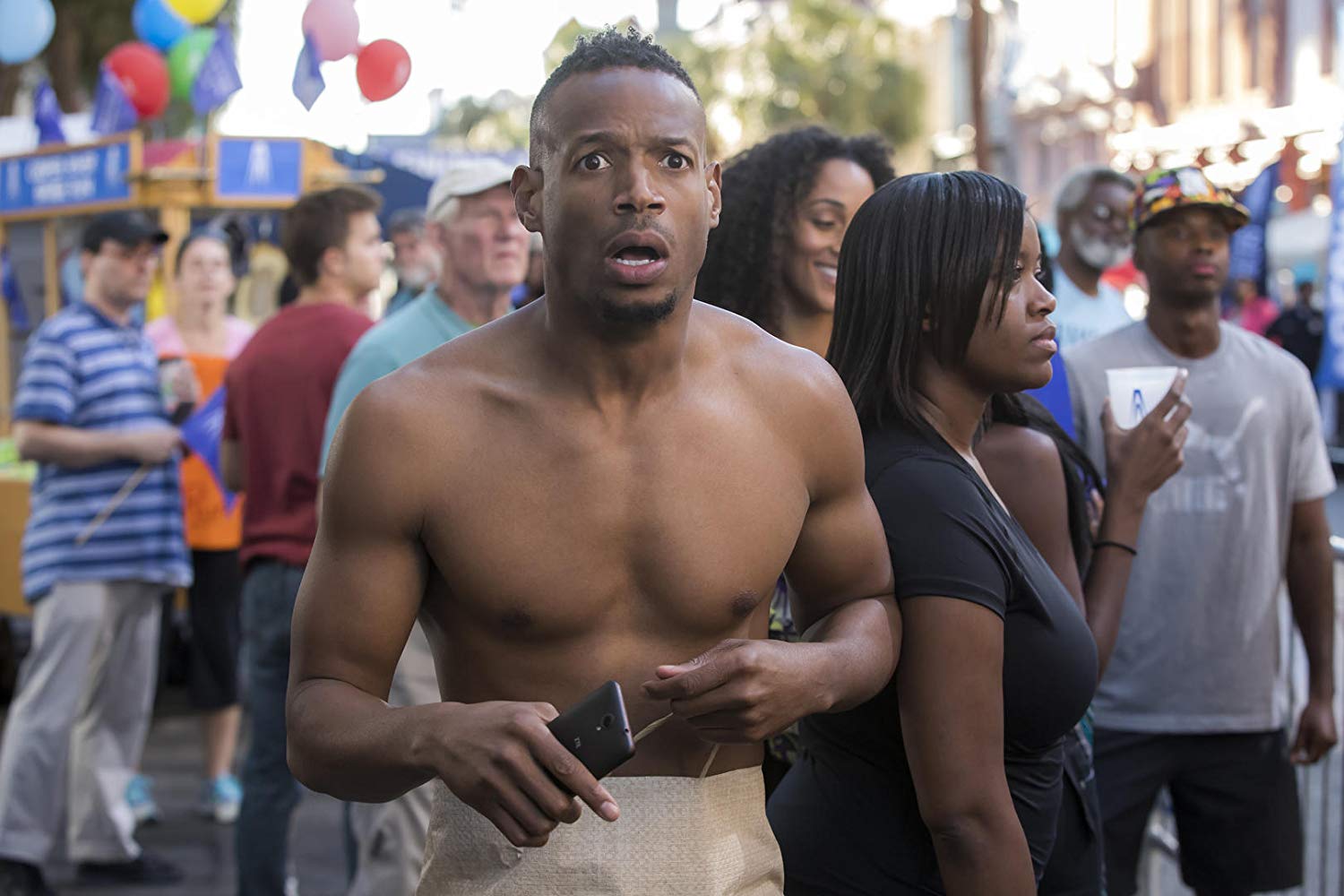 Naked goes with the same theme of all the other timeloop films – that someone is thrown into a situation and through successive replayings manages to outwit all of the problems and perfect the skills he needs in order to finally succeed (usually becoming a far better person in the process). With Naked's almost complete focus on putting Marlon Wayans through a series of comedic escapades, the replayings resemble less Groundhog Day than they do a videogame where a player manages to beat an obstacle course/maze throughout successive lives.
I cannot say I am a fan of Marlon Wayans and Michael Tiddes' films. That said, Naked is probably their most engaging outing yet. The humour is frequently stupid and slapstick focused but often hits the nerve and without the constant crassness and need to quote other films that infected the A Haunted House films. Marlon Wayans is placed through a series of slapstick set-pieces designed to humiliate and embarrass him – running around a hotel and in the midst of a parade naked or wearing only a too-small Speedo or a pink dressing gown. Tiddes loves to invent bizarrely humiliating sequences like where Wayans is forced to dance for a gang of bikers, a fist fight where he predicts and ducks all of the punches that Scott Foley throws at him, or turning up at the reception in a variety of borrowed costumes. Not a great film but it didn't insult my intelligence or grind one's face in its own stupidity as some of Wayans' other films do.
---
---