---
Crew
Director – Carlos Saldanha, Screenplay – Sam Harper, Don Rhymer, Joshua Sternin & Jeffrey Ventimilia, Story – Earl Richey Jones, Todd Jones & Carlos Saldanha, Producers – Bruce Anderson & John C. Donkin, Photography – Renato Falcao, Music – John Powell, Supervising Animator – Galen Tan Chu. Production Company – Blue Sky Studios.
Voices
Jesse Eisenberg (Blu), Anne Hathaway (Jewel), Leslie Mann (Linda Gunderson), Rodrigo Santoro (Dr Tulio Monteiro), Jemaine Clement (Nigel), Jake T. Austin (Fernando), George Lopez (Rafael), Jamie Foxx (Nico), will.i.am (Pedro), Jeff Garcia (Tipa), Davi Vieira (Armando), Carlos Ponce (Marcel), Tracy Morgan (Luiz), Bebel Gilberto (Eva), Wanda Sykes (Chloe), Jane Lynch (Alice)
---
Plot
In Brazil, a young blue macaw is captured by rare bird smugglers and transported to the US. While passing through Moose Lake, Minnesota, the box containing the macaw falls out the back of the truck and is found by young Linda Gunderson. Linda grows up devoted to the bird, which she names Blu, and opens a bookstore that she names Blue Macaw Books. All the time, Blu lives inside with her and never learns to fly. One day, Linda receives a visit from Brazilian ornithologist Tulio Monteiro who pleads with her to bring Blu to Brazil so that he can mate with the only female blue macaw in existence and keep the species alive. Linda agrees and heads to Rio de Janeiro with Blu. Blu is placed in the enclosure with the female macaw Jewel but the two of them do not get on. Bird smugglers then break in and abduct both of them. As a distraught Linda and Tulio search the city for them, Blu and Jewel make an escape into the wild while chained together. Blu is ashamed to have to admit to Jewel that he cannot fly. The smugglers and their fierce cockatoo enforcer Nigel also come determined to recapture them.
---
Rio is the sixth animated film from Blue Sky Studio. Previously a visual effects house, Blue Sky made their appearance on the animation scene with the likeable Ice Age (2002), followed by Robots (2005). Both of these were solid and enjoyable animated films that showed that Blue Sky eagerly biting at the heels of Pixar and DreamWorks Animation, desiring a piece of the increasingly lucrative animation pie. As Blue Sky started to enjoy success, this caused a tapering off in the quality of their films into bland sequels like Ice Age 2 (2006), Ice Age 3: Dawn of the Dinosaurs (2009), Ice Age: Continental Drift (2012) and Ice Age: Collision Course (2016), or other works like the Dr Seuss adaptation Horton Hears a Who! (2008), Epic (2013), The Peanuts Movie (2015), Ferdinand (2017) and Spies in Disguise (2019). These began to feature an increasing playing towards easy laughs, cute audience-identification characters and set-pieces designed for the 3D environment, all of which certainly paid off at the box-office for Blue Sky.
Rio feels like one of the South American travelogue films that Disney made in the 1940s with the likes of Saludos Amigos (1942) and The Three Caballeros (1944). South American audiences apparently made up one of the largest world consumers of Disney's animated films and these were portmanteau works that were directly pitched to these audiences. Rio is also about Blue Sky's principal director Carlos Saldanha (who was born in Brazil) returning to celebrate his roots, although even here there is the feel of Blue Sky essentially making an animated travelogue and pitching everything around the tourist aspects of Brazil.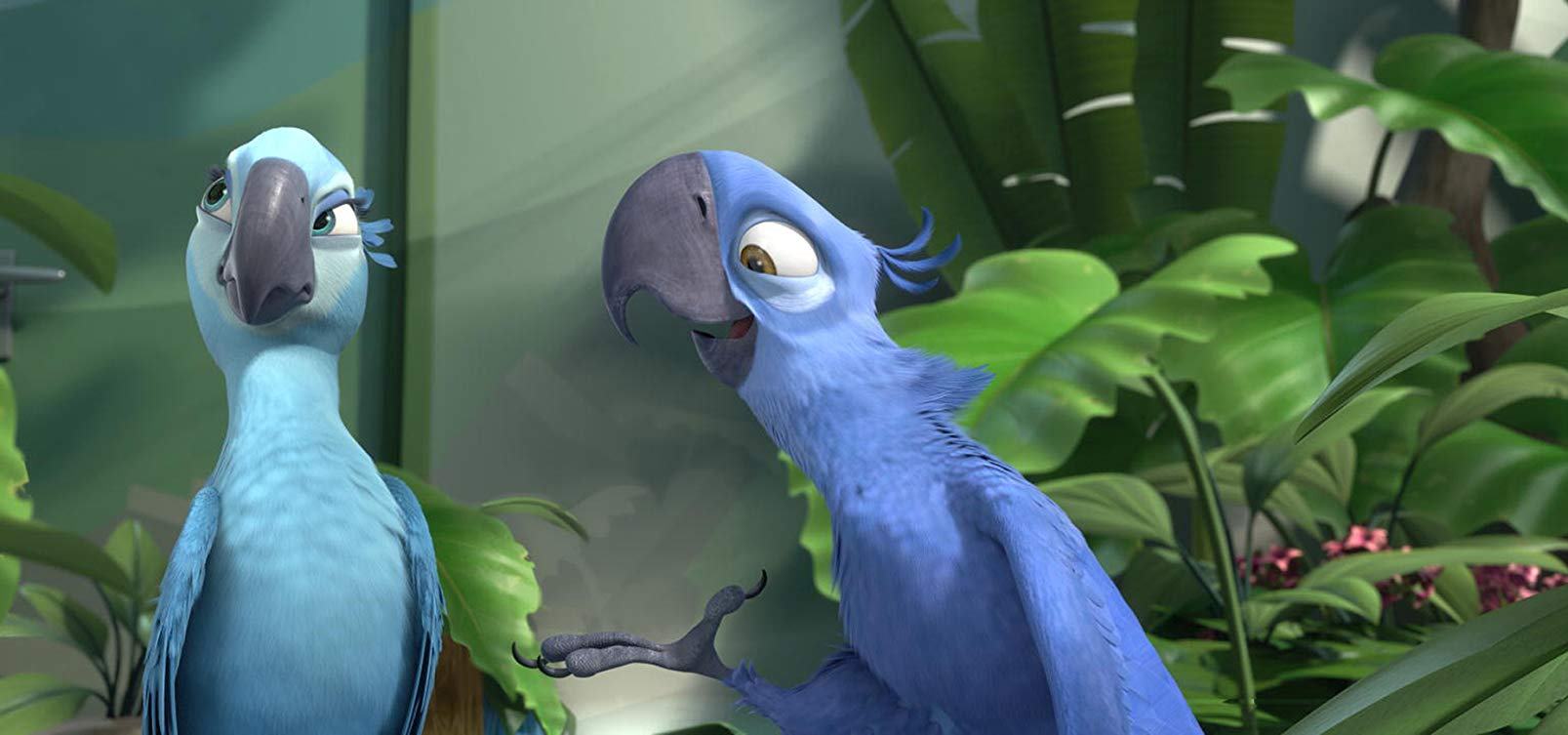 Rio has a storyline that Disney managed to wheel out for a number of their animated films – that of the pampered pet who is abruptly dragged out of their world of privilege and thrust into the raw and ready environment of the outside world along with a streetwise companion. We saw variation of this in Disney films such as Lady and the Tramp (1955), The Aristo Cats (1970), Oliver & Company (1988) and Bolt (2008), and other works like Flushed Away (2006), even the live-action Beverly Hills Chihuahua (2008), which has a number of nominal similarities to Rio. Not too surprisingly, Rio plays this arc entirely by cliche, except perhaps to reverse the sexual roles and have it the male rather than usually the female that is the pampered pet that is thrown into the wild.
The failing of Blue Sky's films is that they are pitched too much to the easy sell elements – comedy set-pieces and cute anthropomorphic characters, areas usually aimed at the single digit age group demographic. Rio often seems driven by a series of slapstick set-pieces – Blu and Jewel escaping from the cage amid great chaos that accidentally cuts power to all of the city; they diving off a cliff and landing on a hang glider, bouncing between other gliders and careening across a beach; the various motorcycle rides that Linda and Tulio take; the climactic chase through the carnival and race to get aboard the departing plane. These are all generic, although delivered with an undeniable energy.
If nothing else, Carlos Saldanha keeps the film going with a vibrant colour palette and a busy range of incident with things constantly happening in the frame. The loveliest scene, the one that stands out from the otherwise generic slapstick, is the one where Blu and Jewel ride on the front of a streetcar and the other supporting animals play romantic music and even arrange a rain of blossoms for them.
Blue Sky, Carlos Saldanha and most of the same voice cast reunited for Rio 2 (2014).
---
---