---
Crew
Director – Paul McGuigan, Screenplay/Based on Short Stories by Irvine Welsh, Producers – David Muir & Alex Usbourne, Photography – Alasdair Walker, Digital Effects – The Film Factory at VTR, Makeup Design – Sarah Fidelio, Coco Baby – Animated Extras (Supervisor – Nik Williams), Production Design – Richard Bridgland & Mike Gunn. Production Company – Filmfour International/Palace Pictures North/Umbrella Productions/The Scottish Arts Council National Lottery Fund/The Glasgow Film Fund/The Yorkshire Media Production Agency.
Cast
The Granton Star Cause:– Stephen McCole (Bob 'Boab' Coyle), Maurice Roeves (God), Alex Howden (Boab Sr), Anna Louise Ross (Doreen), Jenny McCrindle (Evelyn), Garry Sweeney (Kev); Soft Touch:– Kevin McKidd (Johnny), Michelle Gomez (Catriona), Gary McCormack (Larry); The Acid House:– Ewen Bremner (Colin 'Coco' Bryce), Jemma Redgrave (Jenny), Arlene Cockburn (Evelyn), Martin Clunes (Rory)
---
Plot
The Granton Star Cause:- After being dropped from his soccer team, thrown out of home by his parents, dumped by his girlfriend, fired from his job, and arrested and beaten by the police all within a short space of time, Bob Coyle receives a visit from God in a bar. God tells Bob he is useless for failing to stand up for himself and turns Bob into a fly. Life as a fly soon proves an opportunity for Bob to get his own back. Soft Touch:- Johnny and his pregnant girlfriend Catriona get married. Soon after the birth of the baby, she goes back to prostitution and then moves in with Larry, the aggressive neighbour in the upstairs flat. Both she and Larry walk over and use Johnny who is perceived as a 'soft touch'. The Acid House:- During a lightning storm, while tripping on acid, Coco Bryce swaps bodies with the baby that an upper-middle class housewife is delivering in a passing ambulance. As doctors puzzle over what caused Coco to suddenly become infantile, Coco's girlfriend sees it as an opportunity to get rid of his bad habits and finally get him to marry her. Meanwhile, the baby's mother is astounded when it starts talking to her.
---
For all that many like to disparage media for bad adaptations of literary works and call film and tv less sophisticated than the written word, there are some authors that are in the embarrassing position of owing their mainstream popularity to hit films adapted from their work. Both Stephen King and Clive Barker were little known until films adapted from their works – respectively Carrie (1976) and Hellraiser (1987) – made them into big crossover successes. Bryce Courtenay is another with The Power of One (1992), as is New Zealand's Alan Duff with Once Were Warriors (1994). Michael Ondaatje had considerable literary acclaim but the average person on the street had never heard of him until the success of the film adaptation of The English Patient (1996). Another case is Scottish author Irvine Welsh who was a relative unknown until the cult success of Trainspotting (1996) adapted from his book.
This Scots-English co-production is written by Irvine Welsh and is an anthology where he adapts three short stories from his title collection The Acid House (1994). The film is clearly designed to mimic the style of Trainspotting – sporting several of its cast members (Ewen Bremner – Trainspotting's Spud  – and Kevin McKidd), a similar techno soundtrack and even the same affected drug induced visual style and freeze-frame introductions of the characters.
Irvine Welsh's work tends to centre around common themes – Glaswegian unemployed and solo mothers, Scottish pissheads, soccer and soccer hooliganism, drugs, ravers and E-freaks – and all written in an incisive mimicry of Scottish accent. Even the three stories here tend to fall to a commonality of theme. Both the fantastic stories – the first and the third one – are essential identity exchange stories – in the first, God turns a down-on-his-luck loser into a fly for his failure to stand up for himself; in the third, an acid head swaps places with a newborn baby.
On a less inviting note is the commonality of Irvine Welsh's characters – both the men in the first and second segments are passive victims and the episodes seem constructed as bitter tales about how hard-done by by life they are. The overriding tone of self-victimisation and bitterness is unappealing and in particular the downbeat ending that the second episode resigns itself to after hanging on a point where it seems Kevin McKidd might finally stand up for himself makes you want to scream.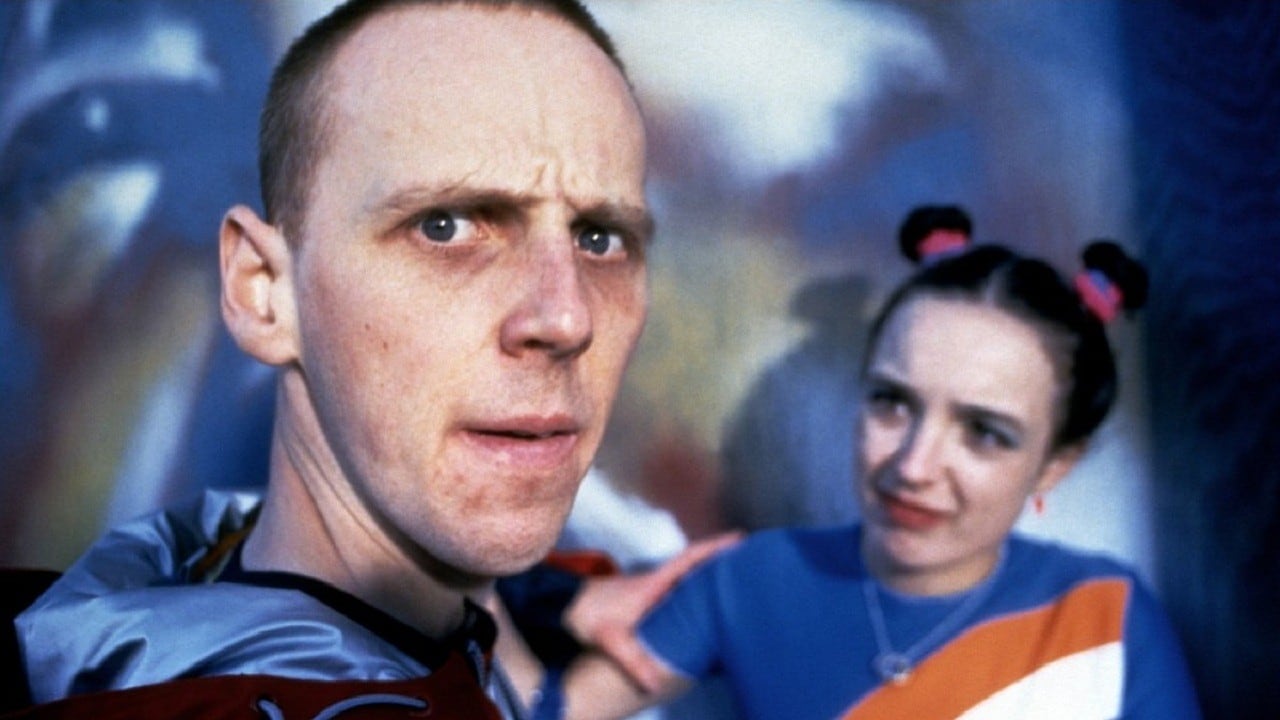 That said, all of the stories are equally enjoyable – there are times they are positively hysterical. The film has a crude and loud aggressiveness that is determined to get in your face. What takes you back is that the film holds no punches – it is filled with vomitings, anal sex scenes, masturbating babies and a rather hysterical piece where the fly-transformed hero comes upon his mother anally rogering his father with a strap-on dildo and making him beg her to defecate in his mouth. (This latter episode is also one that premiered on British tv too!).
With any anthology film, you always end up comparing each episode to the other. Here it is hard to pick the best. The two fantasy episodes, the first and third, do seem dominated by an adolescent humour – albeit very funny – a loser getting revenge on those who treated him badly by defecating in their food as a fly; a man and a baby changing places where the predominant riff of humour seems to play on breast-feeding. The strongest story is probably the middle episode, which is dominated by an electrifying live wire performance from Gary McCormack as the neighbour who moves in on Kevin McKidd's wife.
However, the problem with the stories is that Irvine Welsh sets them up well – a guy transformed into a fly, a man and a baby change places – but beyond the basic premise, they lack a dramatic structure. Welsh never pushes them to punchlines – anthology stories usually end on a pithy comeuppance or a sharp twist ending but the stories here all peter out to non-endings.
The funniest thing about the film (at least in the print I saw) was that the Scottish accent was so incomprehensible for American audiences that all the dialogue had to be subtitled.
Scottish director Paul McGuigan has made a number of other films including Wicker Park (2004), Lucky Number Slevin (2006) and Film Stars Don't Die in Liverpool (2017). McGuigan subsequently returned to genre material to make the well worthwhile psychic powers film Push (2009) and Victor Frankenstein (2015), a further version of the Mary Shelley story.
---
---