---
Crew
Director – Travis Knight, Screenplay – Chris Butler & Marc Haimes, Story – Marc Haimes & Shannon Tindle, Producers – Travis Knight & Arianne Sutner, Photography (3D) – Frank Passingham, Music – Dario Marianelli, Visual Effects Supervisor – Steve Emerson, Animation Supervisor – Brad Schiff, Production Design – Nelson Lowry. Production Company – Laika.
Cast
Art Parkinson (Kubo), Charlize Theron (Mother/Monkey), Matthew McConaughey (Beetle), Rooney Mara (The Sisters), Brenda Vaccaro (Kameya), Ralph Fiennes (The Moon King), Cary-Hiroyuki Tagawa (Hashi), George Takei (Hosato)
---
Plot
Kubo is a boy with one eye who lives with his mother in a cave by the sea. In the nearby village, Kubo entertains the locals with his samisen guitar with which he is able to conjure paper into origami figures that take on lives of their own. His mother is insistent that Kubo never stay out beyond sundown. Curious about the lantern festival where the villagers commune with their departed ones, Kubo inadvertently stays after dark only to be hunted by his mother's two sisters descended from The Moon. Kubo's mother magically transports him away. He comes around to find himself in the company of his toy monkey come to life to guide him. They are also joined by a talking warrior beetle who suffers from amnesia. They set out on a quest to find the sword, breastplate and helmet of Kubo's late father, the warrior Hanzo. All the time, Kubo's grandfather the Moon King sends the two sisters to steal his other eye. During the course of the journey, Kubo starts to discover the magical powers he has.
---
Kubo and the Two Strings was the fourth film from Laika, a rapidly rising company that specialises in stop-motion animation. Laika was formed in 2006 out of the former company of stop-motion animator Will Vinton. Their first feature was Henry Selick's Coraline (2009) and they went on to make ParaNorman (2012) and The BoxTrolls (2014) and subsequent to thisMissing Link (2019).
Laika's previous films have received a good deal of critical acclaim but that poured in in accolades for Kubo and the Two Strings, which made some critics' Top 10 of 2016 lists. The film feels as though Laika have put everything they have into it artistically. Every aspect of the film feels handcrafted. This includes the largest set ever built for a stop-motion production – something you can briefly see in the live-action Making Of scenes that play out over the opening credits. Their efforts make for a stunning achievement – like the opening scene where we even have stop-motion animated storms and waves.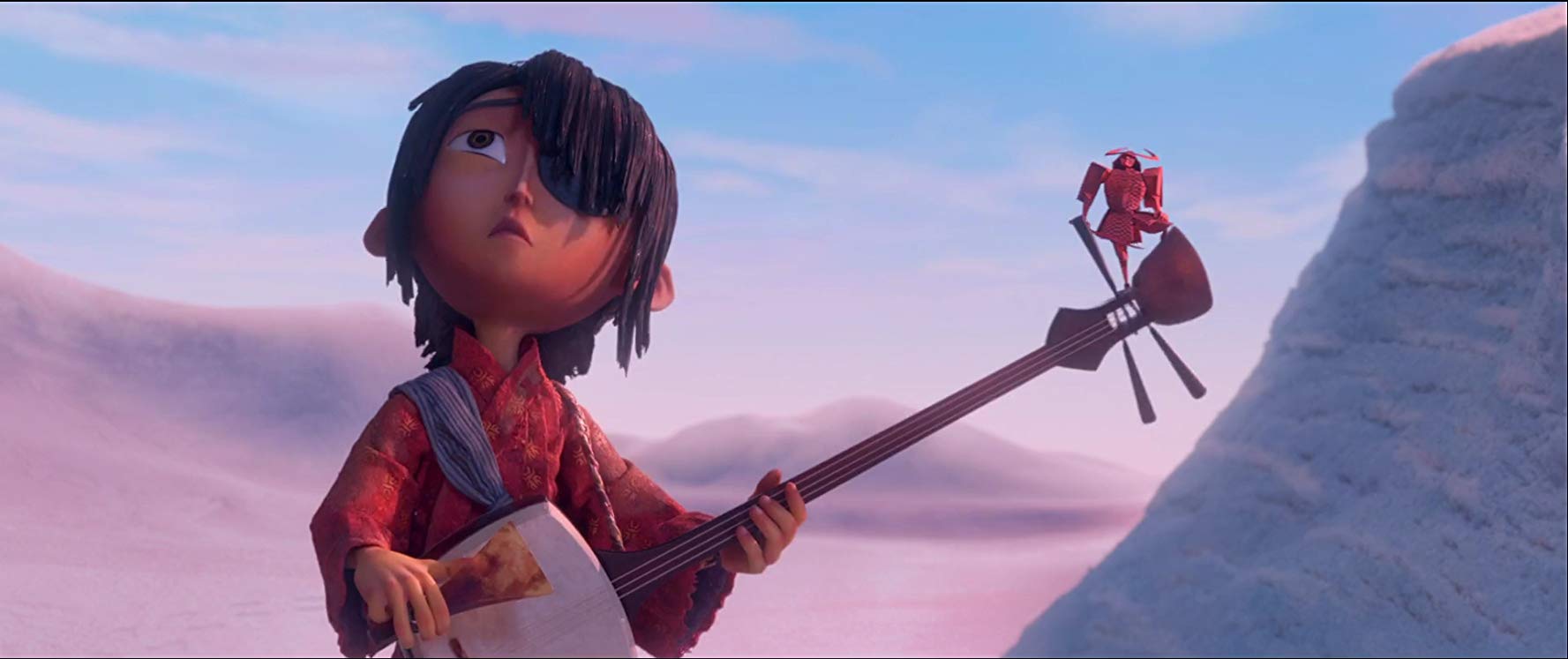 Laika also aim for something far more than the average animated film. You could compare Kubo and the Two Strings to almost all of the output from DreamWorks, Illumination and Blue Sky. Where they place emphasis on simple-minded arcs and easy audience-identifying comic supporting relief, Laika take a big bite and aim to tell a serious, epic story. You only need compare the supporting characters. Matthew McConaughey's Beetle is another variant on Buzz Lightyear, the hero tripping over his own self-certainty, while much of the show is stolen by Charlize Theron's fierce and sagacious Monkey. In almost any film from the abovementioned studios, the two talking characters would be played for maximum slapstick comic relief, whereas here they at most engage in wry banter.
Kubo and the Two Strings is not based on any particular Japanese legend – although there are undeniable similarities to Studio Ghibli's recent The Tale of the Princess Kaguya (2013). It pays more respect to Japanese culture than you would expect of a US-made film, although there are a few anachronistic modern touches that sneak in – Kubo, Monkey and Beetle play a game of I Spy at one point.
Certainly, as an epic fantasy, the film is not entirely satisfying. Kubo comes into his powers a little too quickly, most of the story that drives the show consists of a routine Plot Coupons quest to gather objects, before a big climactic showdown where Kubo faces a dragon well just because. Somehow you suspect that if the film had chosen to focus on the events that form the backstory of the film, it might have worked even more epically as a story.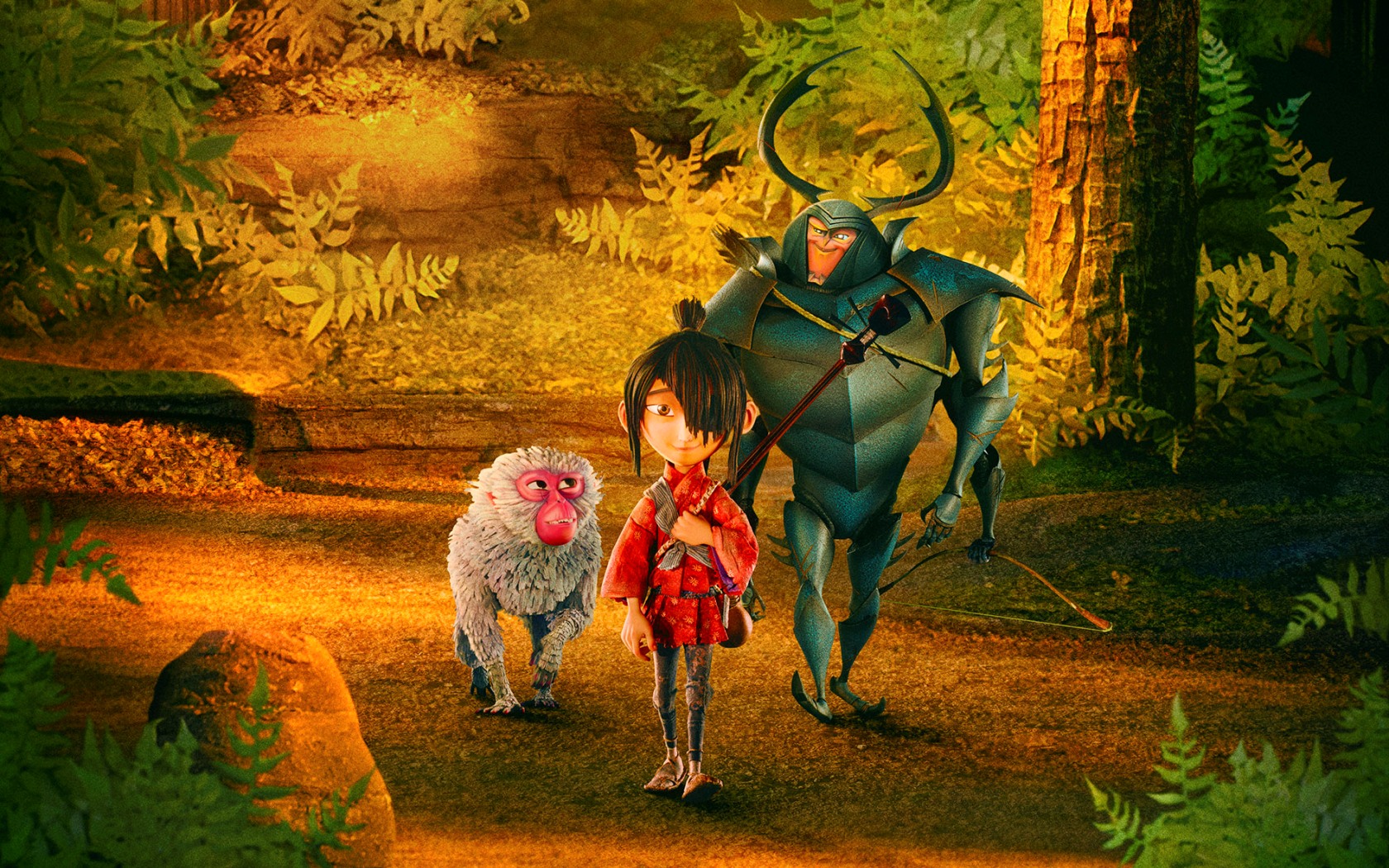 The downside of the film for me is that Laika have pushed the art to such a flawless level that what they are now making is indistinguishable from standard CGI animation. This is the problem that Laika and other purveyors of the stop-motion form – such as some of the more recent Aardman films like Arthur Christmas (2011) and The Pirates! Band of Misfits (2012) – face these days. The stop-motion has become so flawless and is so massaged by post-production visual effects that it is just assumed to be regular animation and the amount of painstaking effort goes unappreciated by the public who are unaware of the difference.
Kubo and the Two Strings marked the directorial debut of Travis Knight, an animator and producer on all of Laika's other films. Knight next went on to direct the live-action Transformers spinoff Bumblebee (2018).
---
---