---
Crew
Directors – (The Rules of the Beast) Johnny Campbell, (Blood Vessel) Damon Thomas & (The Dark Compass) Paul McGuigan, Teleplay – Mark Gatiss & Steven Moffat, Based on the Novel by Bram Stoker, Producers – Sue Vertue, Photography – (1&3) Tony Slater Ling & (2) Julian Court, Music – David Arnold & Michael Price, Visual Effects – Space Digital (Supervisor – Matt Wood), Special Effects – Real SFX, Prosthetic Makeup Design – Dave Esey & Lou Elsey, Production Design – Arwel Wynn Jones. Production Company – Hartswood Films/BBC.
Cast
Claes Bang (Count Dracula), Dolly Wells (Sister Agatha Van Helsing/Dr Zoe Helsing), John Heffernan (Jonathan Harker), Lydia West (Lucy Westenra), Jonathan Aris (Captain Yuri Sokolov), Matthew Beard (Jack Seward), Mark Gatiss (Frank Renfield), Morfydd Clark (Mina Murray), Sacha Darwan (Dr Sharma), Nathan Stewart-Jarrett (Adisa), Patrick Walshe McBride (Lord Thomas Ruthven), Youssef Kerkour (Viktor Olgaren), Samuel Blenkin (Piotr), John McCrea (Zev), Chanel Cresswell (Kathleen), Joanna Scanlan (Mother Superior), Catherine Schell (Duchess Valeria), Clive Russell (Valentin), Lily Dodswoth-Evans (Dorabella), Phil Dunster (Quincey), Anthony Flenagan (Portman), Luiza Richter (Elena), Alec Utgoff (Abramoff), Lily Kakkar (Yasmini)
---
Plot
The Rules of the Beast:- 1897 in Hungary. A deathly Jonathan Harker come around in a convent where is questioned by the nun Sister Agatha. She pushes him to tell the whole story of how he, a lawyer, was commissioned to travel to Transylvania to sell a property in England to Count Dracula. Dracula proved a courteous but strange host who only appeared after sunset. Jonathan then discovered he was trapped in Dracula's castle, which was built as a maze. Gradually becoming weaker, Jonathan realised that Dracula was a vampire who was draining his blood.  Blood Vessel:- Count Dracula departs to England aboard the ship Demeter, along with seven crew and seven other passengers. However, the guests and crew begin disappearing as Dracula preys on them. With the growing realisation that there is a murderer among their number, those remaining group together for their survival. The Dark Compass:- Dracula emerges from the coffin on the ocean floor and walks up on the shores of England at Whitby only to find it is 123 years later. An armed team from The Jonathan Harker Foundation, set up to find him and headed by Zoe Helsing, is waiting. He makes an escape from their clutches after bringing in the lawyer Renfield. Accustoming to the modern world, he fixates on modern party girl Lucy Westenra, attracted by her fearlessness.
---
Bram Stoker's Dracula (1897) can be considered one of the foundation stone works of the horror genre. Stoker's ingenuity was not to create but to bring together elements of mythology and codify what has since become regarded as vampire canon – the stakes through the heart, crucifixes, garlic, sleeping in a coffin of native soil etc. Stoker also firmly welded the vampire to sexual metaphor in which the vampire is a seducer, stealing the wives of other men, penetrating the prim veil of Victorian propriety and turning them wanton and lustful.
The first vampire film was the Turkish Drakula (1921) and not long after that the unauthorised adaptation Nosferatu (1922) and from there Count Dracula began his extensive cinematic history, variously featuring sons, daughters, brides, moderinsations, adult interpretations, revivals in all manner of environments from Pakistan to the Wild West and outer space, crossovers to fight other monsters and assorted parodies. (See bottom of the page for other direct adaptations of Bram Stoker's Dracula).
After having a run of nearly eighty years' box-office popularity ever since the Bela Lugosi Dracula (1931), the vampire movie suddenly died off in the 2010s. All of this was due to Twilight (2008) and sequels and their reduction of Bram Stoker's magnificent predator to a mopey teenage love story. It seemed after numerous parodies and even pornographic interpretations what finally staked the genre in the heart was the reduction of the vampire to a moon-eyed teenager preaching true love, a message of chastity and gloating on being a dad. It is not that we haven't had vampire films since then – and there have been some very good ones too – Stake Land (2010), A Girl Walks Home Alone at Night (2014), What We Do in the Shadows (2014), The Transfiguration (2016) and Midnight Mass (2021) – it is just that none of them have taken off in a big way. On the other hand, the success and acclaim enjoyed by Dracula here may hopefully reverse this and give some stature back to the vampire.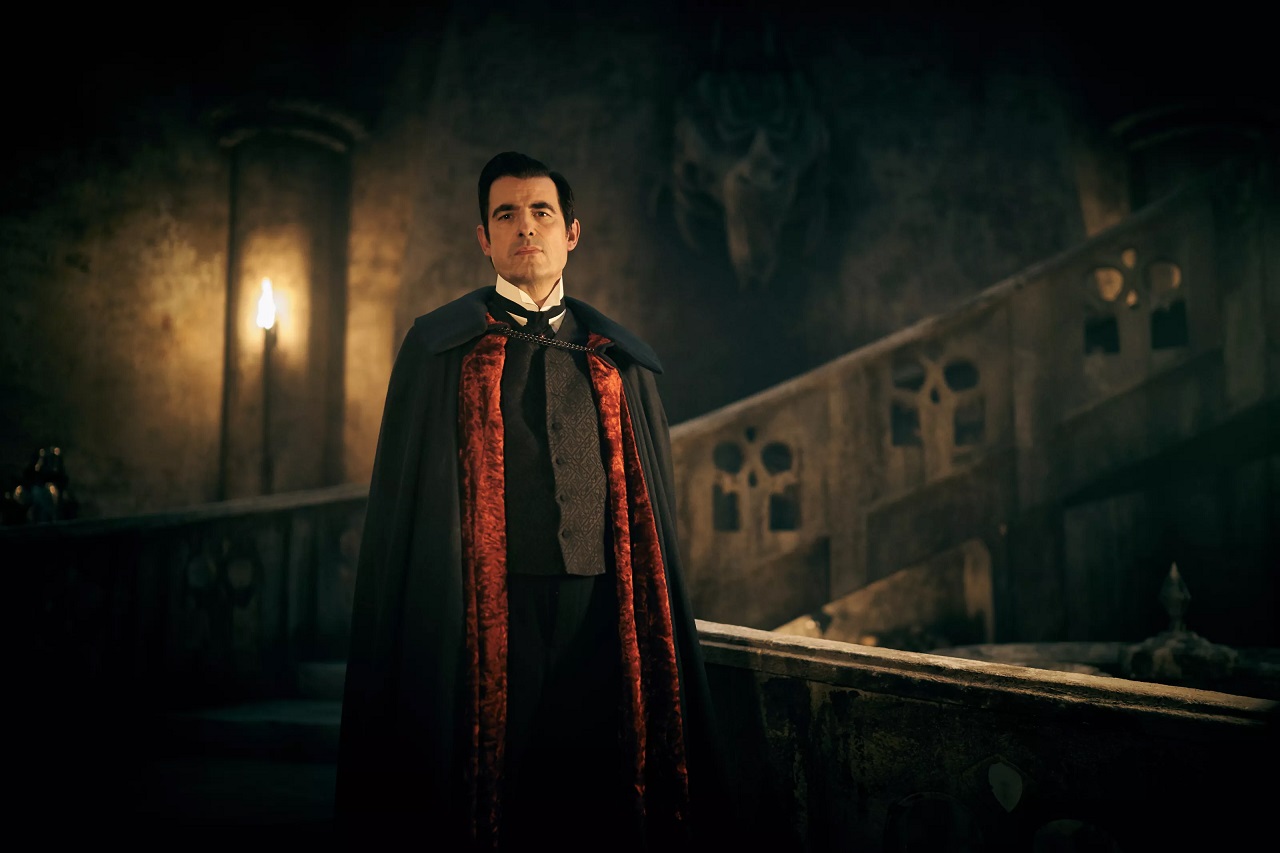 This is a new version of Dracula was made as a mini-series by the BBC. The show is created by Steven Moffat and Mark Gattis. Steven Moffat was a writer who rose up through work on various British comedy tv series, creating the sitcoms Press Gang (1989-93), Joking Apart (1991-5), Chalk (1997) and Coupling (2000-4). Moffat's star began to rise after he took over from Russell. T. Davies as head writer and producer on the revived Doctor Who (2005– ) in the show's fifth season in 2010 with Matt Smith's assumption of the role of The Doctor, lasting until the end of the Peter Capaldi era and the show's subsequent descent into the troughs of Chris Chibnall. Beyond that, Moffat was also key in reviving two classic characters from Victorian fiction with the excellent mini-series Jekyll (2007) and the hit modernised Sherlock Holmes tv series Sherlock (2010– ) that made the name of Benedict Cumberbatch. He also wrote the screenplay for The Adventures of Tintin (2011).
Mark Gatiss originally came to fame as one of the performers/writers in the comedy act The League of Gentlemen, which was later spun out into a cult tv series The League of Gentlemen (1999-2002) and a film The League of Gentlemen's Apocalypse (2005). Gatiss is a longtime childhood fan of Doctor Who and wrote and appeared in a number of the unofficial video specials, wrote four novels in the Doctor Who New Adventures book series, and nine episodes of the 2005 revived tv series (mostly during Moffat's tenure). Gatiss also wrote episodes of the revived Randall and Hopkirk (Deceased) (2000-1), the haunted house tv series Crooked House (2008), wrote/appeared in a version of H.G. Wells' The First Men in the Moon (2010), wrote/narrated the documentary series A History of Horror with Mark Gatiss (2010), wrotethe tv movie An Adventure in Space and Time (2013) about the creation of Doctor Who; and wrote/directed the short tv movie ghost stories The Tracate Middoth (2013), The Dead Room (2018) and Martin's Close (2019); and directed/wrote a remake of The Amazing Mr Blunden (2021). He co-created the Sherlock tv series with Steven Moffat in which he also plays the recurring character of Holmes' brother Mycroft.
The mini-series comes in three episodes of around 90 minutes apiece. These are divided into The Rules of the Beast, which concerns Jonathan Harker at Castle Dracula; Blood Vessel, concerning the voyage of the Demeter; and The Dark Compass concerning Dracula's arrival in England and seduction of Lucy Westenra. The mini-series bears faith to many sections of the book but also deconstructs, expands some parts onto a much wider scale and adds entirely new material.
Episode 1 comprises the first four chapters of the book and is told in flashback from Jonathan's point-of-view as he is pushed to remember what happened at Castle Dracula while recovering in a convent. These scenes comes with several surprise twists, before the episode builds to a spirited confrontation between Dracula and Sister Agatha at the gates of the convent, a magnificent scene that has been invented for the mini-series. One of the more original touches that works surprisingly well is rewriting Van Helsing as a nun (played by Dolly Wells in a fine performance) who works as an able-witted nemesis constantly questioning and trying to outsmart Dracula.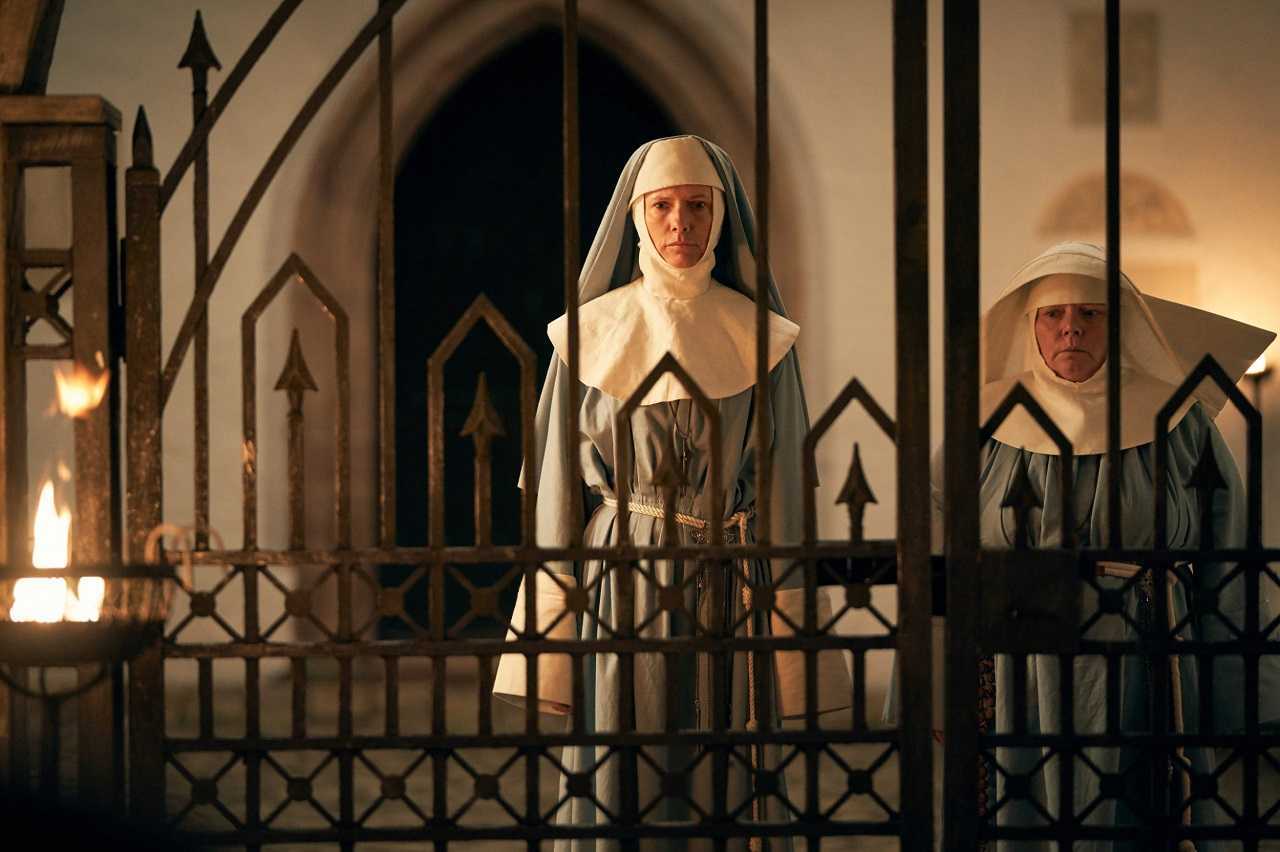 Episode 2 builds what is only part of a single chapter in the book out into an entirely new story in which Dracula preys on the passengers and crew of the Demeter. All of these are new characters invented for the mini-series – there are no passengers and the captain and crew get no names in the book. One can note among the line-up a Lord Ruthven, the vampire from John Polidori's story The Vampyre (1819), the first work of vampire fiction in the English language, who has been repurposed as a gay aristocrat, as well as the now-75 year-old Catherine Schell, fondly remembered as Maya from tv's Space: 1999 (1975-7), as an aging countess. It is great to see Dracula playing off against a diverse line-up of characters, using their weaknesses against them, before another spirited and wonderfully well written confrontation as Sister Agatha tries to outwit him at the climax.
The most radical changes are when we come to the third episode and Dracula arrives in present-day England. There is a certain general similarity to the book's events here but Van Helsing and the Crew of Light are now a secret society set up to track Dracula and there is none of the sense of Dracula invading the bedrooms to seduce the wives of British gentlemen. In one of the more grating updatings, Lucy Westenra becomes a flighty party girl on the London nightclub scene – she even gets to use an oh-so-contemporary neologism like 'slut shaming'. Renfield is introduced (played by Mark Gatiss) and turns out to be a lawyer from a firm that Dracula has had on retainer since 1897, before eventually falling into his customary role of being Dracula's slavish servant. Jack Seward is a member of the Jonathan Harker Foundation. Quincey is present and a Texan but not too well endowed in the brain department, although there is no sign of Arthur Holmwood. There is also the amusing idea of watching Dracula readily adapting to the modern world, texting, escaping from captivity with the use of a tablet and using online hook-up sites as a handy means of ordering meals.
There are some great parts of the mini-series. The writing is snappy, wry and clever – at its best during the confrontations between Dracula and Sister Agatha. There is a fine scene where Dracula takes Jonathan Harker out onto the rooftop of the castle leaving him in the sunlight and taunting him from only a couple of feet away in the shadow.
The main problem I have with the new version of Dracula is that it is trying to be relentlessly modern in its approach – no issue for the most part – but it also seems to be signalling, if not at times turning and making broad audience winks, to those in the know about the vampire genre. Danish actor Claes Bang, while getting some fine moments, seems smooth, urbane but just a little too wryly ironic in nature. What seems lacking from his performance is the sense of haughty superiority of a Bela Lugosi or the raw and imperious animalistic savagery of a Christopher Lee – in other words a sense of dark charisma and threat.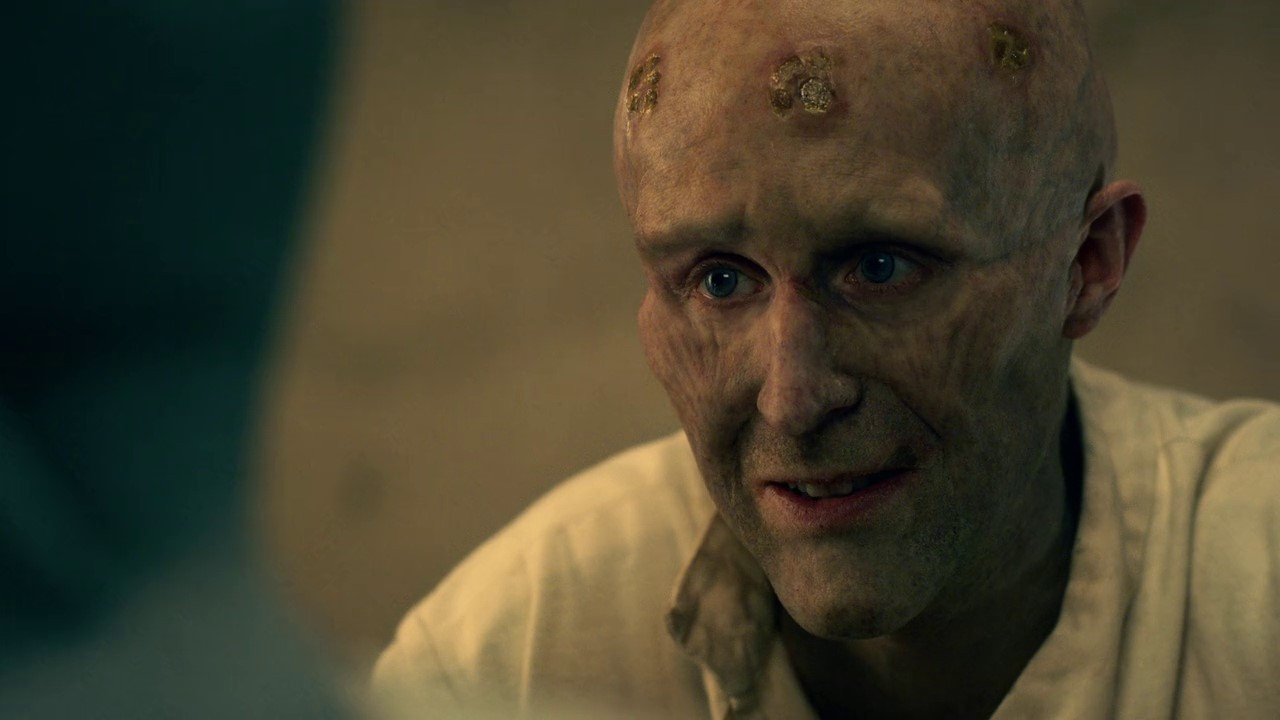 The script touches base with many of the familiar lines – "I never drink wine," "I bid you welcome" and in a slightly different context (talking about the voices of the dead coming up from a graveyard rather than the howl of wolves) "The children of the night, what music they make." On the other hand, Claes Bang is also outfitted with a series of sardonic lines aimed at a knowing audience that with one further twist on the dial could have been campy – "You look younger," Jonathan Harker says, "I owe it all to you," or Dracula commenting "As I have been trying to tell people for centuries, you are what you eat." The line where Jonathan taunts Dracula 'You're a monster," which receives the response "And you're a lawyer. Nobody's perfect" gets a laugh but again seems too much a joke aimed at a modern awareness of lawyer jokes than someone would believably say in 1897.
Gatiss and Moffat are readily willing to deconstruct and take apart every aspect of the vampire mythology. It is constantly being said that "none of it makes sense." We get much in the way of questioning the efficacy of the crucifix, Dracula's fear of it and other aspects like daylight and the inability to enter a place unless invited. The point that all of this undeniably interesting deconstruction does fall apart is as the end where [PLOT SPOILERS] Dolly Wells does a Peter Cushing in Dracula/The Horror of Dracula (1958) and tears the curtains open, exposing Dracula to sunlight – only to prove to him that it is all in his head. Which may well underscore the point that none of Dracula's vulnerabilities make any sense but also effectively guts the vampire in its own way as much as Twilight did.
Other adaptations of Dracula are:– the uncredited classic German silent Nosferatu (1922); Dracula (1931), the classic Universal adaptation starring Bela Lugosi; the Spanish language version Dracula (1931) shot on the same sets as the Lugosi version starring Carlos Villarias; Hammer's classic Dracula/The Horror of Dracula (1958) with Christopher Lee; Dracula in Pakistan (1967), an uncredited remake of the Hammer film; Count Dracula (1970), a cheap continental production that also featured Lee; Dracula (1974), a cinematically-released tv movie starring Jack Palance; Count Dracula (1977), a BBC tv mini-series featuring Louis Jourdan; Dracula (1979), the lush romantic remake with Frank Langella; Werner Herzog's remake Nosferatu the Vampyre (1979) with Klaus Kinski; Francis Ford Coppola's visually ravishing Bram Stoker's Dracula (1992), featuring Gary Oldman; the modernised Italian-German Dracula (2002) starring Patrick Bergin; Guy Maddin's silent ballet adaptation Dracula: Pages from a Virgin's Diary (2002); Dracula (2006), the BBC tv adaptation starring Marc Warren; the low-budget modernised Dracula (2009); Dario Argento's Dracula (2012) with Thomas Kretschmann as Dracula; the low-budget Canadian Terror of Dracula (2012) with director Anthony D.P. Mann as Dracula; the tv series Dracula (2013-4) with Jonathan Rhys Meyers; Bram Stoker's Van Helsing (2021), which actually features no Dracula; and The Asylum's Dracula: The Original Living Vampire (2022) with Jake Herbert.
---
---