---
Crew
Director – Barry Sonnenfeld, Screenplay – Caroline Thompson & Larry Wilson, Based on the Cartoons Created by Charles Addams, Producer – Scott Rudin, Photography – Owen Roizman, Music – Marc Shaiman, Visual Effects Supervisor – Alan Munro, Special Effects – Chuck Gaspar, Makeup – Tony Gardner & David Miller, Production Design – Richard MacDonald. Production Company – Orion.
Cast
Raul Julia (Gomez Addams), Anjelica Huston (Morticia Addams), Christopher Lloyd (Uncle Fester/Gordon Craven), Christina Ricci (Wednesday Addams), Jimmy Workman (Pugsley Addams), Elizabeth Wilson (Abigail Craven/Dr Pinder Schloss), Judith Malina (Granny), Carel Struycken (Lurch), Dan Hedaya (Tully Alford), Dana Ivey (Margaret), Paul Benedict (Judge Womack)
---
Plot
The Addams Family – husband Gomez, his wife Morticia, their two children Wednesday and Pugsley, her mother, their butler Lurch and a disembodied hand – live a bizarre life in their big Gothic mansion, relishing all that is death, decay, pain and suffering. Gomez's crooked lawyer Tully Alford then conspires with loanshark Abigail Craven to rob Gomez's fortune. They come up with a scheme to get Abigail's brutish son Gordon to pose as Gomez's brother Fester who went missing in the Bermuda Triangle.
---
Charles Addams' series of cartoons – which were initially unnamed but later came to be known collectively as The Addams Family – first appeared in The New Yorker in 1935 and continued until Charles Addams' death in 1988. The cartoons offered a gleefully perverse inversion of family life – a Christmas cartoon would show them pouring boiling oil down on carollers, Gomez and Morticia would install torture equipment in the children's playroom where the children would be found tying their teachers down and so on. The characters were incarnated in a well-remembered tv series, The Addams Family (1964-6), a show that was quite subversive in its time with its cheerfully anarchic inversion of such wholesome family fare as Father Knows Best (1954-60) and The Honeymooners (1955-6).
This big budget film succeeded in reviving the characters all over again for a new generation. In fact, it was The Addams Family that started off the 1990s fad of big-screen revivals of 1960s/70s tv series that has so far included The Beverly Hillbillies (1993), The Fugitive (1993), The Flintstones (1994), The Brady Bunch Movie (1995), Flipper (1996), Maverick (1996), Mission: Impossible (1996), Leave It to Beaver (1997), The Saint (1997), The Avengers (1998), Lost in Space (1998), The Mod Squad (1999), My Favorite Martian (1999), Wild Wild West (1999), Charlie's Angels (2000), I Spy (2002); Scooby-Doo (2002), Starsky & Hutch (2004), Thunderbirds (2004), Bewitched (2005), The Dukes of Hazzard (2005), The Honeymooners (2005), Miami Vice (2006), Transformers (2007), Get Smart (2008), Speed Racer (2008), Land of the Lost (2009), Star Trek (2009), The A-Team (2010), Yogi Bear (2010), Dark Shadows (2012), The Sweeney (2012), 21 Jump Street (2012), The Equalizer (2014), Jem and the Holograms (2015), The Man from U.N.C.L.E. (2015), Dad's Army (2016), Baywatch (2017), CHiPs (2017), Fantasy Island (2020) and The Munsters (2022).
The Addams Family is certainly the most enjoyable Halloween Party Hollywood had put on in some time, a chance for some name actors to get in costume and ape life with a ghoulish, mildly perverse, moderately subversive spin – at least as much as one can when a $35 million budget is at stake.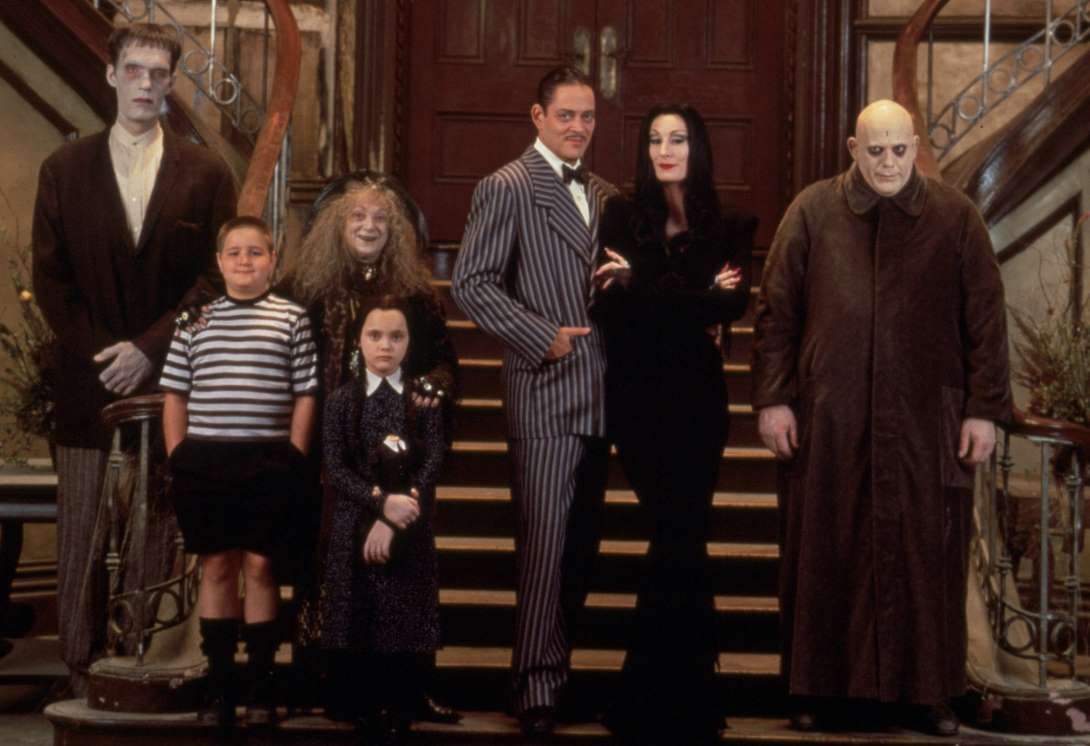 The name actors could almost have been born to their respective parts – particularly Anjelica Huston, who is a necrophiliac's dream as Morticia in white face paint, crimson lipstick, bruise-coloured eyeliner and comb-length false eyelashes, delivering sly one-liners with a deliciously sexy purr – "Are you unhappy?" "Oh, completely." Raul Julia gets into boisterous full-blown swing as Gomez, and Christopher Lloyd admirably eye-rolls and double-takes his way through the role of Fester. Best of all is young Christina Ricci as Wednesday (who made her third screen appearance here at the age of eleven and subsequently became an indie favourite), using her impassive round face and a cold steely-eyed glare to singularly unnerving effect.
The mordant essence of Charles Addams' cartoons has been neatly captured in the script by Larry Wilson and Caroline Thompson, who had previously written Edward Scissorhands (1990) – Morticia cuts the heads off roses, eulogises over torture, stops Wednesday chasing Pugsley with a meat cleaver to hand her a machete and creates so much sympathy for the witch during a reading of Hansel and Gretel that she has a classroom of children crying; the chat show host discussing voodoo circles has to tell a persistent Gomez he doesn't know where he can join one; Pugsley and Wednesday set up a lemonade stand where they encounter a Girl Guide selling Girl Guide Cookies who asks if the lemonade is made from real lemons whereupon comes the natural rejoinder – "Are they [the cookies] made from real Girl Scouts?"
The downside of the joke is that with the characters begging to be tortured and the only difference between the heroes and villains being lines like: "You've changed into a greedy, nasty Fester from the greedy, nasty Fester we all loved" – it is almost impossible to evince a sense of dramatic peril when the characters get abducted and tied up by the villains.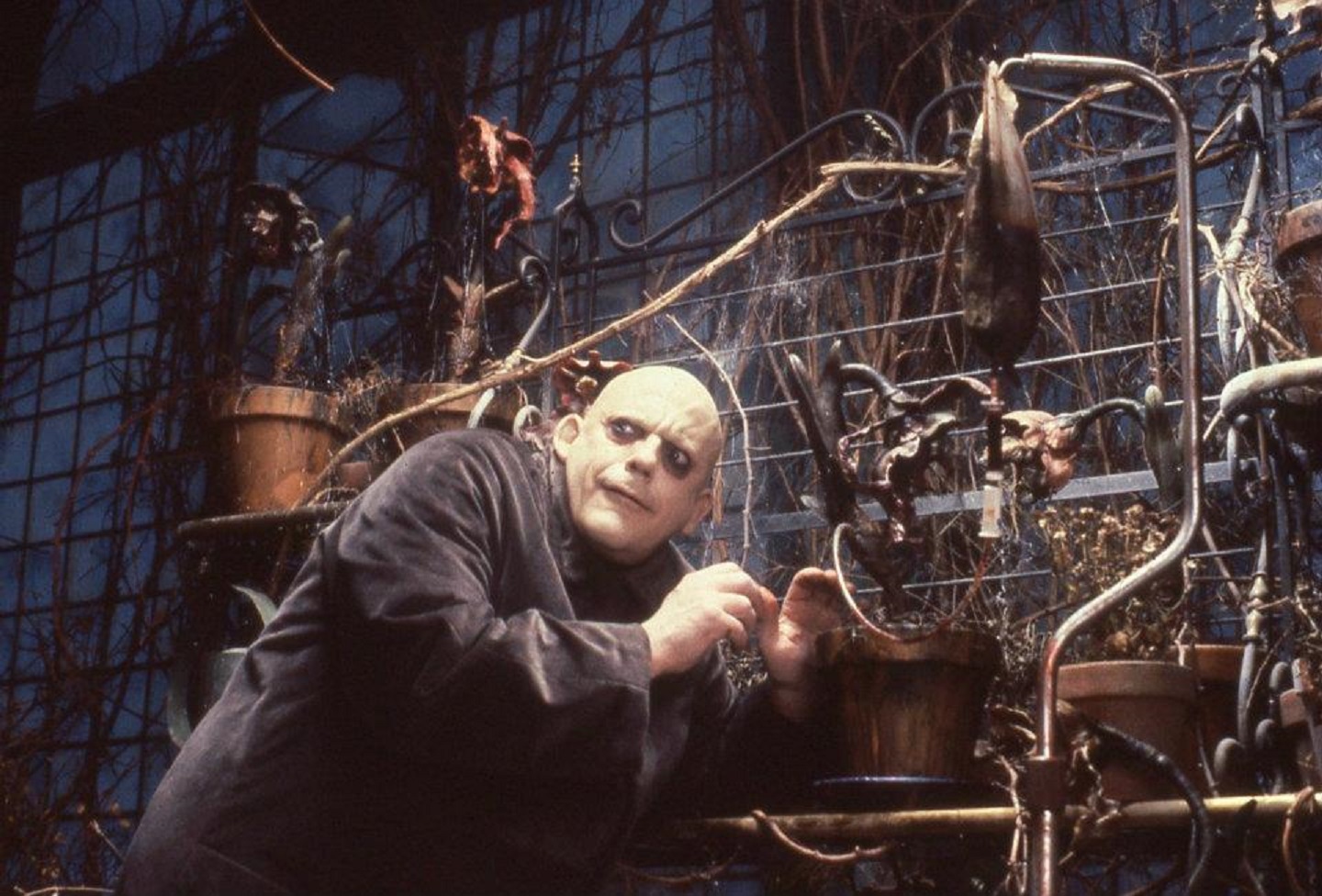 The Addams Family (1964-6) tv series, starring John Astin as Gomez and Carolyn Jones as Morticia, ran for 64 episodes. It was spun off into a short-lived cartoon series The Addams Family (1973) from Hanna-Barbera, which lasted for sixteen episodes, where the principal novelty was a young Jodie Foster voicing the part of Wednesday. Most of the cast from the original series also reunited for a tv special Halloween with the Addams Family (1977).
The success of this film was followed by the equally enjoyable sequel Addams Family Values (1993), which brought back all the principal cast again under director Barry Sonnenfeld. The death of Raul Julia in 1994 seemed to cut off the possibility of any further big screen films but there was the subsequent live-action made-for-video sequel Addams Family Reunion (1998) where the only returnee from any of the films was Carel Struycken, and the animated The Addams Family (2019) and Addams Family 2 (2021). On tv, there was a cartoon series revival The Addams Family (1993), with John Astin returning to voice Gomez, which lasted for 21 episodes; the dire Canadian-made live-action tv series The New Addams Family (1998-9), which lasted for 65 episodes; and the Tim Burton live-action tv series Wednesday (2022- ) focusing on Wednesday (Jenny Ortega) in college. There was also an Addams Family Broadway show that premiered in 2010.
Director Barry Sonnenfeld was a former cinematographer on various A-list films, including several Coen Brothers films Blood Simple (1983), Raising Arizona (1987) and Miller's Crossing (1990); When Harry Met Sally (1989) and Misery (1990) for Rob Reiner; and other successful films such as Throw Momma from the Train (1987) and Big (1988). Barry Sonnenfeld made his directorial debut here. Sonnenfeld would go onto a subsequent career directing comedy and several other genre films, including Addams Family Values, Men in Black (1997), a further tv series big-screen revival with Wild Wild West (1999), the nuclear weapon comedy Big Trouble (2002), Men in Black II (2002), Men in Black 3 (2012) and Nine Lives (2016) with Kevin Spacey resurrected in the body of a cat. Sonnenfeld also produced the witty spoof James Bond tv series Secret Agent Man (2000), the live-action superhero spoof The Tick (2001-2), the tv series Pushing Daisies (2007-9) about a man with resurrection powers, the Lemony Snicket tv series A Series of Unfortunate Events (2017-9), the revival of The Tick (2017-9) and Schmigadoon! (2021- ) about a magic town that operates like a musical, and on cinema screens the Gothic children's film Lemony Snicket's A Series of Unfortunate Events (2004), the Disney animation spoof Enchanted (2007) and its sequel Disenchanted (2022), the animated Space Chimps (2008) and Men in Black: International (2019).
---
---